21 Best Things To Do In Los Angeles, California (2022 Guide)
Wondering what activities and attractions you can't miss in the City of Angeles? Our guide to the best things to do in Los Angeles is just what you need!
A world-famous city, Los Angeles is the entertainment capital of the world. This metropolis is understandably popular given its many Hollywood stars, gorgeous beaches, and well-known TV and movie industries. 
As the world's entertainment capital, it's no question that Los Angeles is a fantastic destination to visit. What with its famous tourist attractions like Venice Beach, Beverly Hills, and its many museums, theme parks, and historic landmarks, who wouldn't be tempted to visit?
We've got you covered if you're looking for what to do in Los Angeles. This article features the 21 best things to do here, including outdoor and indoor activities. 
From historic sites and museums with fun exhibits to art galleries, farmers' markets, national parks, and impressive views, there is no shortage of things to do here. 
So get ready to read more on the top things to do in Los Angeles!
The Best Things to Do in Los Angeles
If you're looking for the best Los Angeles things to do during your visit, you've come to the right place. Keep reading for the city's top activities and hot spots for the most unforgettable experience during your stay! 
Also, consider getting a GO Los Angeles City Pass to save money during your trip. It includes discounted entry to some of the city's top attractions, so you'll save money while exploring!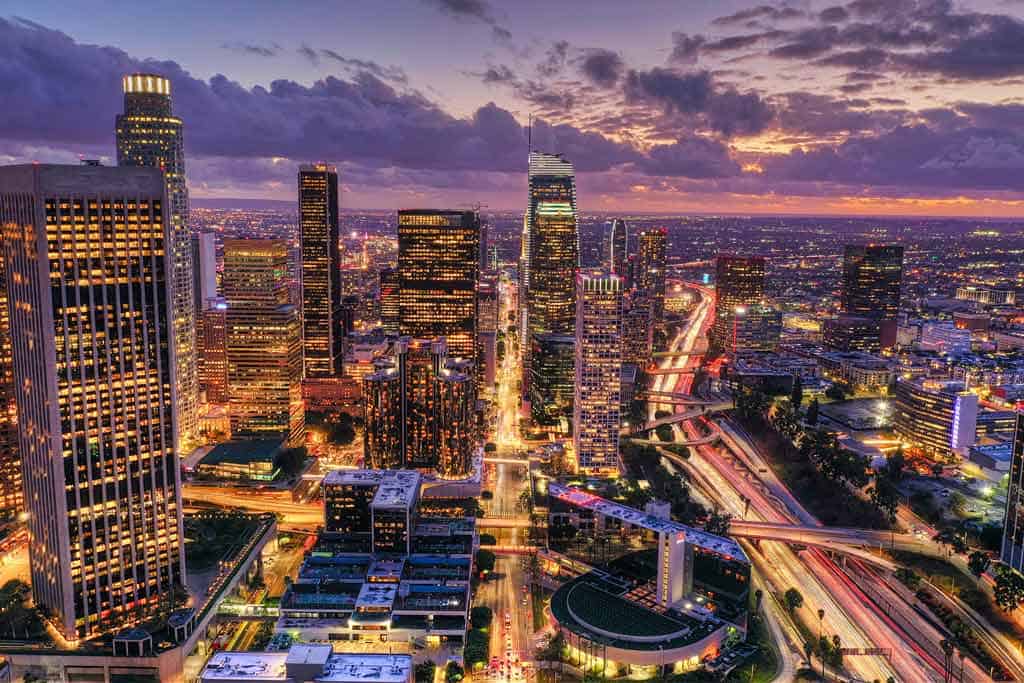 1) Bask In The Art Of Los Angeles County Museum
The largest art museum in the whole of the western United States, the Los Angeles County Museum boasts a hefty art collection. 
Hosting tens of thousands of objects, the museum adorns over 6,000 years of art history and cultural expression worldwide. 
The museum is dedicated to showcasing an array of art history through exhibits and artistic interpretations. You can find modern art, contemporary art, historical art, and art from up-and-coming artists. 
Its broad range of art from different cultures and historical periods is encompassed by the museum's goal to serve the public through conserving and interpreting these impressive works. 
Address: 5905 Wilshire Boulevard
Hours: 11am – 6pm Monday, Tuesday, and Thursday, 11am – 8pm Friday, 10am – 7pm Saturday and Sunday (closed Wednesdays)
Cost: $25
2) Cruise The Waters Of Marina Del Rey 
Marina del Rey is the largest man-made small-craft harbor in North America. A popular tourist spot, on land and sea, many come to the port to paddleboard, kayak, or cruise on a yacht or dining cruise. 
A fun way to see the sights of LA is on a boat cruise of Marina Del Rey.
This particular boat cruise includes a buffet brunch made from fresh seasonal ingredients – don't forget to pair it with unlimited champagne or sparkling cider with your brunch! 
This stunning morning cruise offers a magical escape to bask in salty breezes and warm sunshine. So prepare yourself – and your stomach – for a fantastic start to your day with the freshest food and the best waterside views.
3) Visit Universal Studios Hollywood
This amusement park is one of the most famous attractions in California and in the whole USA.
Universal Studios Hollywood is an absolute must for the whole family, especially if you're a fan of theme parks and film or media. This family-friendly amusement park is home to so many rides and events that will entertain visitors of all ages. 
Spend the day enjoying the rides – from kid-friendly rides to rides that will have you screaming with joy (and a little dosage of fear). 
During your thrilling adventure, don't forget to stop by CityWalk for some of LA's most-loved shops, cinemas, and restaurants. 
Address: 100 Universal City Plaza, San Fernando Valley
Hours: 9am – 10pm daily
Cost: Passes range from $100-$379. Check the website for a detailed list of the pass options.
4) Tour The Walt Disney Concert Hall
An iconic Los Angeles spot, the Walt Disney Concert Hall occupies an entire city block in downtown. 
The architectural landmark took more than 15 years to build, designed by Canadian-American architect Frank Gehry. This famous building is one of Gehry's best-known projects. 
Lillian Disney, Walt Disney's widow, selected Gehry from a list of 80 potential architects to design the music center. After its completion in 2003, the Walt Disney Concert Hall became the home of the Los Angeles Philharmonic, an American orchestra. 
For any feeling curious, desiring to walk the halls of this enigmatic building, the hall offers complimentary tours without any requirements for a reservation. 
Read next: If you're heading north along the California coast, be sure plan the Perfect 3 Days in San Francisco Itinerary
5) Take A Day Trip To A Nearby State Park or Forest
Though Los Angeles is a massive, sprawling city, it is surrounded by lots of nature. There are forests, mountains, valleys, canyons, rivers, and more just waiting to be explored outside the city. 
If you're a real nature lover, take a day trip to a state park or national forest near LA. The best way to do this is to rent a car for the day so you can explore the wilderness at your own pace. 
One stunning place to visit is Angeles National Forest, the first official national forest in California. Located in the San Gabriel Mountains and the Sierra Pelona Mountains, there are lots of great hikes to do here. 
San Bernardino National Forest is also fun for hiking and camping, and it's just a one-hour drive from LA. Embark on the challenging hike up Mount San Antonio, the highest peak in LA county. 
Even if you don't feel like hiking, another fun way to escape the city is to just drive along the scenic Pacific Coast Highway and admire the rugged coastal views.
6) Go on a Walking Tour of Los Angeles
Downtown LA is full of unique sights and neighborhoods, so definitely make time for some good old fashioned sightseeing. View architectural jewels, treasured downtown LA hot spots, and many other intriguing sights. 
A guided walking tour is a great way to learn even more about the history and culture of the city. On this tour, guests can hop on the world-famous Angels Flight, a historic landmark that functions as a funicular railway in the Bunker Hill district. 
Listen to stories about local legends like retired police chief William Parker and former Mayor Tom Bradley while exploring the sprawling city. 
Learn about how Los Angeles got its name and how the Spanish Empire guided the eventual shape of the famous city of Los Angeles before ending the guided tour at Union Station, the largest railroad passenger terminal in all of the Western United States. 
7) Enjoy the Nightlife on the Sunset Strip
One of the most famous places in LA is Sunset Boulevard, also known as the Sunset Strip. 
This is the heart and soul of LA's nightlife, where you can party to your heart's content. The Strip is full of cocktail bars, restaurants, burlesque lounges, rock bars, dance clubs, comedy clubs, and anything else you could imagine. 
Shop, drink, dance, eat, see live music or a show, and just enjoy the beating heart of LA's entertainment and nightlife scene. Even if partying isn't your thing, it's cool to see the city come alive at night. 
Right next to the Sunset Strip is Beverly Hills, the famous upscale Los Angeles neighborhood that is home to many celebrities. 
Take yourself on a little walking tour of Beverly Hills and admire all the mansions and palm trees before you head into the Sunset Strip at night. 
8) Explore Echo Park Lake On A Swan Pedal Boat
Echo Park has been a staple landmark of East Los Angeles since 1895, with its expansive lotus flower beds, an array of fluttering wild geese and swans, and dense greenery. 
Major local events like the annual Dragon Boat Race and Lotus Festival are held at this popular hub spot.
Rated as one of the best activities in the Los Angeles area, rent a swan paddle boat and cruise around the waters of Echo Park Lake.
You can rent a paddle boat online here. Or you can rent one at the lake, but on busy weekends and holidays, it's better to book in advance so you don't have to wait.  
9) Peer Through A Telescope At The Griffith Observatory
Located on Mount Hollywood in Griffith Park, the Griffith Observatory holds the best vantage point to observe the world-famous Hollywood Sign. 
Welcoming over 85 million visitors since its opening in 1935, the Griffith Observatory is the gateway to the cosmos! 
Visitors can walk around a spectacular scale model of the solar system or explore the moon landing and space debris in the Edge of Space exhibition. 
During your visit to the observatory, bask in stunning views of Mount Wilson, Los Angeles Griffith Park, the Pacific Ocean, and the world-famous Hollywood Sign. 
Address: 2800 E Observatory Road
Hours: 12pm – 10pm Thursday and Friday, 10am – 10pm Saturday and Sunday
Cost: Free
10) Tour The California Science Center
A state agency and museum, the California Science Center is situated next to the Natural History Museum, Both are amazing places to learn about the world during your visit to LA.
Aspiring to stimulate curiosity for science learning, the California Science Center uses world-class educational resources to provide a family-friendly destination for learning. 
In addition, the center promotes free general admission to its significant four exhibit areas by implementing hands-on exhibits and inquiry-based education programs.
The science center is home to one of the last three space shuttles, a national treasure, the space shuttle Endeavour. 
Address: 700 Exposition Park Drive
Hours: 10am – 5pm daily
Cost: Free (extra cost for special exhibits)
11) Explore Santa Monica Beach & Venice Beach
This beachfront area of downtown LA is one of the best areas to visit in the city. 
Santa Monica is famous for its sunny tourist attractions such as the iconic Santa Monica Pier, the gorgeous golden sand beach, and the local farmer's markets. 
The main Santa Monica Farmers Market is held on Saturdays from 8am – 1pm, but there are numerous other local markets to check out. Enjoy the beach and then head over here to buy fresh produce and snacks.
Next, head south to Venice Beach. This bohemian area is known for its boardwalk, skate park, and the infamous Muscle Beach which has been the city's "home of bodybuilding" since 1963
Spy the eye-catching Venice Canals, notorious for its man-made wetland canals. The quaint private neighborhood makes for a romantic and awe-inspiring experience as you stroll through the area. 
This entire coastal area of LA is easy to explore on foot, especially with that warm, sunny California weather.
12) Check Out The La Brea Tar Pits & Museum
This incredible Ice Age excavation site for paleontological research is one of the more unique activities in LA. 
Settled in the heart of Los Angeles, the La Brea Tar Pits are a step into the Ice Age. At this precise location, asphalt seeps, presenting the only active urban fossil dig site in the world. Plant plants and animals from over 50,000 years ago are discovered daily at this site. 
Prepare yourself for an unforgettable historical experience during your tour of these active sits at the La Brea Tar Pits & Museum.
Address: 5801 Wilshire Blvd
Hours: 9:30am – 5pm
Cost: $15
Heading north? Check out this list of the best things to do in San Francisco.
13) Explore The Los Angeles Zoo & Botanical Gardens
Founded in 1966, the Los Angeles Zoo hosts more than 2,200 types of animals, including 270 species of animals including 60 endangered species. 
The zoo features an array of specific biomes that exhibit a variety of habitats, including New World tropics and African grasslands.
The zoo's 133 acres come into magnificent usage to care for the animals while educating the public on conservation efforts. These efforts extend past animals to include plants as well.
At the Botanical Gardens, visitors can check out the stunning assortment of plant species, like the Hong Kong orchid trees and Mexican fan palms. 
The certified botanical garden highlights 15 impressive collections of plants, as well as a Japanese Garden and lots of beautiful walking trails. 
Address: 5333 Zoo Drive
Hours: 10am – 5pm daily
Cost: $22
14) View Featured Street Art At The Lume
The Lume of Los Angeles presents enigmatic works of Street Art by bringing them to life in an unforgettable way. 
Joining the ranks of Los Angeles' most prestigious art and cultural attractions, The Lume creates an interactive experience of the senses through sound, taste, and aroma inspired by the world of artists. 
Breathe art that has come to life through a liberating and exhilarating experience at The Lume. A collaboration with over 200 street artists from around the globe, including Lady Pink, Blek le Rat, and eight sections of the Berlin Wall.  
Address: 1933 S Broadway
Hours: 12pm – 8pm Fridays, 10am – 8pm Saturdays and Sundays
Cost: $39-$49 for 30-minute timed tickets, prices depend on the day and time
15) Bike In Style To Hit Historic Hotspots In Downtown Los Angeles
On this guided bike tour, guests can bike in style as they hit all the historical hotspots of downtown LA. 
Hop onto your Dutch-style bike before heading through downtown LA to see the area's top sights and historic buildings. Explore downtown Los Angeles's magnanimous sights on a round trip starting at Grand Central Market, in front of Angel's Flight, an iconic 1901 funicular. 
Experience downtown LA like a true local as you ride through the Historic Core's vintage Vaudeville theater district, past LA's tallest skyscraper, before stopping at the eerie Cecil Hotel of horrors. 
Then cruise through the city's oldest neighborhood, Olvera Street, before ending the ride by bypassing cultural spots like the Broad Museum or the Bradbury Building.
16) Lay Back & Relax At Manhattan Beach
It's time to sit back and soak up the sun at the famous Manhattan Beach.
This laid-back South Bay community is popular with outdoor enthusiasts and families due to its striking scenery and relaxing vibe. 
Extensive stretches of sand host volleyball courts. Modern mansions bask in the oceanfront views of the beach. A bike path also winds along the sand to offer panoramic views of these mansions and scenic oceanfront views. 
On the Manhattan Beach Pier is the Roundhouse Aquarium. The aquarium's immersive exhibits display a diverse collection of marine life. 
You can also head to the small downtown area near the beach to explore the upscale eateries, boutiques, pubs, and cafes. 
17) Hike At Runyon Canyon Park 
A 160-acre park, Runyon Canyon Park is at the eastern end of the Santa Monica Mountains. Rated relatively easy in difficulty level, many hikers come here for a short hike to embrace the outdoors of Los Angeles.
Many celebrities come to hike these famous trails as well, so don't be surprised if you run into your favorite celebrity! Though Runyon Canyon is relatively small, it is a popular hiking trail due to its easy paved path, dog-friendly rules, and outstanding city views.
We recommend not going on the weekends. The trails at Runyon Canyon Park are already pretty popular, but that is even more apparent on the weekends. Time it right, and you'll be able to experience the glory of this popular hiking trail! 
18) Catch a Show at the Hollywood Bowl
One of the best live music venues in southern California, the Hollywood Bowl is an iconic open-air amphitheater on North Highland Ave in Hollywood Hills.
The venue hosts everything from dance performances, to live music concerts, to festivals, and more. Catch classical music, international song and dance, popular mainstream bands, and everything in between.
Every summer there is an annual Jazz Festival as well, which is a huge draw for locals and tourists. 
Check the schedule online to see what's playing when you're in town!
For more entertainment and excitement in the USA, check out our list of the best things to do in Las Vegas!
19) Grab Tickets To The TCL Chinese Theatre
TCL Chinese Theatre is a movie palace cemented on the historic Hollywood Walk of Fame. The theatre opened in 1927 and is known to be one of the most renowned Hollywood cinematic icons, especially since it has the biggest IMAX auditorium worldwide.
Located in the Forecourt of the Stars at the Chinese Theatre are a collection of around 200 handprints, autographs, and footprints of famous stars that have visited the Chinese Theatre – one of them being Marily Monroe herself. The renowned theatre even hosted the Academy Awards once upon a time in the years 1944-1946.
If you're interested in learning more about the history of this famous theatre, there are 30-minute walking tours available for interested guests. 
20) Join A Bus Tour Of Hollywood & Celebrity Homes
Curious about where some of Hollywood's celebrities live? You need to check out this Open-Air Bus Tour! 
Take a ride to discover all of the hotspots of West Hollywood and Beverly Hills while admiring views of downtown Los Angeles – don't forget to bring your camera! On this open-air bus tour, riders can stop for a picture at the iconic Hollywood Sign. 
Other popular spots to note on this invigorating bus tour are the Hollywood Walk of Fame, the Capitol Records Building, the Chinese Theatre, and the Art Deco entertainment complex of the Dolby Theater.
On this trip, guests can see the homes of Elvis Presley, Tom Cruise, Leonardo DiCaprio, and many more celebrities!
21) Eat Your Heart Out At Grand Central Market 
The Grand Central Market opened in 1917 and since then has been a downtown Los Angeles landmark emporium featuring florists, game nights, food vendors, movies, and other impeccable events. 
Termed initially "Wonder Market," the market was immediately known as the "largest and finest public market on the Pacific Coast" with its grand opening. 
Now hosting over 50 privately owned and operated vending stalls, the Grand Central Market empowers Los Angeles' cuisines and cultures through its vendors and events. The market showcases California's best ingredients, entrepreneurs, and chefs, all at the convenience of its daily visitors. 
The national-caliber eating experience of a 30,000 square foot joins a retail marketplace and food emporium for the ultimate downtown gathering place. 
Address: 317 S Broadway
Hours: 8am – 9pm
Where to Stay in Los Angeles
Now that you know the best Los Angeles activities to experience let's go over the best places to stay in the city. 
Best Hostel in Los Angeles
The Banana Bungalow is a hot spot hostel in near Sunset, Hollywood Boulevard, and the Melrose strip. 
The hostel offers free BBQ on the terrace, free Wi-Fi, large $5 dinners, and shuttles to the big-time Los Angeles attractions.
Best Mid-Range Hotel in Los Angeles
Located in Venice Beach, STAY OPEN is only a minute walk from the beach.
With featured accommodations like free bikes, concierge service, and free WiFi, STAY OPEN boasts seaside views in its optimal location near the best beaches in LA. 
In addition, the Los Angeles International Airport is only six miles away from your stay. 
Best Luxury Hotel in Los Angeles
At the Peninsula Beverly Hills, guests are only a 12-minute walk from Rodeo Drive, a popular shopping spot. 
Featuring world-class dining for breakfast, lunch, and dinner, this luxury hotel in Los Angeles offers enigmatic accommodations like its large rooftop outdoor pool, modern gym with available personal coaches, full-service spa, and gourmet on-site dining options.
DISCLAIMER: Some of the links in this article are affiliate links, which means if you book accommodation, tours or buy a product, we will receive a small commission at no extra cost to you. These commissions help us keep creating more free travel content to help people plan their holidays and adventures. We only recommend the best accommodations, tours and products, and regularly review these. Thanks for your support, kind friend!