Hiking in La Gomera – a 7 day itinerary
As one of the smallest and quietest of the Canary islands, La Gomera offers a wild and unspoiled atmosphere that's ideal for nature lovers. We spent a week hiking in La Gomera, and share our 7 day itinerary with details of the best walks, where to stay and how to get around. In this rugged landscape you can expect steep climbs and descents, but you'll be rewarded by beautiful views over the rocky coastline and lush valleys.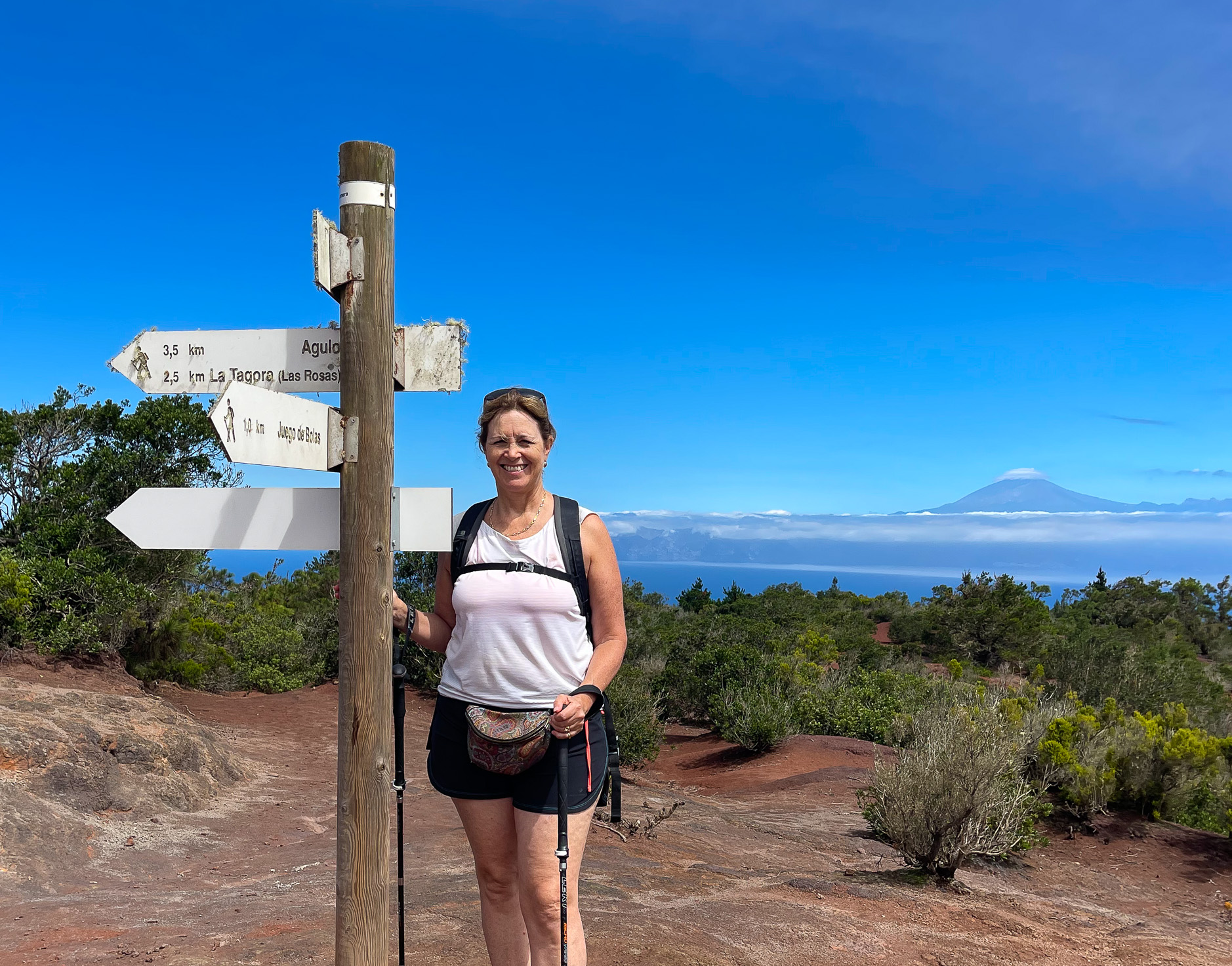 What to expect when hiking in La Gomera
The centre of La Gomera is covered by the Garajonay National Park, the highlands at 1500m above sea level being covered by protected laurel forest that's often shrouded in mist. From this UNESCO World Heritage site, steep gorges or barrancos, cut through the rock, as river valleys make their way to the sea. Because of the terrain, you'll find a mixture of sheltered valleys clothed with palm trees, stone terraces and cactus, mixed with steep paths to ridges that offer stunning views.
La Gomera is a playground for the moderately fit to more experienced walker, but having said that you can find routes that are more gentle if you wish. With the Canary Islands enjoying warmth and sunshine all year round, La Gomera offers comfortable walking temperatures normally ranging from 18-25 decrees Celcius, making it an ideal spring, autumn and winter hiking destination.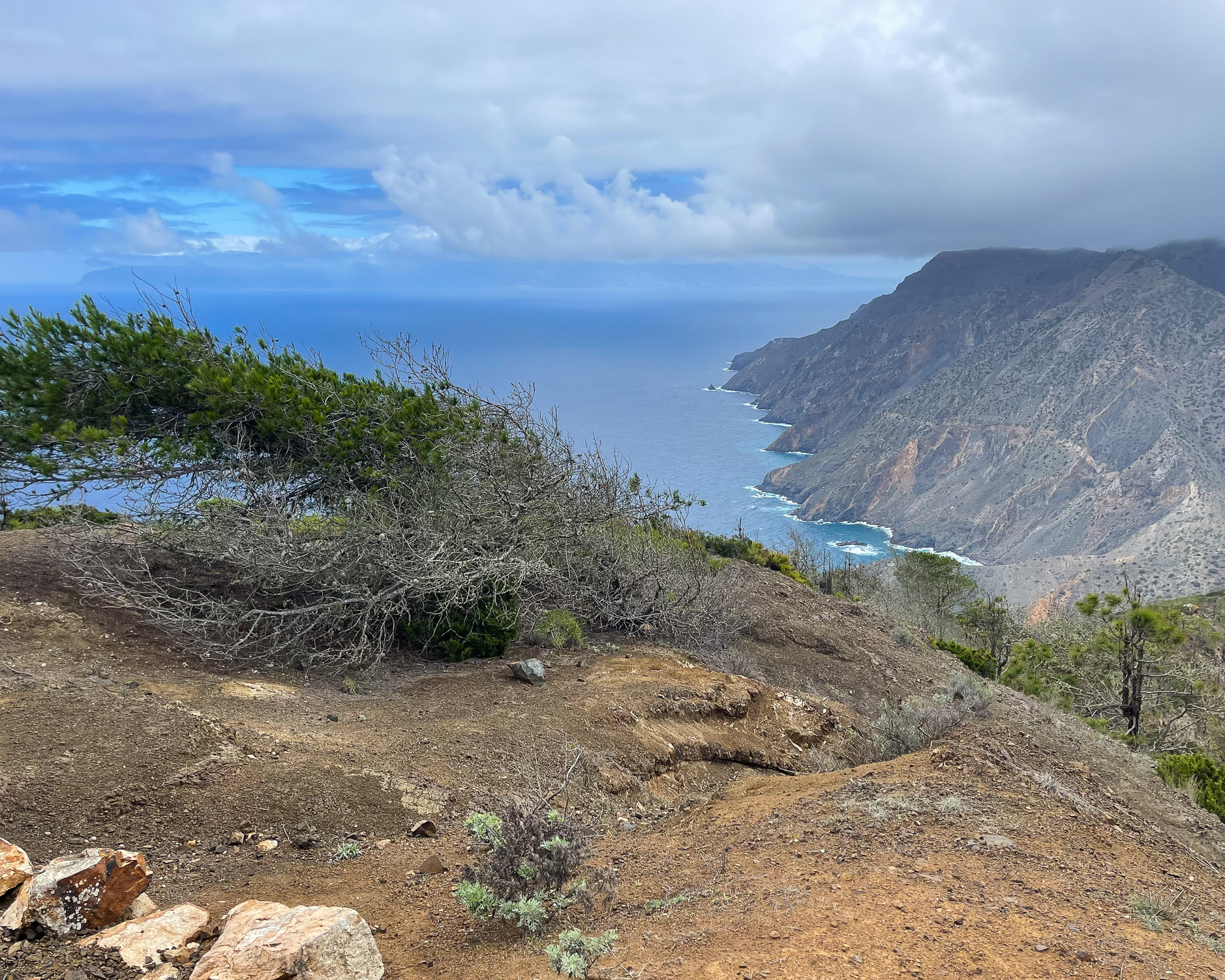 Accommodation in La Gomera
While I love staying in boutique or luxury hotels, on my hiking trips I'm just looking for a clean and comfortable place to spend the night. In La Gomera, much of the accommodation is in "Casa Rural" or modest guest houses, that amply cater for the needs of walkers. Resorts such as Val Gran Rey offer accommodation more geared to holiday makers, but much of it is reasonably priced.
An exception to my general rule of booking modest accommodation for hiking, is at the beginning or end of the trip, where it's nice to treat yourself to something a bit more special. The Parador at San Sebastián de la Gomera or Hotel Jardin Tecina in Playa de Santiago are great examples of hotels where you can treat yourself to a little more luxury.
Arriving in La Gomera
Most people will arrive for walking in La Gomera via the neighbouring island of Tenerife, where there are numerous international flights into Tenerife South airport. From here it's a 30 minute taxi or bus journey to get to the port at Los Christianos, where you can get the ferry to La Gomera (it's so close you can see it). Two different ferry lines – Fred Olsen and Naviera Armas each run around 3 ferries a day to and from La Gomera. You can find more information about the bus and ferry timings at the end of the article.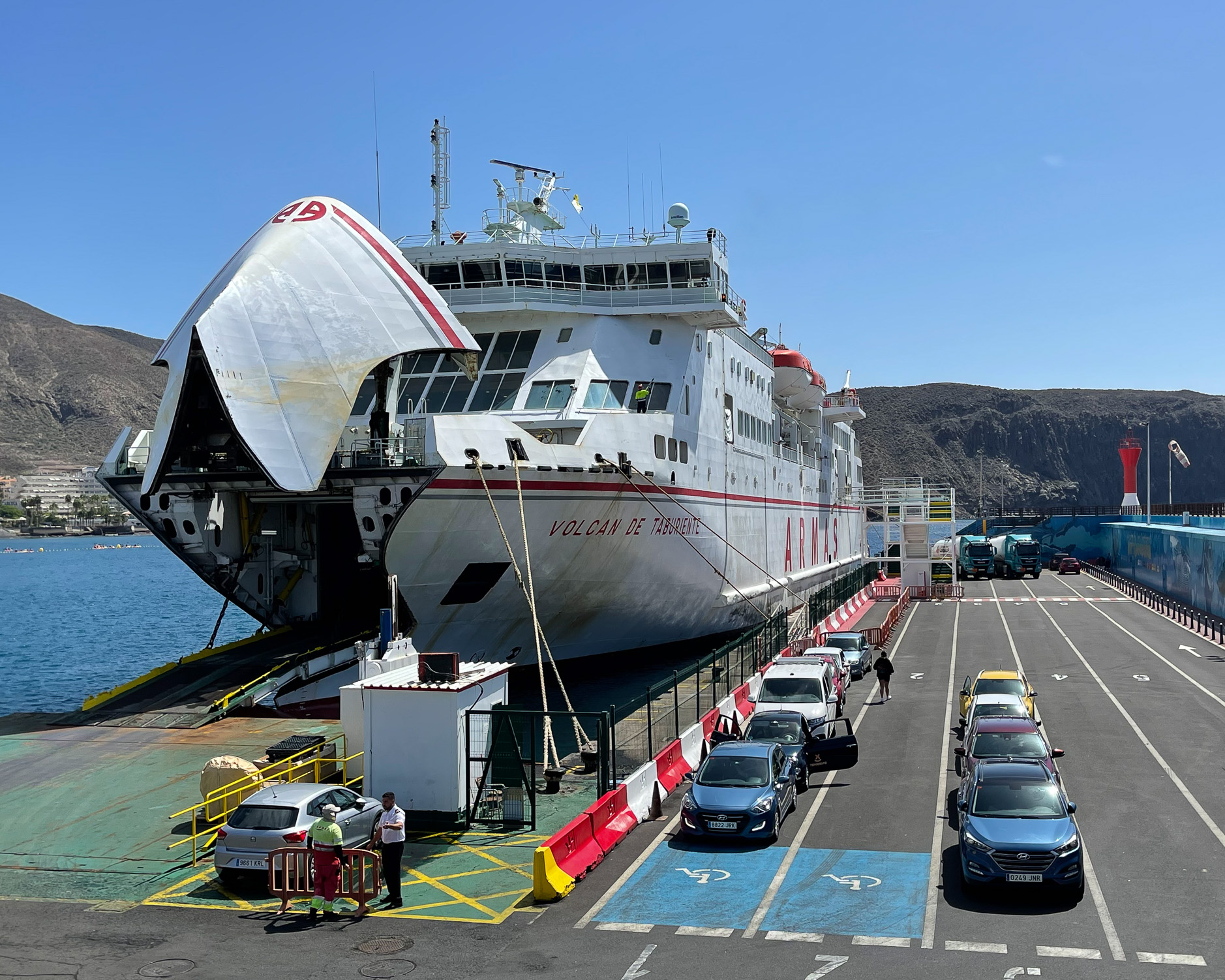 The ferry to la Gomera
We took an early flight from the UK to Tenerife, arriving around 11.30am. Arriving at Tenerife South airport in the morning is ideal, as it means you can easily get the ferry to La Gomera on the same day. We took one of the frequent buses from Tenerife South Airport and got off in Los Christianos 30 minutes later. From the bus stop it was a 15-20 mins walk to the ferry port.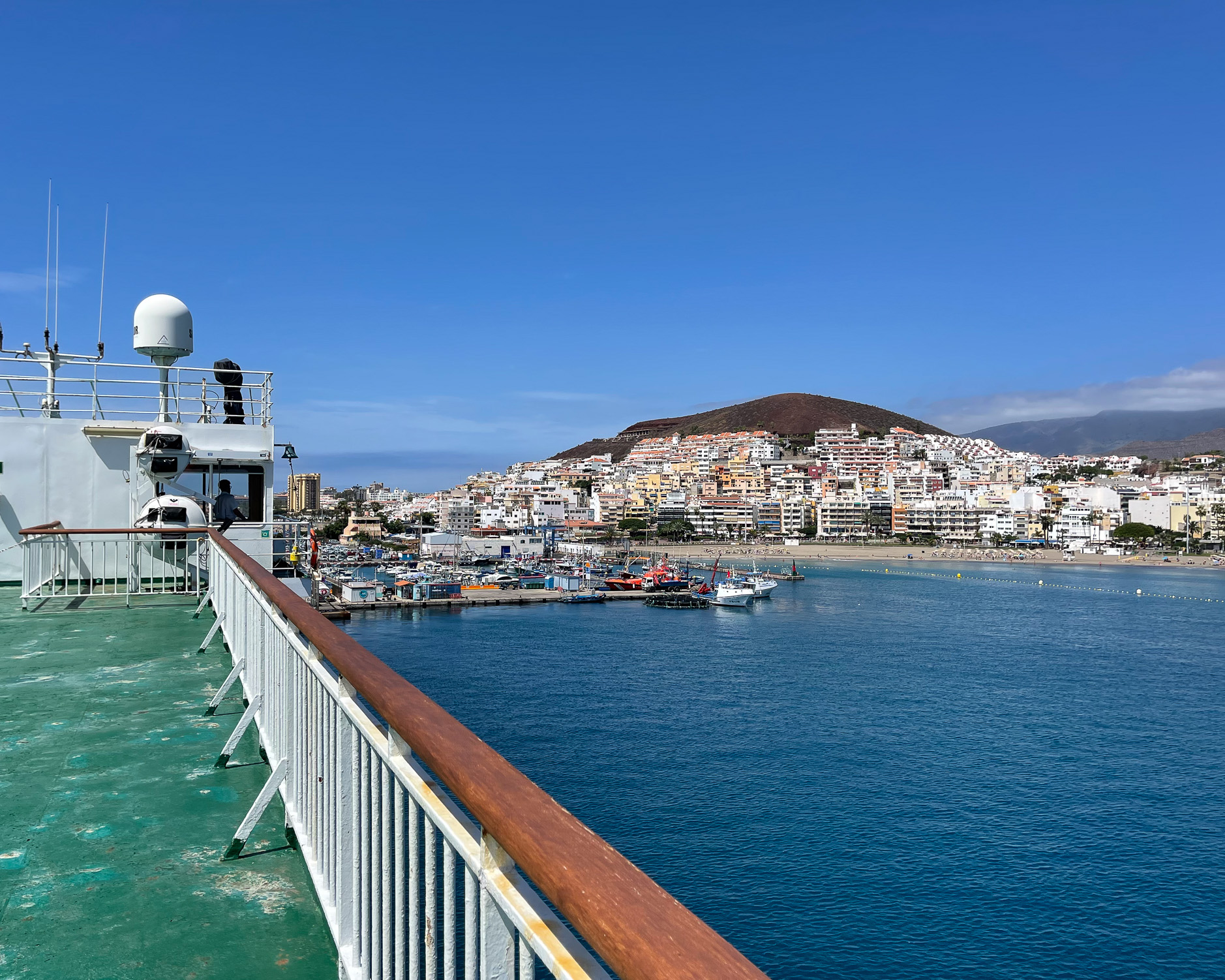 As we had a couple of hours to wait until our ferry, we relaxed in the sunshine at the cafe "El Teatro del Puerto" which sells reasonably priced refreshments. For foot passengers there's no need to book in advance as it's easy to buy tickets in the port's departure centre, where the ticket counters open around 1 hr before the ferry leaves.
Once on board, there was plenty of space to sit inside or outside on the ferry. As the ferry pulled away we enjoyed the views looking back on the south coast of Tenerife and the arrival at the island capital of San Sebastian de la Gomera.
Discover 12 fun and unexpected things to do in Tenerife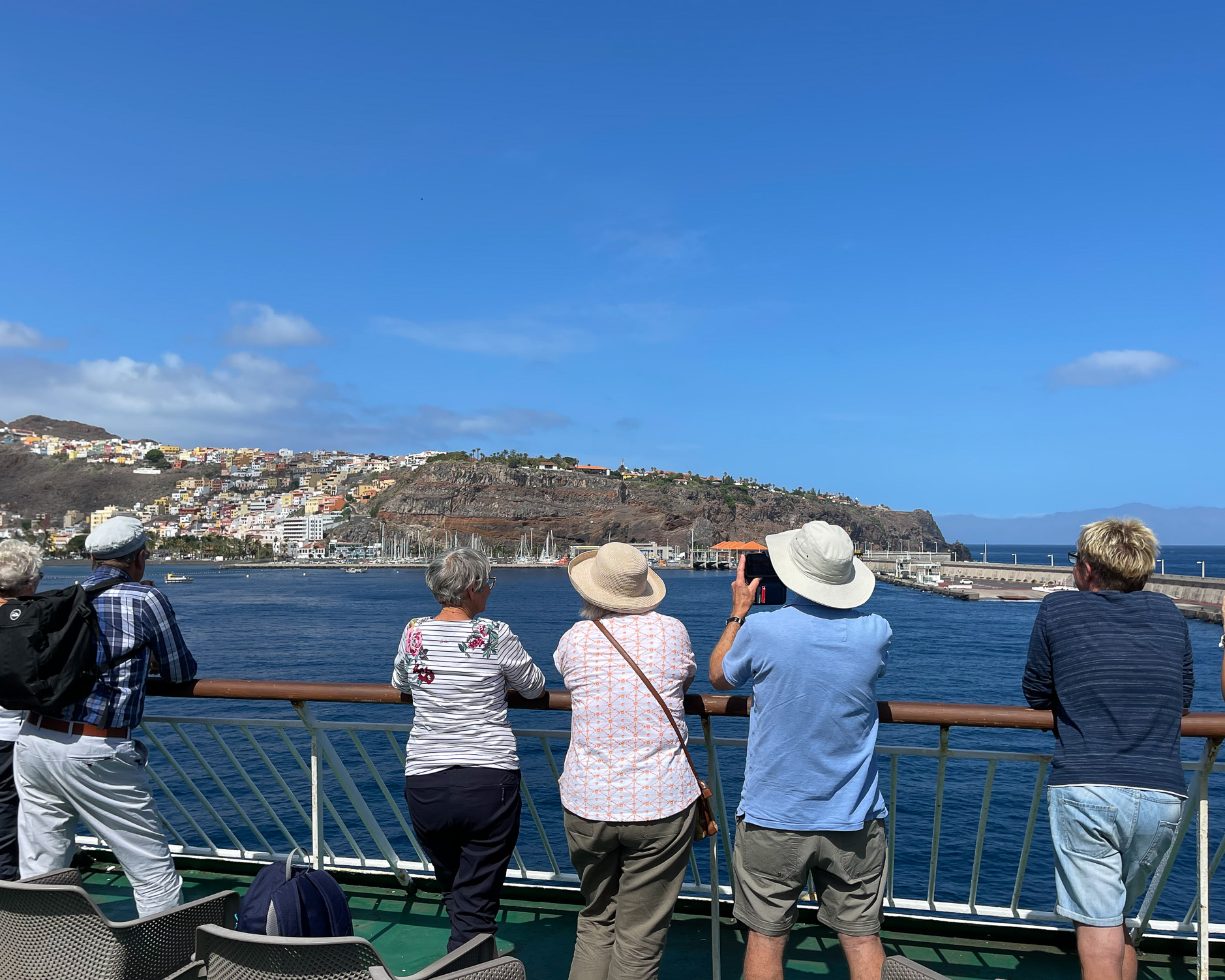 San Sebastián de la Gomera – 1 night – (day 1)
Our 2.30pm ferry from Los Christianos in Tenerife brought us into La Gomera at around 3.30pm and as the Parador where we stayed was on the top of the cliff, we took a taxi from the port to the hotel. The gardens of the Parador are so gorgeous that it was tempting to relax there and make the most of the swimming pool and the views.
However, after settling in, we walked down into the small town via the path and had a look around in the late afternoon. It's a very walkable place and after exploring the old town, we found a chiringuito on the beachfront for dinner.
Where to stay in San Sebastián de la Gomera
Staying at the Parador in San Sebastian was a splurge at the start of our walking holiday in La Gomera, but one that we thoroughly enjoyed! The traditionally furnished rooms are set around green courtyards or look out on the lovely gardens.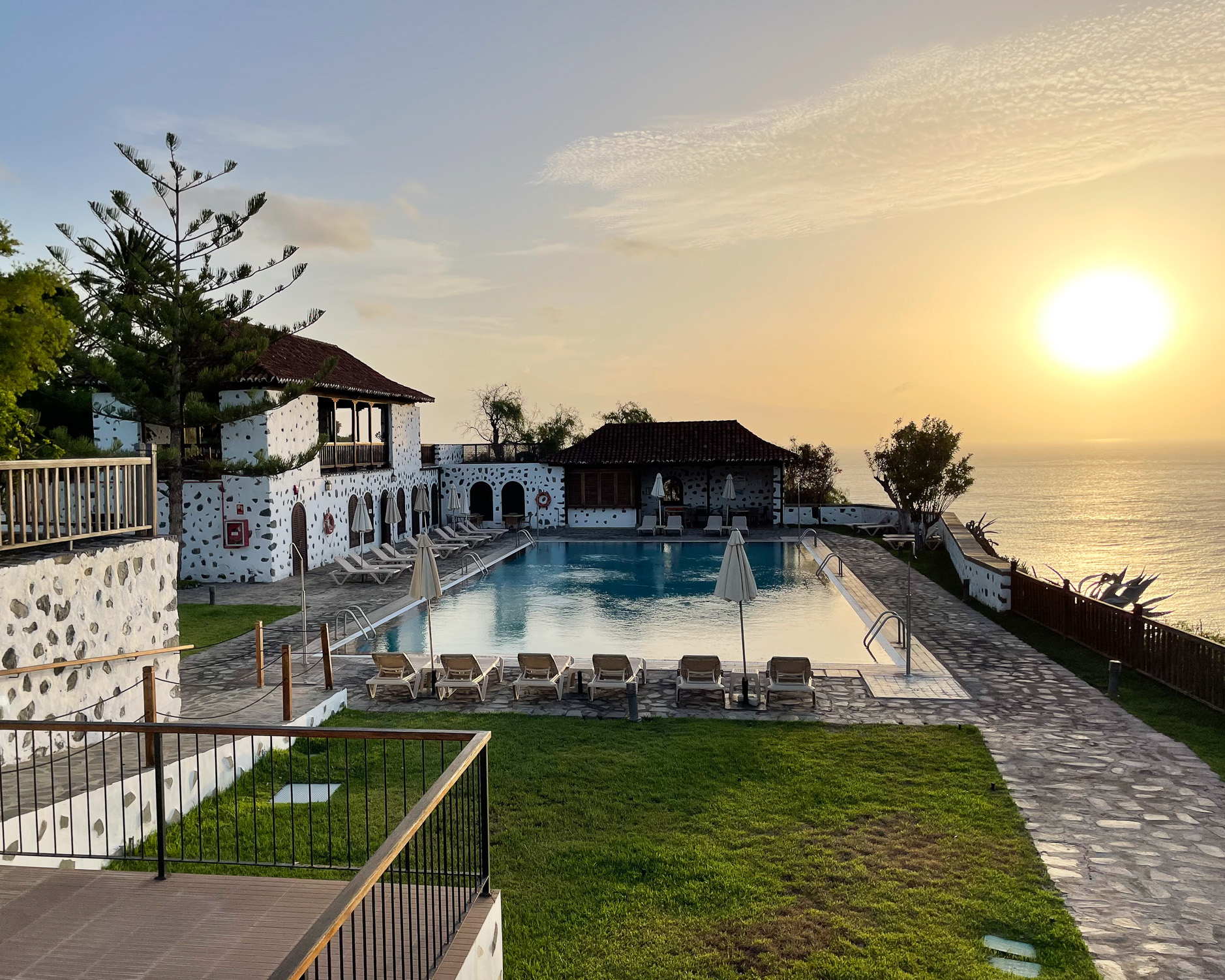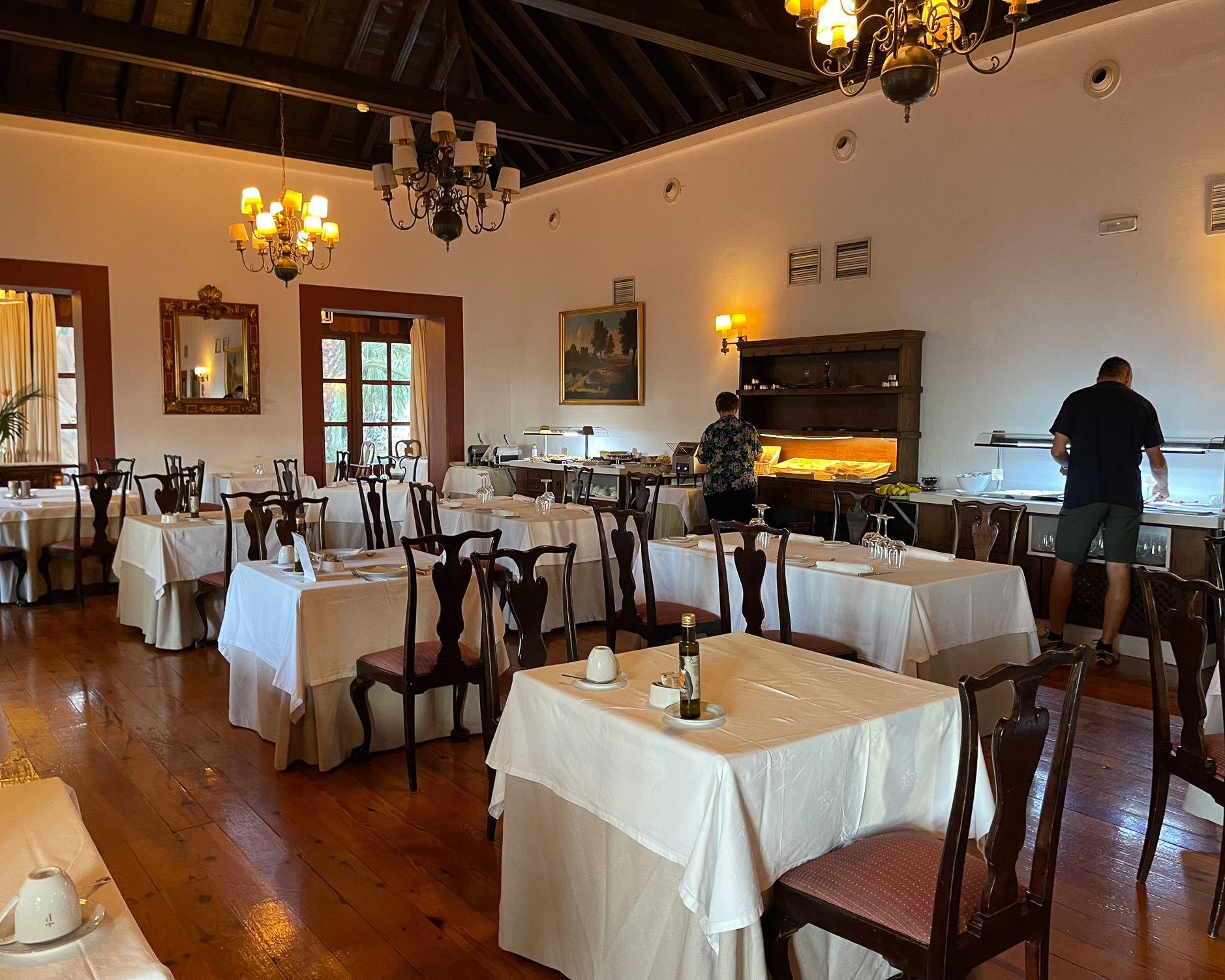 We felt as if Christopher Columbus himself might just have set foot here for a little bit of paradise before his arduous journey across the Atlantic. There's a lovely swimming pool, courtyard bar, elegant restaurant and breathtaking views from the clifftops over the town and sea. Although we took a taxi up from the port, walking down from the Parador along a cobbled lane doesn't take too long, once you know the way.
If you are looking for cheaper hotels in San Sebastian la Gomera, then try Hotel Apartmentos Villa Gomera, which is centrally located in the town itself, or check other hotels and apartments in San Sebastian de la Gomera.
Car Hire Tip: You don't need a car to get around the town of San Sebastian itself, and parking could be an issue in the centre of San Sebastian (although there's parking at the Parador). So if you plan to hire a car for the rest of the stay, you could pick it up once you are ready to leave San Sebastian.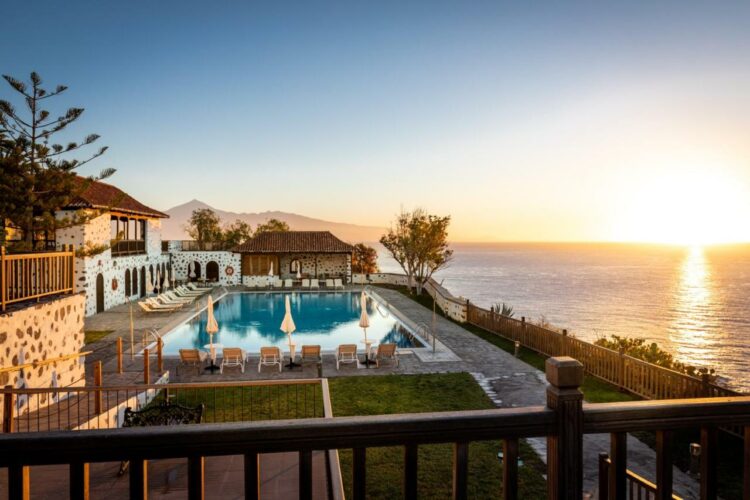 Things to do in San Sebastián de la Gomera
La Gomera's capital has a largely pedestrianised centre, making it easy to wander around. The oldest houses survive from the 1440s when land was granted to Spanish nobles, after the conquerers managed to subdue the Guanche people who lived here. San Sebastian is very proud of its connections with Christopher Columbus who stopped here in 1492 to take on supplies for his voyage to the "New World'.
The main things to do include:
Sit under the shady laurel trees in Plaza de la Constitution and watch the world go by from the cafe "Kiosco las Carabelas"
Notice the statue in the plaza of Christopher Columbus and read the information boards about the town's history.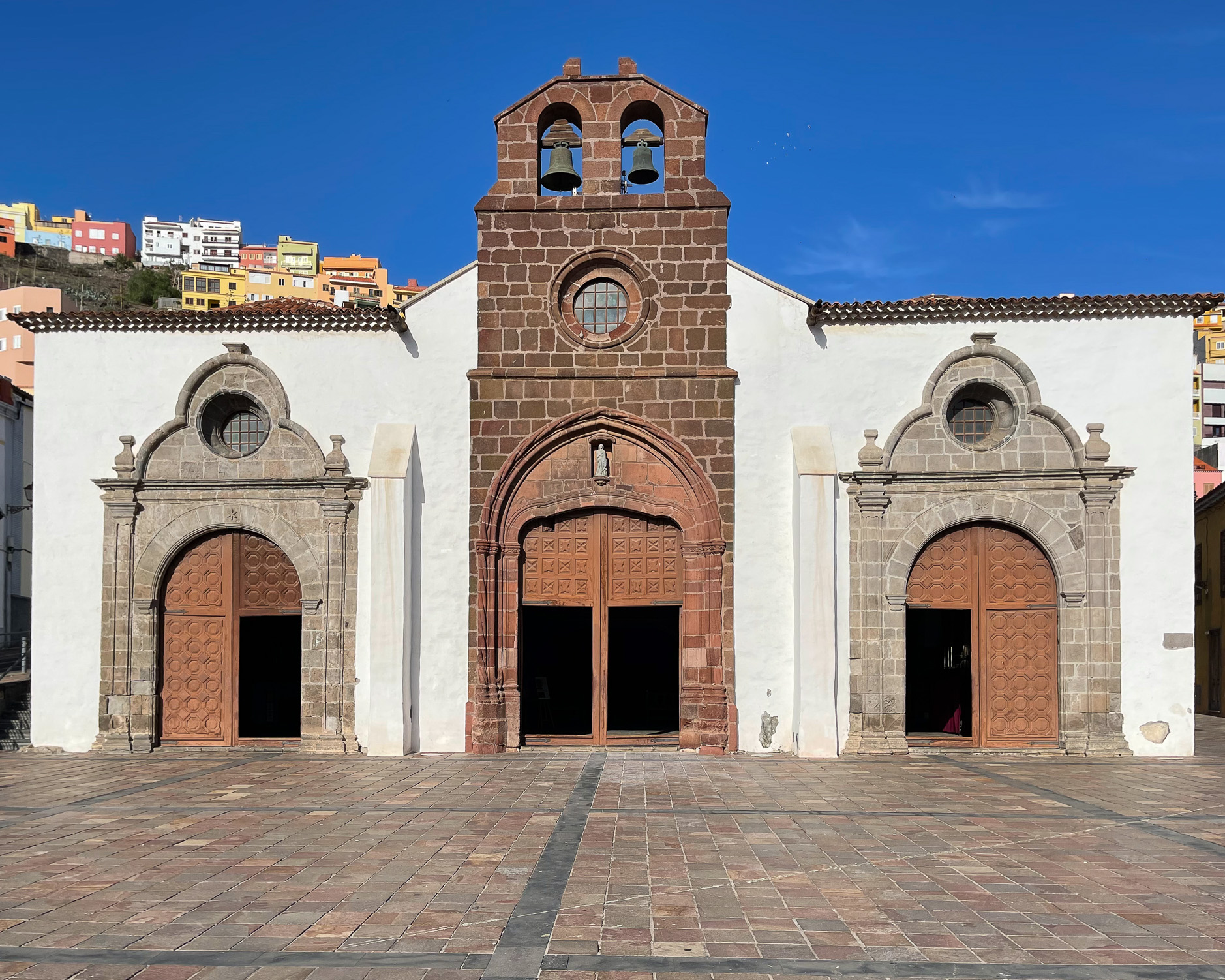 Wander up Calle Real to the Inglesia de la Asuncion, the town's main church which had just been started when Christopher Columbus passed through. However, the successive damage by pirate attacks mean that the church you see today mostly dates from the 17th century.
On the corner opposite the church is La Casa de la Aguada, with a well in the courtyard where Christopher Columbus traditionally drew water for his voyage. Today it's a tourist information centre, with to one side an interesting exhibition about the island and the importance of stone in its development. It's worth picking up a map of the La Gomera hiking trails at the tourist information centre.
Explore Timanfaya National Park and the volcanoes in Lanzarote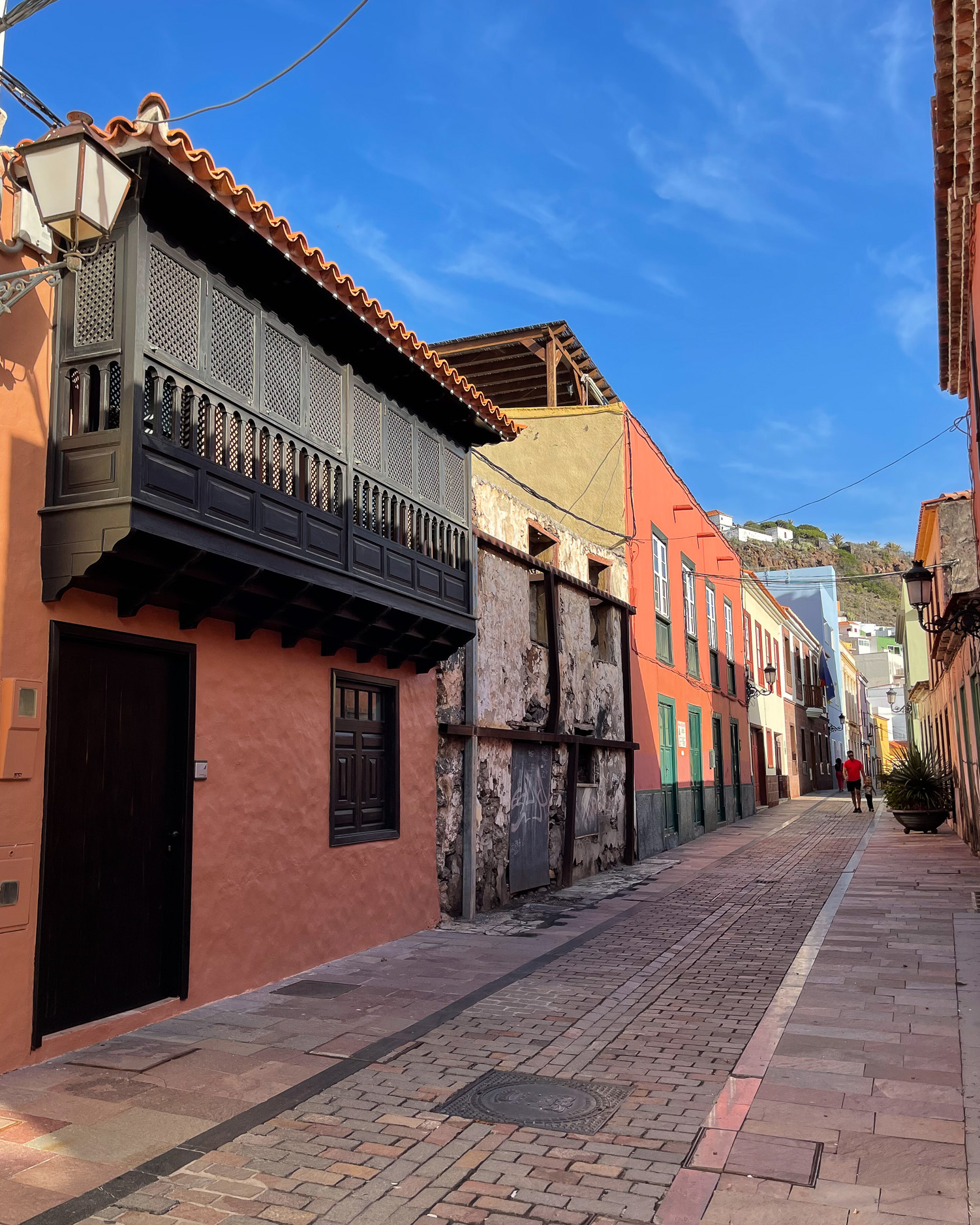 Next door is the Archaeology museum with information about the island's first inhabitants, the guanches. On the same street and the nearby Calle Virgen de Guadalupe are some pretty old Canarian houses with the typical carved wooden doors, shutters and balconies.
A short distance further along Calle Real is the small chapel Ermita de San Sebastian built in 1450.
One of the town's main landmarks is Torre del Conde, a fortified tower set in an open park. It was built in 1447 to defend against the Guanche and proved useful to Beatriz de Bobadilla, who sheltered there following the murder of her husband the governor, until help arrived to put down the Guanche rebellion.
Hiking from San Sebastián de la Gomera
Although we didn't use San Sebastian as a base for hiking, if you want to spend more time here, you can try the following walks. Guidebook route numbers are shown for the La Gomera Rother walking guide.
An easy coastal walk from San Sebastian's promenade takes you to a sheltered bay at Playa de la Guancha. (Guidebook route 1)
A downhill route starts at Mirador Degollada de Peraza above the town, which can be reached by bus or taxi, from where you walk downhill back into San Sebastian, with views of Teide volcano on Tenerife. (Guidebook route 6)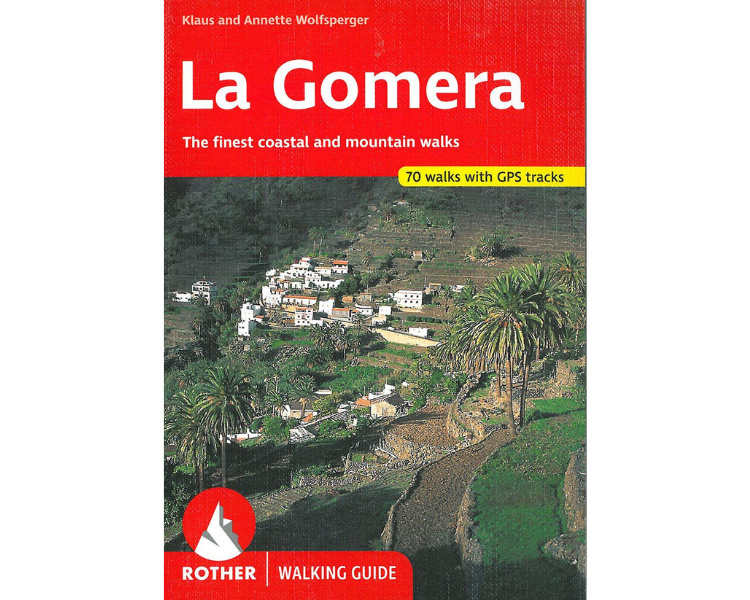 Agulo – 2 nights – (day 2 and 3)
After our pleasant night at the Parador in San Sebastian, we moved on to Agulo where we were to spend 2 nights. Buses are not very frequent, but Line 2 from San Sebastian bus station left at 10.30am and dropped us 40 minutes later at Agulo. From there it was a short walk through the pedestrianised streets to our accommodation, a Casa Rural that offered simple accommodation for walkers.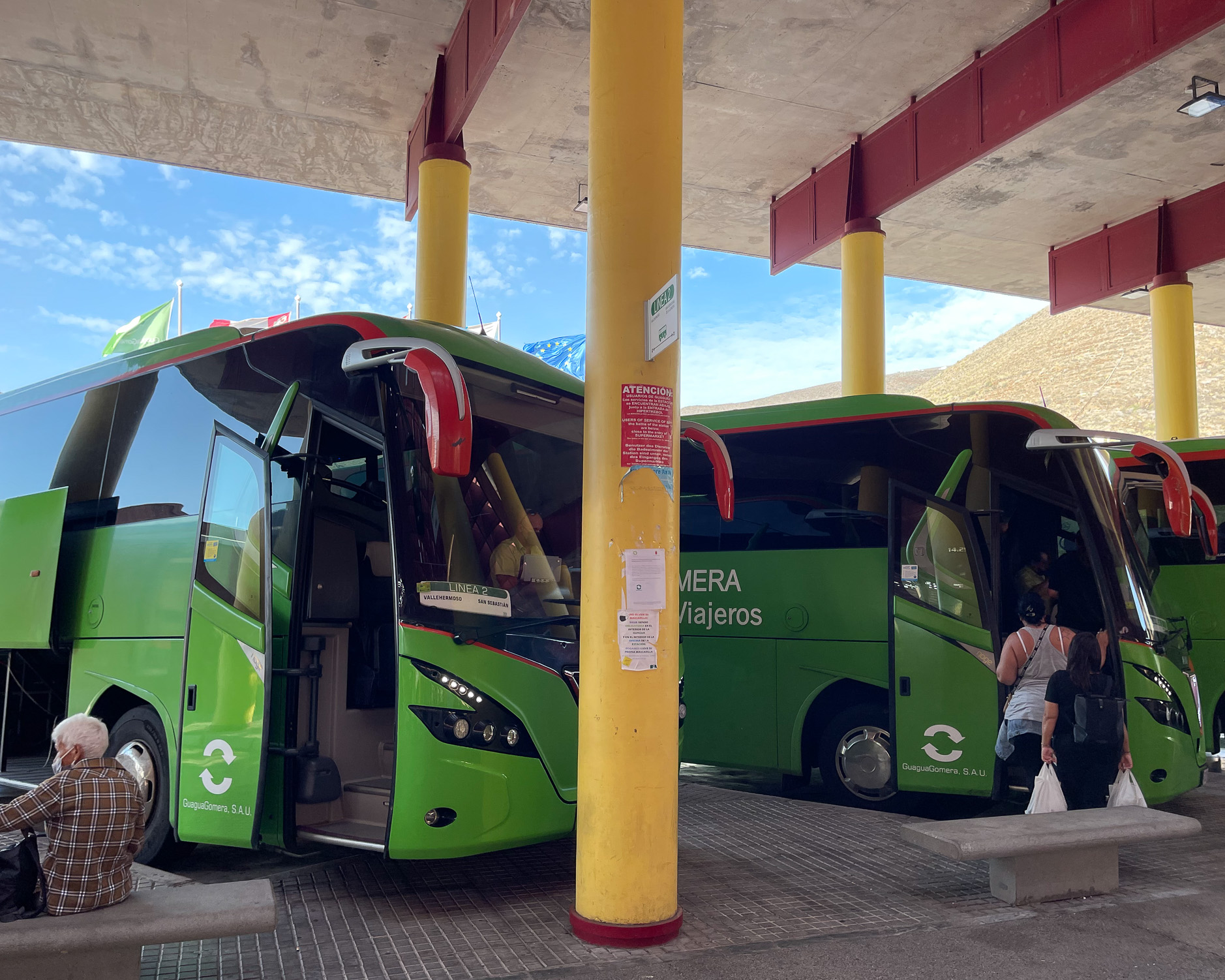 Where to stay in Agulo
Agulo is a small and fairly compact village, so most locations will work well for walkers. However, if you have a hire car you should check first what parking is available, since the streets are narrow and parking is only allowed in certain parts of the village.
We stayed at Casa Rural Los Helechos which is ideal for walkers, since the accommodation is in small apartments set around a traditional courtyard. Although breakfast is offered at an additional charge, we liked having our own small kitchen / living area. The owners were also very helpful in giving advice for walkers.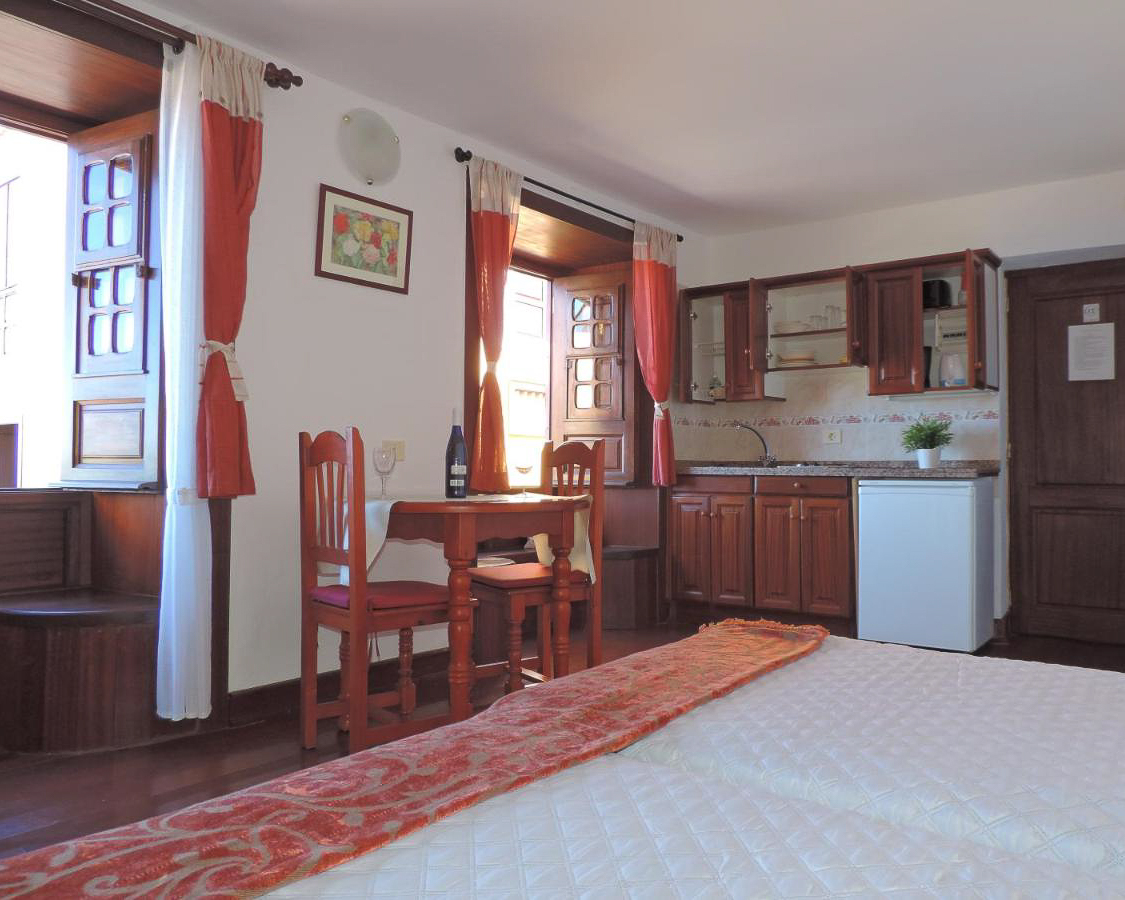 If Casa Rural Los Helechos is not available, you could try Casa Lugo Hotel Rural (although this was closed at the time of our visit) or otherwise check some of the other Casa Rural or apartments in Agulo.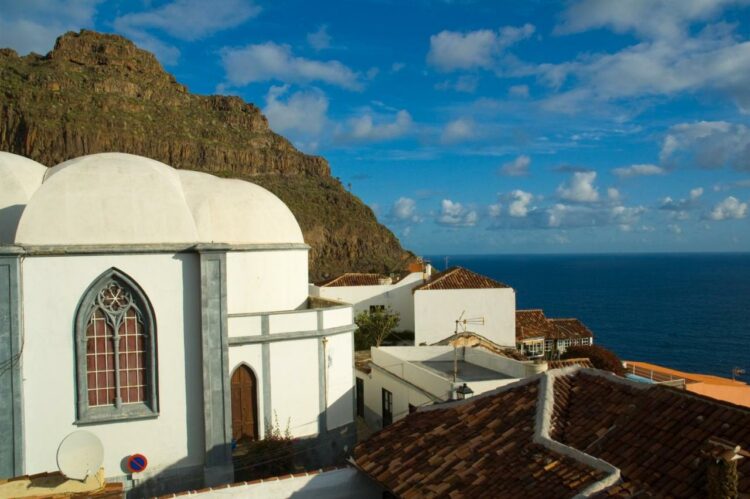 About Agulo in La Gomera
Known as the prettiest village in La Gomera, Agulo is made up of narrow cobbled streets bordered by traditional houses. The setting is bounded by a sheer cliff in front of which the village sits surrounded by fertile terraces, and views towards the sea with Mount Teide in the distance.
The 19th century bought a period of prosperity to Agulo and with thriving banana exports, modern benefits such as electricity and telephone lines, so the village was known as the "bonbon of La Gomera", such was its attraction as a place to live. During this time, attractive houses were built by the expanding middle classes, with two stories, elaborate carved doors and window shutters and wrought iron balconies.
Things to do in Agulo
Places of interest to visit in Agulo include
The church of San Marcos in the main square, with its striking rounded roof design. This church is actually not that old having been designed in 1911 over the site of an earlier church that had fallen into disrepair. It is from this square during the festival of San Marcos in April, that bonfires of juniper wood are lit and young men jump over the flames in honour of the saint.
The main thing to do in the village itself is to wander around the pretty streets to soak up the atmosphere, and relax in one of the town's cafes or traditional restaurants. We ate in La Vieja Escuela and Bar Restaurante Alameda, both of which serve tasty Canarian specialties.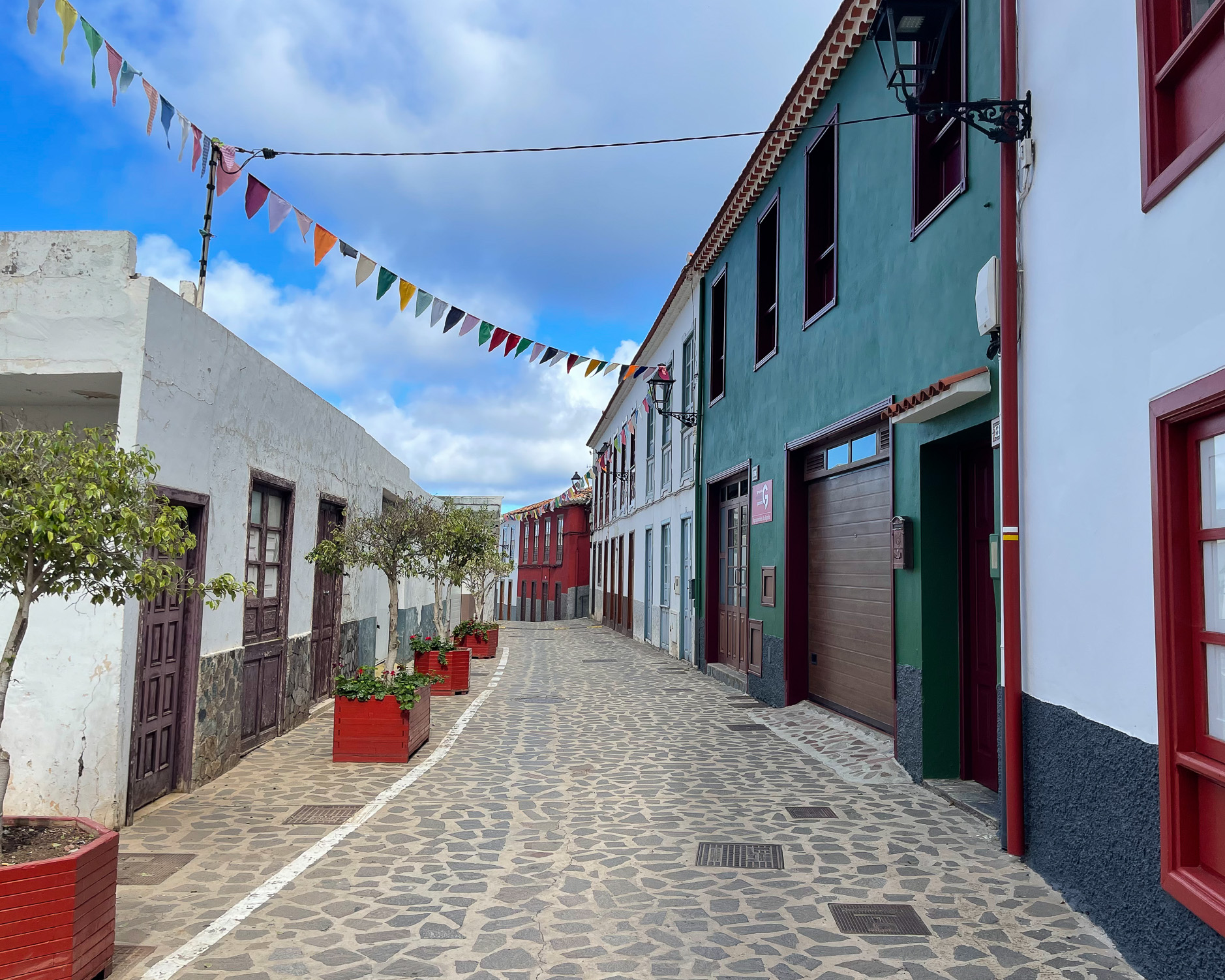 From Agulo you can walk to the coast to see the remains of an old davit or crane that was used to load boats with bananas, although it was destroyed by a storm in the 1950s.
Also from the village you can walk to the beach at Playa de San Marco, where there is a pretty chapel. It's a good picnic spot although the waves are too rough to swim here.
If you want to get the most spectacular views you can hike or drive up to the Mirador Abrante viewpoint where there's a glass viewing platform, for views over Agulo and Mount Teide in Tenerife.
Hiking from Agulo
There are a few different walks that can be undertaken from Agulo, justifying a stay of 2-3 nights. As an alternative, you could use the closest village of Hermigua as an accommodation base for 2-3 nights, which will give you access to different walks. Guidebook route numbers are shown for the La Gomera Rother walking guide.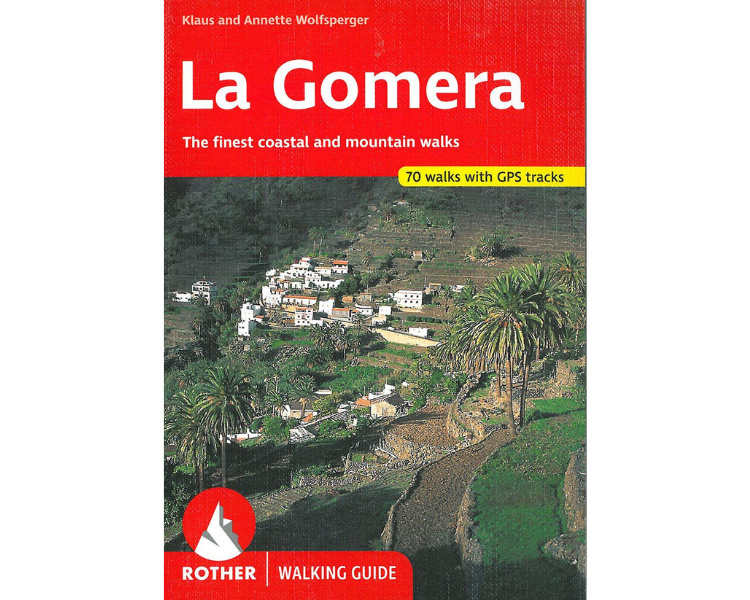 Day 2 – Agulo to Pescante and Playa de San Marcos
Having travelled that morning from San Sebastian to Agulo by bus, we settled into our accommodation and then opted for a shorter walk for the afternoon. This walk took us through cultivated terraces towards the coast, leading downhill to Pescante, with a boulder strewn beach and slipway for fishing boats.
By the side of the path, old wooden boats were being stored, although it seemed far too rough to put out to sea, let alone take a swim. A little further we reached the ruins of the buildings that were used when this was a loading area to export bananas. In the 19th century, a davit or crane was used to load crops into boats, although only the stone pillars that supported the crane remain.
Read about 30 amazing things to do in Lanzarote
Retracing our steps up to the village, we took a different path around the headland, and down a rocky trail towards the beach of San Marcos.
There are pretty views over the cove and the chapel, which is used during the festival of San Marcos in April. As part of the festivities, the saint's statue is paraded down to the chapel from the town square. The sea is too rough to swim here but there's a picnic spot with benches and tables.
Timings – Agulo to Pescante and back 1 hr 30 mins. Agulo to Playa de San Marcos and back 1 hr 45 mins. (Guidebook Route 58)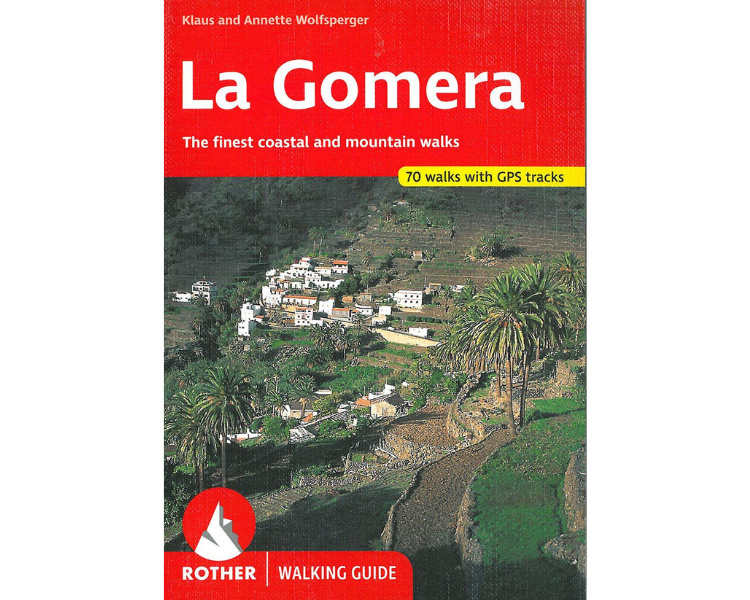 Day 3 – Agulo to Centro de Visitantes Juego de Bolas
On this full day's walking we took a more difficult route, directly up the cliff behind Agulo to the Mirador de Abrante, which is known as one of the best hikes in la Gomera. While the cliff walk was challenging, with steep drops in places, it was easy to follow with stone steps and rewarded us with amazing views over the town of Agulo and Mount Teide in the distance. At the top, a stone pillar marked the Mirador de Agulo and from here the incline was more gentle, through grass and old terraces, climbing up to the highest point at the Mirador de Abrante.
Visiting the Mirador is known as one of the best things to do in La Gomera, but annoyingly it was closed (despite it being within opening hours) so we had forgo the drink in the cafe we had been looking forward to. Instead we climbed up on the eroded ridge above the Mirador and followed the path and marker poles through shrubs and forest. We arrived at the Juego de Bolas, one of the visitor centres for the Garajonay National Park, although it sits outside the park itself.
Juego de Bolas Visitor Centre
It's easy to spend a pleasant hour at the visitor centre, which is also a popular stop if you are travelling by car. Surrounding the centre is a botanical garden, with areas showing native shrubs and trees as well as beds planted with the medicinal plants used on La Gomera.
At the Casa de la Memoria or "House of Memories" we found an ethnographic museum, where we watched a fascinating film, offering insights on the cultural heritage of la Gomera. We learned about the Silbo whistling language, that was used to communicate across deep ravines, how pottery was traditionally made and how the sap of palm trees is tapped to make palm honey.
Adjoining the "House of Memories" is a series of small shops and exhibitions around the courtyard. At the information centre, we picked up a map of the Garajonay National Park as well as a La Gomera hiking map, with all the walking trails and got valuable information from the park wardens. In the same area is a cafe selling coffee and snacks as well as local food specialties, a souvenir shop and an exhibition about the terrible forest fires of 2012 that destroyed large areas of the Garajonay forest reserve.
Juego de Bolas back to Agulo
A circular route would have taken us back on a different path, following the Barranco de las Rosas. However a landslide had closed this path, so we retraced our steps to the Mirador de Abrante and then made a short detour to see the reservoir Embalase de Agulo. From here, it was back down the cliff path, enjoying the late afternoon views over Agulo.
Timings: The whole walk took us around 7 hours, including a long stop for lunch at Juego de Bolas and a rest at Mirador de Abrante. In the guide book the circular route with no rest stops is given at 3 hrs 30 mins. (Guidebook Route 59)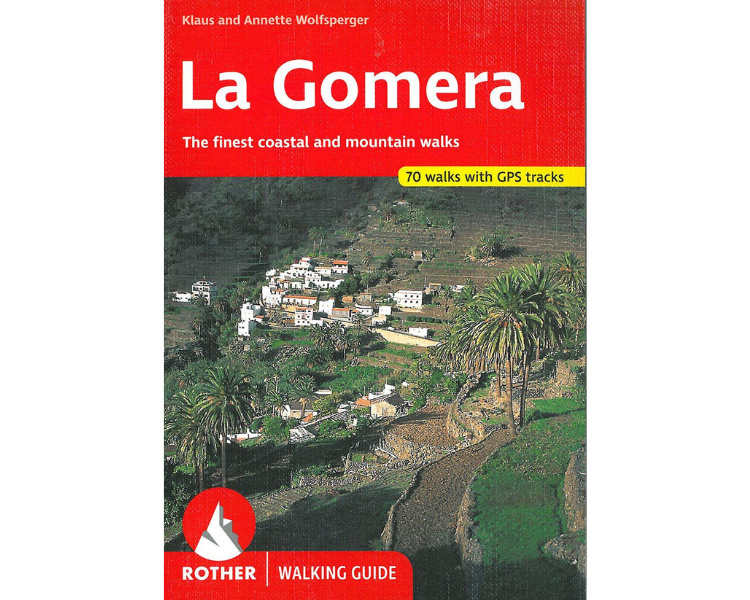 Vallehermoso – 2 nights – (day 4 and 5)
After a second night in Agulo we moved on to Vallehermoso, taking a taxi in the morning to save time and allow us to do a longer walk that day. The cost of the taxi was around €25. We could also have taken the Line 2 bus that runs from San Sebastian to Vallehermosos via Agulo, leaving San Sebastian at 10.30am arriving Vallehermoso around 12.00.
If I was to choose just one location to base myself for hiking on La Gomera, it would be Vallehermoso. Literally meaning "Beautiful Valley" there are numerous walks that can be easily accessed from the town. Watered by the trade winds, the vegetation here is lush with palm groves and terraces for bananas and other crops. The rocky landmark of Roques de Cano towers over the town, which has a pleasant central square and useful amenities such as restaurants, banks and shops.
Where to stay in Vallehermoso
Vallehermoso is not a big town, so most places to stay that are fairly central will be fine in terms of location for walkers. Like other places we stayed, parking is limited within the town and streets can be narrow, so check with your accommodation if you plan to be travelling by car. We loved our stay in Hotel Rural Triana and it was the nicest place we stayed on this trip apart from the Parador.
The rooms are arranged around an internal courtyard, and the decor of rooms and public areas is stylish and contemporary. A special mention has to go to the excellent breakfast with a great spread of high quality items and barista style coffee.
The staff were very kind and helpful, going above and beyond to ensure we had a great stay. One point to note is that like many smaller rural hotels, there is not a 24 hour reception and staff leave in the afternoon, but are on call by phone if required.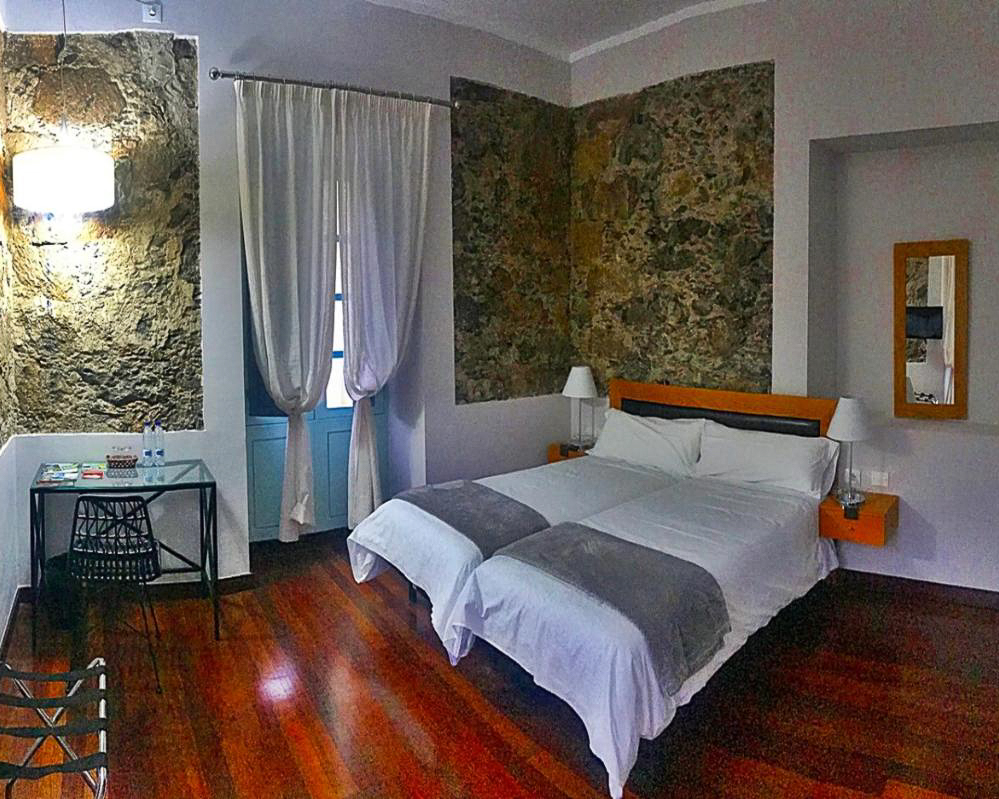 If you find no availability in Hotel Rural Triana, check for other hotels in Vallehermoso. However, be aware that there are not so many options in the town, considering its popularity as a centre for walkers, so it's best to book early, as Hotel Rural Triana is the best option we found.
If you are looking for a great place to eat, we can recommend Tasca Restaurante el Carraca, which is easily the best restaurant in town – they serve all the local specialties and their fresh tuna fillet was amazing!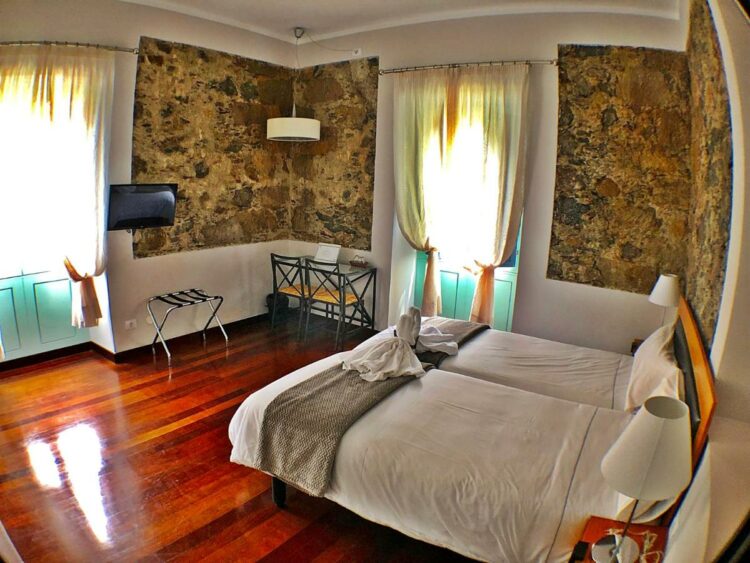 Things to do in Vallehermoso
While there are older traditional houses to be found in Vallehermoso, the atmosphere is of a working Canarian town, where the locals emerge in the late afternoon for a stroll and chat with their neighbours. Like the rest of La Gomera, there's not much in the way of 'sights' to visit, but if you are looking for things to do we suggest;
On the edge of town in the direction of Playa de Vallehermoso is the Descumbrimiento de Vallehermoso Botanic Garden, full of palms and native species, with a modern visitor centre. The garden was closed when we passed, the signs proclaiming that a major government funded renovation is underway. However, I've heard reports that there is nothing to stop you wandering in through a side entrance to take a look, so may be worth checking out.
Although the sea at Playa de Vallehermoso is generally too rough for swimming, there's a seawater swimming pool in front of the beach, with changing rooms and lifeguard, which is free to visit. We stopped there for a drink at the trailer cafe beside the swimming pool and my friend enjoyed her swim there.
On the GM-1 road out of town in the direction of Agulo, there's the Mirador El Almendrillo set beneath Roques de Cano, which gives some excellent views over the town.
Hiking from Vallehermoso
The main attraction of Vallehermoso is the town's location at the confluence of several valleys, offering numerous hiking possibilities. We tried one of the most popular La Gomera walking routes to Cumbre de Chijere on the first day and on the second we took the bus into Garajonay National Park, to walk among the island's famous misty laurel forests. However, there are many other hiking routes that would justify staying for several days in Vallehermoso if you have enough time. Guidebook route numbers are shown for the La Gomera Rother walking guide.
Day 4 – Vallehermoso to Cumbre de Chijere
The circular day hike that we made to Cumbre de Chijere was one of my favourites of the whole trip. Our walk took us directly from the town square up the Barranco de la Era Nueva. As we climbed steadily up along the valley side, we passed abandoned terraces and saw the vegetation change from palm and scrubby bushes to cactus and succulents.
Finally near the top of the ridge, a balcony path gave us some incredible views back down the valley towards Vallehermoso. A little further and we arrived at Ermita de Santa Clara, a large chapel set on a piece of flat ground with views towards the sea and the isolated hamlet of Arguamel. We spent a while mesmerised by the white flecks on the sea, trying to guess if they were dolphins or the native pilot whales that swim in these waters.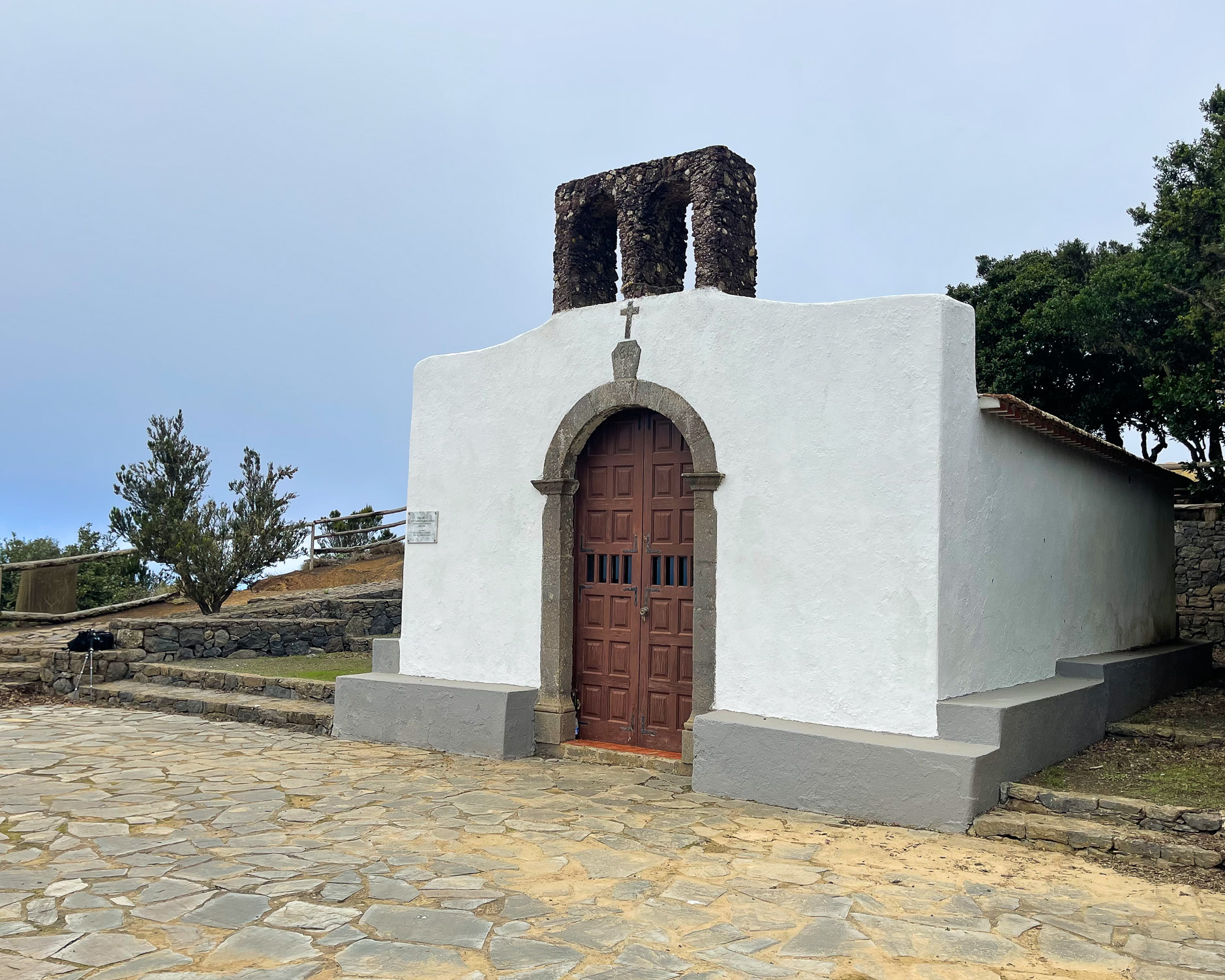 From here the track continued on the side of the Cumbre de Chijere ridge with more views over the sea and crashing waves.
A layer of cloud was settling down as we arrived at the second chapel, Ermita de Coromoto where we sheltered from the wind at the side of the building for our picnic lunch. Not much further was the breezy Buenavista viewpoint and from here we turned down a stony trail that would bring us down from the ridge to sea level at Playa de Vallehermoso.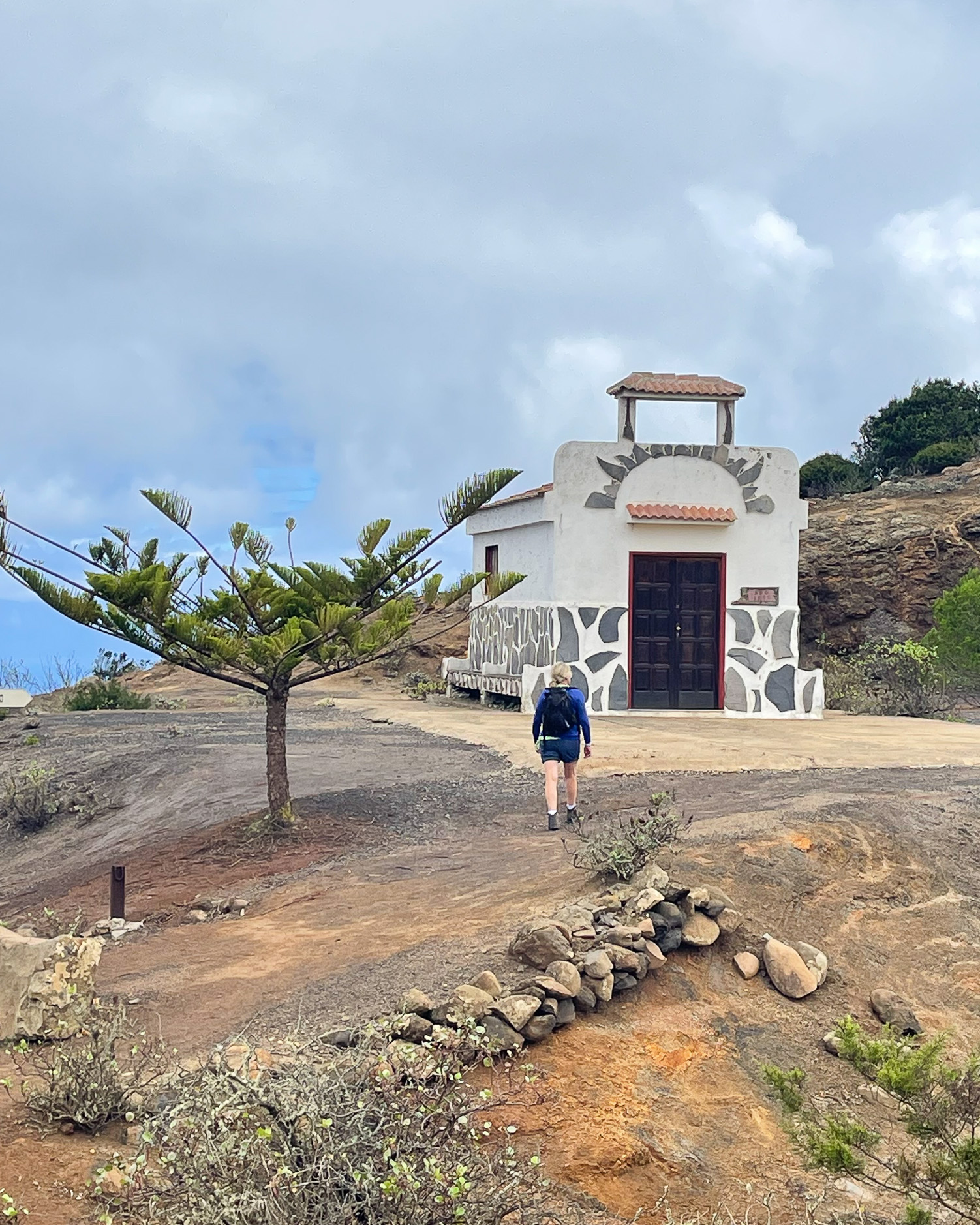 The track was so steep that it required all our concentration, but we were rewarded by gorgeous views over the valley and coast below, arriving finally at the road.
From here a short walk took us down to the beach and the saltwater swimming pools where we had a drink at the cafe and my friend took a swim. By the time we left here, the rain was setting in so we opted to walk back into Vallehermoso along the road, rather than the path that runs parallel to it.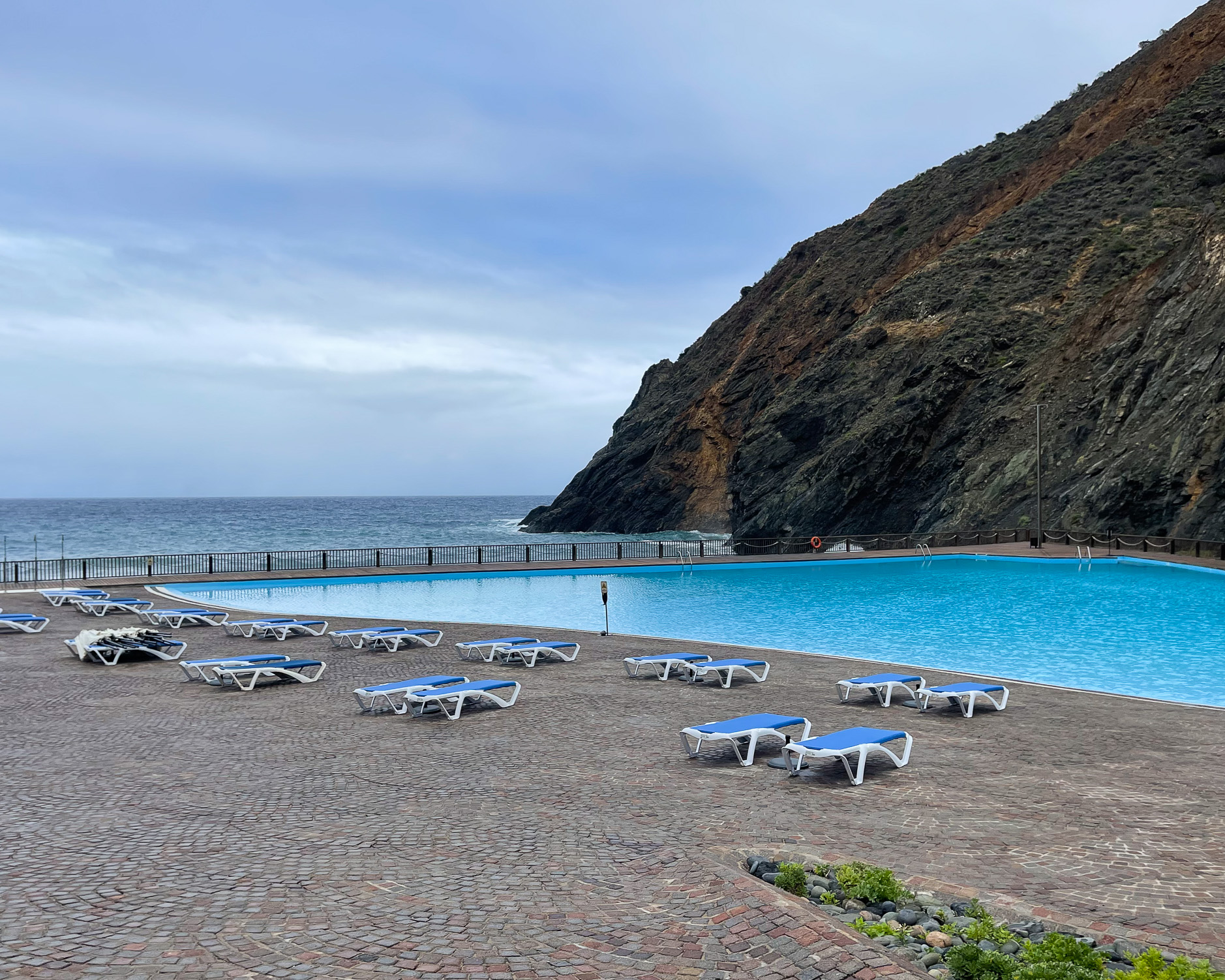 Timings: The whole walk took us 5 hours from Vallehermoso to Playa de Valleyhermoso, not including the extra time we took at the swimming pool and walking back into town. The guidebook timing for this walk is 5 hours. (Guidebook Route 54)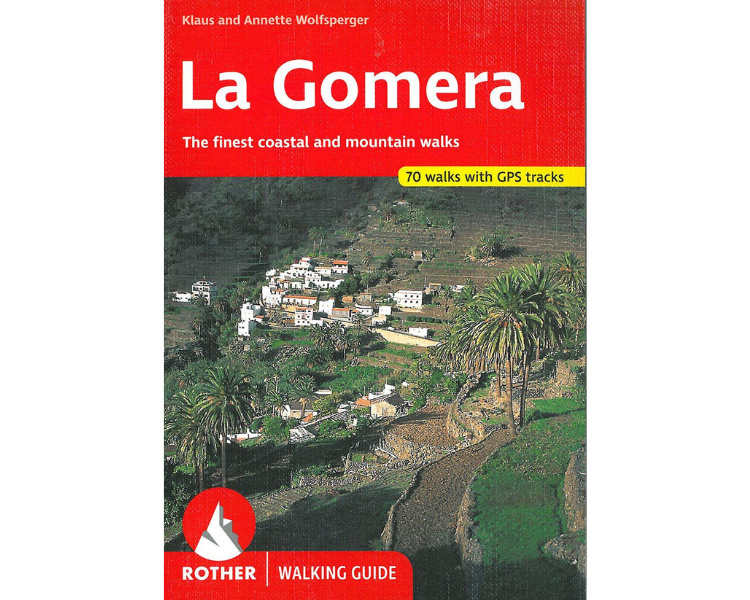 Day 5 – Laguna Grande to Alto de Garajonay
For our second day in Vallehermoso, we decided to take the bus to explore the Garajonay National Park at the centre of the island. The park is known for its laurel forests which are often shrouded in mist and was declared a UNESCO World Heritage Site in 1986. Getting to our starting point at the Laguna Grande Visitor centre from Vallehermoso proved a bit of a logistical challenge!
We took the Line 8 bus at 9.30am to Valle Gran Rey which dropped us at the junction with the GM-2 road running through the park. Since there were no buses at that time running in the direction of Laguna Grande, we walked along the road for a further 1.5 hours before reaching the visitor centre. While we were walking alongside the forest, with occasional views, in retrospect I wish we had taken a taxi to our starting point to save time and avoid the walk on a busy road.
Arriving at Laguna Grande Visitor Centre, we checked at the information point on the best walks to take to reach the highest peak in the park at Alto de Garajonay. If you don't already have one, this is the place to pick up a map of the park, showing all the hiking trails. You can also download a map and other information about trails from the Garajonay website.
There's also a cafe restaurant here and an open field with children's playground. Numerous short, circular walking trails are available within the park, with small parking areas, which are well signposted and generally close to the GM-2 main road that runs through the park. We decided to walk the route 6 and route 14 walks, that join together to take you to the peak at Alto de Garajonay.
It was easy walking along broad, open paths through the forest, and with stops to pick ripe blackberries, I felt at times that I could have been strolling through the English countryside. For much of the way the walk was cloudy and at times the mist swirled above and around us, forever shifting to reveal glimpses of blue sky.
As we got closer to Alto de Garajonay, we enjoyed some open views towards the distinctive Fortaleza rock formation in the distance close to Chipude, looking over the low forest of Heather and Laurel trees.
Finally we made the climb up to the rounded peak of Alto de Garajonay, but sadly found any views obscured by the mist. This crest was a gathering place for the Guanche and thought to be of religious significance, so a flat stony area has been constructed to recreate how it might have looked for the Guanche.
While we could have returned the same way, we opted for a return route that ran parallel to the road, which while not as pretty, was much shorter. From Laguna Grande we rang for a taxi to take us back to Vallehermoso (cost €30). As buses do not run frequently, if you don't have a hire car, be sure you have the numbers of a few local taxi companies when you go walking in the Garajonay National Park.
More information about Garajonay National Park, map to download and details of trails can be found on the Garajonay website.
Timings: The circular walk from Laguna Grande to Alto Garajonay and back took us 4 hours, not including the time we took to walk to Laguna Grande. (Guidebook Route 70)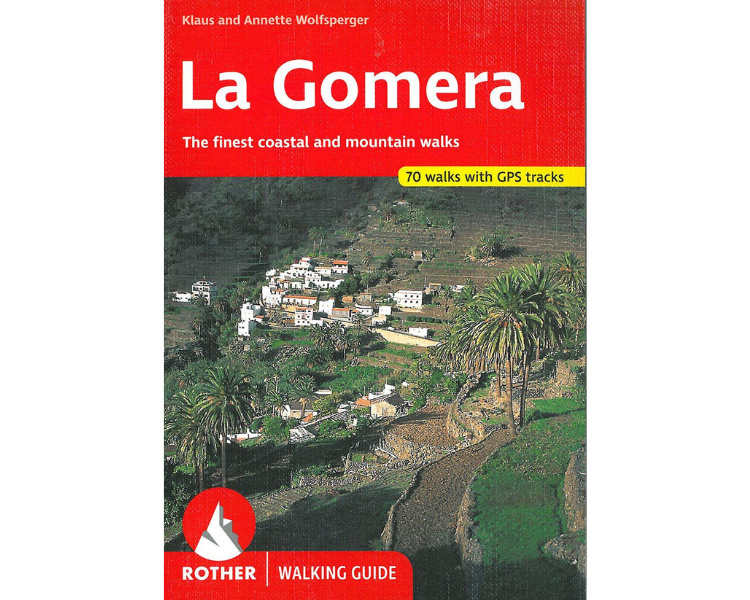 Valle Gran Rey – 1 night – (day 6)
After a second night in Vallehermoso, it was time to move on to our final stop at Valle Gran Rey. We took the Line 8 bus at 9.30am to Valle Gran Rey and by mid morning had checked into our accommodation. Located on the south coast of La Gomera, Valle Gran Rey is one of the sunniest spots on the island, and the most popular holiday resort, especially with German visitors. The resort became popular as a hippie destination for German travellers in the 1960s and you'll feel the boho vibe, with many German expats still living locally.
Where to stay in Valle Gran Rey
Valle Gran Rey is predominantly a holiday resort, but there are some good options for circular walks, or one way walks that end in Valle Gran Rey. Although we only spent 1 night here, you could spend longer if you want to have a more relaxing time at the end of your trip. One issue we found about Valle Gran Rey was that many places have a 3 night or even 5 night minimum stay, so this is one thing to consider in your choice of accommodation.
Accommodation is clustered around Playa de la Calera which is furthest from the port and another cluster is around the Vueltas neighbourhood around the port and the roads leading into it. The commercial centre, with bus station and taxi rank is located a little up the hill, away from the beach.
We were happy with our choice of Apartmentos Charco del Conde, which we were able to book for just 1 night. It's a large complex of small apartments that overlook the central pool or beachfront, and was just a 10 minute from the port. The staff in reception were friendly and helpful and although the decor was a little dated, it was ideal for a short stay.
There are plenty of restaurants to choose from along the sea front or in the side streets and we ate at a chiringuito (fish restaurant) near Playa de la Calera.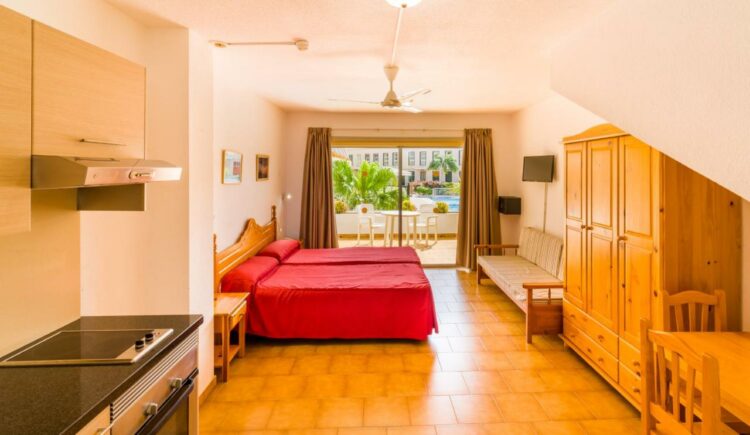 Things to do in Valle Gran Rey
While it's mainly a holiday resort, Valle Gran Rey has plenty of walks that start close to the town, but you need a hire car or taxi to get to the starting points. Bus routes do exist but they are limited and didn't work for our timings. In the resort itself, the main attractions include:
There are several black sand beaches, with clear water and rock pools for bathing and sunbathing.
Boat trips run from Valle Gran Rey to spot dolphins and whales, as well as to visit the Los Organos rock formations, looking like organ pipes on the cliffs, that can only be viewed from the sea.
There are many companies that rent bikes or organise trekking days out, which could be useful if you don't have your own transport.
On the road above the town is the Cesar Manrique designed look out point, which was closed when we passed by, but you can take a look from the outside.
A craft market takes place on Sundays, selling locally made gifts and souvenirs, which is located next to the bus station.
Hiking from Valle Gran Rey
After settling into our accommodation in Valle Gran Rey, we took a taxi mid morning from the taxi rank near the bus station, to El Cercado (cost around €30). We were dropped at the Centro de Interpretation Las Loceras, an interesting free museum about the local pottery that is still made in this area.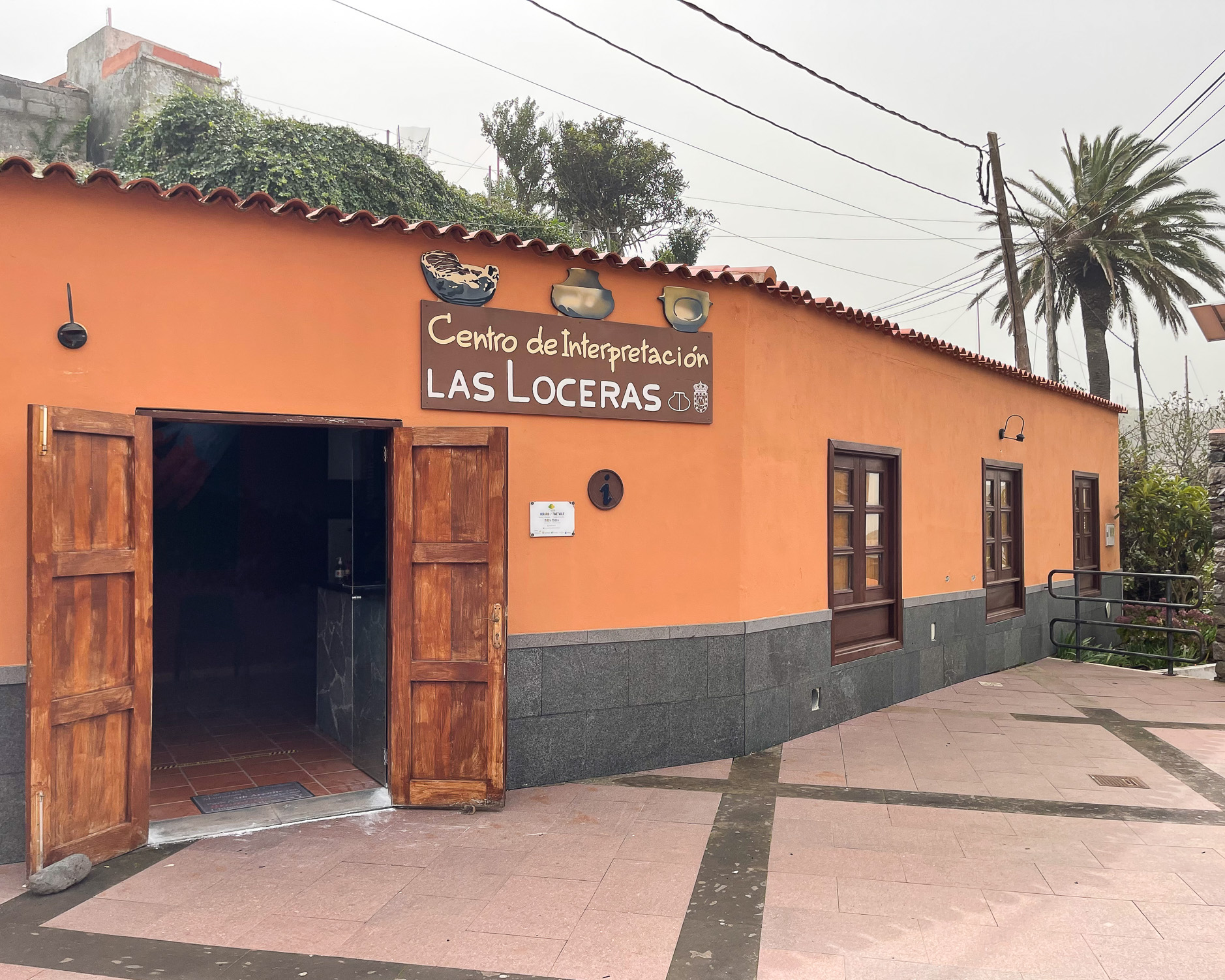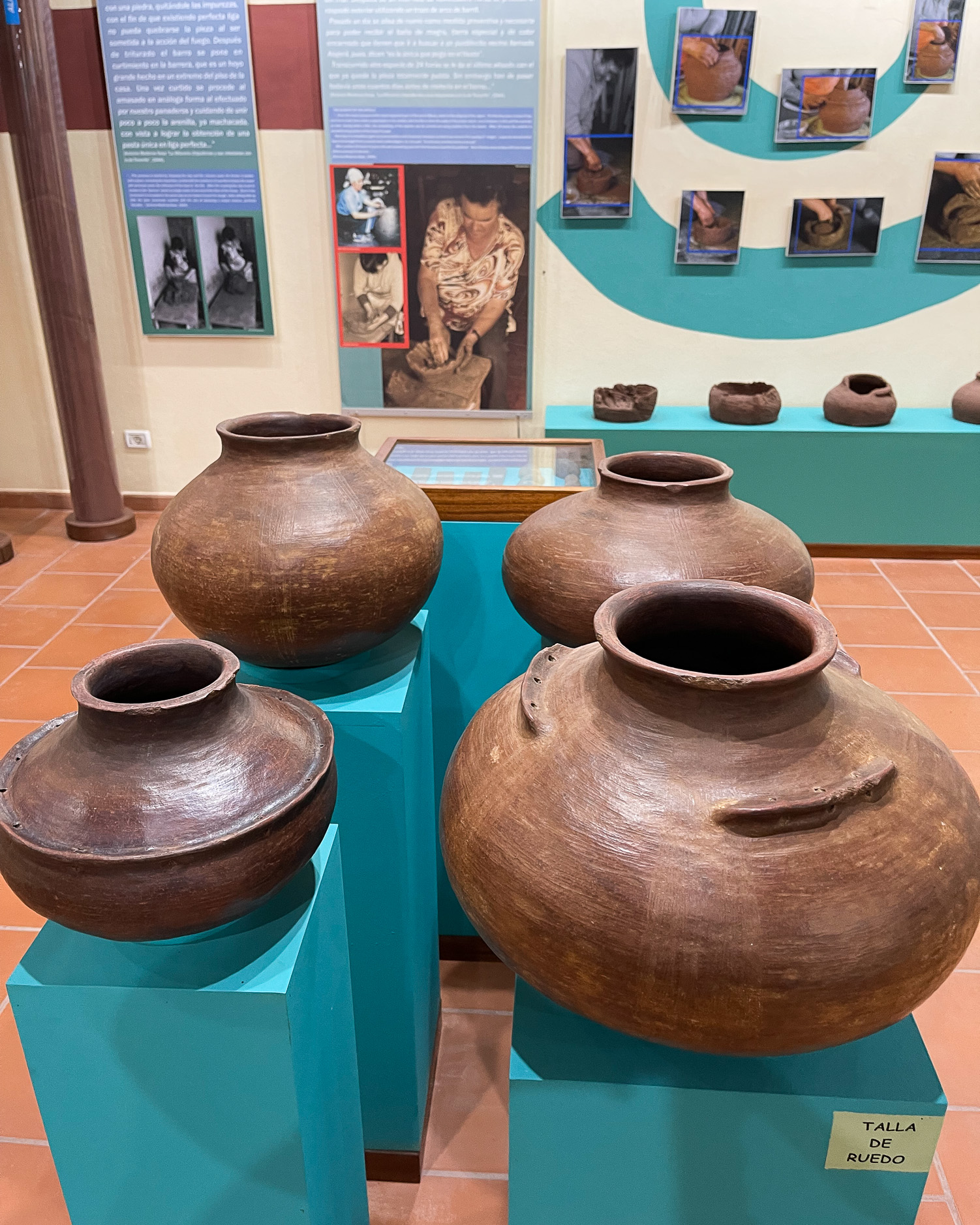 In the past, pottery was made in several locations around La Gomera and traded between towns, for use as cooking pots and food storage. There are several pottery shops in El Cercado, but being Sunday they were all closed, so we stopped for a drink in the local cafe before starting our walk.
From El Cercado, we took an easy path through terraced fields full of cactus and prickly pears, crossing the road at points, to the nearby town of Chipude. At the town's main square we had a look in the pretty church of Nuestra Senora de La Candalaria and were tempted to stop at the busy restaurant of Hotel Bar Sonia, serving hearty Sunday lunch dishes to appreciative locals.
From Chipude, the path skirted the side of the valley, with open views at first and then descending into a hidden valley area known as La Mantanza, which was used in the past as pasturage. We saw palm trees and vines as we followed the pretty, steep sided valley, with water pools at its bottom along an old cement irrigation channel.
At the end of the valley, the path took us upwards on a 10 minute detour to the chapel of Ermita de Nuestra Senora de Guadalupe perched on the spur of Roque de Gurara. After resting for a picnic here, we continued down an increasingly steep path, directly into the valley bottom above Valle Gran Rey.
The last section was on a precarious rocky path with steep drops requiring our full concentration, so we were quite exhausted by the time we reached the Ermita de los Reyes at the bottom of the valley and then followed the road down into Valle Gran Rey.
Timings: The walk from Chipude to the road above Valle Gran Rey took 4 hrs with an extra 50 mins to walk from El Cercade to Chipude and 30 mins to walk from the road in Valle Gran Rey back to our accommodation. We also took 20 mins for a stop at the chapel. The guide book time for the Chipude to Valle Gran Rey walk is 3 hrs 10 mins (Guidebook Route 25)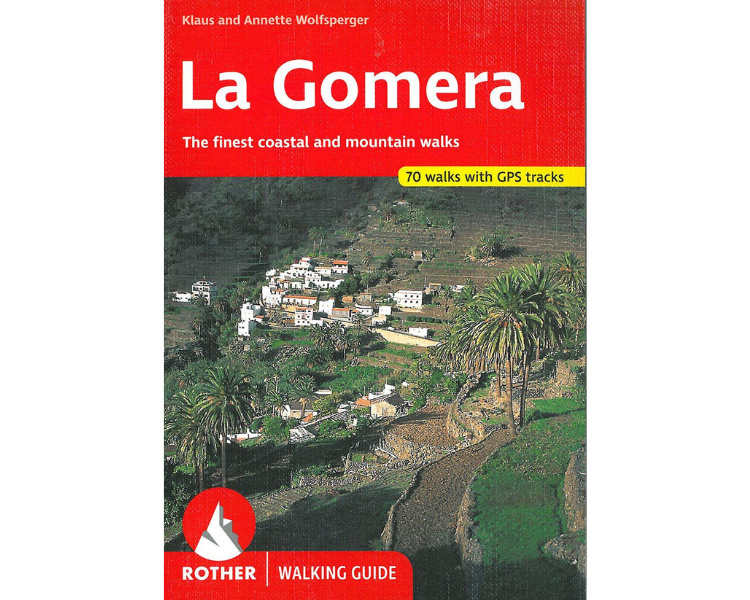 The Ferry from Valle Gran Rey to San Sebastian in La Gomera (day 7)
Our final day was spent on the return journey back to Tenerife, from where we would be flying home the following day. Since all the ferries from La Gomera to Tenerife start at San Sebastian, we needed first travel there from Valle Gran Rey. There are buses (Line 1) from Valle Gran Rey to San Sebastian, but we decided on a slightly quicker and more scenic route of travelling by ferry.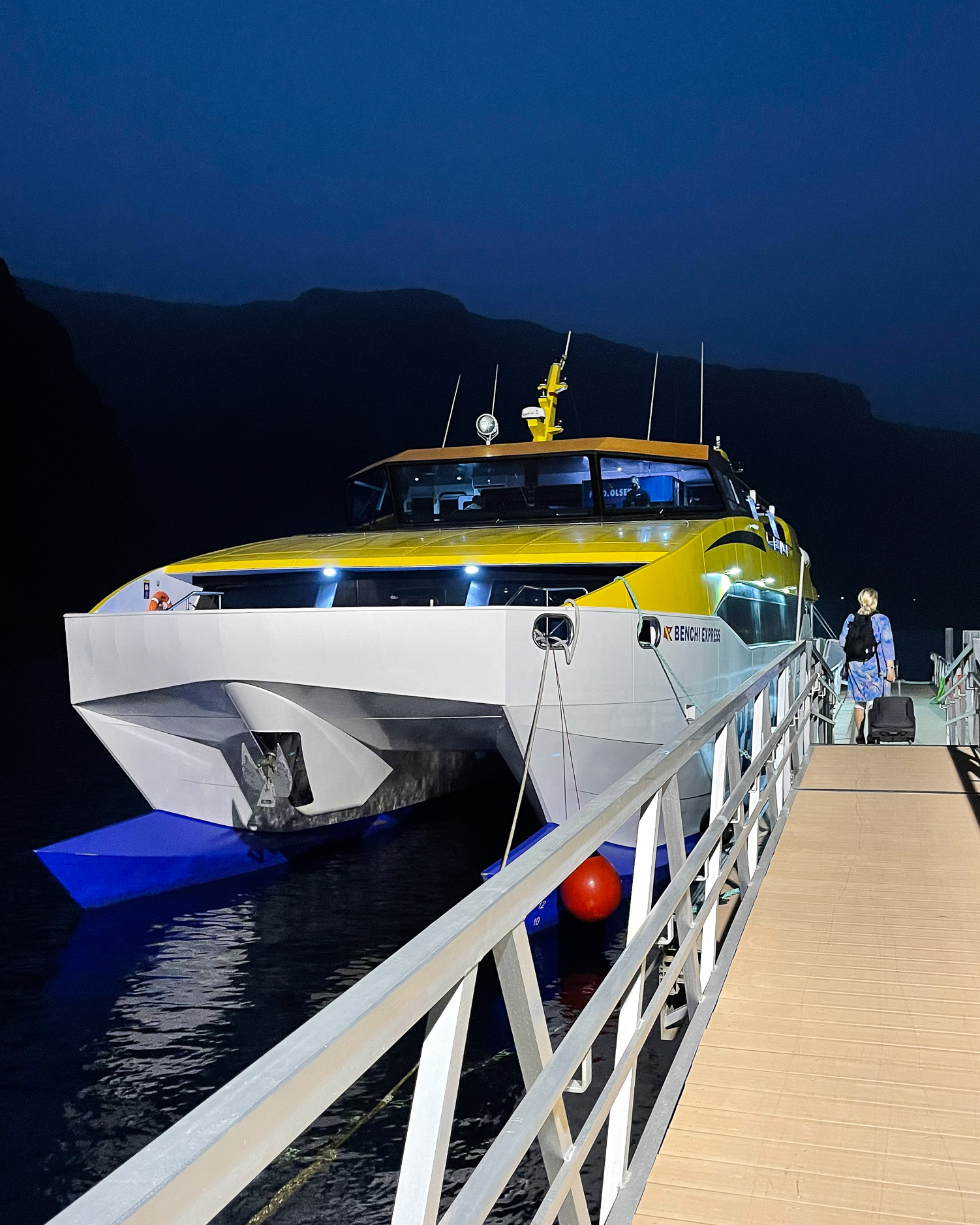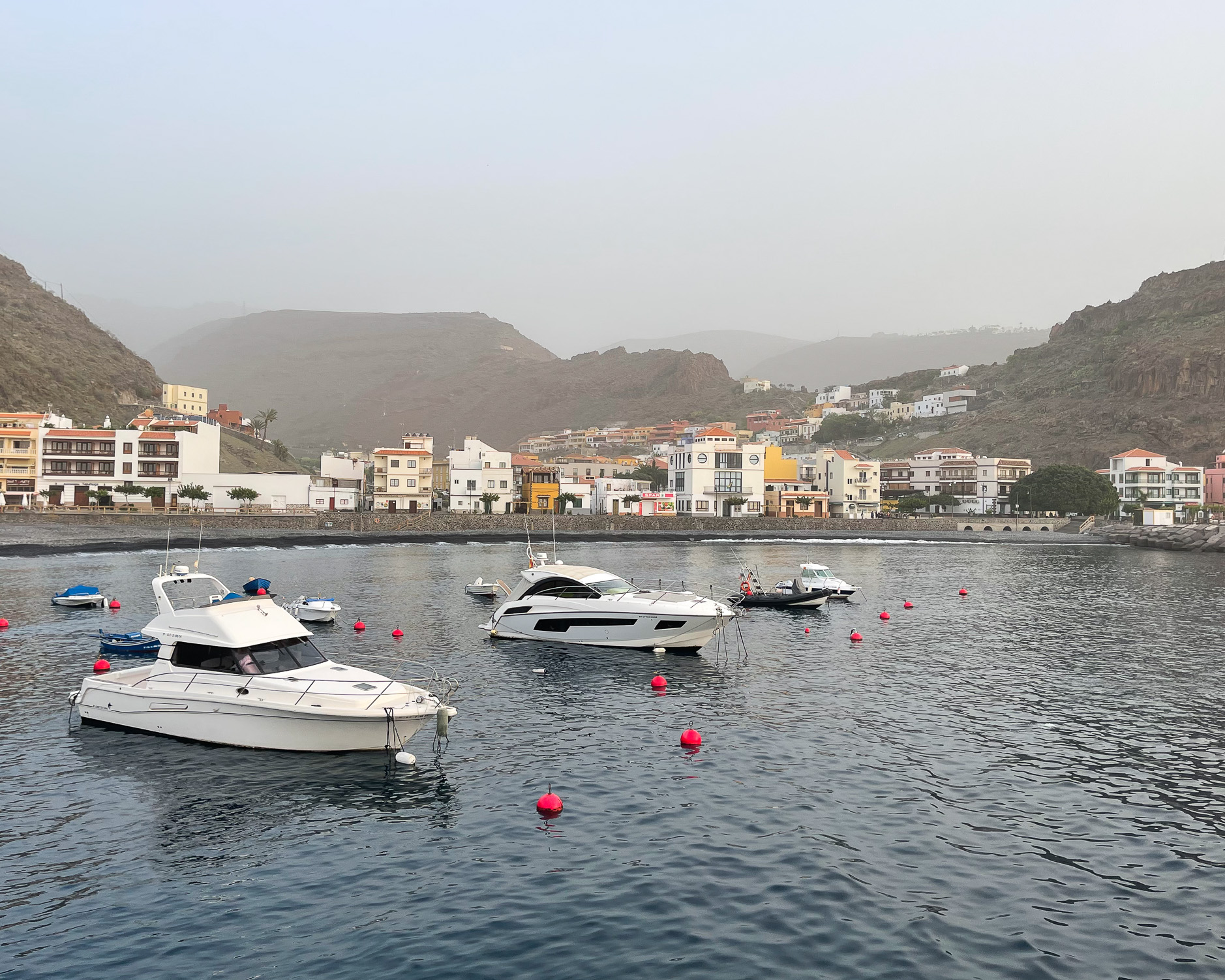 There are two sailings per day with Fred Olson from Valle Gran Rey to San Sebastian, with a stop at Playa de Santiago. We took the morning sailing at 8.00am and although the weather was very misty, we were still able to see a lot of the rugged coastline.
It takes 40 mins to reach Playa de Santiago, with a 10 min stop, then a further 20 mins to arrive in San Sebastian, making a total journey time of 70 mins. The ferry is very comfortable with a lower enclosed deck and an upper open air deck.
The ferry from La Gomera to Tenerife (day 7)
On arrival in San Sebastian, we still had a couple of hours to wait before our ferry at 11.30 am and as we were travelling light, we walked the 10 minutes from the port to the square of San Sebastian, to relax for a while in the cafe under the laurel trees. We had hoped to have a look around the archaeology museum and the exhibition in the tourist information centre, but sadly both were closed due to it being a local holiday.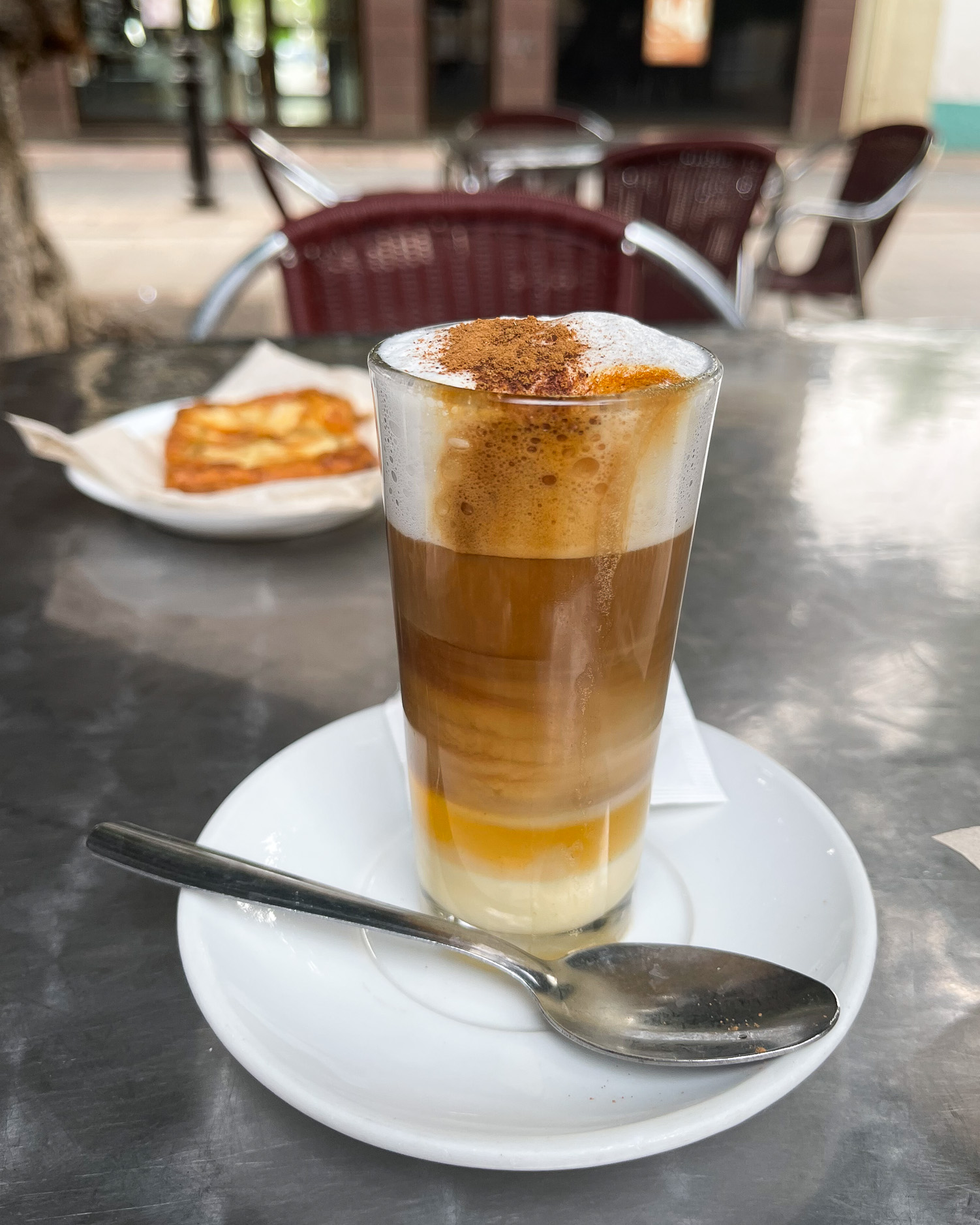 The return ferry journey to Tenerife passed smoothly and although the weather was quite cloudy, we were able to sit on the outside deck and spotted some dolphins on the crossing. Arriving back to the port of Los Christianos in Tenerife, we walked a short distance to the accommodation that we had booked for our 1 night stay before flying home the following day. In theory, we could have caught an afternoon flight out of Tenerife, but where ferries are concerned it's always best to leave a bit of margin, as sometimes ferries can be cancelled due to bad weather.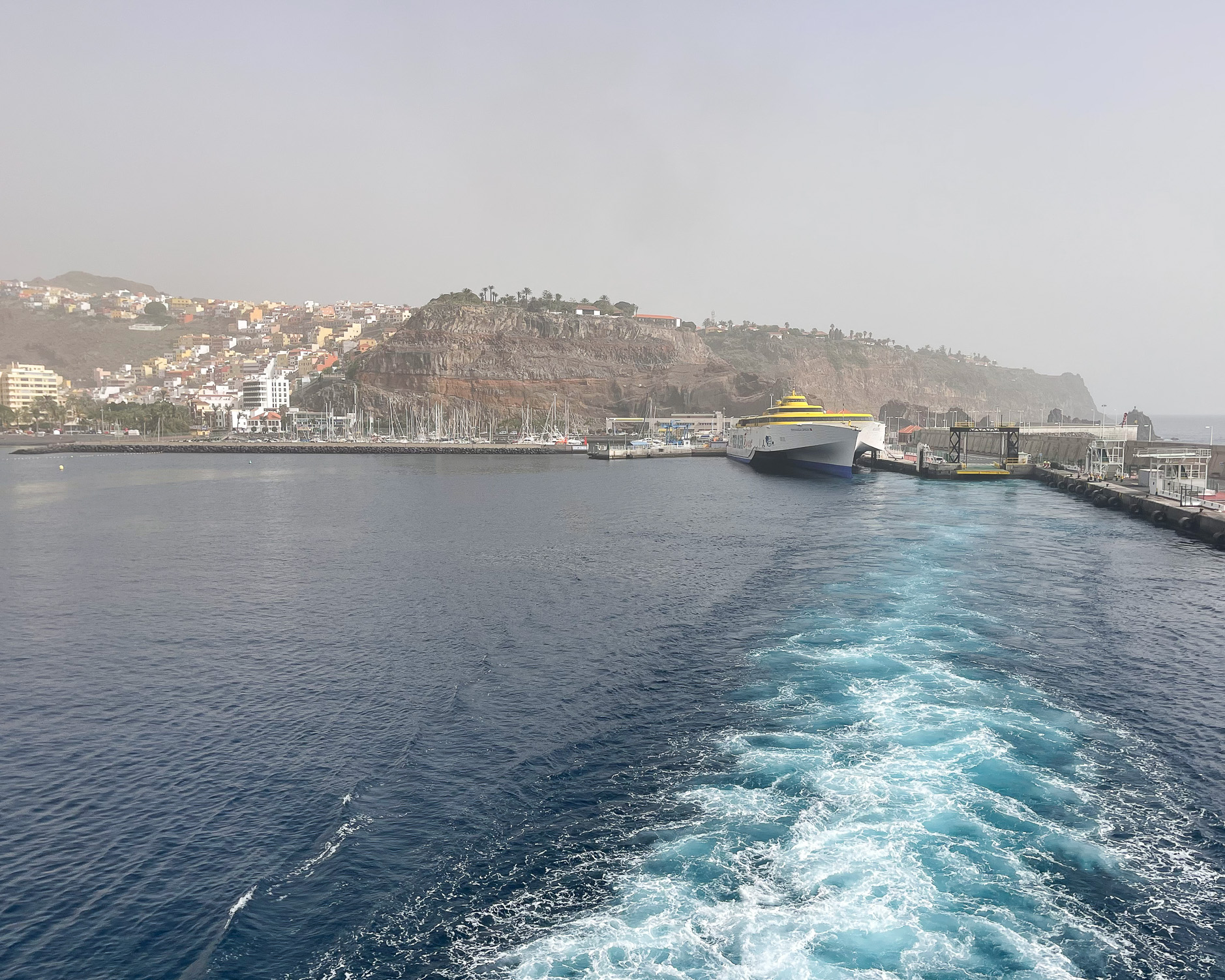 In the afternoon, we were able to stroll along the beach promenade that runs from Los Christianos, through all the other resort areas, having lunch in a beachfront cafe and generally relaxing in the sunshine.
Our final night in Tenerife
For our final night we just wanted somewhere to relax that was close to the port of Los Christianos where our ferry would arrive. Apartmentos Marola Portosin is a typical holiday apartment complex, with a central pool area that's a 15 minute walk from the port. The apartment was spacious with a view over the pool, a small kitchenette and helpful reception staff, so we were happy with our choice.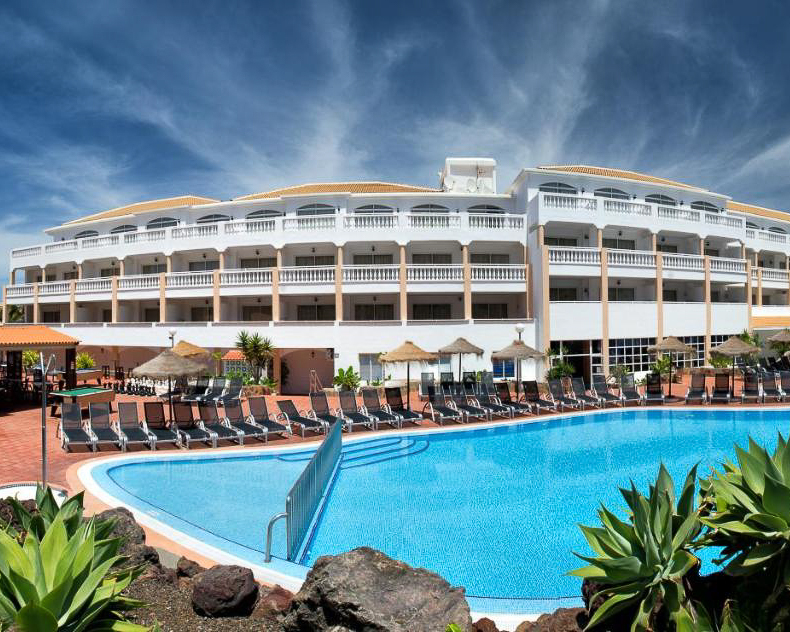 However, coming from the unspoiled and quiet atmosphere of La Gomera, the high concentration of concrete holiday apartments, busy traffic and sheer amount of people came as quite a shock! The south coast of Tenerife is heavily developed, with one resort blending into the next and aims at a package holiday market.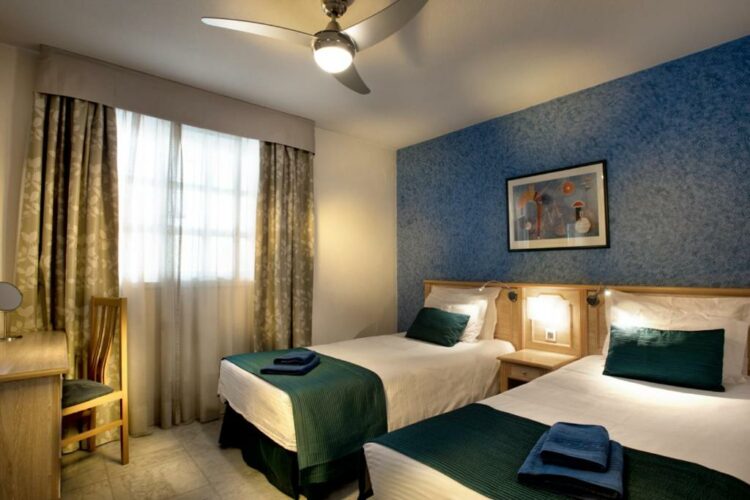 So if you want somewhere that has a more authentic Spanish feel for a short stay before flying home, I'd recommend you take a taxi to El Medano, which is 20 minutes by car from Los Christianos port. Because it's only 10 minutes by taxi from the Tenerife Airport South, El Medano is ideal if you have a flight to catch.
El Medano is Tenerife's most popular location for surfers and windsurfers, with plenty of inexpensive surf hostels. If you want somewhere a bit smarter for your last night I'd recommend Hotel Medano, which is right on the seafront, or check all the hotels and apartments in El Medano for more options. There are plenty of bars and restaurants and a couple of black sand beaches, one of which is quite sheltered for swimming, the other more windy and used by the windsurfers.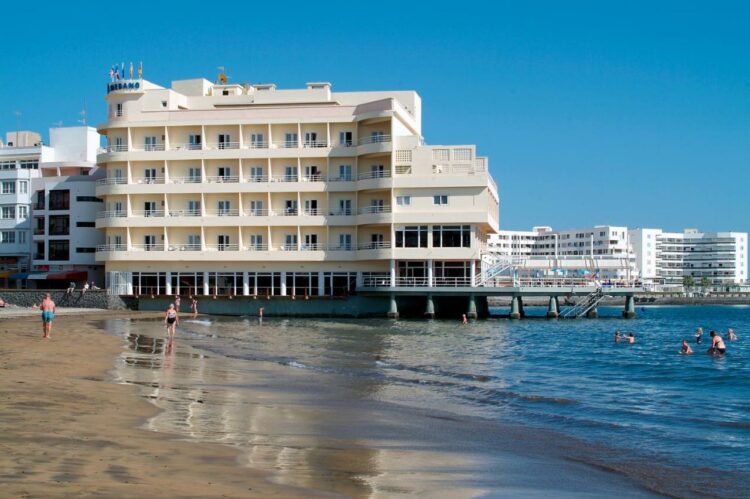 More time in La Gomera?
Do you have more time than just one week? Lucky you! I'd have happily spent a few more days walking in La Gomera. If walking is your main focus I'd probably spend an extra day in Vallehermoso and add 2 nights in Hermigua. So a 10 day itinerary in La Gomera might look like this;
1 night San Sebastian, 2 nights Hermigua, 2 nights Agulo, 3 nights Vallehermoso, 1 night Valle Gran Rey, 1 night Tenerife before your flight.
Or perhaps you only have 5 days? We found the best locations to base yourself purely for hiking were Agulo, Hermigua and Vallehermoso. So if you wanted to make a 5 day trip you could do;
2 nights Agulo or Hermigua, 2 nights Vallehermoso, 1 night San Sebastian or Tenerife before flying home.
If you have just 3 nights, perhaps combining some hiking in La Gomera with a trip to Tenerife, I'd spend them all in Vallehermoso, taking a bus or taxi to get there from San Sebastian.
Getting around La Gomera
In the Canary Islands, buses are known as Guaguas. You can find information on bus routes in Tenerife on the Titsa.com website and for La Gomera on the website Guaguagomera.com. While buses are frequent on Tenerife, the buses in La Gomera only run each route 3-4 times a day, so we found that they were of limited use to get to walking trails. Buses between towns generally cost €2-4 one way.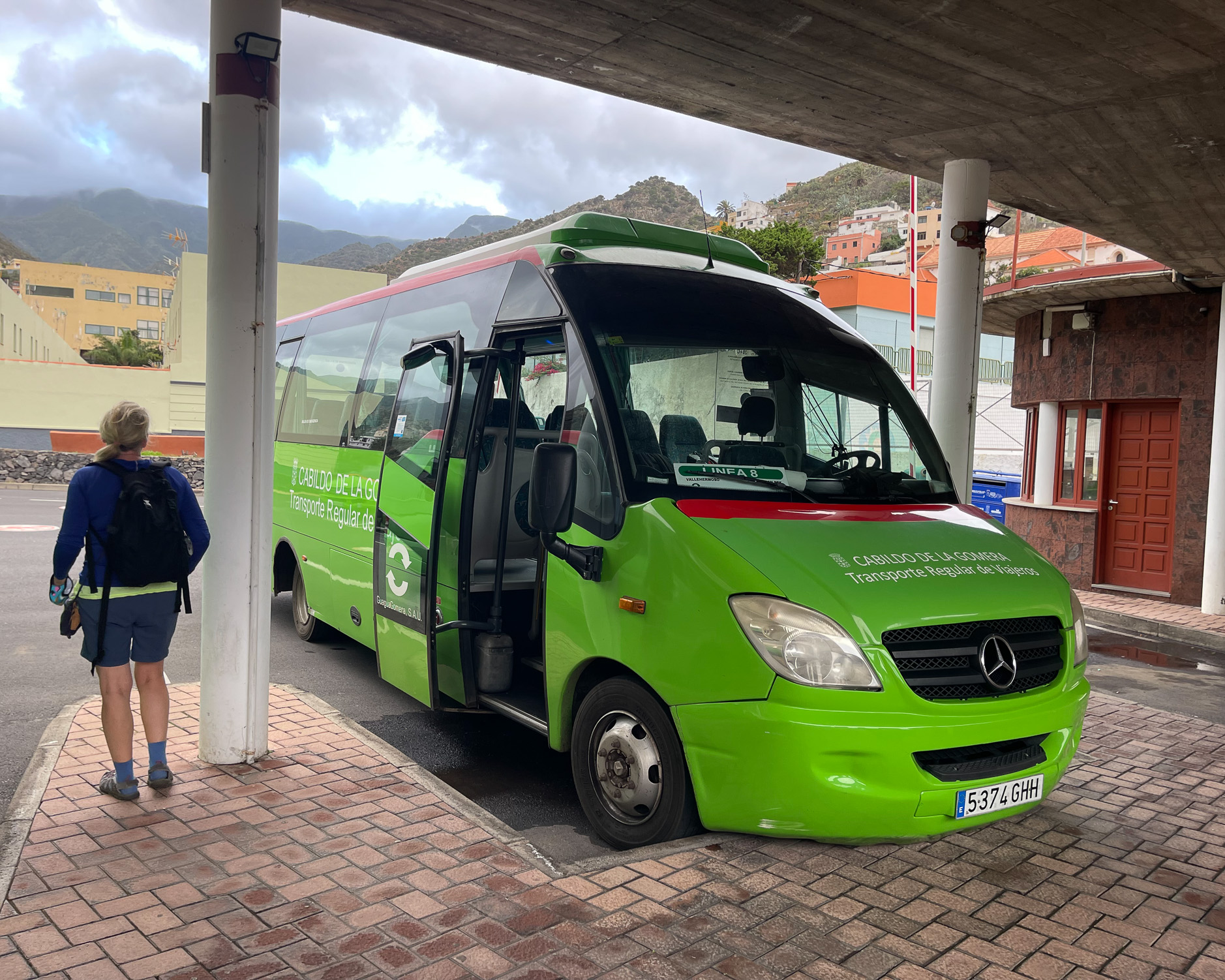 We used a combination of bus and taxi, and while the taxi costs were quite high (€20-30) due to the distances, it was overall cheaper (and more environmentally friendly) than renting a car. If you want to get the most out of a short trip, you could consider renting a car, as most hikes are circular, and this will enable you to reach the route starting points with minimum delay. The locally based Cicar car hire company have an office at the San Sebastian port, or check with Holiday Autos to compare car rental deals.
There are two ferry lines that make regular crossings from Tenerife to La Gomera and you can find details of crossings on the Fred Olsen website and the Naviera Armas website. Fred Olsen also run the ferry along the coast of La Gomera from San Sebastian to Playa de Santiago and Valle Gran Rey.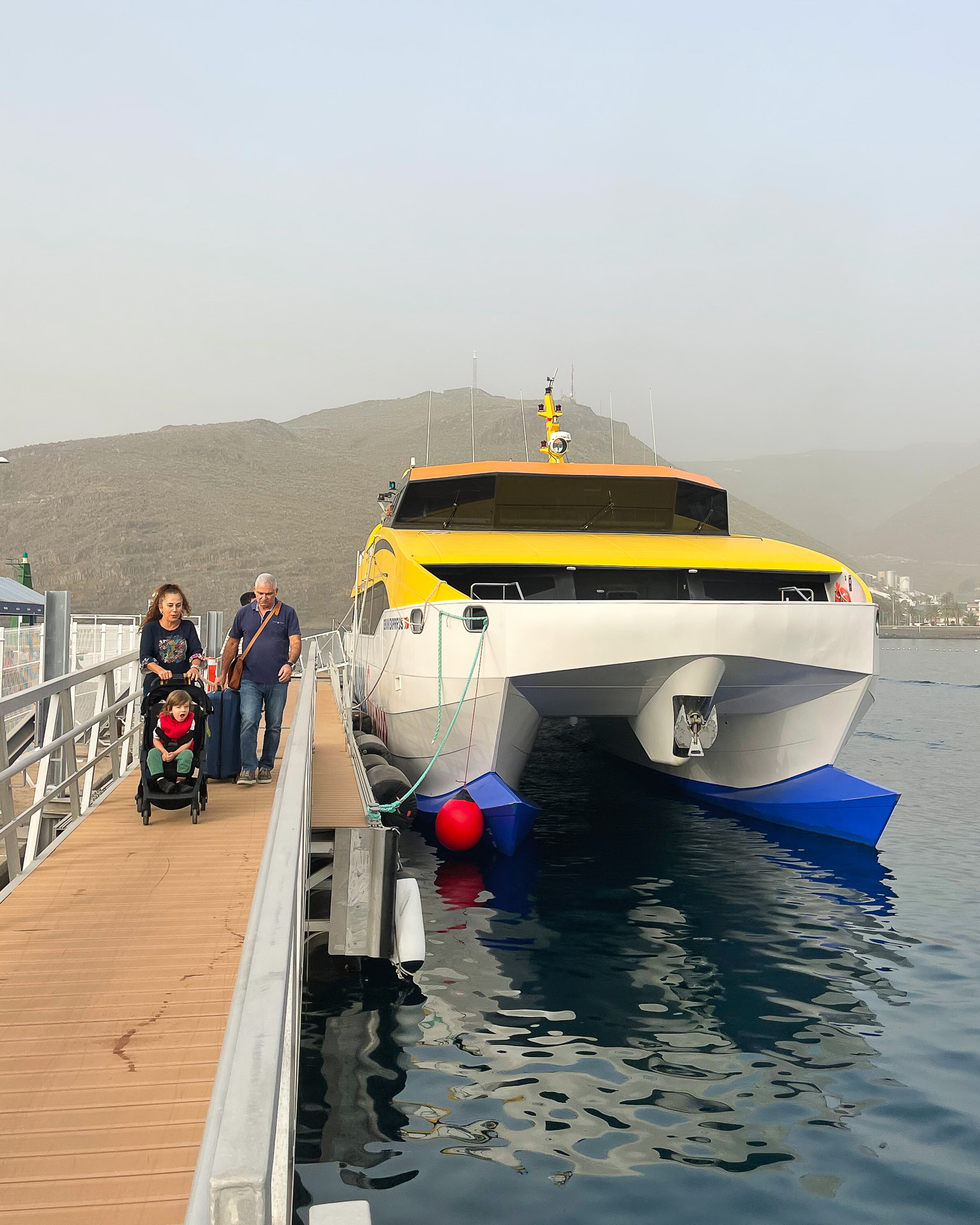 Hiking guide for La Gomera
We used and can highly recommend the walking guidebook – La Gomera, the finest coastal and mountain walks, published by Rother, authors Klaus Wolfsperger and Annette Miehle-Wolfsperger. You can also pick up a map of the hiking trails in La Gomera at any tourist information office, however these do not give much detail about the walking routes.
We recommend this guide, which we used for all of our walks because:
It offers 70 different walks in la Gomera, and tells you which can be joined together to make longer walks.
The walks are well indexed by starting point and difficulty, and there's a list of the 14 best walks in la Gomera.
There are clear instructions, maps and photos for each walk.
There's a useful but not overwhelming amount of other information on transport, flora and fauna, and the places you'll pass through.
If you are a German speaker, the guide is also available in German.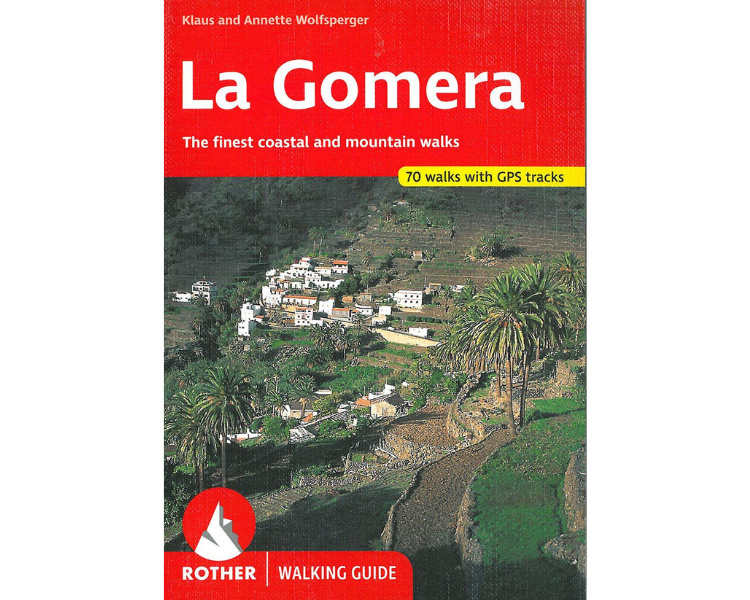 If you are unable to order the Rother La Gomera walking guide, a good alternative is the Cicerone guide to Walking in la Gomera and Hierro.
More information to plan your trip
You can find further information to plan your trip on the La Gomera Tourism website and on the Canary Islands Tourism website.
More information about Garajonay National Park, a map to download and details of trails can be found on the Garajonay website.

Pin it
This article is originally published at Heatheronhertravels.com