How to get a visa (and permits) for Sudan

116 Comments





Last updated on March 24, 2023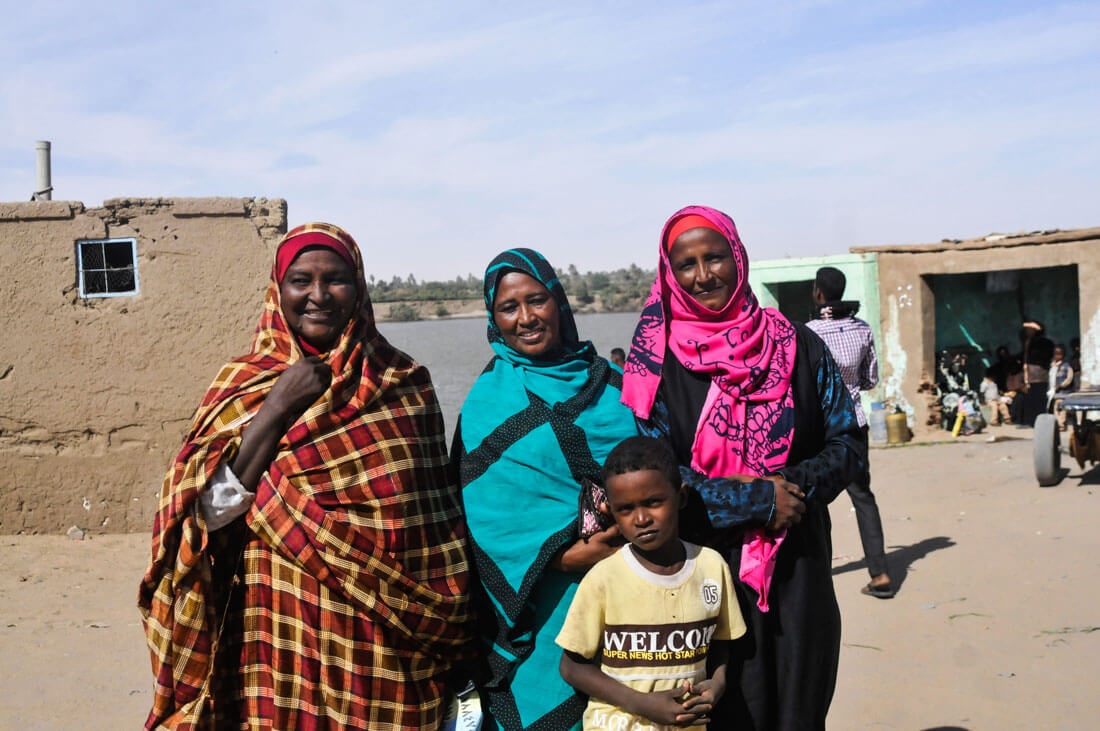 Getting a Sudanese visa isn't complicated but there is some bureaucracy that needs to be done.
This post keeps regularly updated thanks to input from some amazing travelers.
I also recommend checking the comments section of this blog.
For more information read my travel guide to Sudan
How to get your visa on arrival (VOA) for Sudan
For your information, there is the possibility of getting a VOA for Sudan but only if you fly into Khartoum, and you need to pre-arrange it in advance.
The VOA is not available at land borders.
How to pre-arrange your VOA for Sudan
Basically, you'll need to get in touch with a local tour operator, with whom you'll have to book a tour around Sudan.
Alternatively, independent travelers may also arrange it via Acropole Hotel.
For that, they usually charge around $100, plus they require you to stay at least two nights with them.
It's an expensive hotel, nevertheless, with prices starting at $100.
Moreover, the visa on arrival will cost you $100, or $150 if you hold a US passport.
How to get a visa for Sudan via the embassy
If you plan to overland into Sudan via either Egypt or Ethiopia, you will have to get your visa at the embassy.
For that, the following options apply.
Read: Sudan-Egypt border crossing
Getting your Sudan tourist visa at the embassy in your home country
If your country or city has a Sudanese embassy, that's great, as you can apply for it from there, but it's sort of a hassle, especially because each embassy has its own rules and some of them require a letter of invitation.
How to get the Letter of Invitation for your Sudanese visa
You can get it through a local tour operator or independent travelers can also get it through Acropole Hotel.
The hotel typically charges $110 in exchange for staying 2 nights with them.
How long does it take to apply for your Sudan visa?
Officially, the whole visa process takes 3 weeks but there are travel reports suggesting that it can take up to 6 weeks, depending on the embassy, so it's wise to apply in advance.
How much does the visa for Sudan cost via your embassy?
European-based embassies typically charge $80-$100.
Also, if you are not sure of your date of entry, it would probably be better to apply for it in Egypt or Ethiopia.
How to get your Sudan tourist visa in Cairo
Today, this is the easiest place.
Things have gotten much easier in Cairo.
Before, you needed to get a letter of recommendation from your own embassy in Cairo, and the process used to take 1 or 2 weeks.
Now, you can get it on the same day and it costs 150USD, and all you need is:
A passport copy
A copy of your Egyptian visa
A hotel booking
US dollars must be new bills
This is the embassy location.
How to get your Sudan visa in Aswan (Egypt)
This used to be the easiest place where to apply for a Sudanese visa, but it's a bit unreliable since the respective authorities do stop issuing them every now and then sending travelers back to Cairo, which is quite a detour.
The last update I got in March 2023 was that they are issuing them again, but know that there's a small risk.
As of today, these are the Sudan visa requirements in Aswan:
2 passport photos
2 passport copies
1 copy Egyptian visa
150 USD in cash
There is a shop 100 meters from the Consulate where you can make copies.
By going at 9am, you may have it ready by 2pm but remember that this might depend on the officer's mood.
About Sudan Consulate in Aswan:
The Consulate is closed on Friday and Saturday
The visa section is closed on Wednesday but this might have changed
The working hours for the visa section are from 8:30 am to 12:30 pm
There's no need to have an appointment, just show up there
There earlier you go, the better, as it gets pretty busy after 10:30 am
How to get your Sudan visa in Addis Ababa (Ethiopia)
According to a reader of this blog, things got easier in Addis Ababa.
However, bear in mind that, sometimes, they may give you trouble if you don't have a letter of invitation.
For the visa, the process is quick and it only takes 1 working day.
It costs $68.
Make sure to arrive early (around 8 a.m.) as they only accept the application until 11am.
Bring the invitation letter, a copy of your passport, 2 photos, address of stay in Sudan, address and tel number of your sponsor in Sudan.
Read: How to travel to Ethiopia
How to get a Sudan visa in Nairobi (Kenya)
That's old but in September 2018, a traveler reported that he got his visa for Sudan in less than 24 hours.
He didn't need to present any special document other than his passport and the usual stuff. The price was 55USD.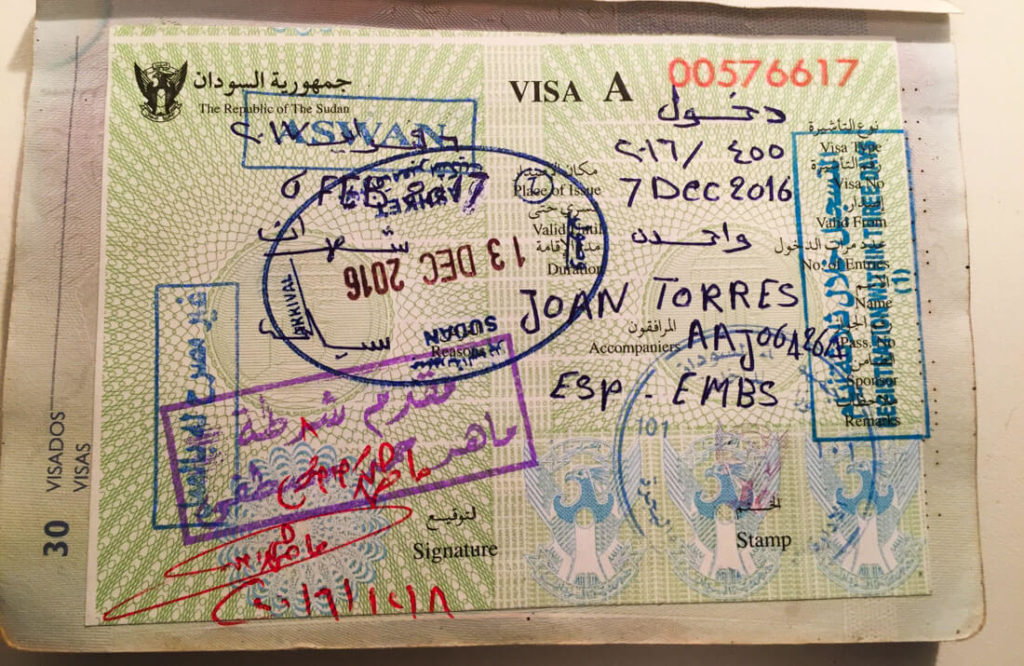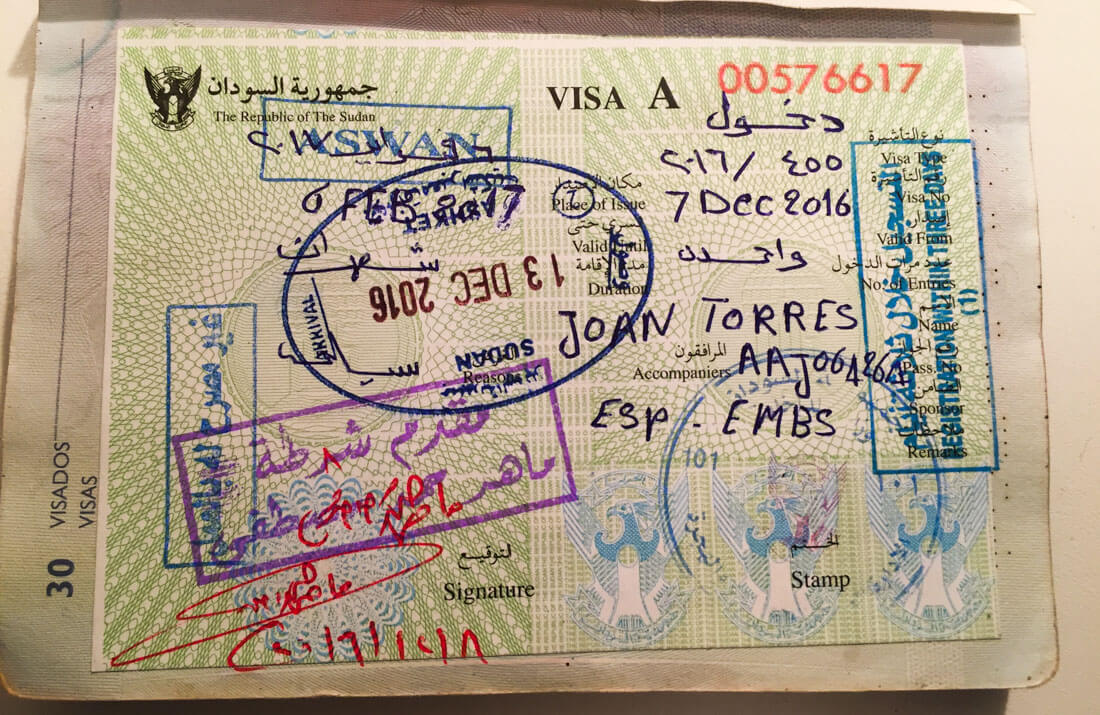 Registering in Sudan
In Sudan, you'll need to register within 3 days of your arrival.
Travel reports on this matter are more than welcome.
Getting your registration in Khartoum
You can register your passport at this location.
This can be usually done by your sponsor, if you do have one.
Otherwise, doing it by yourself can be a time-consuming process.
The registration costs 5,000 SDG.
Getting your registration if overlanding
Whatever country you are traveling from, once you are at the Sudanese border, the authorities will give you a special form that needs to be filled out.
You need to keep a copy of it and not lose it.
Why?
Because you'll have to present it at the police station for registration.
Registration at the Wadi Halfa police station
From the moment you cross the border, you have 3 days (or 4 days, unofficially) to register at the police station.
If coming from Egypt, Wadi Halfa should be your place.
In Wadi Halfa, the whole process took less than 20 minutes.
For that, you need to go to the police station and give in your registration form.
You'll need a copy of your passport (you can make a copy there for 1SDG).
They will also ask you for a picture but, if you don't have it, it's not a problem.
Registration is a must. If you didn't register, they could make you pay a huge fine for leaving the country. When I was traveling in Azerbaijan, I also didn't register and, at the border, had to choose between paying 200 USD or getting deported and banned from entering the country within a year.
Getting your travel permit at the Ministry of Tourism
A travel permit is needed to travel around the country.
However, if your final destination is Khartoum, you don't need to get this permit because essentially, it's a permit needed to get out of Khartoum, and the police do ask for it all the time.
Again, if you have a sponsor, they should take care of it but if not, you should first head to:
The Ministry of Tourism and Antiquities and Wildlife.
Here's the location.
What are the required documents?
Passport copy
1 passport photo
Your registration
It's FREE of charge!
They will issue you a form which you'll need to present at the Tourism Police office to get the actual permit.
Other registrations
In some cities and villages, the hotels ask you to register at the local security office.
It's a pain in the ass but it's pretty straightforward and you don't have to pay.
Just go there, tell them the name of the hotel and how many days are you planning to stay.
More information for visiting Sudan
Don't forget to check our travel guide to Sudan.
As well as all our Sudan articles: