Montpelier Plantation & Beach Nevis
Montpelier Plantation & Beach is boutique hideaway on the unspoiled island of Nevis. One half of the nation of St Kitts and Nevis, the small island offers an authentic taste of the Caribbean, where time seems to stand still. This small luxury hotel is built in the ruins of an old sugar plantation on the slopes of Nevis Peak, and packs bags of historic charm together with a sleek and stylish aesthetic.
This article may contain affiliate links that provide commission on purchases you make at no extra cost to you. As an Amazon Associate I earn from qualifying purchases.
The history of Montpelier Plantation
Montpelier Plantation was established in the 1680s, and by the mid 18th century Nevis was one of the richest corners of the British Empire. Huge profits were made from the sugar plantations that covered the fertile volcanic soil, worked with the labour of enslaved Africans.
During this time, a young sea captain, posted here to protect the sugar trade, fell in love with a pretty young widow, niece of Montpelier's owner and president of Nevis, John Herbert. Under a silk cotton tree, close to the hotel, Horatio Nelson wed Fanny Nisbet, the bride given away by Nelson's friend Prince Willam Henry, later King William IV of England.
Later, as Nevis lost its sugar monopoly and slavery was abolished, the plantation fell into decline and then into ruin, like many others that you can still see around the island. It was rescued in 1960, when Englishman James Milnes-Gaskell purchased the estate, restoring the historic ruin into a hotel.
From the stone walls of the old sugar factory, an elegant Great Room was made for the bar and restaurant. The old sugar mill was restored and cottages built among lush 60 acre gardens looking toward the sea. In 2002 the hotel was sold to the Hoffman family, who still own it today and have injected their own contemporary style to make Montpelier Plantation & Beach a chic boutique retreat with just 19 rooms.
If you are interested in the history of Nevis, you can take this half day island tour from St Kitts, that includes a stop at Montpelier and the nearby Botanical Garden.
The Hoffman family at Montpelier Plantation & Beach
Montpelier Plantation and Beach is very much the hands on family enterprise of the Hoffman family. The hotel was acquired in 2002 by Lincoln and Muffin Hoffman, who after travelling widely in the Caribbean, fell in love with the hotel that was previously run by the English Gaskell family. Sadly Lincoln died a few years later, but son Timothy and daughter in law Meredith still assist Muffin with the running of the hotel.
Unfortunately I was unable to meet Muffin Hoffman, as she was on vacation at the time of our visit. She is a consummate host who is resident at Montpelier, there to mingle with guests on arrival and during dinner, assisted of course by the 69 staff members.
Cosmo the labrador at Montpelier Plantation & Beach
While I was not able to meet Montpelier's owner, Muffin Hoffman, we did make a firm friend with her golden labrador Cosmo. The gentle and friendly dog is looked after by the hotel staff when Muffin is away, and is often there to greet guests at reception or in the outdoor areas of the hotel.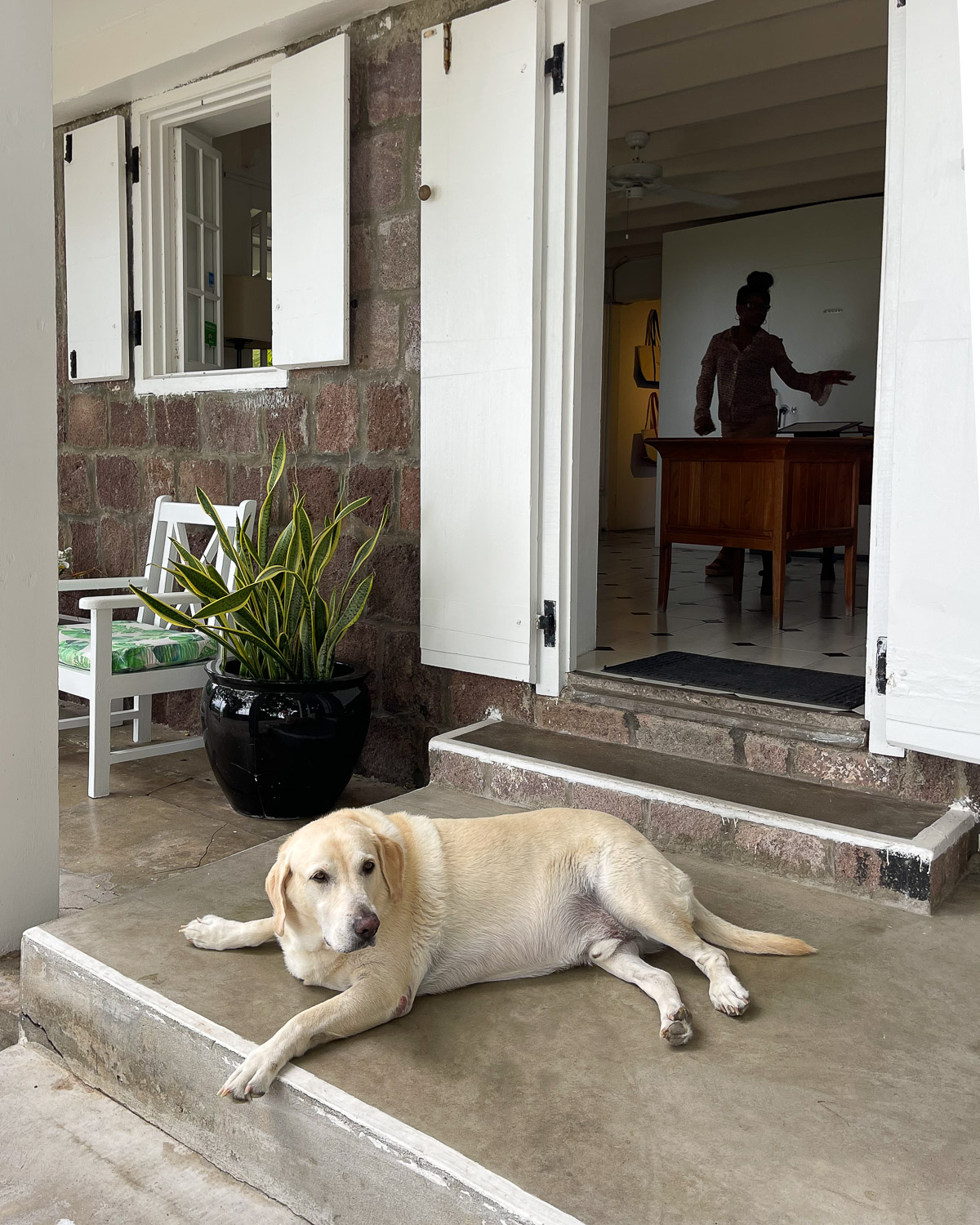 From Cosmo's somewhat portly girth and his station outside the breakfast area waiting to greet guests, I suspect that Cosmo is a favourite with hotel visitors who like to indulge him with titbits. He ambles around the gardens and is always happy for a stroke or a cuddle.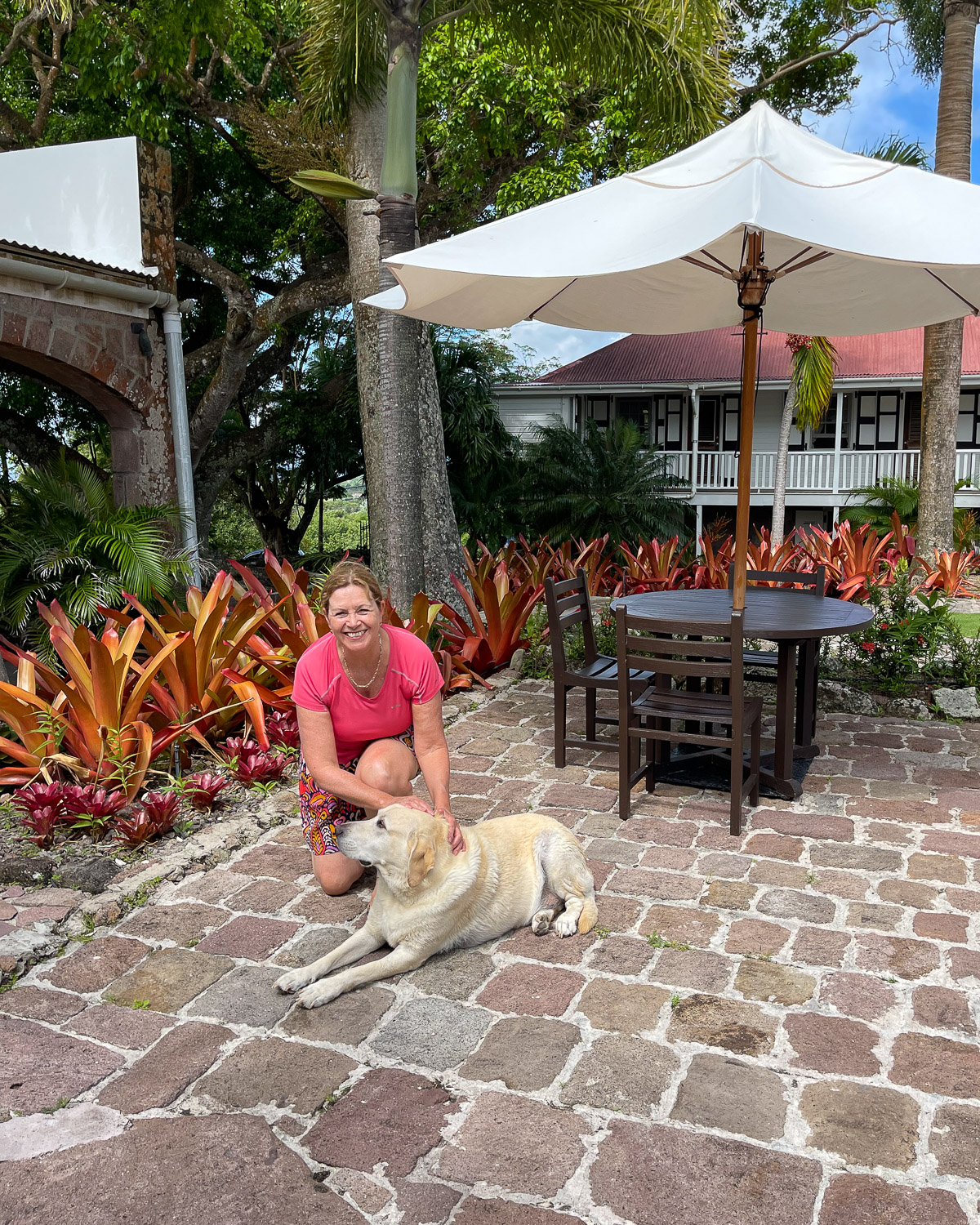 Our Bedroom at Montpelier Plantation & Beach
There are 16 Plantation and Premier rooms at Montpelier, as well as the Garden Suite and the Tamarind Villa, so this is definitely a boutique hotel where you won't ever feel crowded.
All the bedrooms are located in contemporary built cottages, scatted within the lush and shady gardens. There are two rooms in each cottage, each with it's own verandah, but the positioning of screens and palm trees makes each individual room feel very private.
Our room was light and airy, and we appreciated the slatted glass windows on both sides, that allowed the breeze to blow through from the ocean, but could also be closed when air conditioning was required. This approach of building to catch the breeze and using shade from gardens and covered verandahs is a traditional one for the Caribbean, and much more sustainable than relying on continuous air conditioning.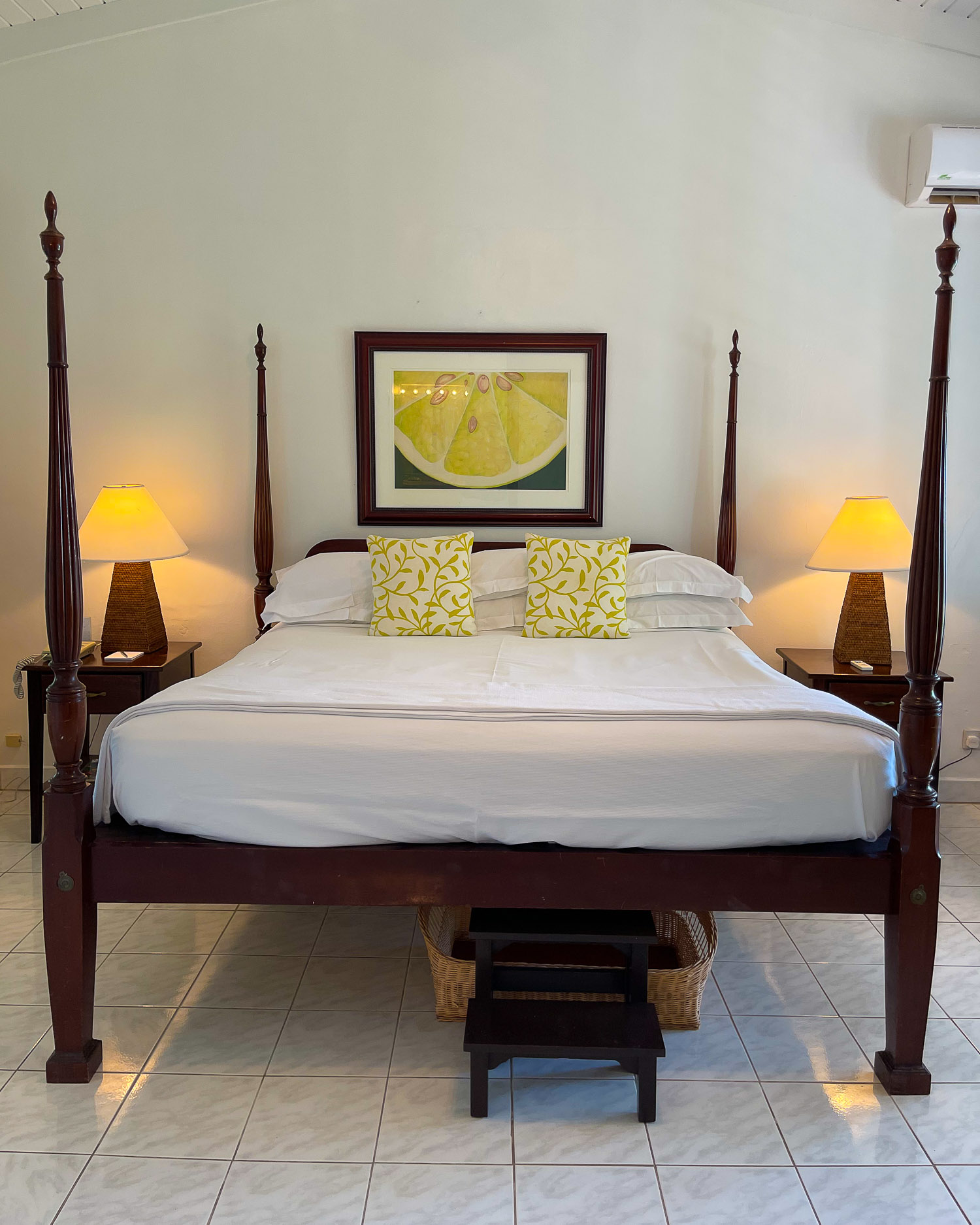 Ours was a Plantation Room, the superior of the two room categories, giving a little extra space (540 ft2) and verandahs that have the best views of the ocean. Premier rooms are very similar in size (535 ft2) and their verandahs have views of the garden, but the decor of both room categories is similar, so there didn't seem to be much to choose between them.
Chic contemporary decor
The style at Montpelier is one of pared back luxury, with white walls and elegant furnishings, using highlights of tropical colour in the cushions, furnishings and artwork. Bedrooms were refurbished when the Hoffmans took over the hotel, moving away from the previous English country house style decor towards a more modern and understated aesthetic.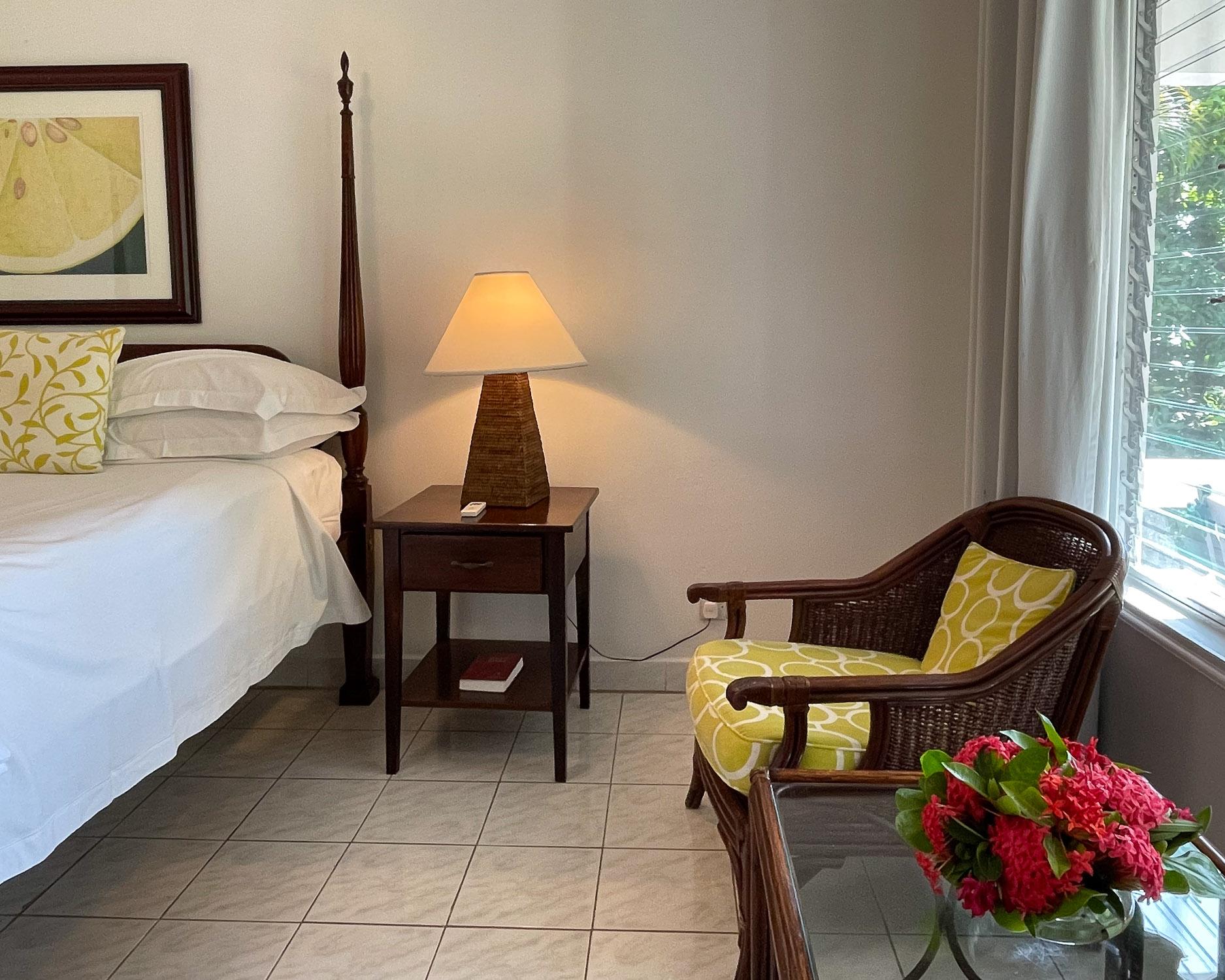 The hotel has worked in the past with decorators such as Martyne Kupciunas of Miami's The Design Garden and using colourful fabrics from Trina Turk fine fabrics. Artworks by Canadian artist Kirk Mechar enhance the decor in many of the rooms. Furnishings such as the dark wood four poster beds and rattan furniture draw on traditional Caribbean styling. However the style is simplified and refined, with gorgeous fresh flower arrangements picked from the gardens outside.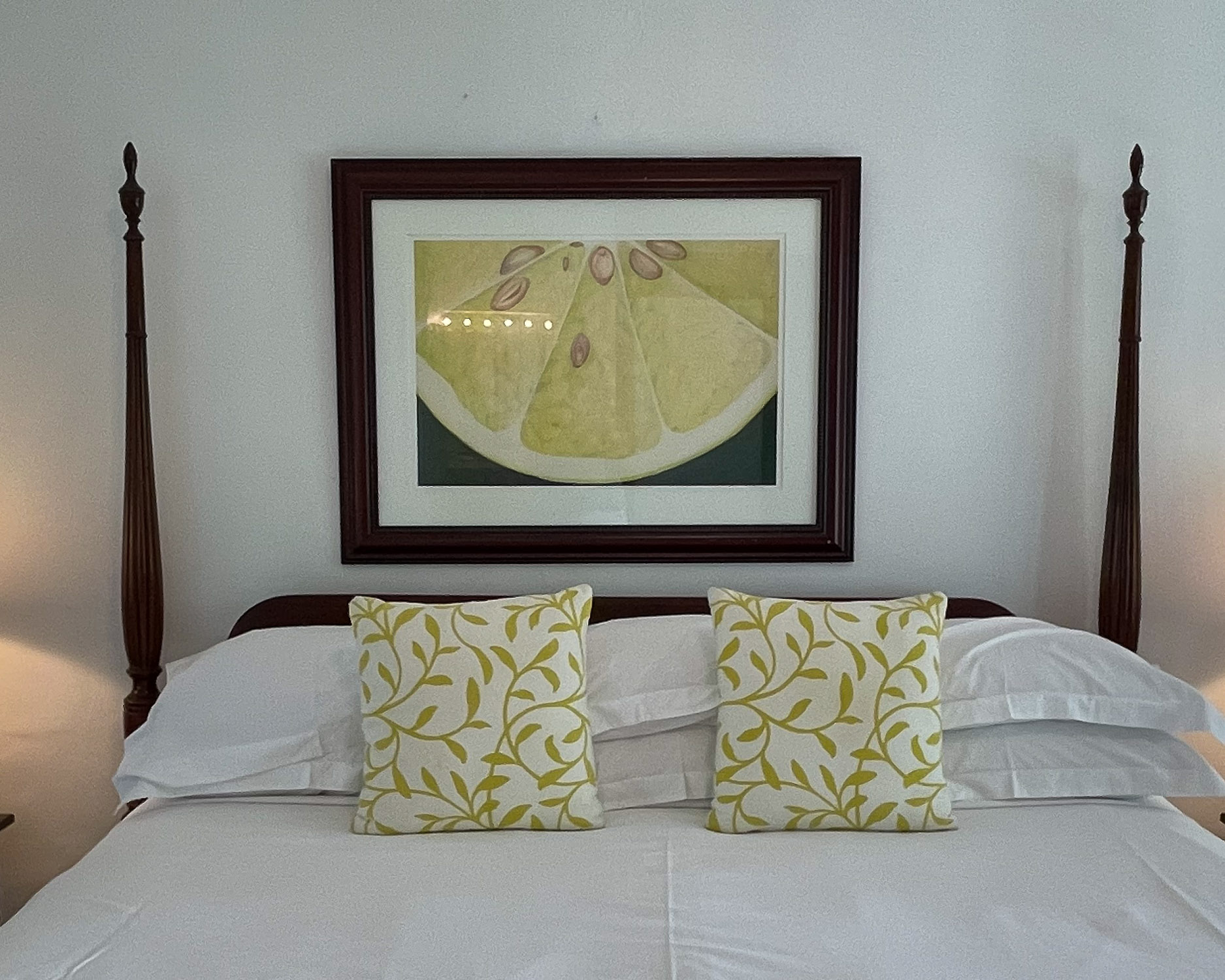 Our bathroom was similarly spacious, with clean lines and a large walk in shower. As one of the sustainability initiatives, luxurious Elemis toiletries are served in larger refillable bottles, to reduce the use of single use plastic.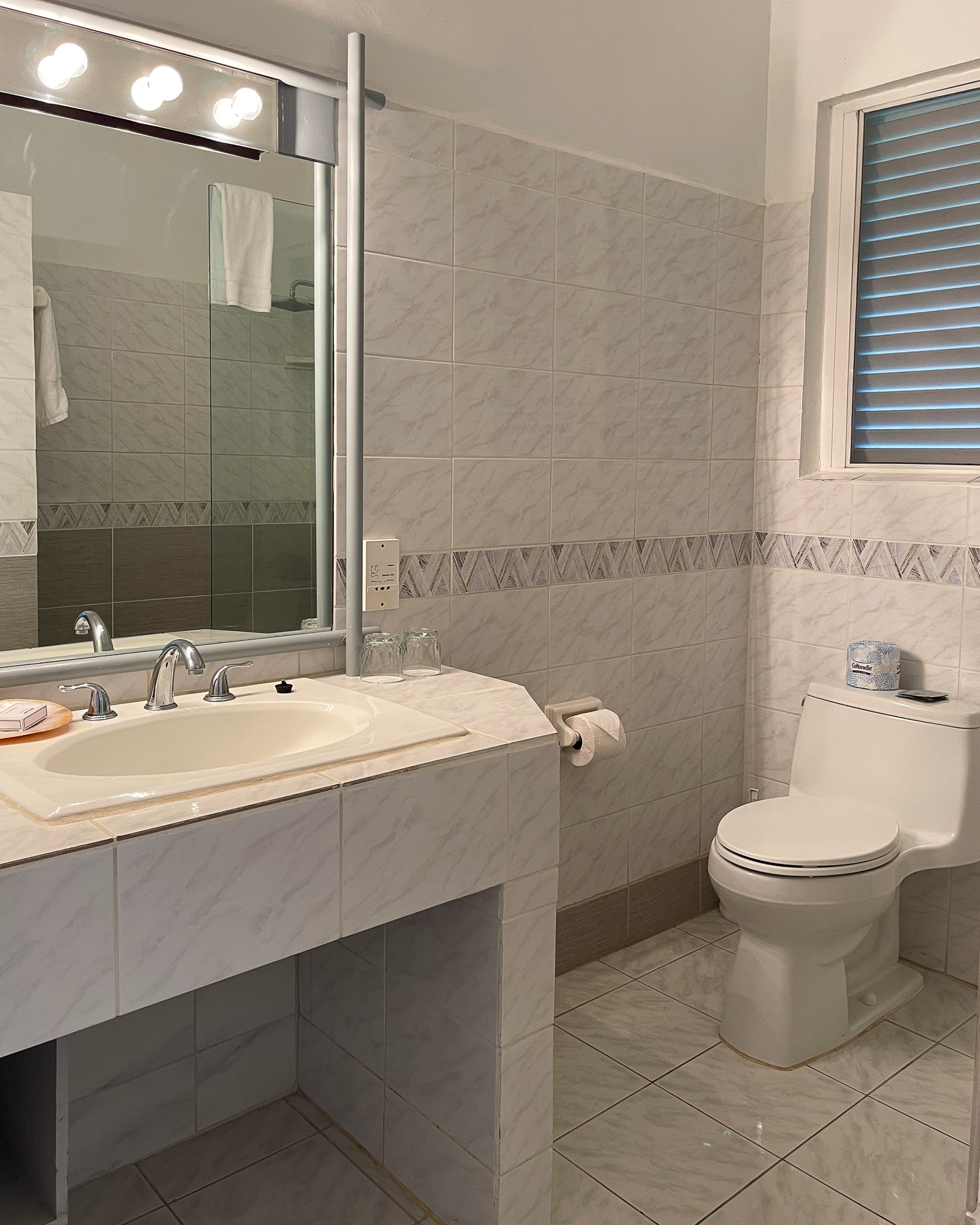 From the shady verandah, we had an uninterrupted view across the gardens towards the ocean, providing a private space to relax and unwind.
Looking for some beach time on Nevis? This island excursion from St Kitts includes a tour of Nevis and time on Pinney's beach to relax and order lunch.
More rooms at Montpelier Plantation & Beach
I took a look at some of the other Plantation and Premier rooms that happened to be unoccupied at the time of our visit. Each is individually designed to a different colour scheme, but they share the light and airy proportions and understated decor. Some of the rooms have lighter and more contemporary furniture while a few offer two double beds, which are ideal for friends sharing a room or families with older children.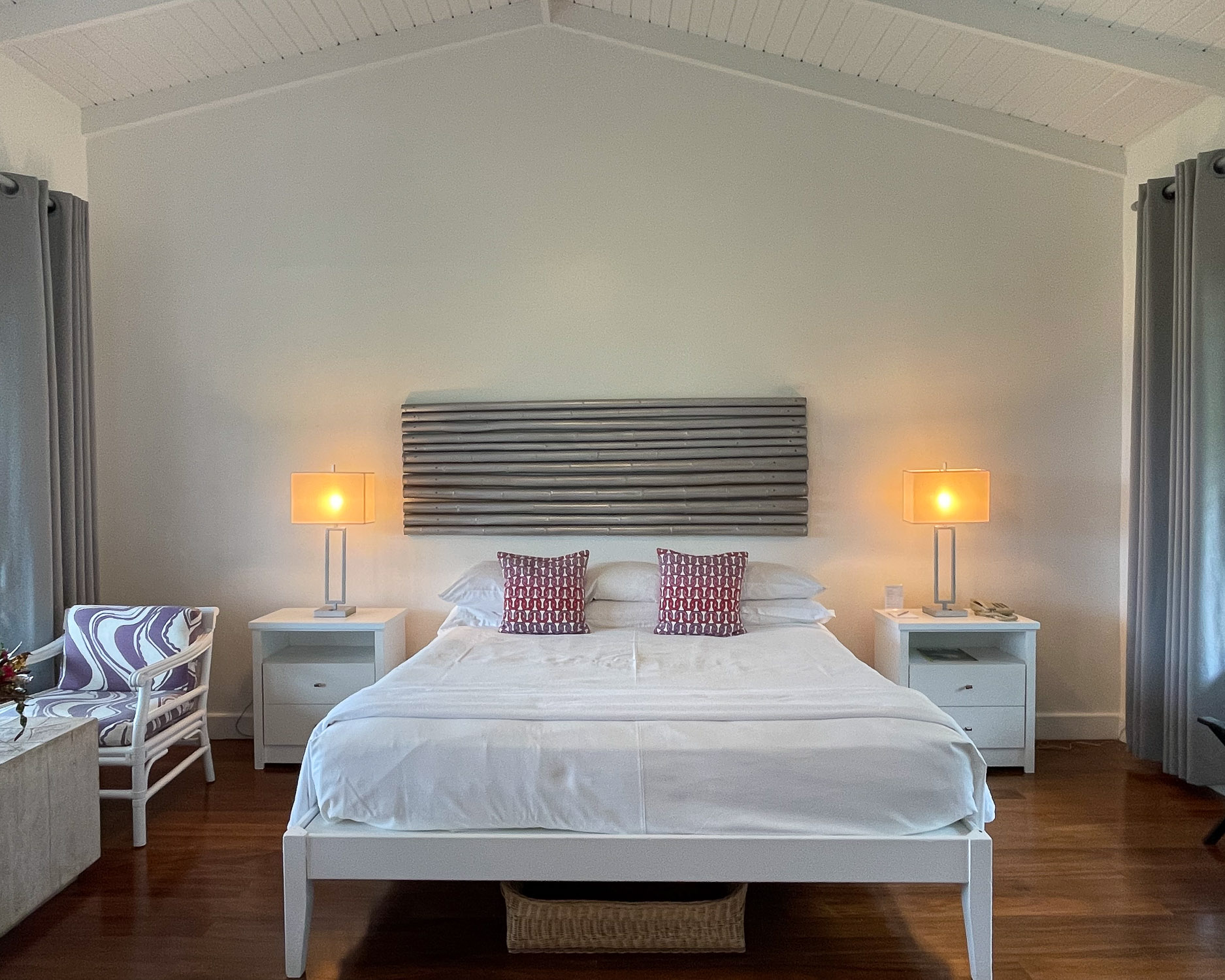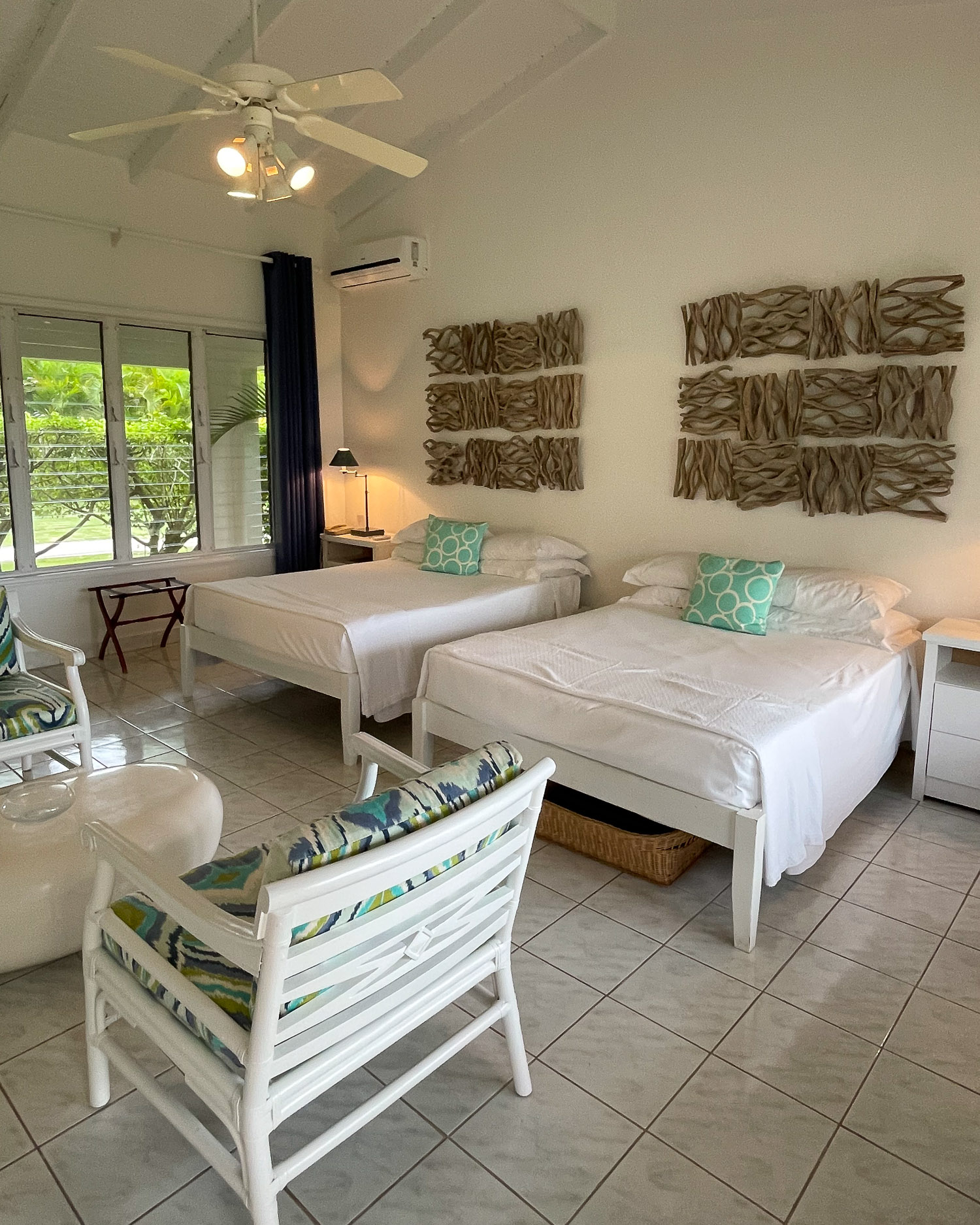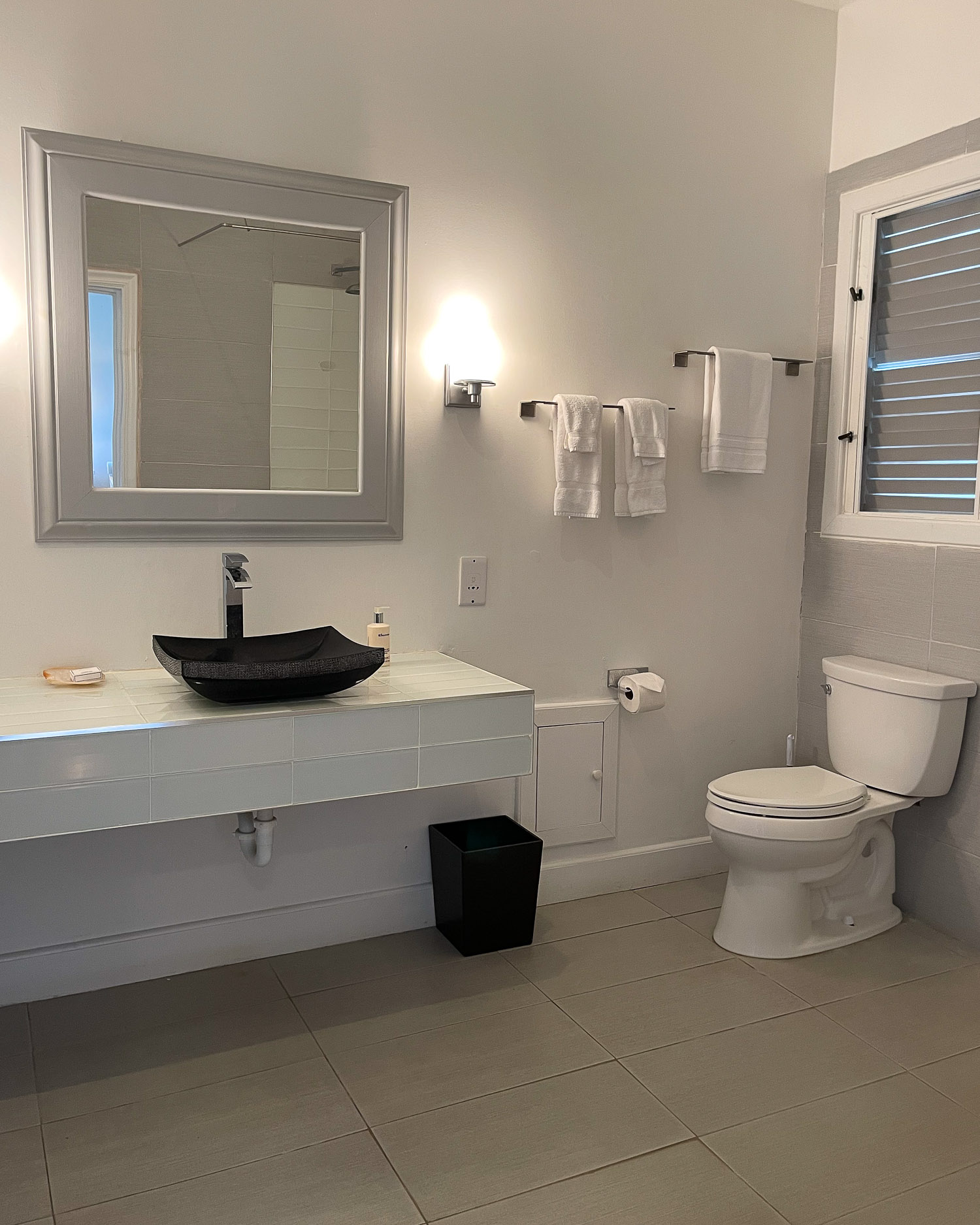 The Garden Suite at Montpelier Plantation & Beach
The Garden Suite is one the accommodations that has recently been refurbished, with sustainability principles at the forefront of the redesign. This larger suite has a split level sitting area, with bamboo flooring leading to the spacious bedroom. The wide jalousie windows allow a cooling breeze to flow through.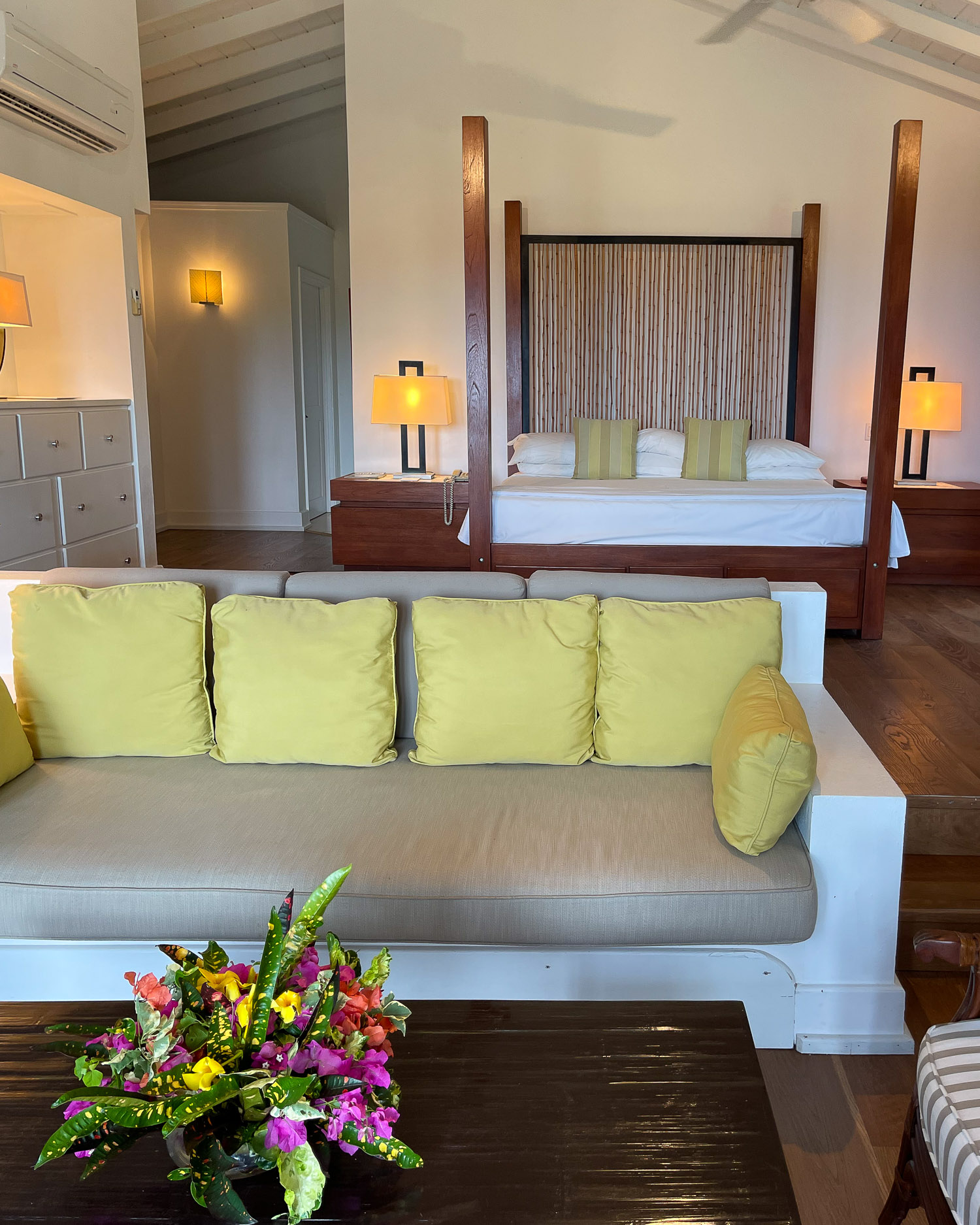 A huge bathroom really has the 'Wow' factor, with an enormous walk in shower and elegant contemporary fittings. The Garden Suite also offers a private gazebo surrounded by lush vegetation, and this accommodation would be perfect for honeymooners or anyone looking for a special escape.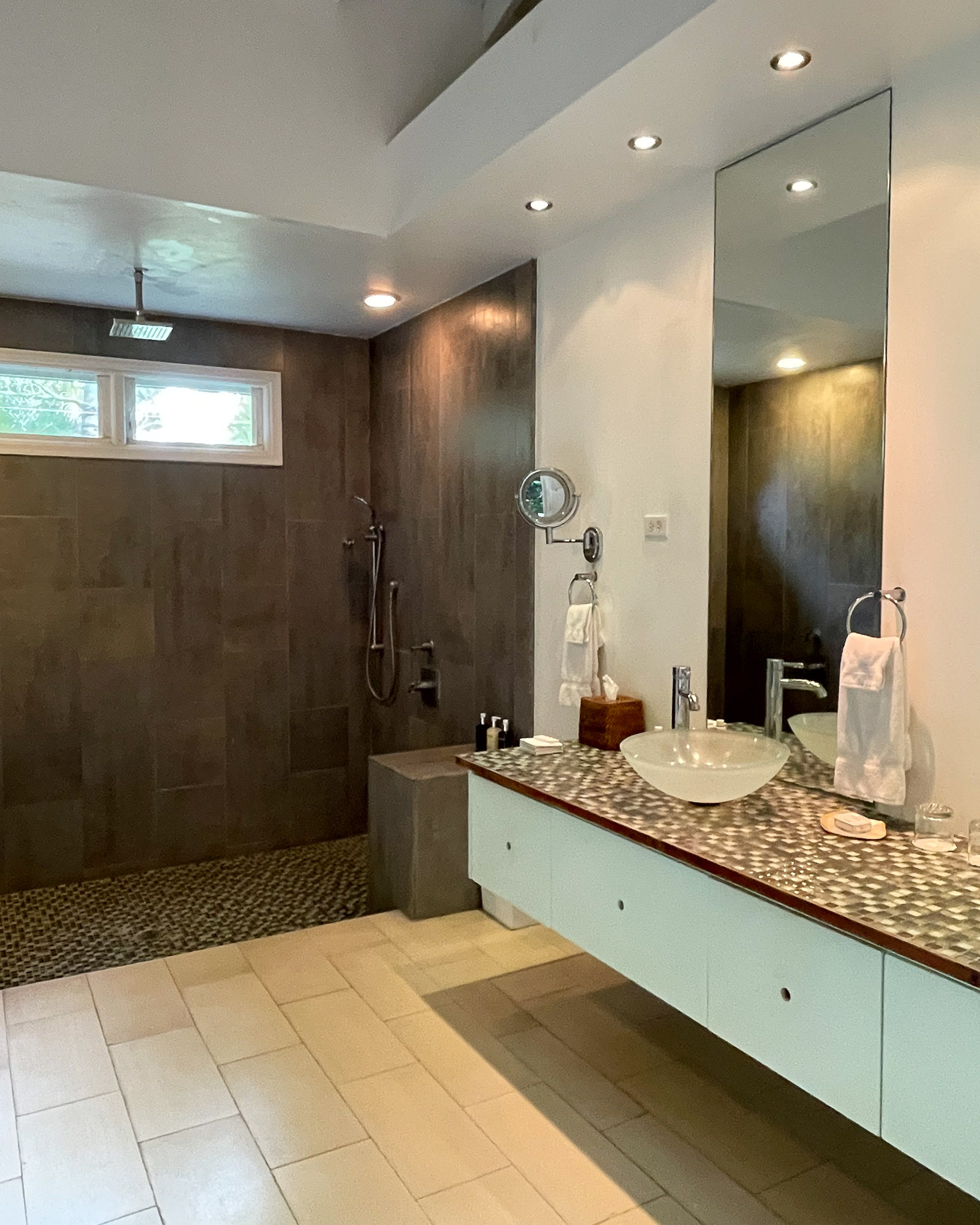 Tamarind Villa at Montpelier Plantation & Beach
Also available at Montpelier is the Tamarind Villa, offering 1472 ft2 of space, with two en suite bedrooms. Glass doors open onto two covered porches, with a sun deck and private plunge pool. The luxury villa is ideal for families who want a bit more space and privacy, while offering all the amenities of a hotel.
If you are not able to stay on Nevis, you can still take these tours from nearby St Kitts

Half day Island tour of Nevis from Basseterre

Tour of Nevis with lunch on Pinney's Beach

Boat trip by Catamaran to Pinney's Beach
The Pool at Montpelier Plantation & Beach
A 60 foot turquoise mosaic pool lies at the heart of the hotel and is the focal point for guests who want to relax and unwind.
In a sheltered position, surrounded by swaying palm trees, this is the place to stretch out on one of the sun loungers. Catch up on your holiday reading, doze in the warm Caribbean air or cool off with a refreshing dip.
Bordering the pool is the Indigo poolside restaurant, where you can sit in the shade on the cushioned sofas, order a cocktail or have a casual lunch.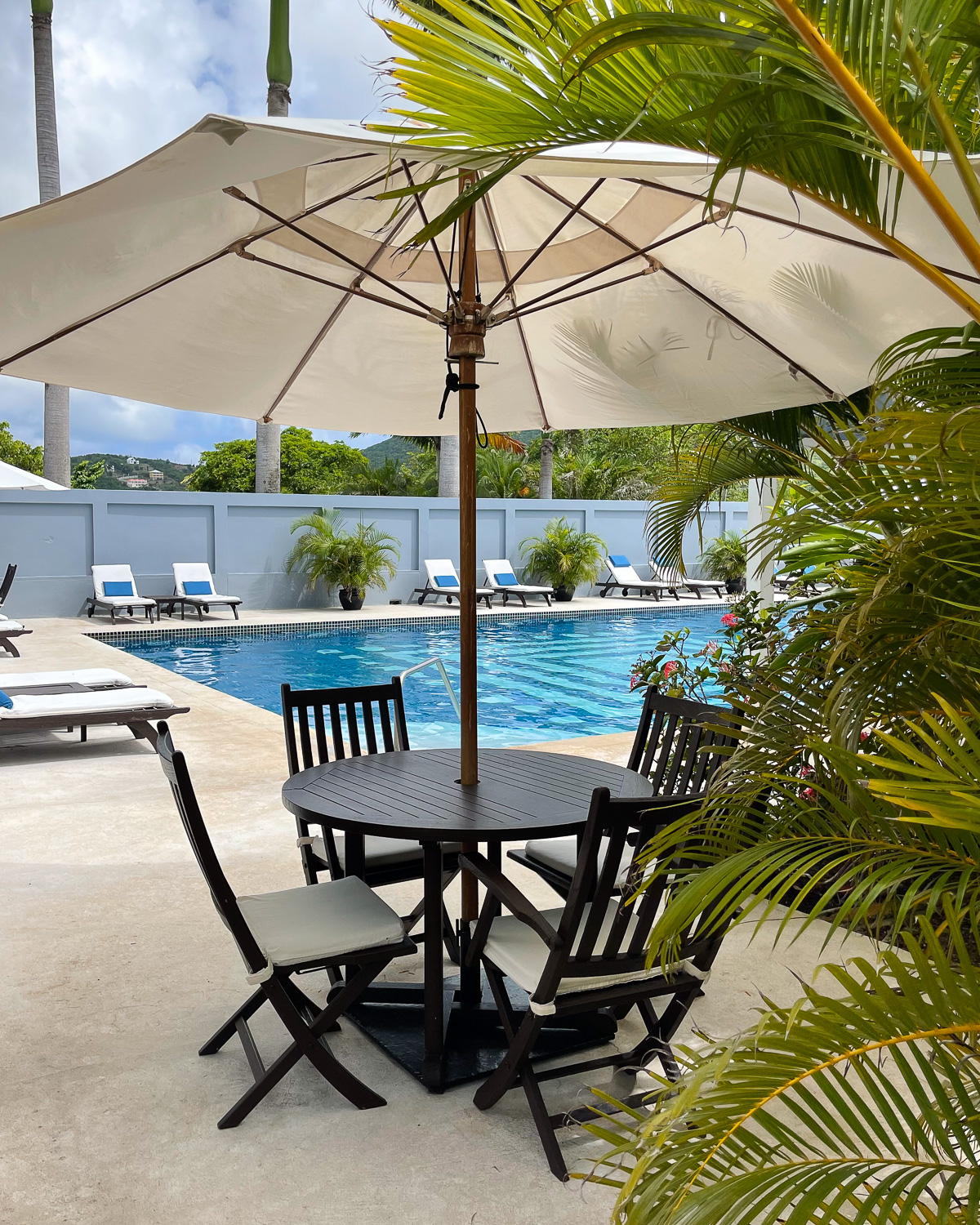 The Marriage of Horatio Nelson and Fanny Nisbet at Montpelier Plantation
There's so much history at Montpelier Plantation, which was the location of the marriage of Captain Horatio (later Admiral Lord) Nelson to Nevis born Frances (Fanny) Nisbet. While stationed in Nevis to protect the British sugar trade, Captain Nelson met and courted Fanny.
Following the death of her first husband, the pretty young widow kept house for her uncle John Herbert, President of Nevis and owner of Montpelier Plantation. Some of the hotel's stone buildings, sugar mill and grounds were used as the sugar factory for the wider Montpelier Plantation, which was worked by enslaved Africans.
The marriage at Montpelier House
The couple married in 1787 under a silk cotton tree in the grounds of Montpelier House and registered their marriage at the nearby St John's church in Figtree parish. Montpelier House was later demolished, but apparently the tree is still in the gardens of the now private residence, which is just down the road from Montpelier Plantation & Beach hotel. The event is commemorated by a plaque on the gates of the former Montpelier House, just a short walk from the hotel entrance.
If you are interested in the history of Nevis, you can take this half day island tour from St Kitts, that includes a stop at Montpelier and the nearby Botanical Garden.
Princess Diana at Montpelier Plantation & Beach
Montpelier Plantation & Beach hotel is also well known as the place that Diana Princess of Wales chose for a holiday with her sons William and Harry, in January 1993 following her formal separation. At that time the hotel was under the ownership of the English couple James and Celia Milnes-Gaskell, who had family connections with the British aristocracy. Princess Diana would have no doubt felt at home with the English country house atmosphere of the hotel at the time.
In an effort to enjoy a holiday with her sons away from constant hounding by the press, Princess Diana agreed to a photo call on the beach, in return for being left alone for the remainder of the holiday. Her visit to Montpelier was otherwise very low key. She rented one of the cottages to stay with her boys and enjoyed rides along the island's quiet roads in the back of a pick up truck.
Celebrity visits to Nevis
Sarah Ferguson, Duchess of York also visited Nevis in 2007 and numerous other celebrities have chosen it as a holiday destination. English actor Elizabeth Hurley was recently holidaying in Nevis, following the filming of her soon to be released movie, "Christmas in the Caribbean". But this is the kind of island that attracts celebs wanting to escape from press attention, rather than those that court it.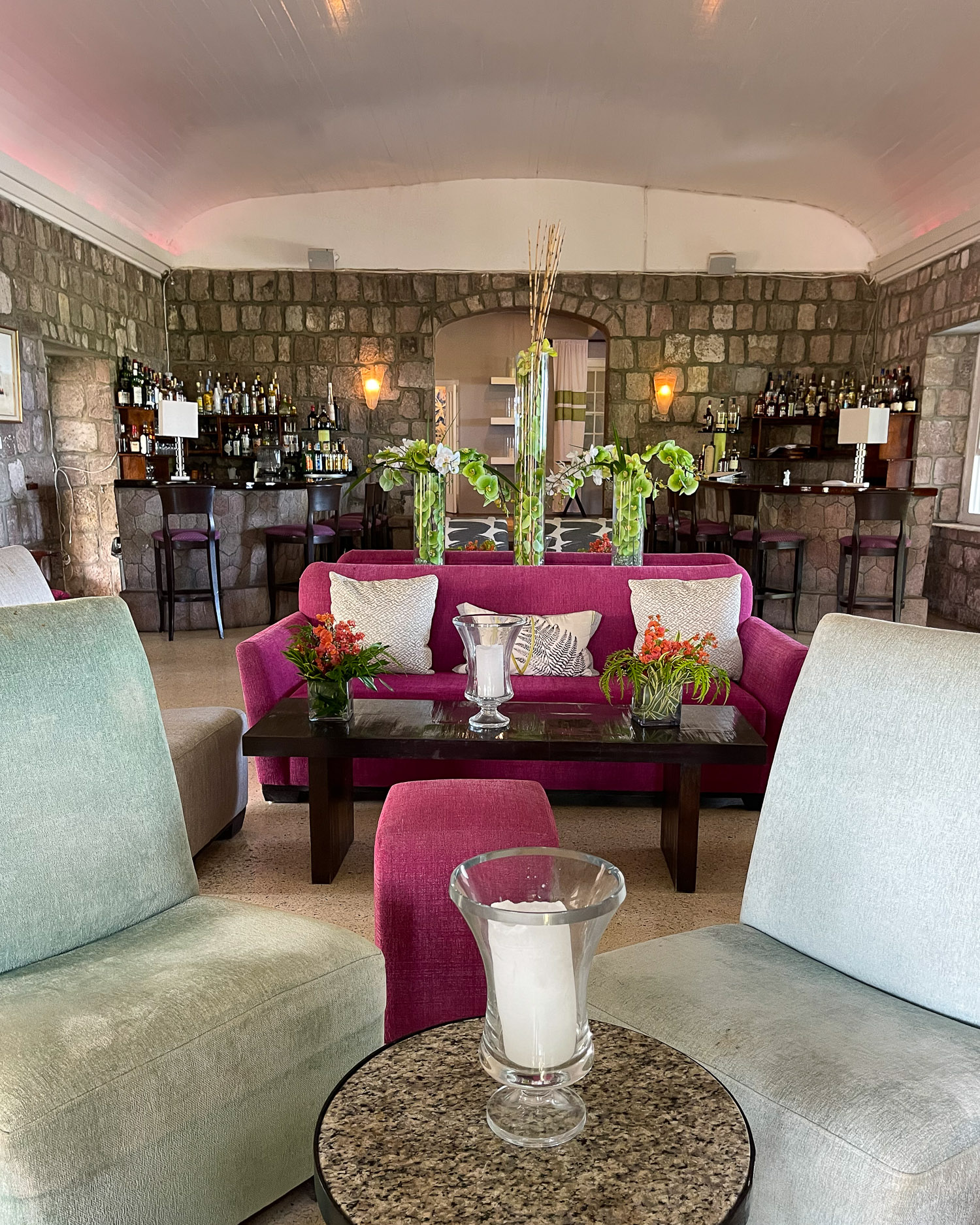 With its relaxed atmosphere and luxurious but low key hotels like Montpelier Plantation and Beach, it's easy to understand the attraction of Nevis for those in the public eye who want a holiday where no-one gives them a second glance. I'm sure that Montpelier has hosted many other well known names, but they like to be discreet about their guests and treat everyone the same!
The Montpelier Beach
Since Montpelier Plantation & Beach hotel is located on the south side of Nevis, you get pretty ocean views from the gardens, but there is no immediate beach access. Instead, the hotel has its own secluded beach area just north of Pinney's beach, a 15 minute drive from the hotel. All beaches on Nevis are public, and it is possible when the sea is calm to walk around the stone breakwaters, but Montpelier Beach is just about as private as you could get.
This lovely stretch of sand and shallow water is backed by a large grassy area, with shade from trees and individual cabanas. The cabanas provide an element of seclusion, as you relax on your lounger. Complimentary transport is arranged each day from the hotel, or you can arrange with reception for the driver to pick you up at a time of your choosing.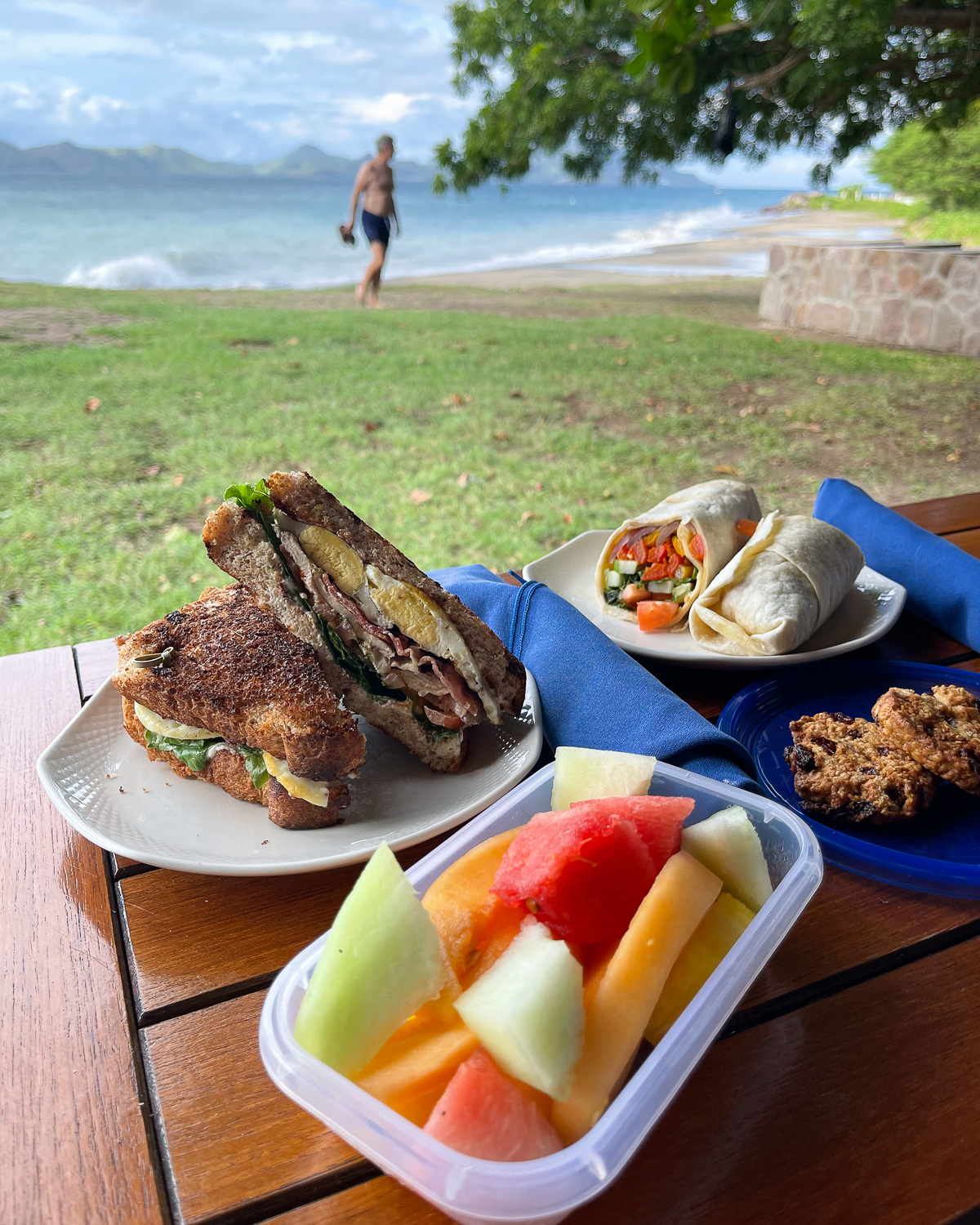 Looking for some beach time on Nevis? This island excursion from St Kitts includes a tour of Nevis and time on Pinney's beach to relax and order lunch.
A picnic at Montpelier Beach
The beach bar is exclusively for Montpelier hotel guests, and there are other facilities like bathrooms, showers and a changing area. While no food is served at the beach, guests can order a picnic lunch to take there from the hotel in a cool bag. We really enjoyed our club sandwich, veggie and goats cheese wrap, fresh fruit and home baked cookies, as we took a break by the sea and a quick swim.
The hotel also organises its popular sunset beach BBQ with live music at Montpelier Beach on Thursday nights. As it's open to non-residents, this is a good opportunity to enjoy the beach, even if you are not staying at the hotel.
Discover the top 10 things to do in St Kitts for cruise visitors
Dining at Montpelier Plantation & Beach
We were impressed by the high quality of the dining at Montpelier Plantation & Beach, under the young and creative Chef de cuisine, Halva Browne. Foodies will not be disappointed at the quality of dishes on offer, with a menu that draws on the best Caribbean produce combined with a cosmopolitan international inspiration.
Beach BBQ at Montpelier Beach
Our first experience of the excellent cuisine at Montpelier was at the beach BBQ that is held every week at the private Montpelier Beach. Having just arrived we were hesitant about booking, but were so glad we did, as it was one of the most fun evenings of the trip. It seemed that the whole kitchen team had worked their magic to transport the restaurant to the sandy shore overlooking the ocean.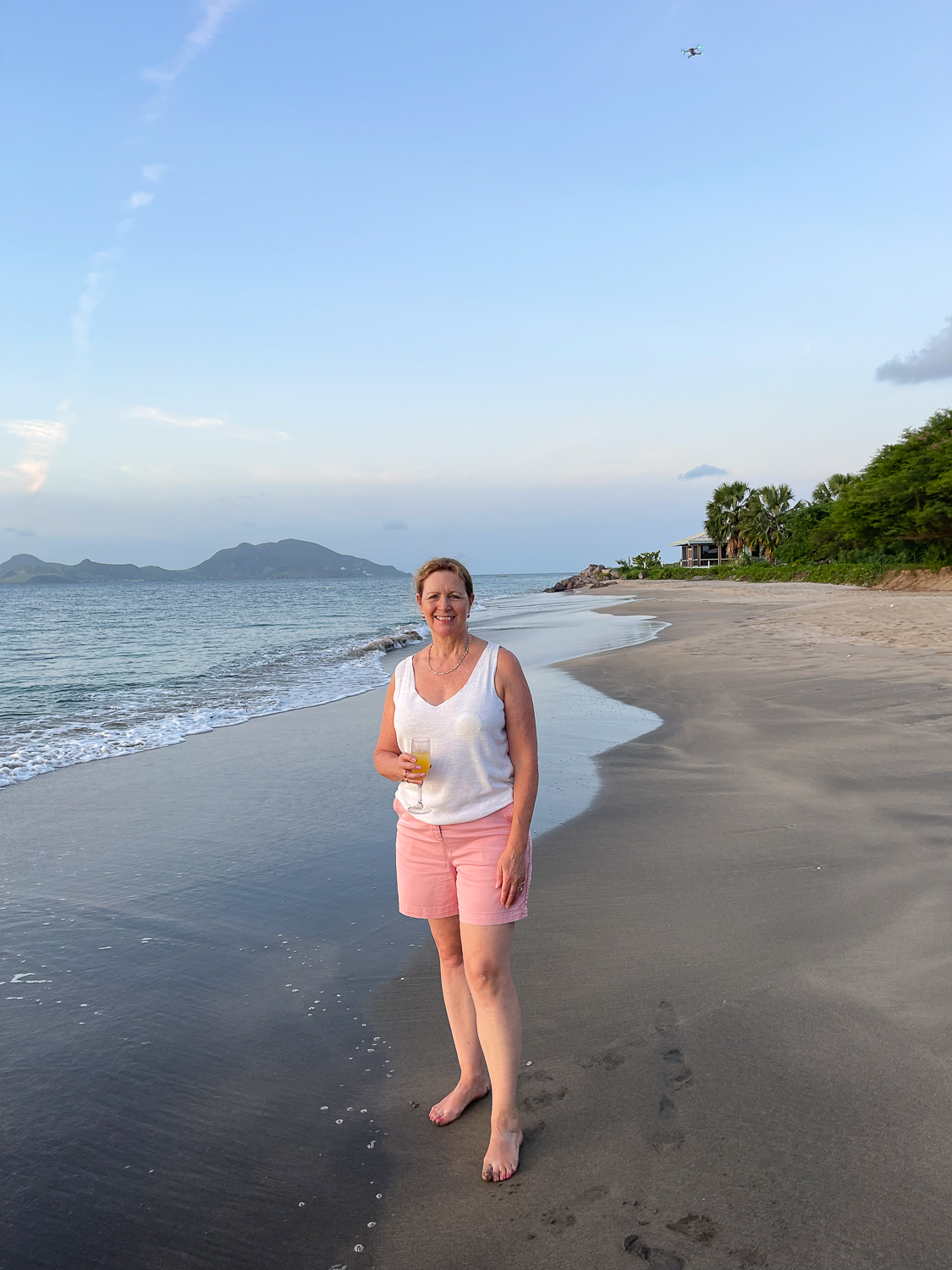 With a welcome drink in our hand, we dabbled our toes in the water and enjoyed the mellow sunset moments as the sky turned pink and golden. It was fun to chat to other hotel guests as well to those from nearby hotels such as Four Seasons, who had booked for the sunset BBQ, which is a popular weekly event on Nevis.
As the sun went down, dinner was served buffet style, with a selection of tasty sides and salads, served with BBQ chicken, ribs, fish and lobster tails. We tried a little bit of everything and it was all cooked to perfection and quite delicious. The table settings, with white cloths and hurricane lamps made an atmospheric setting for our first night at Montpelier Plantation & Beach.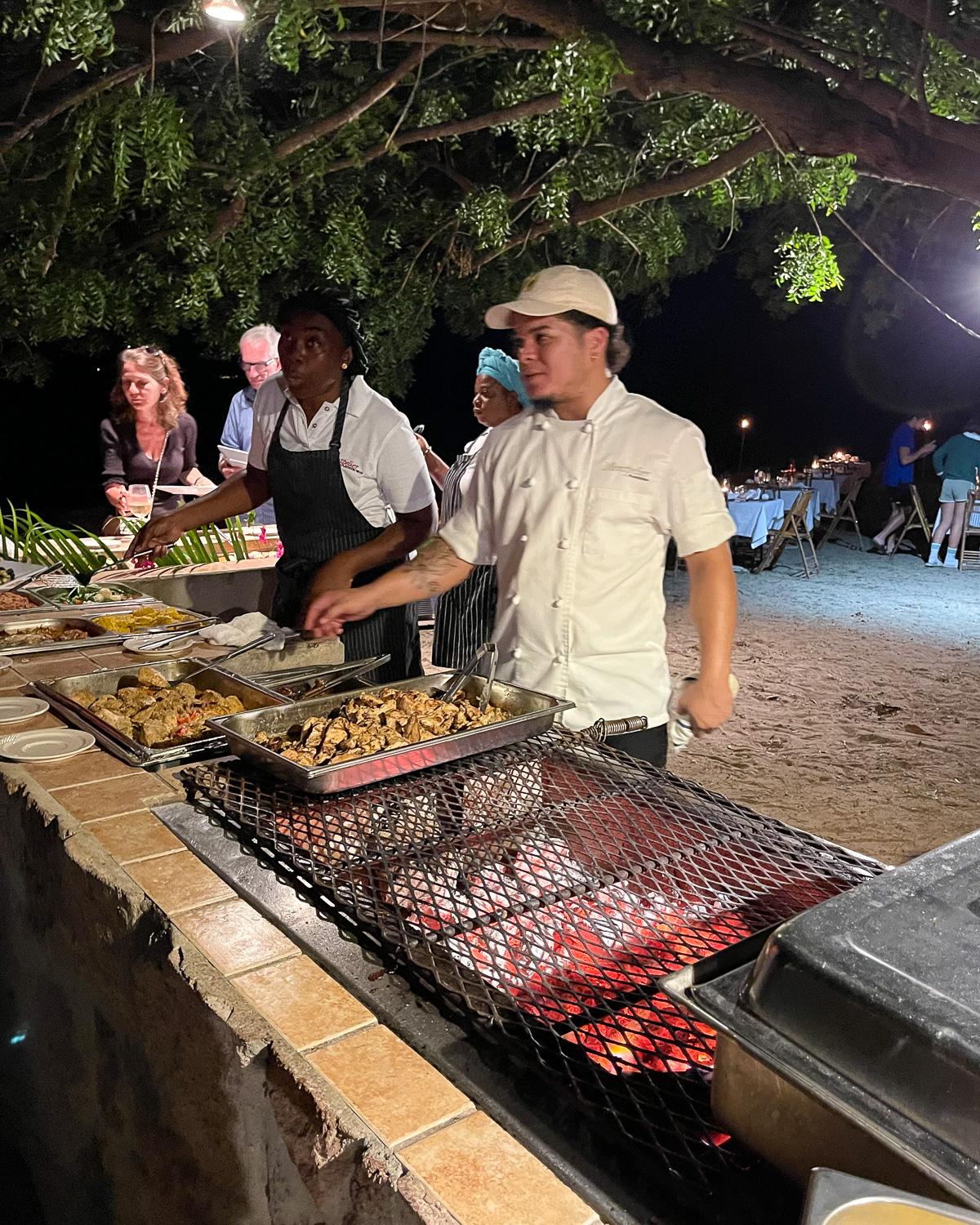 Live music at the Montpelier Beach BBQ
Soon the live music from local singer Gharlic and his Upper Level Band started, with a high energy performance that barely paused in 3 hours. This talented performer that had us all up and dancing by the time the evening ended, fuelled by just a few rum punches!
Example Prices: Sunset BBQ with welcome drink and live music $70 US (Plus 24% tax/ service)
Breakfast at Montpelier Plantation & Beach
Breakfast was taken on the shady terrace overlooking the garden. There was a small spread of buffet breakfast items, such as freshly baked muffins, juices and fresh fruit, as well as a wide selection of cooked items from the menu. I ordered my favourite Eggs Benedict, but I could have also tried porridge, French toast, pancakes or eggs any style with a full cooked breakfast. Tea, coffee or cocoa tea was brought freshly made to the table.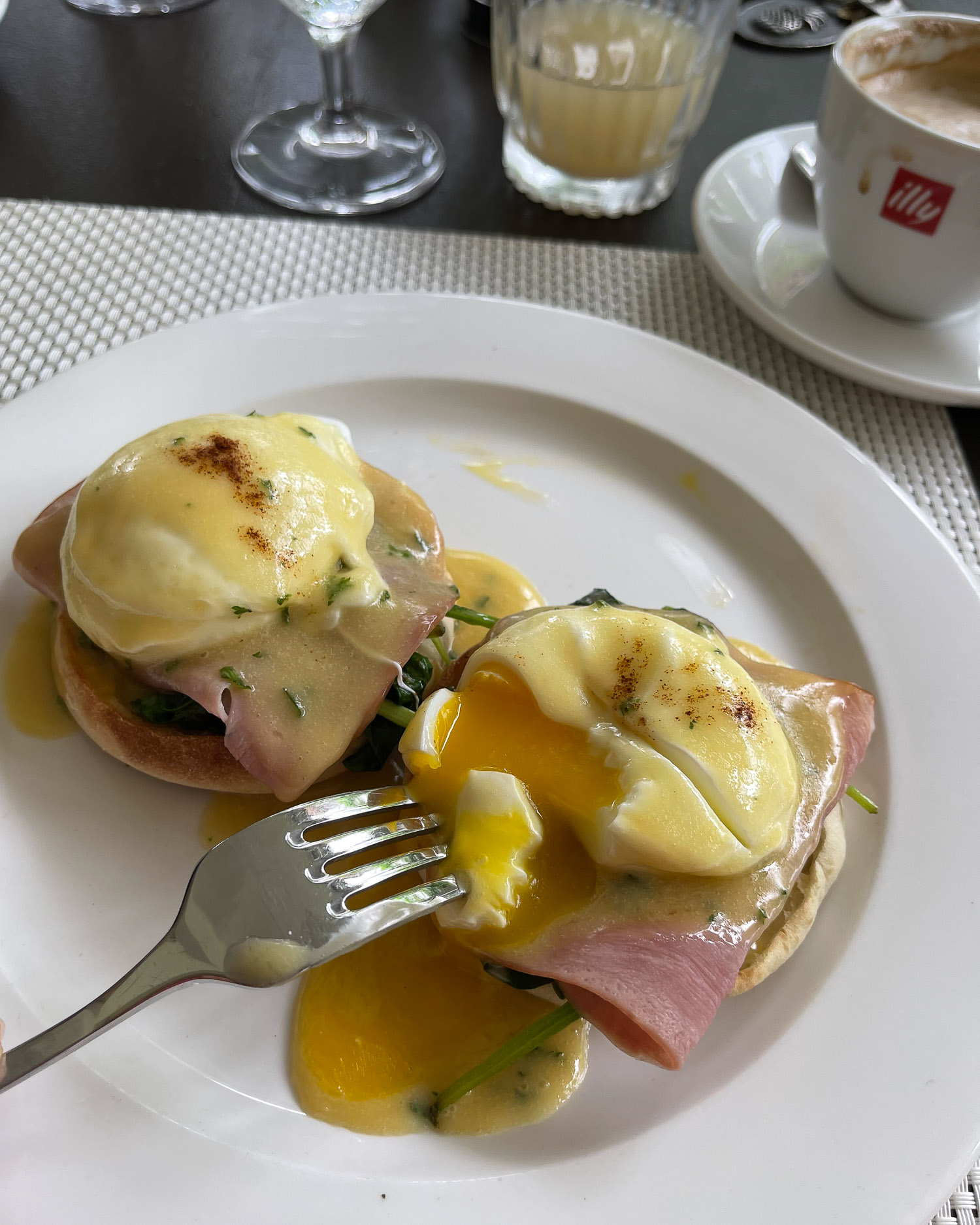 When we were at Montpelier, the breakfast buffet was somewhat limited, with no cereals or yoghurts and just one type of pastry. However, we were told that the buffet was being reorganised for the start of the winter season. On Sunday we enjoyed the traditional Nevis breakfast of Salt Fish and Johnny cakes, which was very tasty, together with some Accra or salt fish fritters and fried plantains.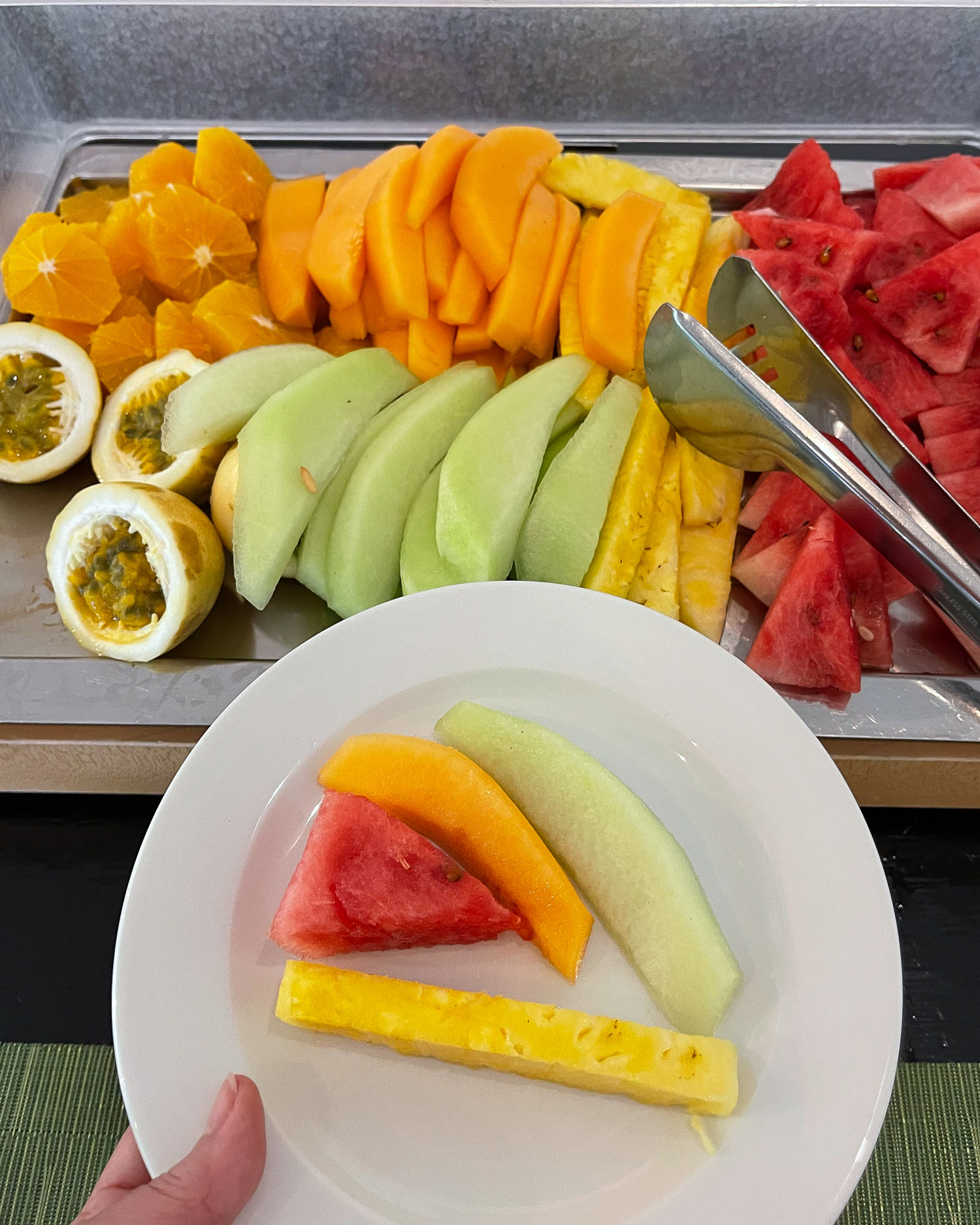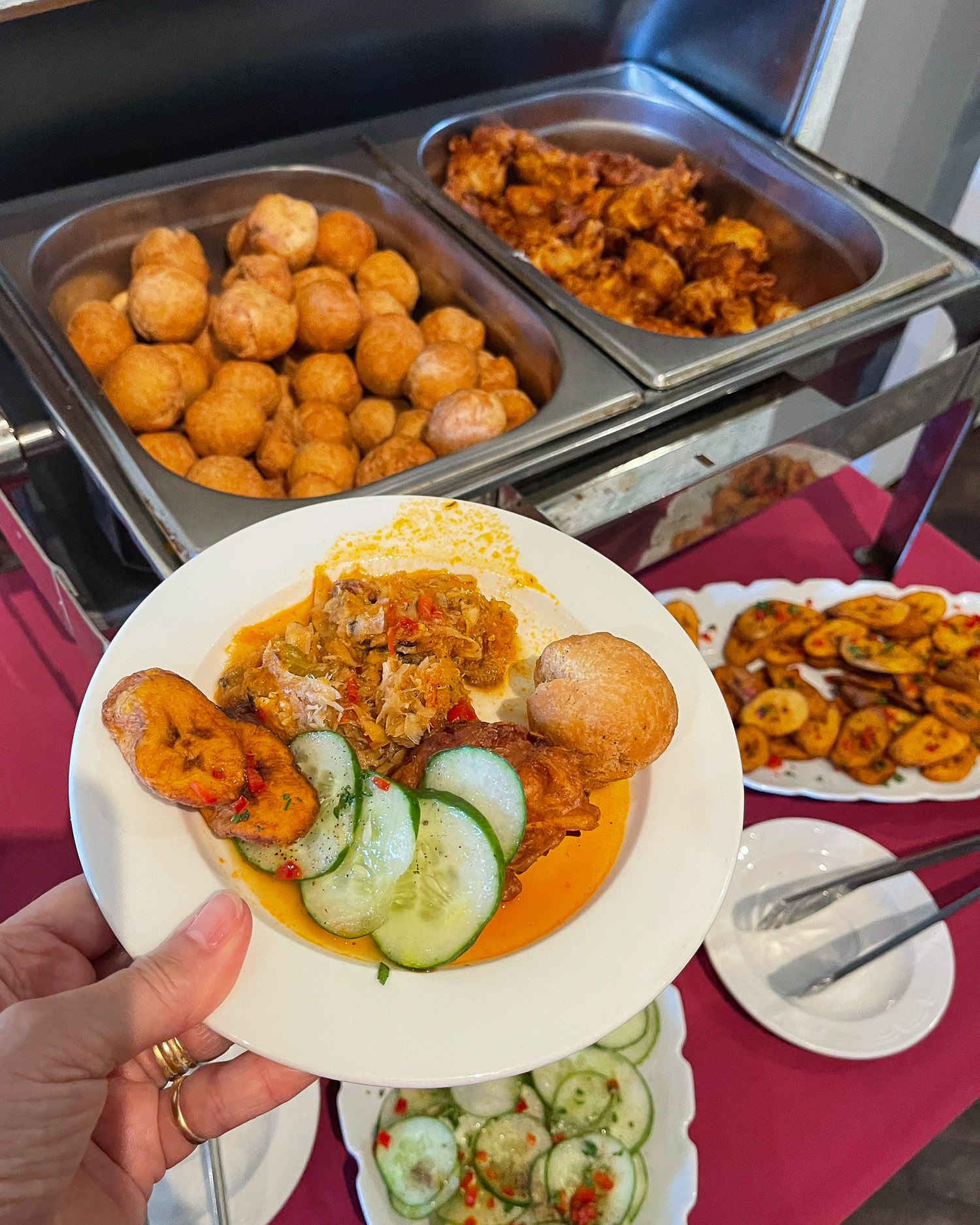 Indigo at Montpelier Plantation & Beach
Indigo is the poolside restaurant / bar at Montpelier, named after the highly prized dye that was brought from Africa and grown in the Caribbean. It's open all through the day and guests can relax here in the sofa areas overlooking the pool, or order lunch at the tables.
A steady flow of drinks is on offer from the bar, whether you are looking for a refreshing fruit juice or something a bit stronger. The vibe here is cool and breezy, with a hint of Bali style in the woven lampshades and furniture.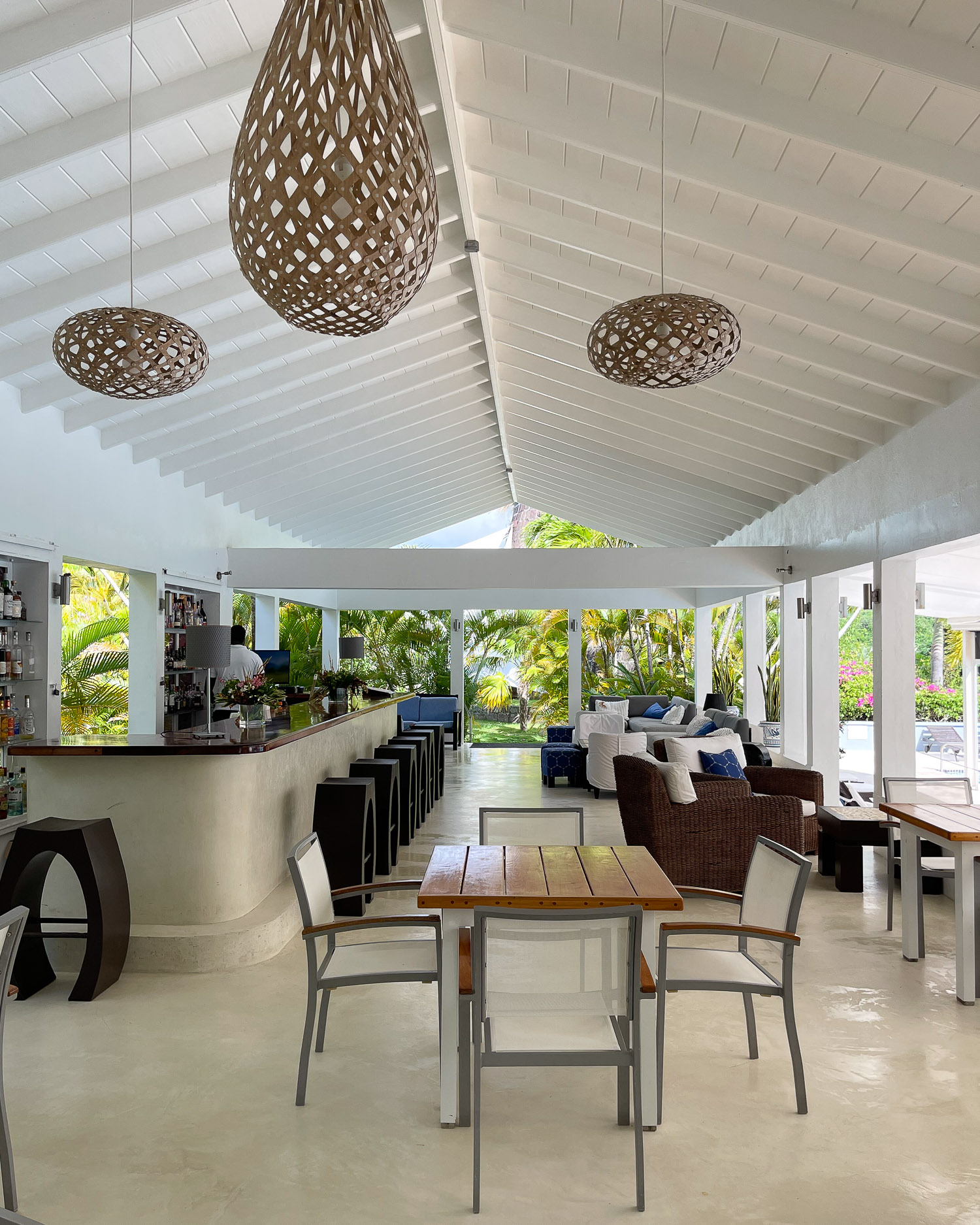 Lunch at Indigo
As lunchtime approaches, guests drift in to sit at the tables and order a salad, sandwich or hot dish from the menu. While the atmosphere is relaxed and casual, the standard of cuisine is just as high as the rest of Montpelier dining.
There's a touch of the Mediterranean in the menu, blended with Caribbean produce and flavours. I tried the Couscous Nicoise Salad with fresh seared tuna, eggs, tomatoes and olives which was delicious, while Guy tried the Nevesian curried chicken from the hot dishes, which he very much enjoyed.
I noticed that the Black Angus Beef burger with smoked house mayo and brioche bun or the crispy fish sandwich with lemon tartare, both with fries and salad were proving popular. Also looking tempting were the roasted tomato with coconut cream fettuccine, the poached lobster salad or the lemongrass conch stew, which draw on the best Caribbean produce of Nevis.
Explore 12 things to do in St Kitts for the stylish traveller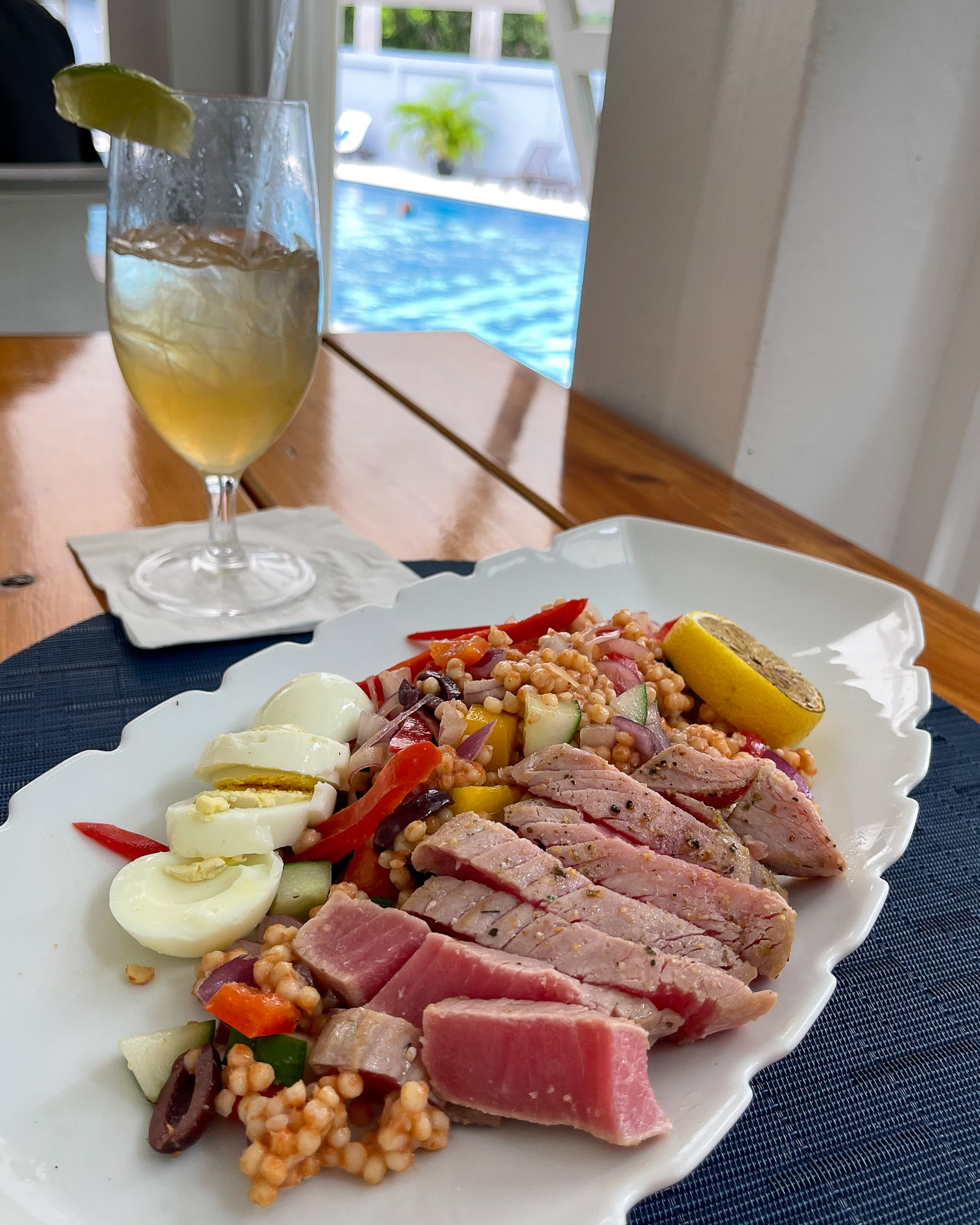 Tapas evenings at Indigo
During our stay Indigo was not open in the evening, but as the high season approaches, a tapas menu was being introduced for some evenings. On offer is a range of small plates, such as Ahi Tuna Tartar, Tamarind braised BBQ ribs, Sesame crusted shrimp or Local root chips and dip.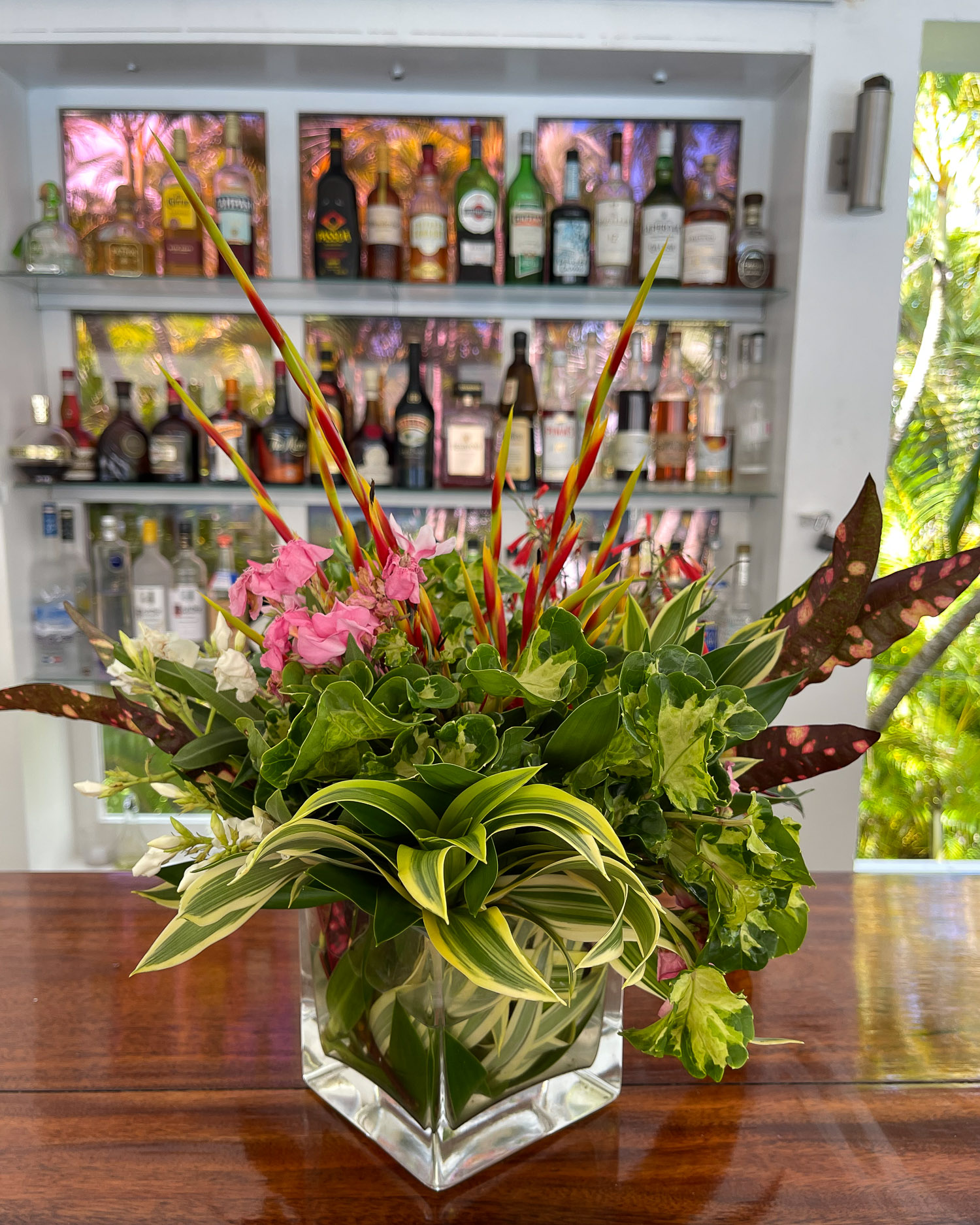 While most of the hotel guests eat at Indigo during the day, the restaurant is also open for lunch to non-residents (ideally book in advance), so you can stop here on your island tour to soak up the atmosphere. We met a lovely local couple who were enjoying a lunch at Indigo to celebrate their wedding anniversary, having been married at the hotel.
Bartender Kaddy is a fixture of the Indigo Bar, bringing a big smile and readiness to chat to guests that creates a friendly atmosphere throughout the day. His mixologist skills are second to none and he was just as happy to knock up the delicious fresh lemonade that I tried at lunch, as the signature rum punch or cocktail of your choice.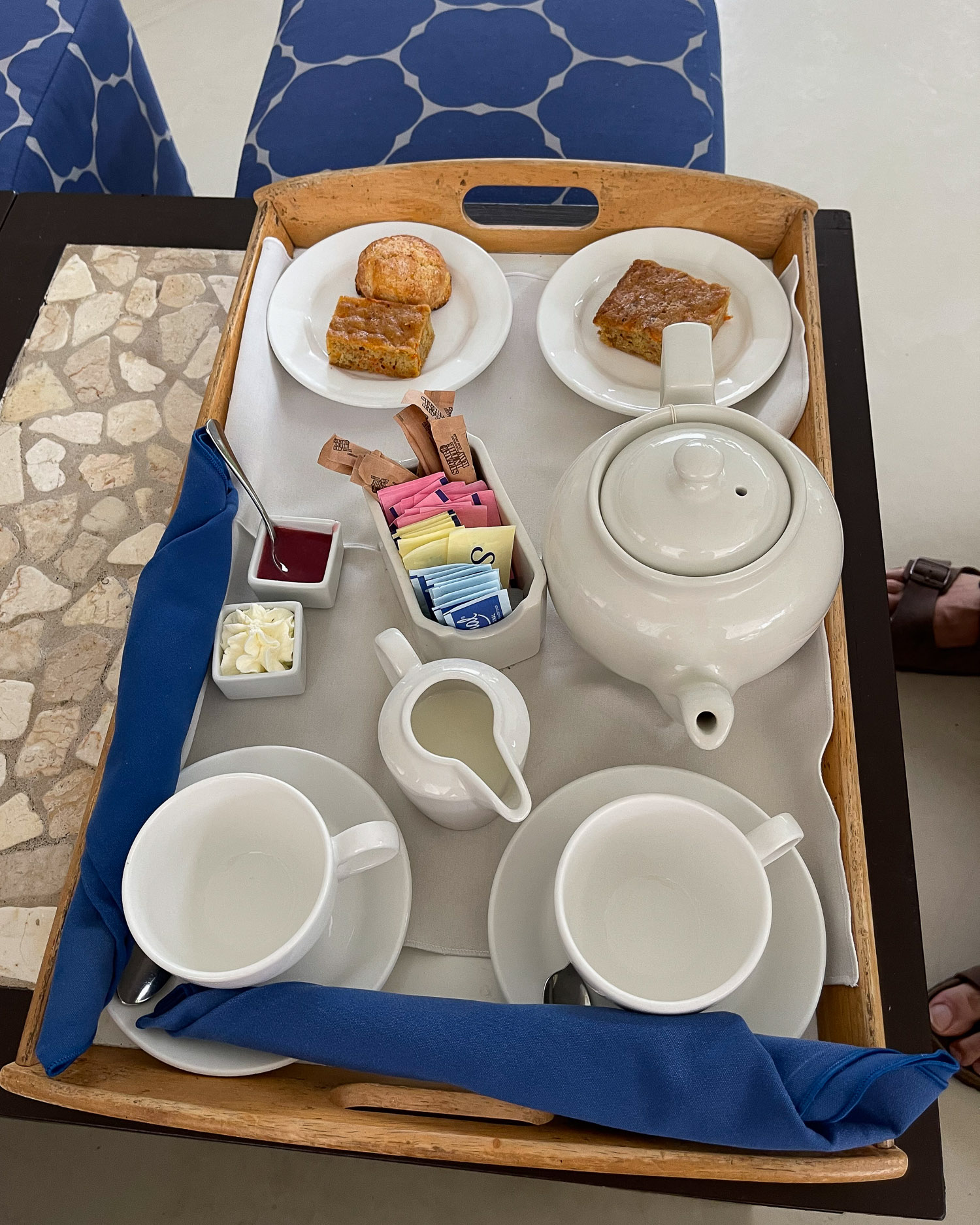 A complimentary afternoon tea is also served to guests in the Indigo restaurant every afternoon. The choice of teas is offered with a freshly baked scone with cream and jam or a slice of cake.
Example Prices: Lunch dishes $13-27 US Tapas dishes $7-12 US (Plus 24% tax/ service)
If you are not able to stay on Nevis, you can still take these tours from nearby St Kitts

Half day Island tour of Nevis from Basseterre

Tour of Nevis with lunch on Pinney's Beach

Boat trip by Catamaran to Pinney's Beach
Restaurant 750 at Montpelier Plantation & Beach
Restaurant 750 at Montpelier offers exceptional gourmet dining, which is appreciated by hotel guests, non resident visitors and locals alike. Named because the hotel is 750 ft above sea level, the menu offers light, modern cuisine that draws on Caribbean and International influences. The experience on offer is special occasion fine dining, with a three course menu that changes daily, although if guests want to have just one or two courses, this is also possible.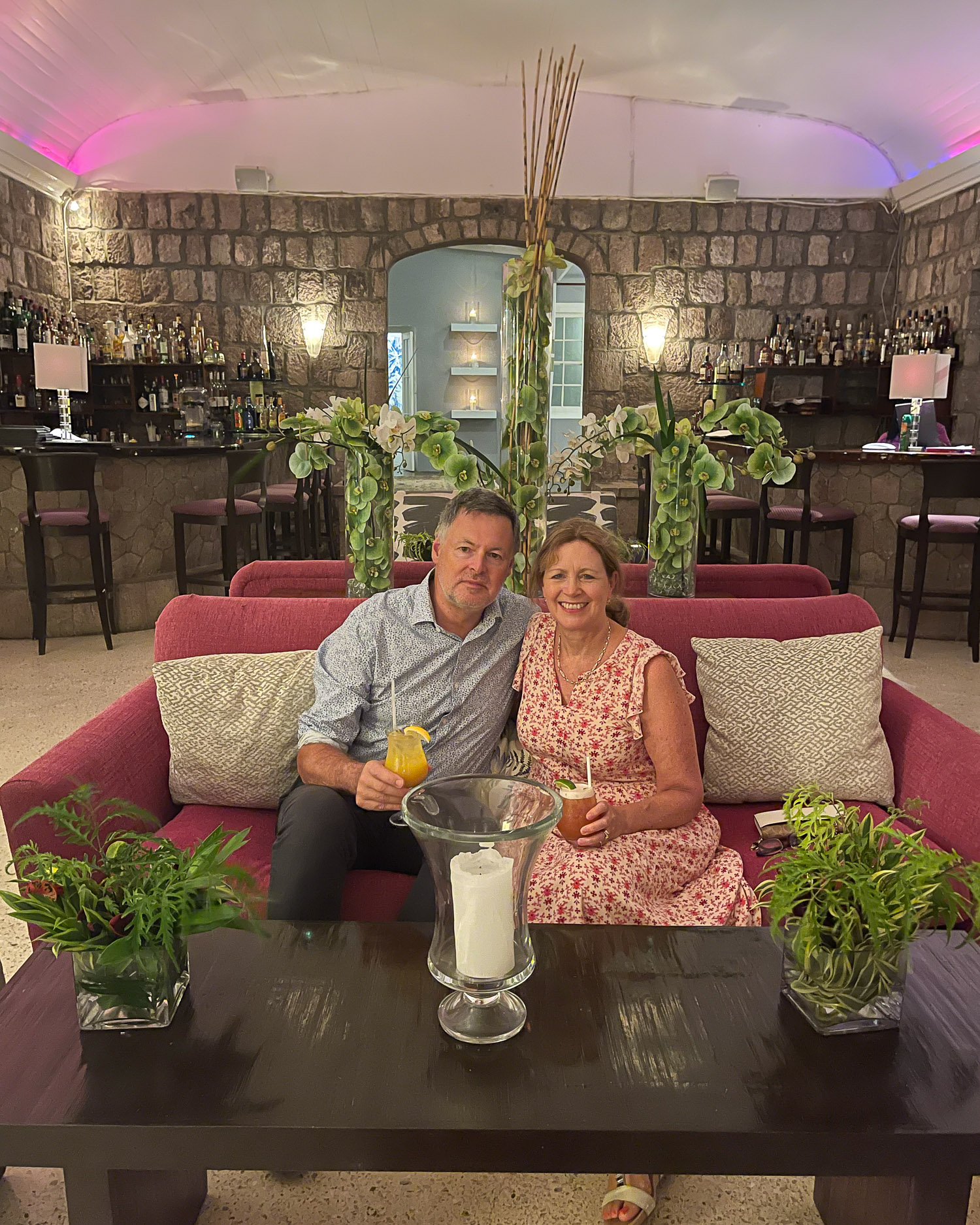 Our dinner started in the elegant Great Room, decorated with fresh flowers and glowing candles, where I tried the signature Siven dark rum cocktail in the stone walled room that had once been the estate's sugar factory.
A selection of the chef's amuse bouche was served to us as an accompaniment to our drinks. After making our selection from the menu, we moved into the restaurant area, a covered terrace overlooking the gardens with the giant cogs of the sugar mill creating a sculptural effect in the centre.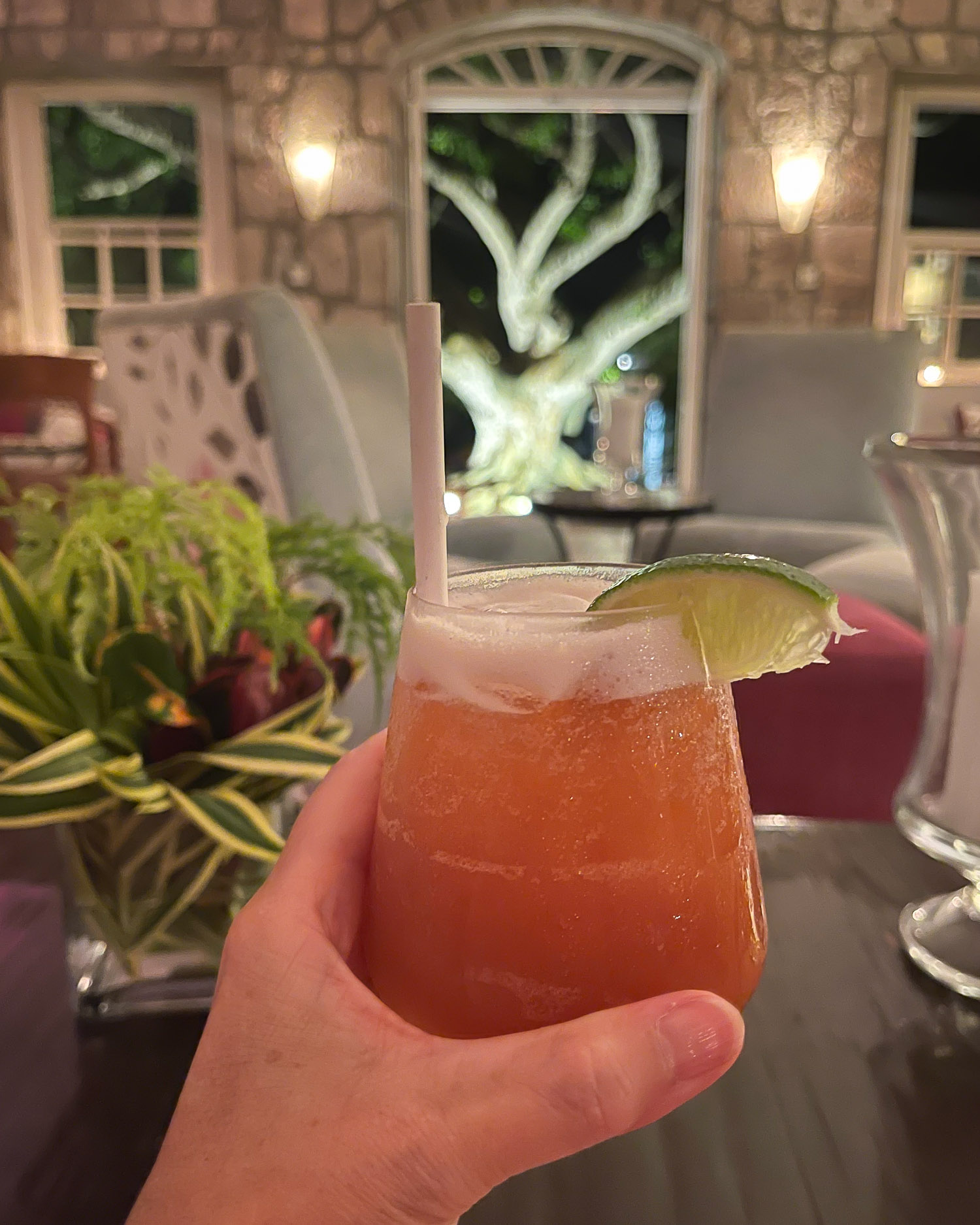 Dinner at Restaurant 750
As a starter I ordered the Shrimp bisque, a richly flavoured soup with a crispy shrimp ravioli, while Guy chose the beautifully presented pan seared scallops with torched fennel, orange segments and herb dressing.
For our mains I had the Sesame crusted tuna Tataki, with pumpkin puree, spinach and a ginger soy reduction, while Guy had a Thyme basted beef tenderloin, with a creamy lobster sauce. Desert was lemon tart with meringue, accompanied by a blueberry compote.
Everything was delicious, with light and harmonious flavours and beautiful presentation. I later had a chat with the Chef de Cuisine, Halva Browne, who grew up on St Kitts and Nevis. After working in various restaurants and hotels on the island, he joined Montpelier to work under the French and Italian chefs that the hotel had previously employed.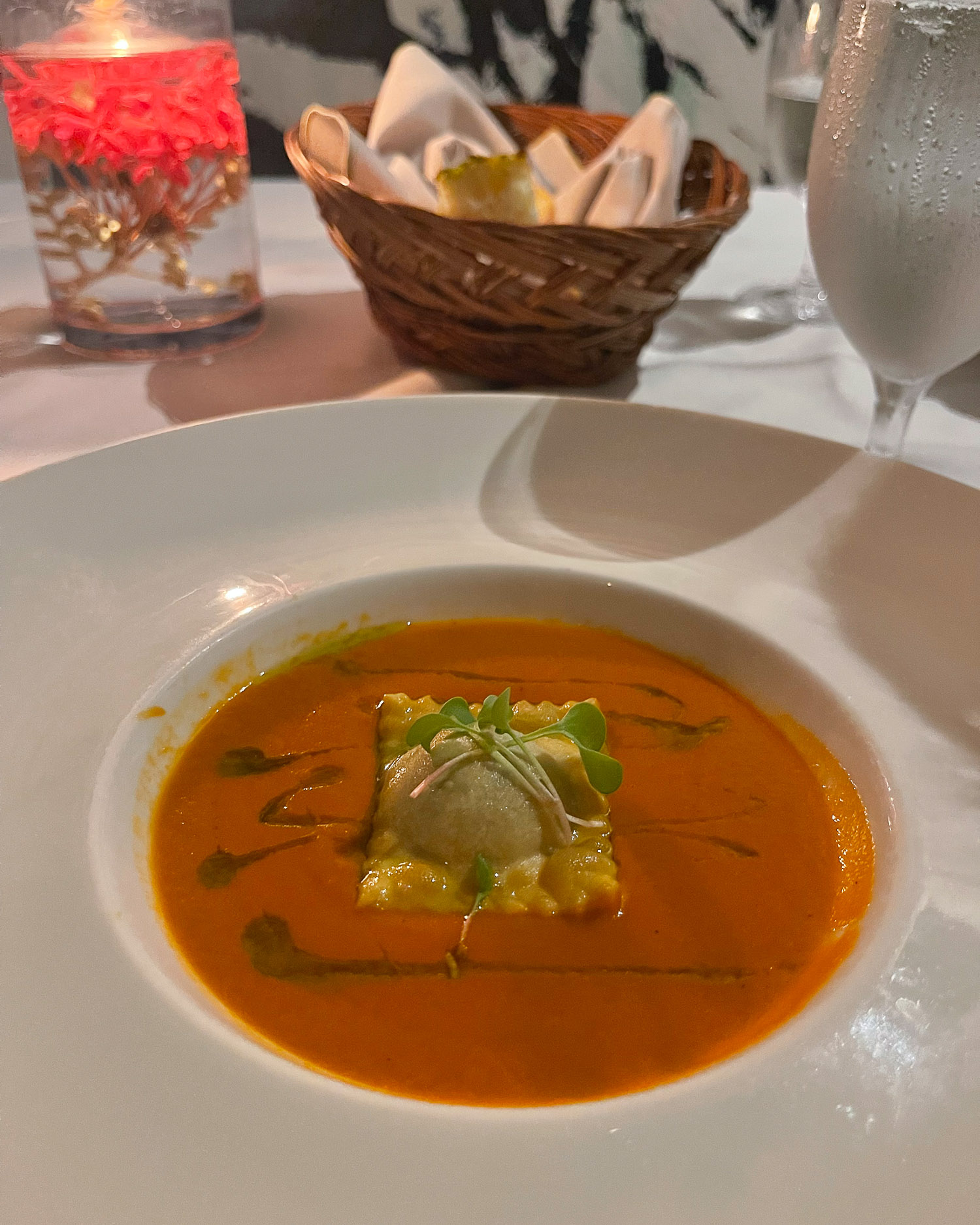 Halva Browne – Chef de cuisine at Montpelier
Now that Halva has moved into the role of Head Chef, the international influences are still there, but he is bringing his own inspiration to the menu. Montpelier is committed to supporting local producers and this is evident in many of the dishes that draw on Caribbean flavours, fish, fruit and vegetables.
But other dishes reference Mediterranean flavours such as mozzarella, prosciutto or ravioli, or could be out of a French kitchen, such as Confit of duck leg or Pistachio lamb rack. The menu seems designed to please the cosmopolitan range of guests staying at Montpelier, as well as satisfying local foodies who want to try something different than they could cook at home.
Check out the top 10 St Kitts food and restaurant experiences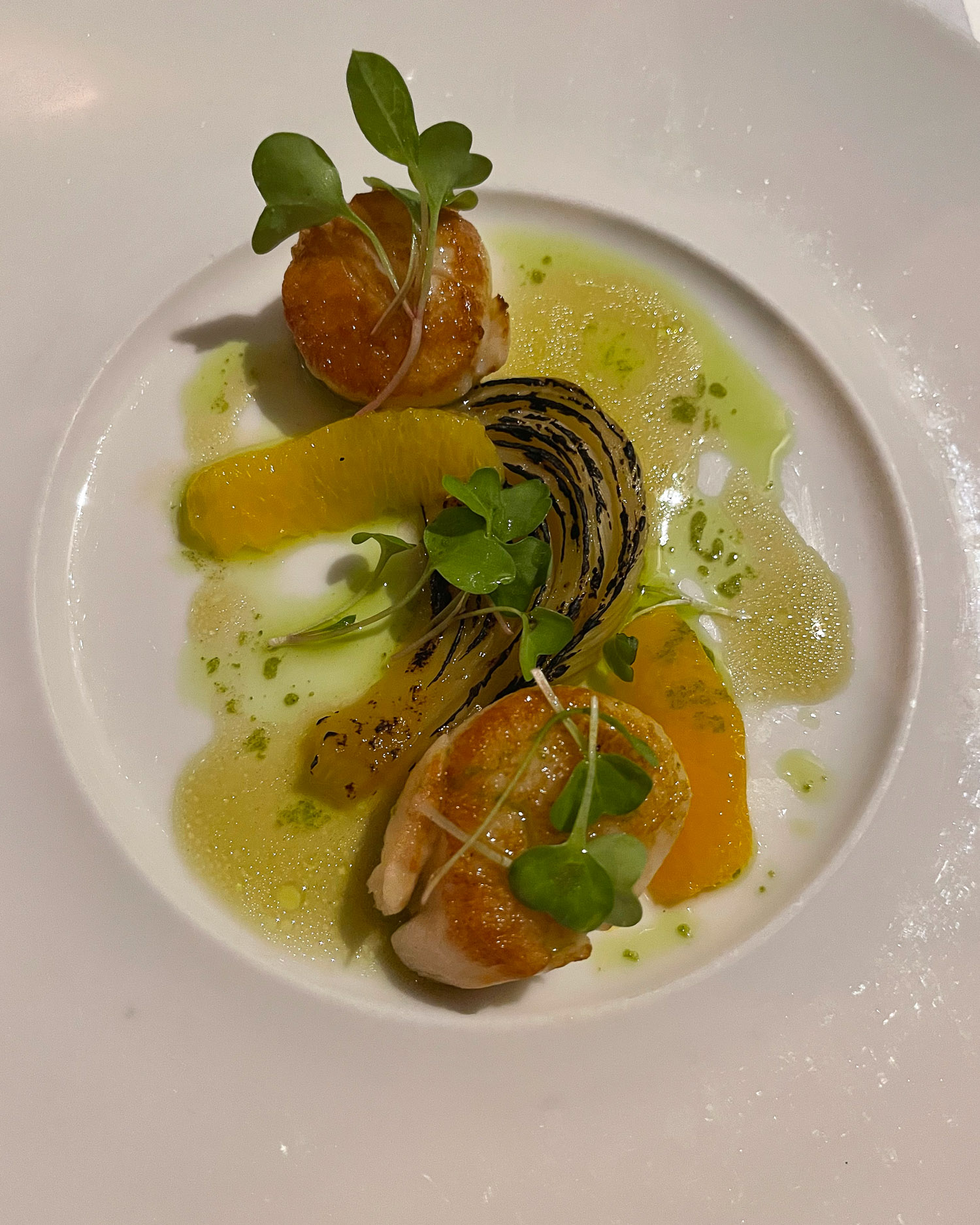 Halva also explained that to reduce food waste, the restaurant has moved to a set menu with several choices, rather than running an extensive à la carte menu requiring a big stock of fresh produce. This allows Halva to change the menu daily, creating new dishes based on what's fresh and in season and what has been popular with the guests.
Apparently the lobster and lemon fettuccine is one of the most popular dishes, so variations of this regularly make an appearance.
In the past one of the enjoyable guest activities has been a day with the chef, where Halva can take guests to visit the market and then they cook lunchtime dishes with the local produce. It's hoped that this fun experience will be on offer again in the coming season.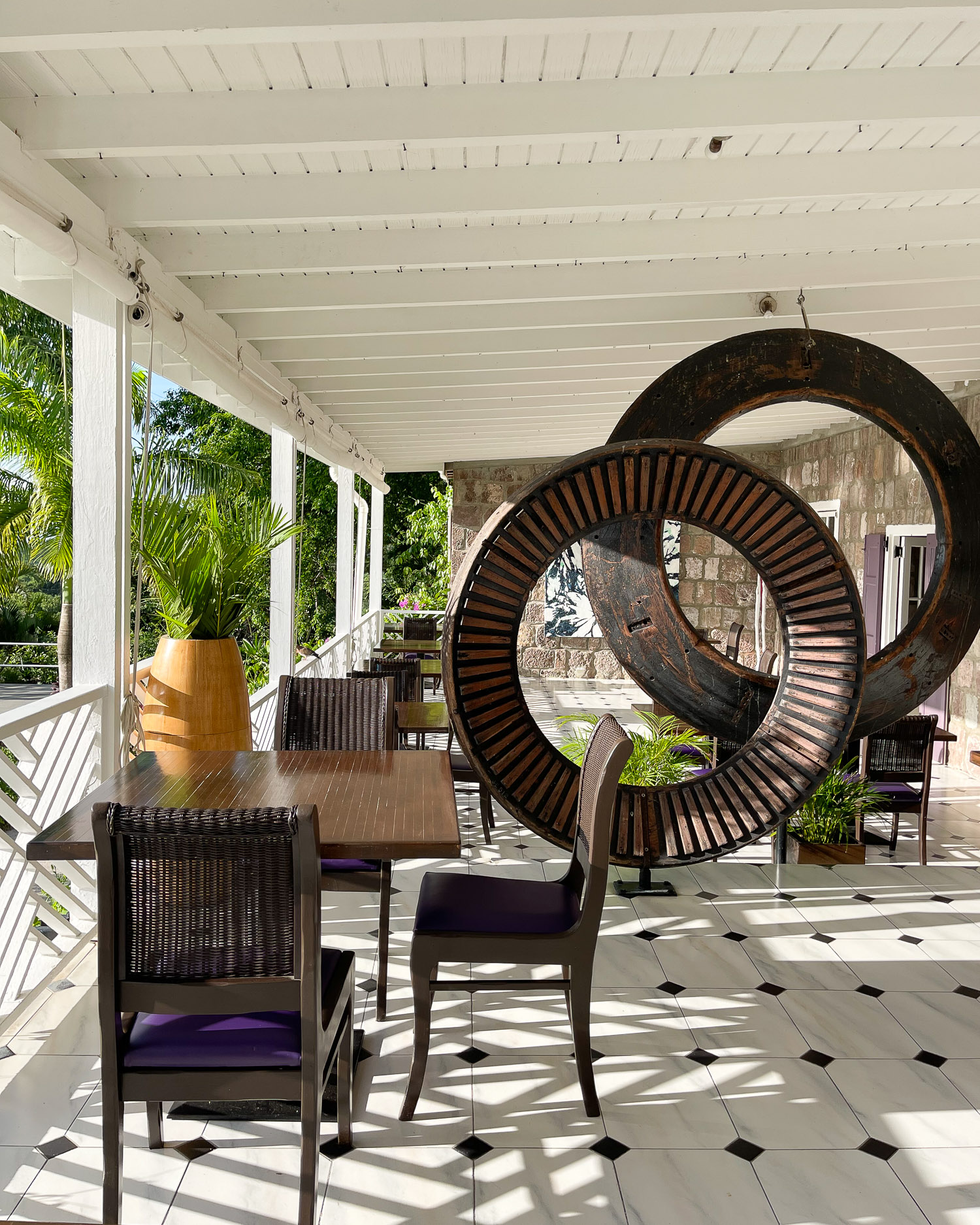 Restaurant 750 is popular with locals, expats and visitors to Nevis. Even if you are not staying at Montpelier, it's a great choice if you want a really memorable dinner in beautiful surroundings.
Example Prices: Full 3 course menu with Chef's Amuse Bouche $78 US (Plus 24% tax/ service) Price is adjusted if guests want just one or two courses.
Mill Privée at Montpelier Plantation & Beach
The 300 year old sugar mill at Montpelier Plantation has been converted to make an intimate restaurant venue that is ideal for private dining. As dusk falls the steps leading up to the conical stone mill are lit with torches and tables inside set with fine linen, flowers and candles.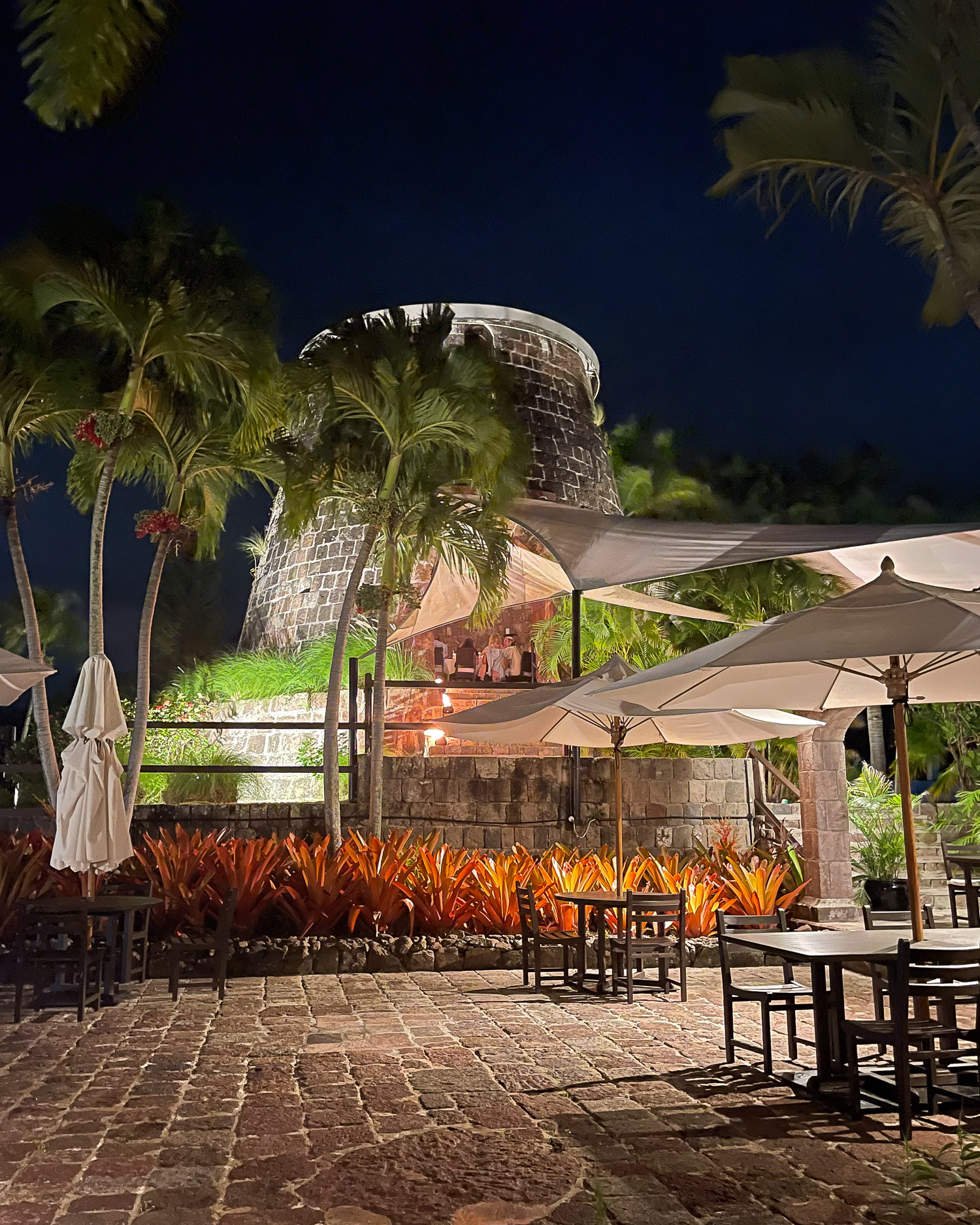 Dining at Mill Privée is similar to the Restaurant 750 but elevated to a 7 course fine dining experience, with courses of soup, salad, fish, meat, desert plus two mini courses at the choice of the chef. As an example, one of the menus includes Roast beetroot and watermelon salad, Soup du Jour, Coca crusted pan seared Wahoo, Pistachio roasted lamb rack and Saffron coconut creme brulee as well as chef's choice of amuse bouche and mini-desert.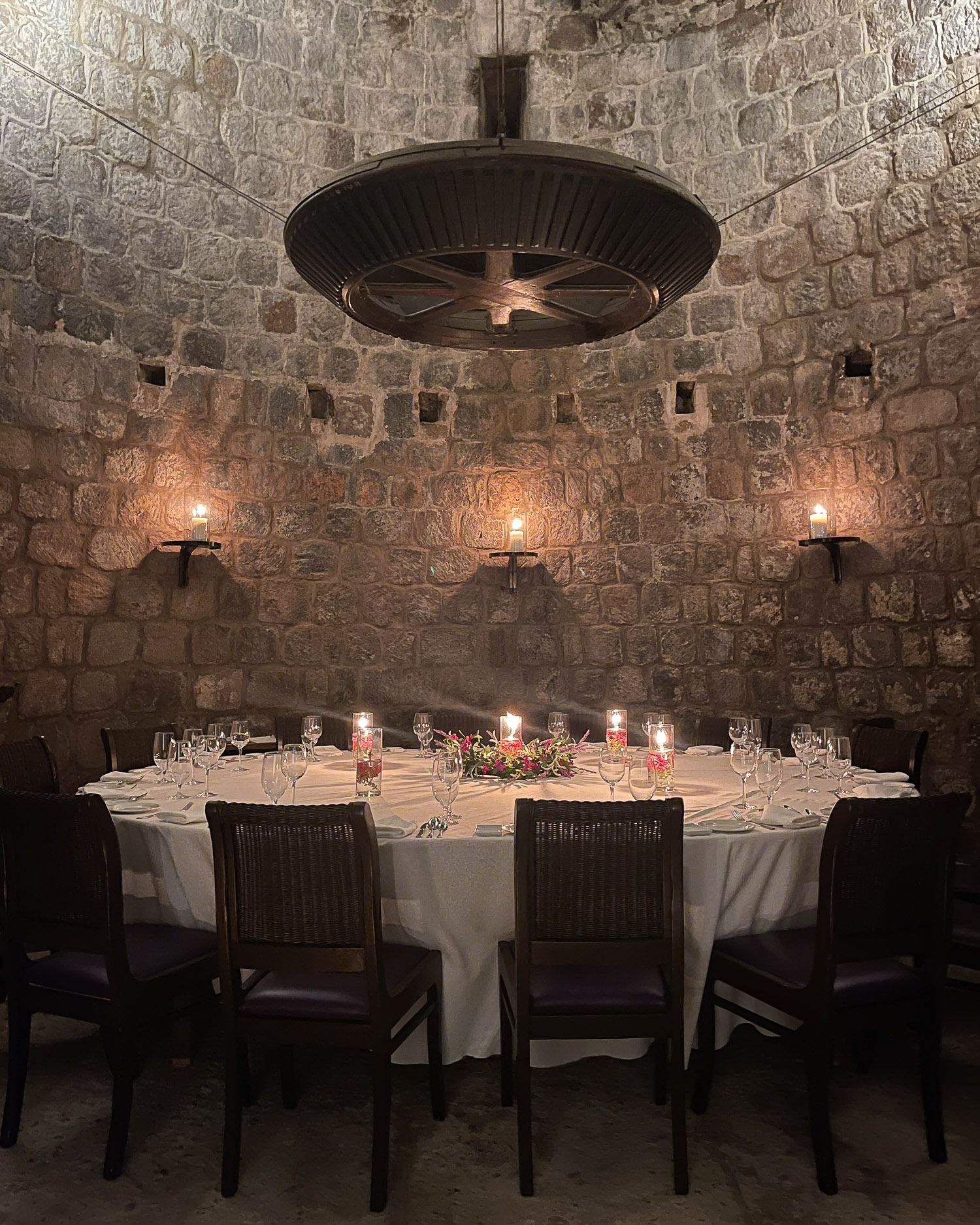 While we were there, a group of friends were enjoying this experience starting with drinks in the Great Room followed by dinner in the Mill Privée. This special venue for up to 24 people makes the ideal place for a celebration evening event, such as a small wedding or birthday dinner.
Example Prices: 7 course gourmet menu $120 US (Plus 24% tax/ service)
If you are interested in the history of Nevis, you can take this half day island tour from St Kitts, that includes a stop at Montpelier and the nearby Botanical Garden.
Art at Montpelier Plantation & Beach
The hotel is an art gallery for the work of Canadian artist Kirk Mechar, who is a friend of the Hoffman family. Dividing his time between Nevis and Toronto, Canada, the artist is drawn to the natural environment of the Caribbean. Abstract flower patterns are inspired by petals, or fragments of pollen that offer the viewer an impression of looking through a kaleidoscope of colour.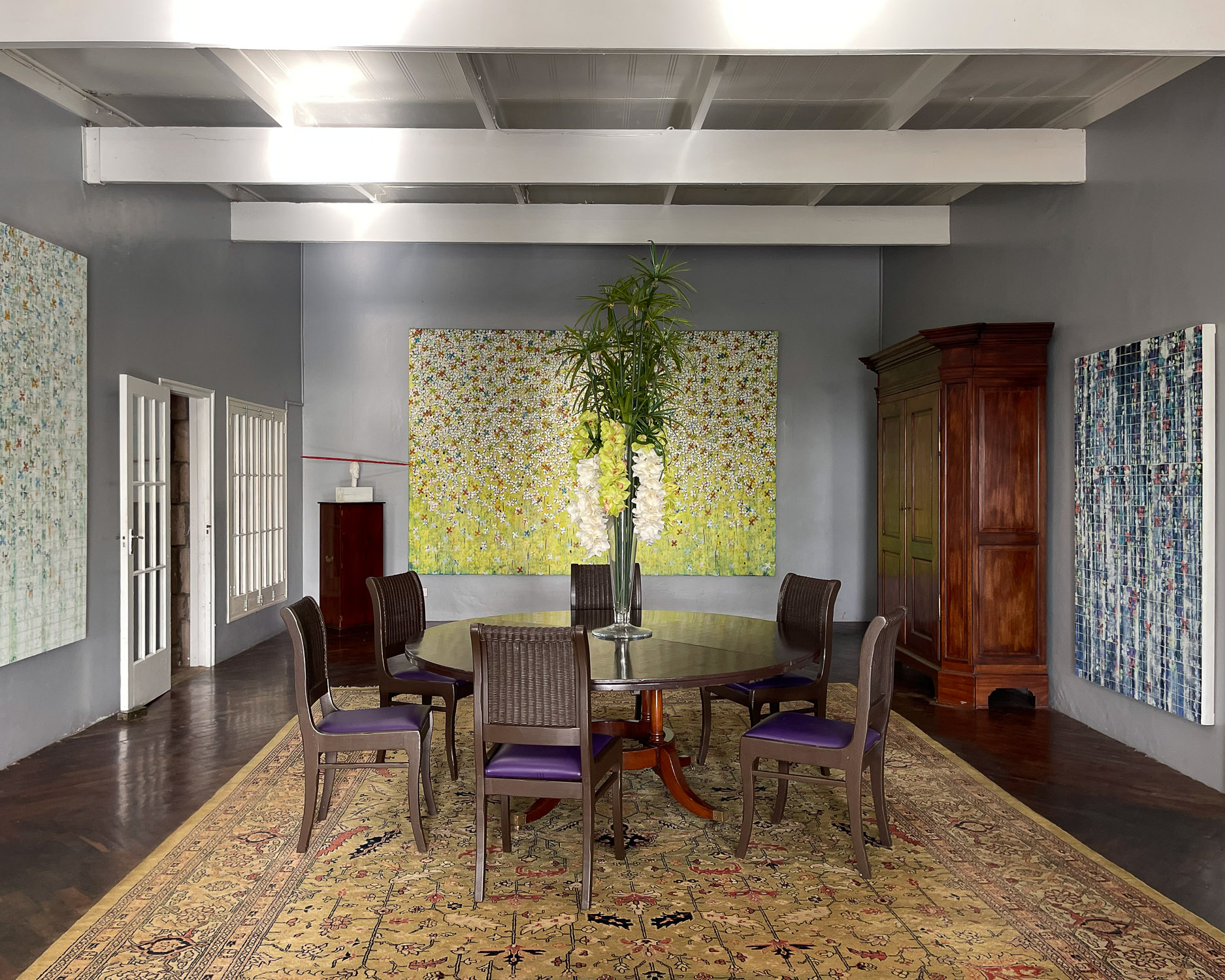 Mechar's pared down wooden and metal sculptures seem to be almost African inspired. The artworks are harmoniously integrated into the colours and interior design of the bedrooms and public area at Montpelier. Art lovers will enjoy pondering over their enigmatic qualities that subtly evoke the spirit of the Caribbean.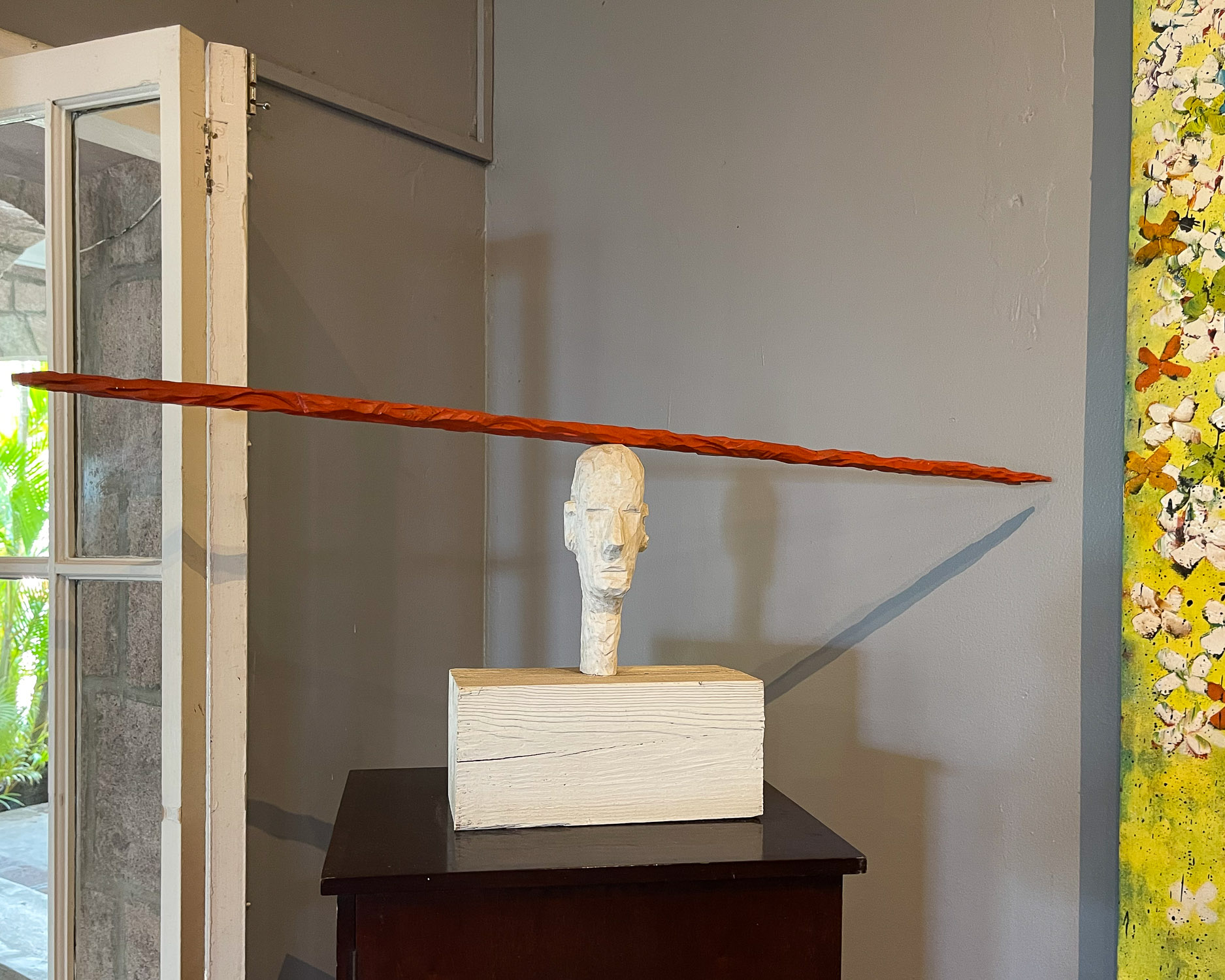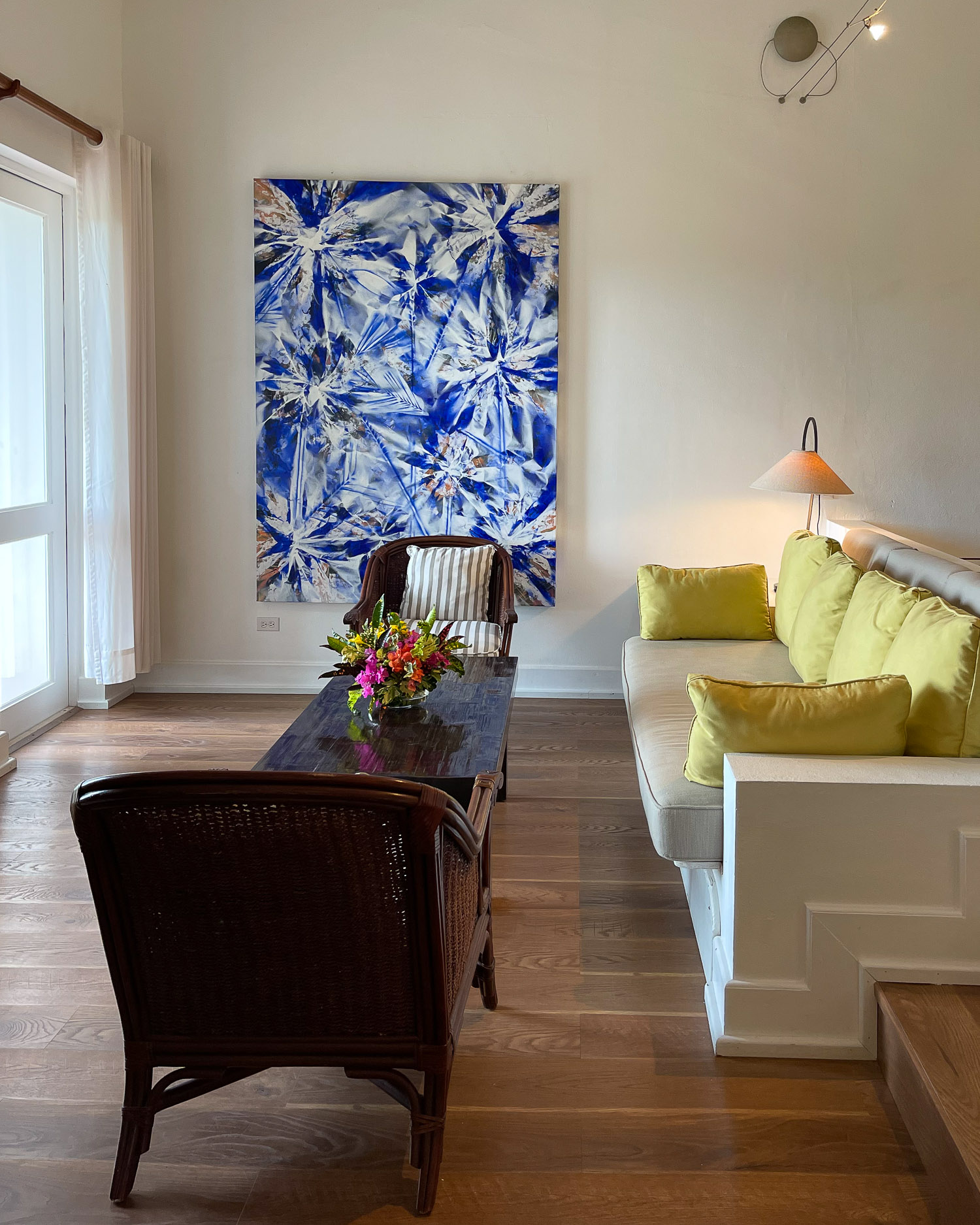 Activities at Montpelier Plantation & Beach
Guests at Montpelier are encouraged to "live fully", whether that be exploring the island by bike, hiking through the rainforest or visiting some of the many historic plantation ruins. There is a tennis court on site with racquets available to borrow and other activities like yoga classes can be easily arranged. An open spa terrace is available with views across the gardens, for those who wish to arrange a facial or body treatment.
Hiking from Montpelier
With acres of unspoiled forest on the slopes of Nevis Peak, the island has a surprising number of hiking trails to enjoy. We used the hotel's map to walk to nearby Saddle Hill, the site of a historic stone battery built in the 1740s.
Take a look at St Kitts in pictures – the 10 most instagrammable views
The nearby Nelson's lookout is said to where Admiral Lord Nelson inspected the battery and surveyed the horizon for enemy ships. We too enjoyed the views of Nevis Peak and the Atlantic coast from the top of Saddle Hill, but were soaked to the skin in a rainstorm on the way back down!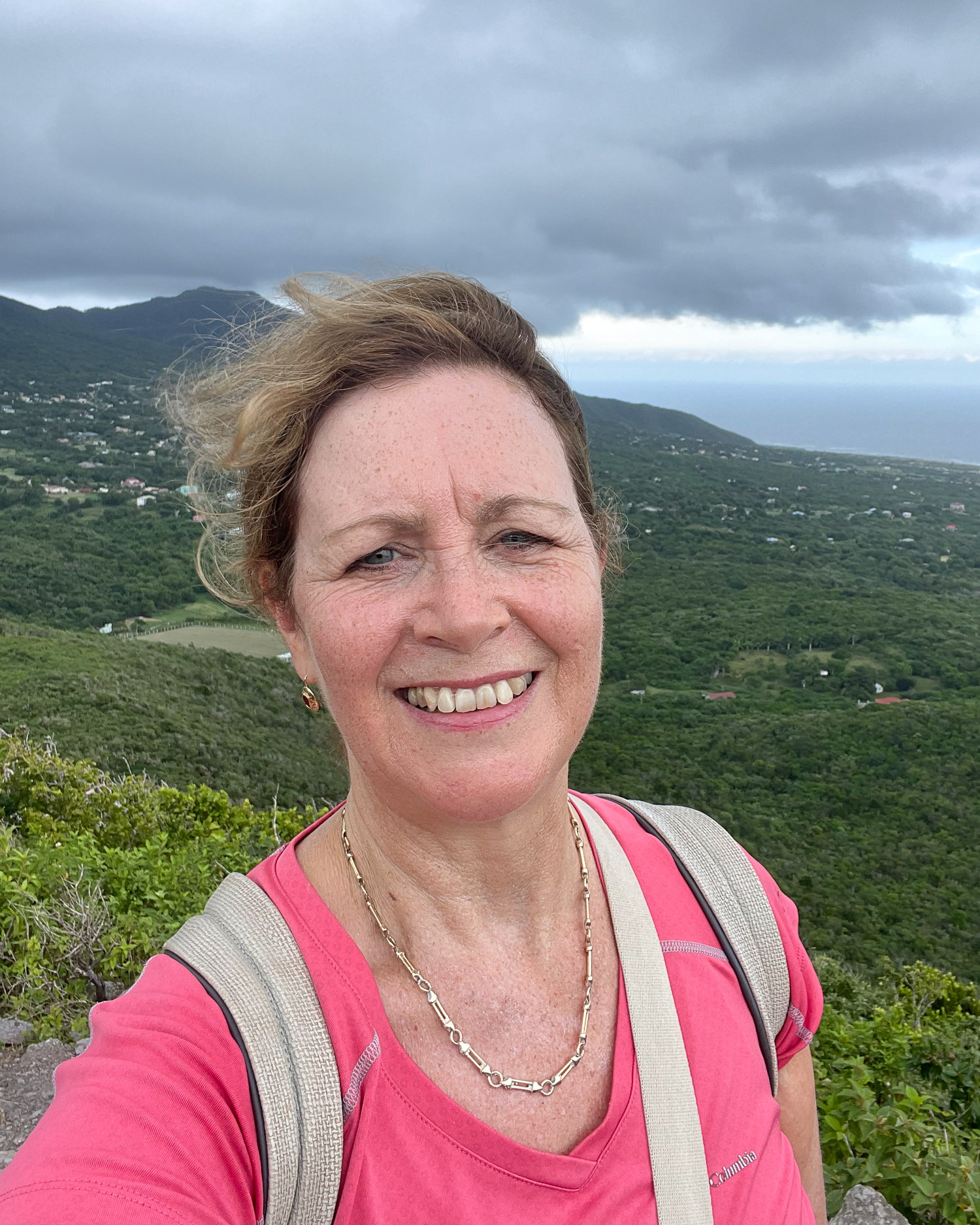 Sustainability at Montpelier Plantation & Beach
The hotel clearly has a proactive approach to its social responsibility and environmental impact. Sustainability initiatives that we observed or were told about at Montpelier include:
The hotel avoids the use of small plastic bottles for toiletries, instead using refillable large size of toiletries in the bathrooms from Elemis.
Plastic bottles and packaging are avoided in the breakfast and dining. Water is refilled from jugs and fruit juices are dispensed from large glass coolers. The water in Nevis is fine to drink and bottled water is avoided.
Fruit and vegetables are mainly supplied by local farmers depending on what's in season, and most fish is supplied by local fishermen. Meat and some produce may be imported where not available locally.
Organic detergents (Ecolab) are used in the hotel's laundry.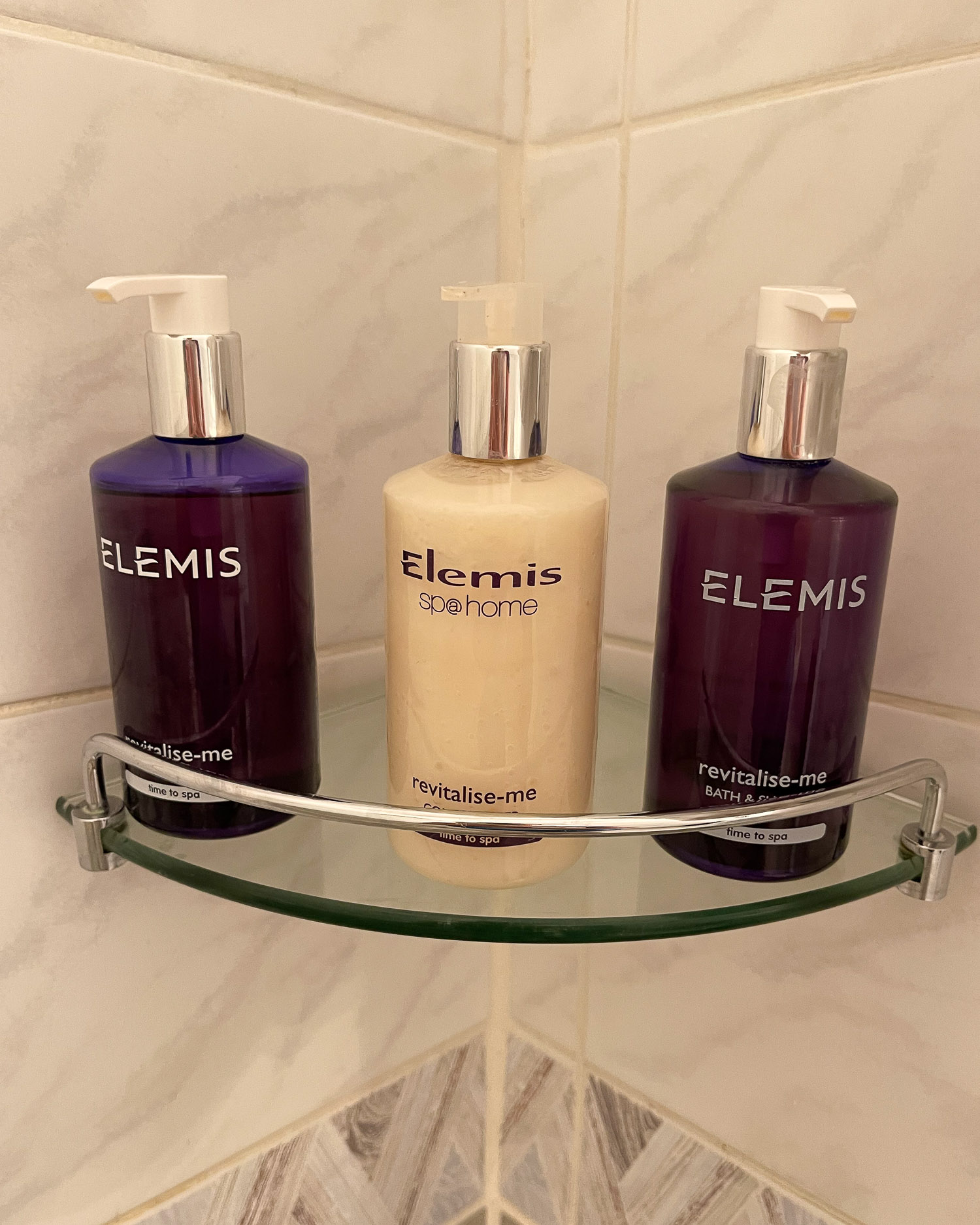 Two cisterns at the hotel collect rainwater for use in the laundry and gardens and guests are encouraged to save water in the bathrooms.
As cottages are refurbished, more consideration is given to sustainability, for instance by refitting all the Premier rooms with showers and updated bathrooms. The Garden Suite was recently refurbished with 'Green' principles in mind.
An automatic lighting system is used to save energy in the day.
The cottages are designed with glass slatted ventilation on both sides, in a traditional cooling approach to let sea breezes flow through. This reduces the need for air conditioning, and we were able to keep the air conditioning off for most of our stay, while still remaining cool.
If you are not able to stay on Nevis, you can still take these tours from nearby St Kitts

Half day Island tour of Nevis from Basseterre

Tour of Nevis with lunch on Pinney's Beach

Boat trip by Catamaran to Pinney's Beach
The location of Montpelier Plantation & Beach, Nevis
Montpelier Plantation & Beach is located on the island of Nevis in the Leeward Island Group of the West Indies. At only 36 square mile, Nevis is the smaller of the two islands that make up the Caribbean nation of St Kitts and Nevis.
To reach Nevis, most guests arrive via the airport on St Kitts and take a ferry or water taxi across the short straits that divide the two islands. Montpelier Plantation & Beach hotel sits on the lower slopes of Nevis Peak, on the southern Atlantic coast of Nevis. Journey time from the island capital of Charlestown where ferries and water taxis dock to the hotel is around 15 minutes by taxi.
Who will enjoy staying at Montpelier Plantation & Beach?
Montpelier Plantation and Beach in Nevis is a luxurious boutique hotel that we think will be enjoyed by:
Those who enjoy staying in a stylish and small hotel with high levels of personal service.
Guests who have an interest in the history of Nevis and appreciate the historic plantation buildings.
Most of the guests when we visited were couples in the 50+ age range, although this varies depending on the season, with honeymooners and 30+ guests also appreciating the chic and contemporary decor.
As the hotel is small, it's easy to meet and mingle with other guests, so we think Montpelier would also suit solo travellers who want a luxurious and relaxing holiday.
The hotel is popular with guests from both the UK and USA depending on the season, with locals often visiting for celebration events and special occasions.
Families with children over 5 are welcome during the school holidays, however as the overall ambiance is calm and peaceful the hotel is probably best suited to those with older children.
Good to know
The island of Nevis and Montpelier Plantation & Beach have a quiet atmosphere, so are not the best choice if you are looking for water sports, nightlife and a lively atmosphere.
As a plantation hotel, Montpelier is not located by a beach, although it does offer a private beach 15 minutes drive from the main hotel.
While many guests come to Montpelier just to relax, if you enjoy sightseeing it's best to hire a car for at least part of your stay. Taxis and tours can also be arranged by the hotel.
The hotel adopts the US / Caribbean practice of quoting prices exclusive of tax (12%) and service (12%) – thus an additional 24% is added to room rates, food and beverage. If booking a package, check whether tax and service are included in the prices quoted.
If you are not able to stay on Nevis, you can still take these tours from nearby St Kitts

Half day Island tour of Nevis from Basseterre

Tour of Nevis with lunch on Pinney's Beach

Boat trip by Catamaran to Pinney's Beach
How to reach Montpelier Plantation & Beach
Before I visited, I hadn't realised how easy it was to get to Nevis from St Kitts, with numerous ferry or water taxi crossings each day. Here are a few options to reach the hotel
Flying into the Robert L. Bradshaw international airport close to Basseterre on St Kitts you can then:
Take a taxi from the St Kitts airport to the ferry terminal in Basseterre (10 mins / cost $20-25 US). Next take one of the regular ferries that run around 1-2 times per hour to Charlestown, capital of Nevis (30 mins / cost one way 32 EC – $12 US). A taxi from Charlestown ferry terminal in Nevis will take you to Montpelier Plantation & Beach (10 mins / cost $20-25 US). This is the route we used to arrive in Nevis. Take care if your flight arrives late in the day as there are less ferries to Nevis available later in day. Ferries run around every 30-60 minutes throughout the day on the hour and half hour and exact timetables can be viewed at each ferry port but may be subject to change.
Alternatively the hotel can organise a direct taxi / water taxi transfer to the hotel (cost around $150 US) This is the quickest route to the hotel and advisable if you are arriving late in the day or want a stress free transfer. The private transfer will involve a taxi from St Kitts airport to Cockleshell Beach on the south side of St Kitts (20 mins). From the beach pier a water taxi will be waiting to take you to Charlestown Nevis (15-20 mins). At Charlestown a taxi will take you to the hotel (10 mins)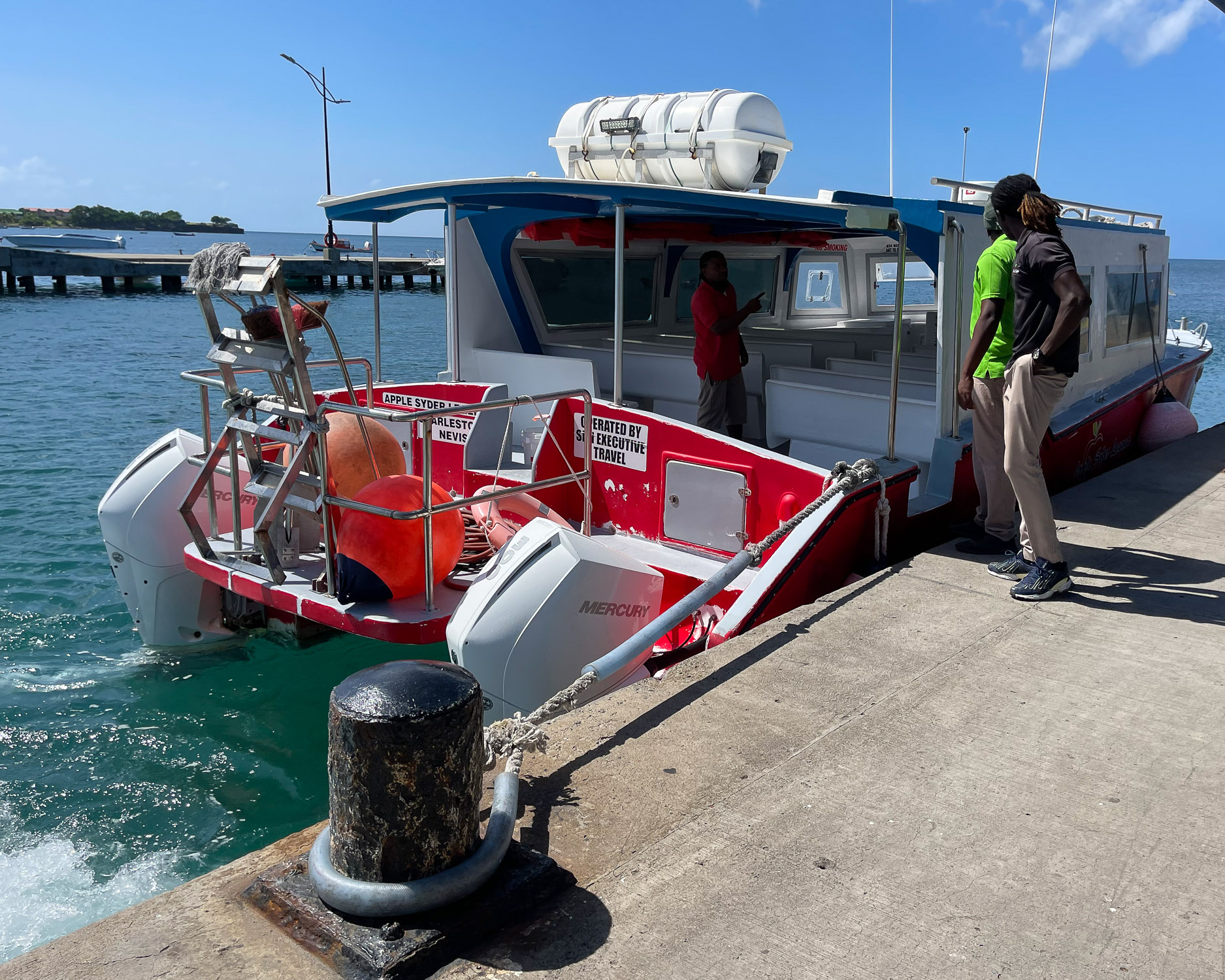 If you have a hire car and wish to travel with it to Nevis, there is also a car ferry (Sea Bridge) that runs from the south of St Kitts at Major's Bay to Cades Bay on the west side of Nevis. The ferry runs around 3 times per day but can be subject to change. We could not confirm the exact cost of the ferry but we heard it is $100 US return. You need to check with your car hire company that the car is allowed on the sea bridge. This route is best suited to those who plan to be on St Kitts for a few days before arriving in Nevis and want the convenience of one rental car in both locations.
There is also Vance W. Amory international Airport in the north of Nevis, which is a possibility for private planes. Direct flights also arrive to Nevis Airport from Puerto Rico and a few other Caribbean islands. From Nevis airport it is a 25 min taxi ride to Montpelier Plantation & Beach.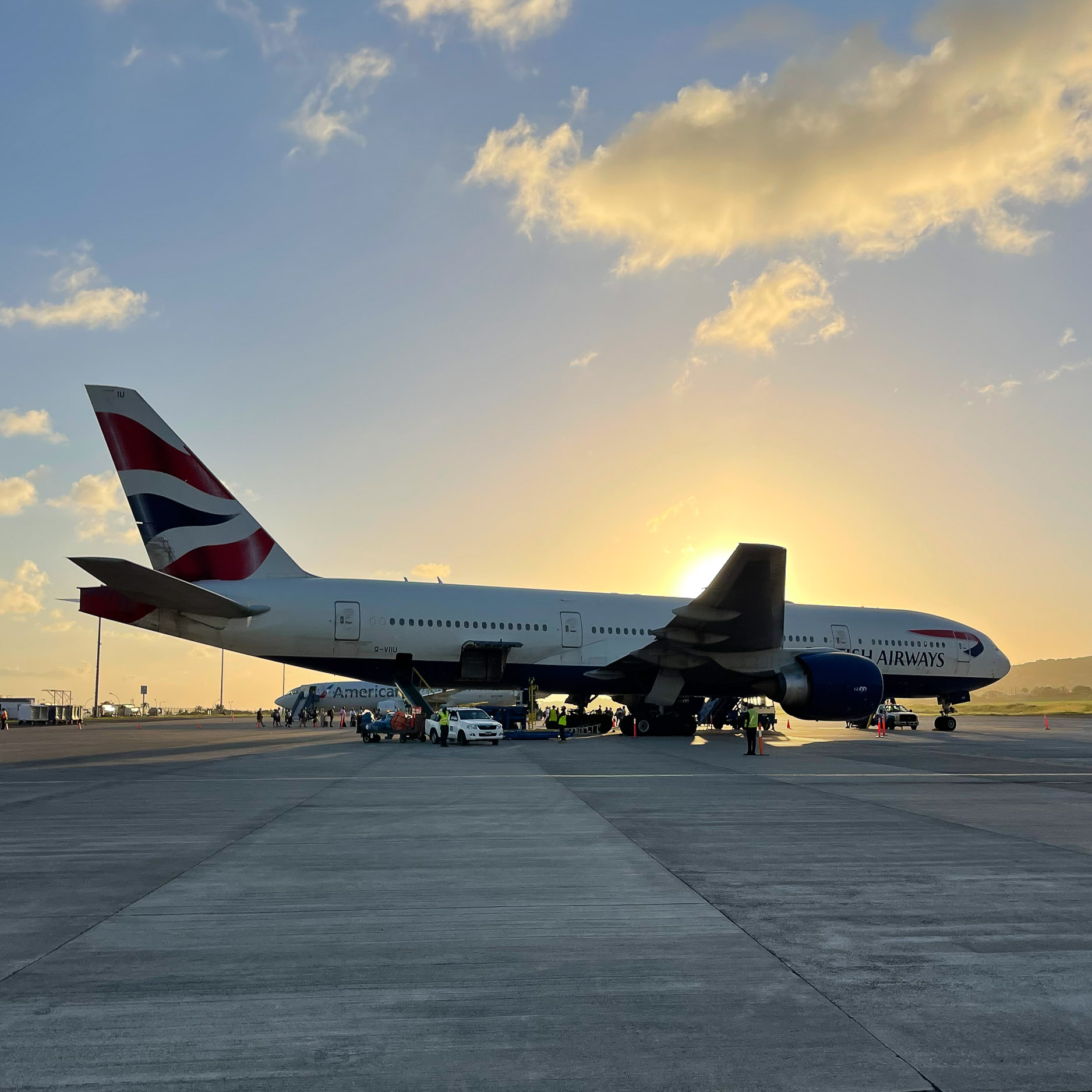 Flights to St Kitts and Nevis
Most international visitors to Nevis arrive via St Kitts airport. From the UK the only direct flight is with British Airways twice weekly (Wednesday and Saturday) from London Gatwick (LGW) with a brief touchdown in Antigua.
Flights from the USA include a popular daily flight from Miami (MIA) with American Airlines who also fly weekly on a Saturday from Charlotte (CLT) and New York (JFK).
Air Canada runs a weekly Saturday flights from Toronto (YYZ). Delta flies weekly from Atlanta (ATL) and flights from other Caribbean islands are operated by Liat, United, Seabourne, Winair.
Note that information is provided based on our experience and best information at time of writing, but you should check for up to date information online or via a travel agent before making travel plans.
Book your stay at Montpelier Plantation & Beach
To book your stay directly with the hotel check out the Montpelier Plantation & Beach Website or follow them on social media Instagram: @MontpelierNevis and Facebook: @MontpelierNevis. Booking enquiries can be made by email: [email protected] Montpelier Plantation & Beach may also be booked via travel agents and companies that specialise in luxury holidays such as British Airways Holidays, Audley Travel, Elegant Resorts, Tropical Breeze, Carib Tours.
Plan your visit to St Kitts and Nevis
If you are planning a visit to beautiful St Kitts and Nevis you'll find plenty more information on the Nevis Tourism website and the St Kitts Tourism website.
Find more gorgeous places to stay – hotels in Nevis or hotels in St Kitts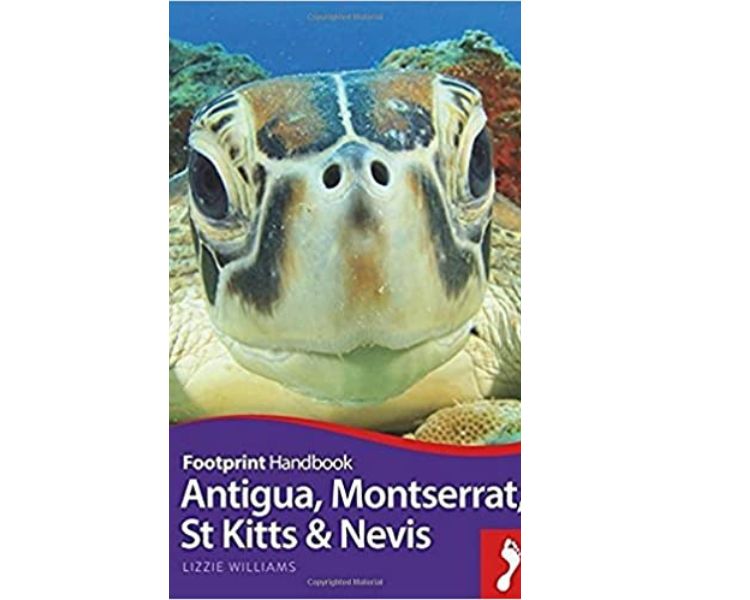 Pin it
Heather's 4 night stay at Montpelier Plantation & Beach was hosted* by the hotel
* More info on my policies page
This article is originally published at Heatheronhertravels.com