Perfect 3 Days In Corfu Itinerary | 2022
Located in the Ionian Sea, Corfu is the closest of the Greek islands to Italy.
It is a unique destination with a multicultural heritage, having been ruled over at one time or another by the Venetians, the French, and the British.
Ready to travel again? Don't go without travel insurance.
I recommend SafetyWing Nomad Insurance. I've been using it since 2019 and I can assure you it's the perfect solution for nomads like you and me.
Evidence of its past is everywhere, influencing everything from the island's food to its architecture.
But it's not just history that makes this one of the most popular tourist destinations in Greece. Corfu is quite beautiful, with lush vegetation, turquoise waters, and a picture-perfect coastline.
It's also relatively affordable, especially if you forego dining at the tavernas and opt for some of the island's exceptional street food instead!
If you're planning to spend 3 days in Corfu then you may be wondering how to make the best use of your time. We've designed this perfect Corfu itinerary to help you!
Packed with suggestions for what to do each morning, afternoon, and evening of your stay, it also contains our recommendations for some of the best dining and accommodation options on the island.
TRAVEL TIP While Corfu may have a cheap and efficient bus service, we recommend renting a car for the duration of your stay. It's relatively inexpensive and gives you more freedom to explore.
Boat hire is affordable, too, and makes another great way to see the island's beaches.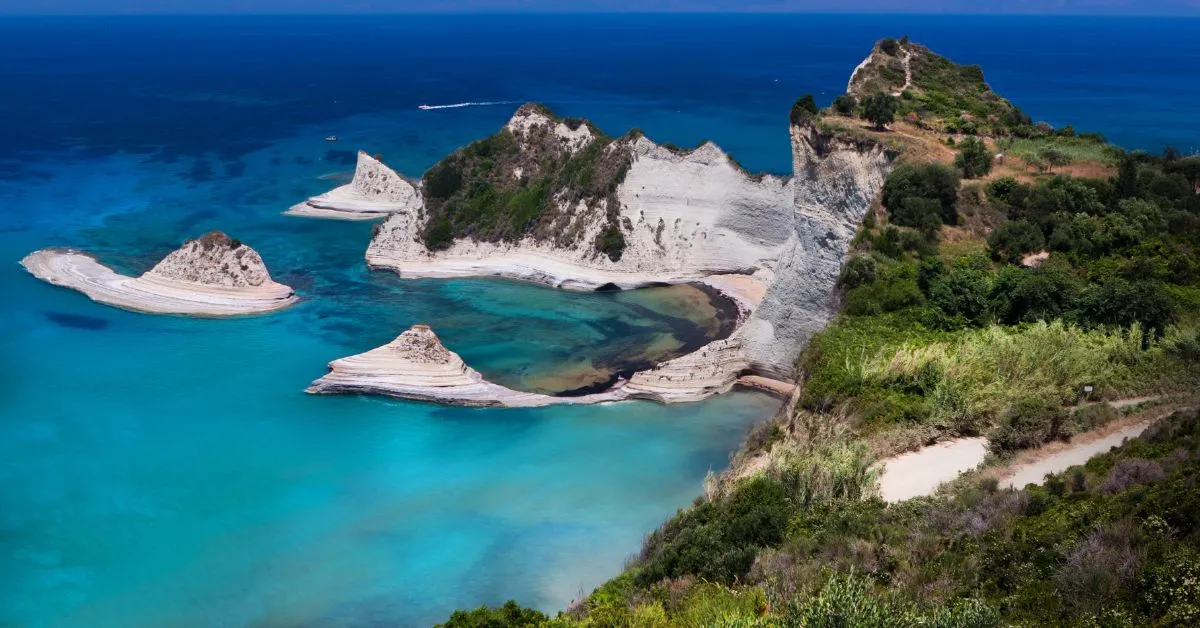 Day 1
On the first of your three days in Corfu, you'll be exploring the Old Town and museum before calling to pet the animals at the popular Corfu Donkey Rescue. You'll finish your afternoon by visiting the oldest village on the island.
Morning
There's only one way to start the morning and that's with a traditional Greek breakfast at Starenio bakery on Guilford Street.
Popular with locals and tourists alike, this delightful eatery has outdoor seating and serves some of the most amazing pastries on the island.
From there, begin your stroll around the Old Town. This is rated a UNESCO World Heritage Site in order to preserve its ancient Venetian fortresses and buildings.
On Guildford Street, you'll encounter the Ionian Parliament building and the Ionian Academy, which – in 1824 – became the first university of modern Greece.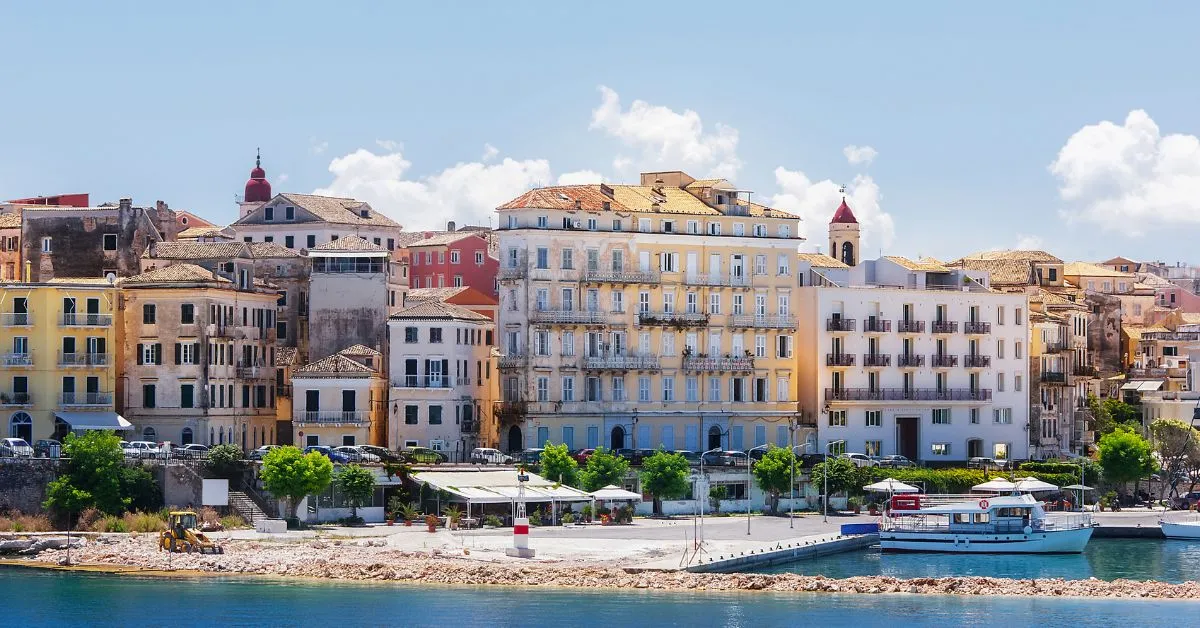 Opposite that you can see the statue of independent Greece's first president, Ioannis Kapodistrias, who was born in Corfu and lived there for much of his life.
A short walk from there lies Casa Parlante Museum, often described as the 'most alive historical museum in Corfu'. Located in a 19th-century noble mansion, it gives you a glimpse into everyday life for wealthy families on the island at that time.
Its use of robotic technology, animated figures, and reproduction furnishings makes it a fun place to visit and learn about the past!
Other highlights in the town include Saint Spyridon Church, Spianada Square, and the ancient fortifications.
Afternoon
After lunch in town, it's time to take a drive to Corfu Donkey Rescue, a sanctuary located around 40 minutes to the northwest.
Established in 2004, the organization has taken in more than 500 donkeys over the years. It aims to give them a peaceful and dignified life and retirement.
Also home to over 100 cats, it has become a popular tourist attraction and is open every day from 10 am to 4 pm. You can wander freely among the donkeys, petting them and even brushing them if you'd like.
There is no charge to enter, but donations are very welcome.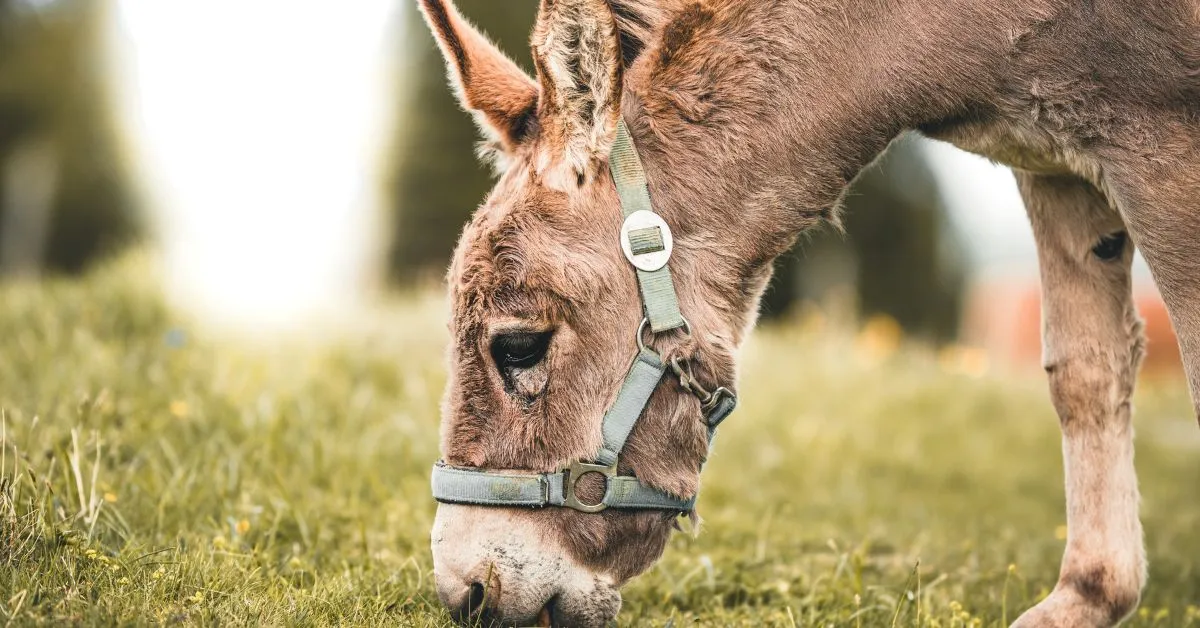 Once you've managed to drag yourself away from the donkeys, take the one-hour drive northeast to the Heritage Protected village of Paleá (Old) Períthia.
Located just beneath Mount Pantokrator, it is Corfu's oldest permanently inhabited settlement. Records date all the way back to the 1300s and it was once the most affluent village on the island, containing 130 Venetian houses and 8 churches.
Nowadays, the village provides a fascinating insight into the past and has a few excellent tavernas.
Evening
It's back towards the Old Town as the sun goes down, for dinner at the Cavalieri Roof Garden. Included on CNN International's list of 50 stunning Rooftop Bars & Restaurants, it has some of the best views on the island.
Dine on local and international dishes as you look across at a bay on one side and the Old Fortress on the other.
Day 2
For the second of your 3 days in Corfu, you'll spend time in one of the most romantic spots on the island, enjoy the views from a Byzantine Castle, and then see the sights in the beautiful area of Paleokastritsa.
Morning
After breakfast, head north to the romantic Canal d'Amour – also known as the Channel of Love. This narrow opening formed by sea erosion is bordered by sandstone cliffs and is home to one of the most picturesque beaches on the island.
It is an exquisite spot in which to sit and soak up the sun, although cliff jumping is a popular activity here too.
But the biggest attraction is the legend attached to this unique landscape. It is said that if you swim in the canal's shallow waters, you will soon find your true love!
Next, drive south for around 45 minutes to the Byzantine castle of Angelokastro. This is located on the outskirts of Krini overlooking Paleokastritsa.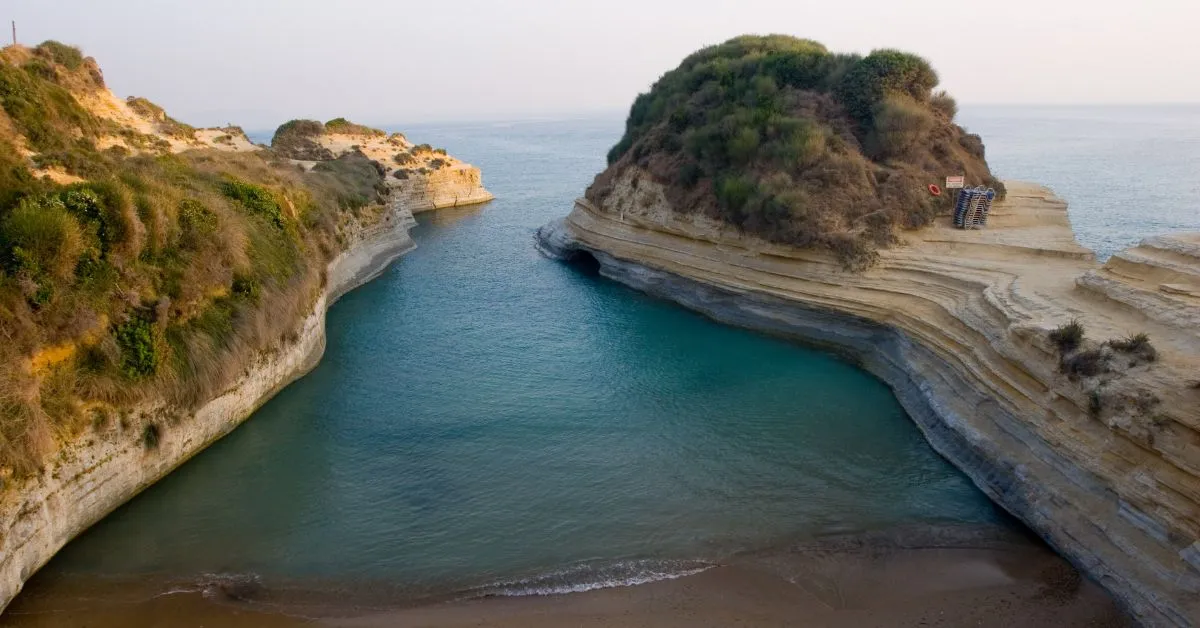 ---
---
This is an important historic site, built for defense purposes on a natural promontory. Over the years, it came under attack from multiple invaders and gave shelter to the local villagers who would gather within its walls.
It's a bit of a climb to reach it but the rewards are worth the effort. Although you are free to wander the ruins, the main reason people come to Angelokastro is to admire the sweeping views.
Indeed, you can see right across to the old fortress in the main town, which is around 25 km away!
Afternoon
Head to the picturesque village of Paleokastritsa now, under 30 minutes away.
Your first stop is at the incredible monastery, which sits on a high rock that juts into the sea. The tranquility and beauty of this religious site are exceptional, with lush gardens in the foreground against a backdrop of sparkling azure waters.
Although the monastery dates back to the 13th century, much of the complex you can see now was built in the 1700s.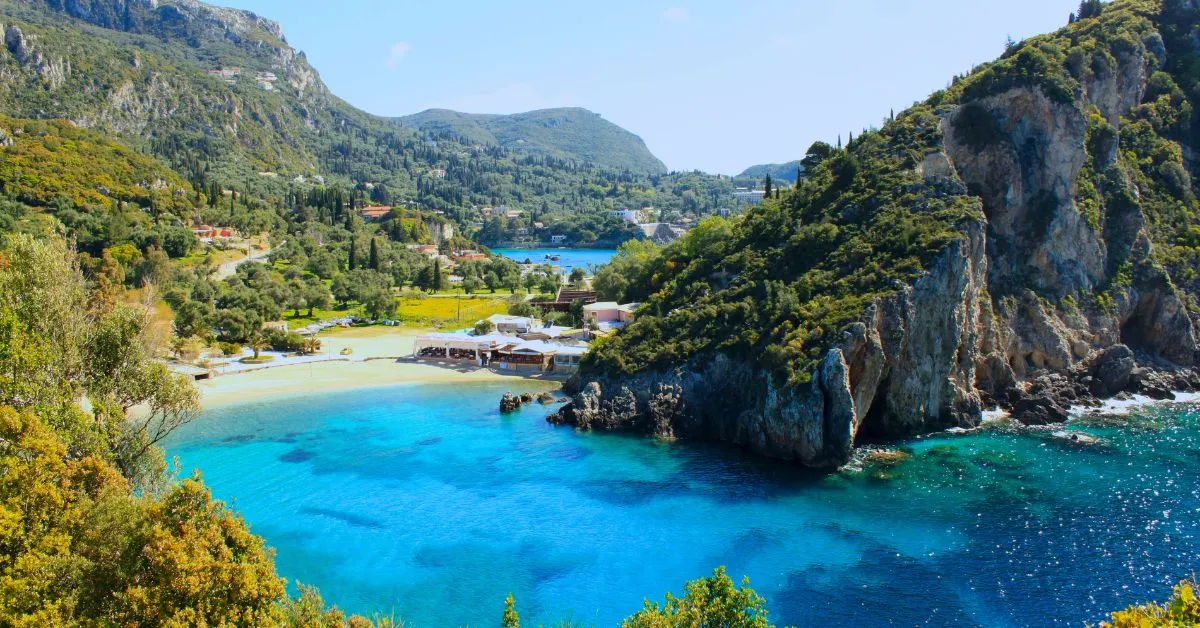 Take a wander through the small museum to see the rare Byzantine relics and you'll even come across a working olive-oil press inside the building.
Afterward, make your way down to Paleokastritsa beach, which is among the loveliest on the island. The crystal clear waters are ideal for swimming and snorkeling, or you can rent a boat to explore the nearby caves.
There are plenty of sunbeds and umbrellas available to hire, plus lots of shops, cafes, and restaurants throughout the resort.
Evening
An excellent place to spend an evening during your 3 days in Corfu is at The Venetian Well, a historic restaurant in Corfu town.
Overlooking Kremasti Square and the old well after which it is named, this fine dining establishment combines contemporary cooking with traditional recipes. The result is some of the most delicious food you'll experience during your visit!
Day 3
On the last of your 3 days in Corfu, you'll visit more of the island's important buildings, learn all about the production of olive oil, and grab your last few rays of sunshine at one of the island's most popular beaches.
Morning
Kick off your final morning in Corfu by taking a trip to The Achilleion Palace, south of the Old Town.
Built towards the end of the 19th century by Empress Sisi of Austria, its name comes from her favorite hero in Greek mythology – Achilles.
The palace has had a few different owners over the years, even operating as a casino for a short time! Fortunately, though, its original interior and furniture were preserved and the palace is now open as a museum.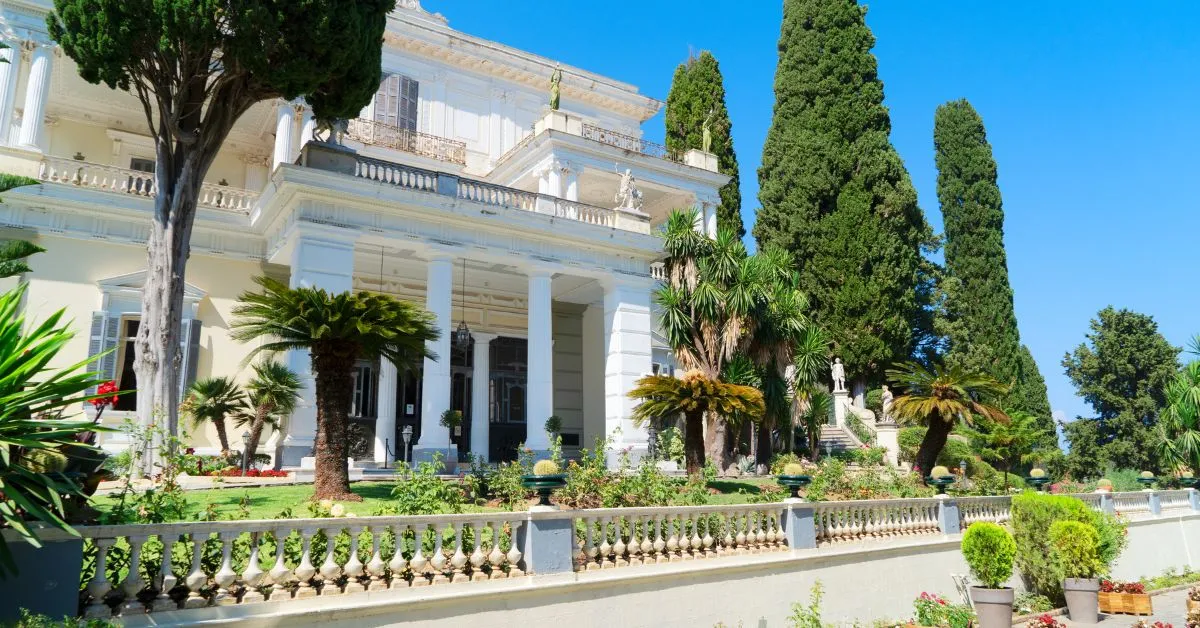 Inside you can see the rooms in which the empress and her family stayed, along with many pieces of antique furniture and beautiful artwork. The lush gardens, meanwhile, provide wonderful views out to sea.
A 20-minute drive north will take you to Vlacherna monastery, one of Corfu's most iconic sights. Set on a tiny islet, it is connected to the mainland via a pedestrian bridge and functioned as a nunnery until 1980.
There are lots of pretty spots at which to take photos and you can also enjoy watching the planes coming in to land at the airport next door!
Afternoon
Corfu has a worldwide reputation for exceptional olive oil. So any itinerary for seeing Corfu in 3 days just has to include a visit to a mill so that you can learn all about how it's produced!
The most popular tour is the Olive Oil Experience at The Governor's Mill.
This 3-hour experience takes you through untouched olive groves as you hear the story of the world's oldest olive oil variety from the mill's resident expert.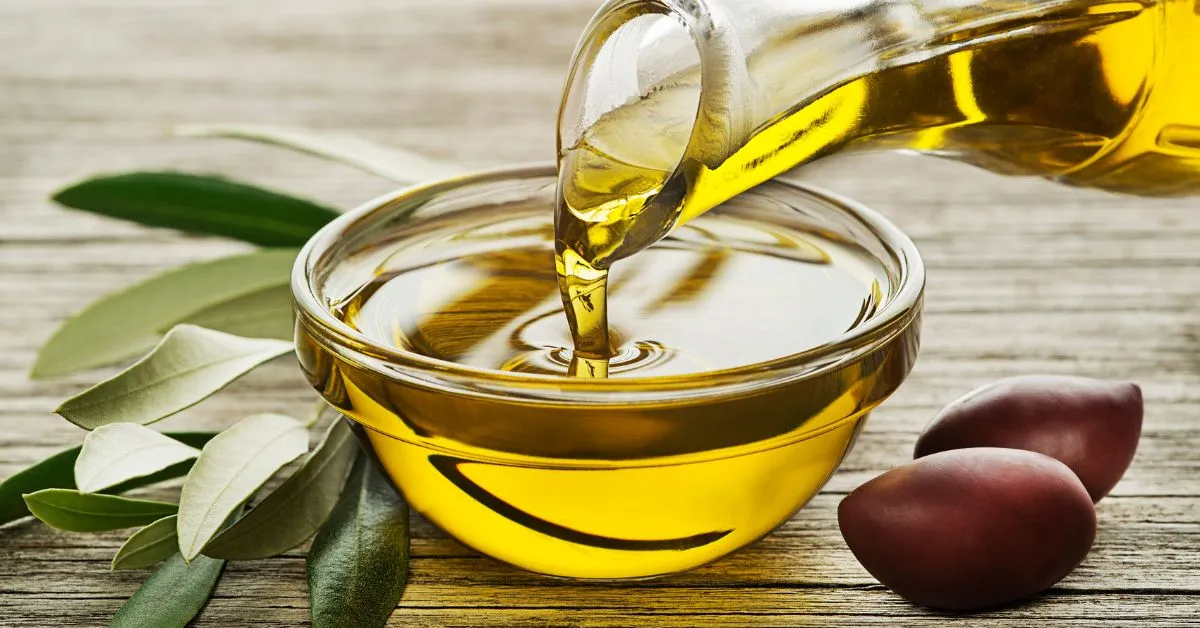 You'll also take part in the 'taste like a pro' program, which gives you a good understanding of how tradition and technology are currently used in oil production.
Finally, you'll get to find out for yourself just what the experts look for in a good quality olive oil, and enjoy some oil-based delicacies with a glass of local wine.
To end the afternoon, drive southeast for just over 40 minutes until you reach Kavos beach. This is the perfect place to kick back and relax at the end of your 3 days in Corfu, with clean, shallow waters, plenty of facilities, and a variety of watersports.
Evening
When the sun goes down you might choose to stay in Kavos – it has lots of clubs and a very vibrant nightlife.
But if you're looking for something with a slower pace, make your way back toward Corfu town and stop off at Agios Ioannis on the way.
Here you'll find the Kohyli Bay Taverna, a delightful restaurant that combines regional specialties with traditional Greek entertainment.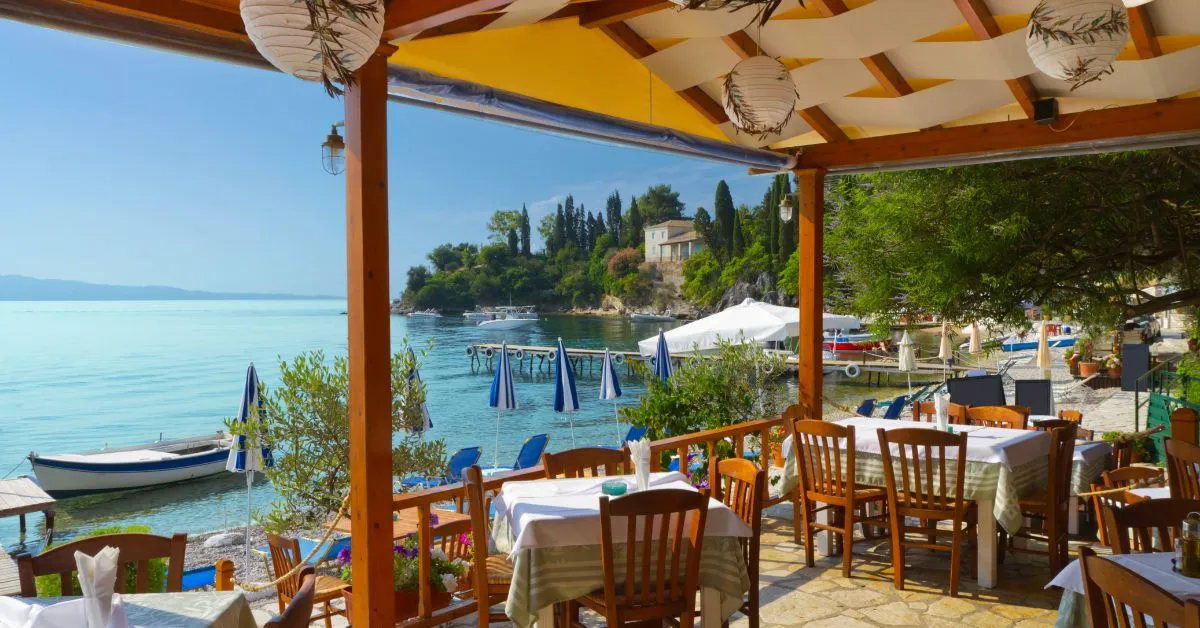 Are 3 Days In Corfu Enough?
You can get a real feel for the island and its people when you see the best of Corfu in 3 days. It's the perfect amount of time to see a little bit of everything, from its beaches and natural beauty to its historic old town and museums.
Just remember that you'll need three full days in Corfu for this itinerary. If you arrive on the island late in the day or depart early on your final day, consider adding an extra night to your stay.
Where To Stay In Corfu
Here are some of our favorite places to stay in Corfu, with options suitable for every budget.
Best Budget Accommodation
The Levant Hotel is located in the hills near Pelakas, under a 30-minute drive from Corfu town. It offers amazing views in every direction and has a scenic patio and pool. The hotel is built in a neo-classical style and serves a Mediterranean breakfast daily.
Best Mid-Range Accommodation
The Corfu Mare Hotel is an adults-only hotel located in a quiet area less than 2 miles from Corfu town. Its themed rooms come with eye-catching decor and colors, and the hotel offers a swimming pool and freshwater hot tub for relaxation.
Best Luxury Accommodation
If only the best will do, then book a stay at the Corfu Imperial Grecotel Exclusive Resort. This five-star hotel sits on a promontory overlooking the sea and has 4 private, sandy beaches. All rooms enjoy sea or garden views and the waterfront onsite restaurant serves à la carte Greek and Mediterranean dishes.
Final Thoughts On Corfu Itinerary
We hope this guide has been useful in planning what to do in Corfu in 3 days. From sweeping views to historic architecture, it combines a little of everything that makes this island so special.
To be prepared for your upcoming trip to Greece, check out our guide to buying a Greece SIM card.
Visiting Greece soon? Read one of the following guides: