Great Allegheny Passage Bike Ride
Last updated:
The 150-mile long Great Allegheny Passage also called the GAP follows a non-motorized crushed limestone trail from Cumberland, Maryland to downtown Pittsburgh. It can be explored on both bike and on foot but I think a Great Allegheny Passage bike trip is the way to go over a 3 – 4 day ride. It combines well with the C&O Canal Towpath that runs between Cumberland, Maryland and Washington, DC. If you've got a week, you can cycle between Pittsburgh and Washington, DC, either guided, or self-supported. There are B&B's, hotels and other accommodation options along the route and lots of places to camp.
The trail owes its existence to a number of defunct rail lines; the Pittsburgh and Lake Erie Railroad, the Western Maryland Railway, and the Baltimore and Ohio Railroad. Thanks to the rail lines there is now a fabulous trail, some tunnels, and access to many small towns. 
Over the length of the Great Allegheny Passage, you bike alongside three rivers – the Cassleman, Youghiogheny, and the Monongahela River. The trail though gradual, tops out at the Eastern Continental Divide at 2,392 feet. It crosses the Mason and Dixon Line, cut's across pretty Ohiopyle State Park, takes you through the Pinkerton and Big Savage Tunnels, and onto the Keystone Viaduct. Point State Park in Pittsburgh – our starting point, offers panoramic views where the Allegheny and Monongahela Rivers meet. There are numerous small trail towns along its length where you can stop for the night or get something to eat. 
You'll find it's easy to rent a bike or a shuttle and there's even good train service between Cumberland and Pittsburgh. Signage is excellent and there's plenty of parking along the route.
The Great Allegheny Passage bike ride is a local favourite, but it also draws bikers from all over the United States and up to 40 countries every year, with roughly a million visits on an annual basis. Don't let that number put you off as the bike season is long and the trail covers 150 miles. The only time we saw lots of people – and it was on a sunny weekend, was in Ohiopyle State Park. 
This post includes some affiliate links. If you make a qualifying purchase through one of these links, I will receive a small percentage of the sale at no extra cost to you. Thank you very much for your support.
Location map of the Great Allegheny Passage bike ride
Click on the three dots in the top right hand corner to email a copy of the map.
What is the best time to do the Great Allegheny Passage bike ride?
Plan a bike ride on the Great Allegheny Passage from late April through till October. Savage Tunnel is closed every year from December 1 – March 31 so that rules out biking in winter. We biked in early May which was fantastic. The leaves were budding out on the trees, wildflowers were everywhere, and the bird life was out of this world. The trail is still quiet in May, so it's easier to get accommodation. But restaurants and services are open.
The weather is fickle early in the season but over 7 days we only had five hours of rain. If you're planning to camp, there would be fewer bugs early and late in the season. The summers are hot and humid in this part of the world, so take that into consideration as you make your plans.
Guided or self-guided?
There are several companies offering bike rentals, shuttles, and fully guided bike tours. John and I did some research and elected to go self-guided (the GAP is very easy to follow once out of Pittsburgh) and chose to book our own accommodation along the route rather than camp. We carried all our gear in waterproof bike panniers.
The only major problem we had was a broken chain. It broke 55 miles from the end of our weeklong trip (as we did the C&O Canal Towpath too). We didn't have the one bike tool you absolutely need to fix the chain. Fortunately, at a coffee shop the next morning in Brunswick, we met two fellow cyclists who had the right tool and were kind enough to help. Other than that, the trip went smoothly. It did take some time to figure out where to stay, but in the post I mention the spots we booked. 
Tour companies and bike rentals for your Great Allegheny Passage bike ride
Check out Wilderness Voyageurs for three and four day itineraries on the GAP as well as longer ones that include the C&C Canal Towpath.
Golden Triangle Bike out of Pittsburgh runs self-guided tours between Pittsburgh and Washington, DC. They also rent bikes and offer a shuttle service.
Noble Invention Bike Touring out of Pittsburgh offers 4, 5 and 6-day self-guided tours along with bike rentals and shuttles.
Wheelzup Adventures offers bike rentals and a shuttle service.
Bike the Burgh in Pittsburgh offers bike rentals and a shuttle service. We used them and were able to drop our bike off at the far end of the trail in Washington, DC.
What type of bike should you bring?
The Great Allegheny Passage has a crushed limestone surface so you can get away with hybrid, touring, and road bikes providing you have tires with tread. The width of the tires should be 32 mm or wider for the best experience. 
Which direction should you bike the Great Allegheny Passage?
I think the map tells the story. In my opinion it's better to bike from Pittsburgh to Cumberland if you're only considering elevation. You don't really notice much elevation change between Pittsburgh and Connellsville but from there until the Eastern Continental Divide, you can tell you're climbing, even though it's gradual. Bu there's one heck of a reward when you top out. The biking is very easy all the way to Cumberland. If you've got a fully loaded bike heading towards Pittsburgh, you will notice the 25-mile climb!
I appreciate there are other factors that go into the decision on what direction to bike, but this worked well for us.
Getting to the start of the Great Allegheny Passage bike ride
John and I flew into Pittsburgh as our plan was to rent bikes and drop them off at the end of the C&O Canal Towpath in Washington. Then we could carry on with our plans to visit friends and fly home out of Charlottesville at the end of finishing the combo of the Great Allegheny Passage and the C&O Canal Towpath.
If you fly into Pittsburgh with your bikes, you can make your way to the GAP trail via public transit or by biking. If you're arriving Monday through Friday, you can take your bike on the 28X Airport Flyer to downtown Pittsburgh. There is room for two standard bikes on each bus.
There is reportedly a 6.3-mile bike route on quiet roads from the airport that ends at the Montour Trail. From there you have two options.
Bike 43.5 miles, primarily on trail to meet up with the GAP in McKeesport (about 18 miles from Pittsburgh).
Your other option is to cycle into downtown Pittsburgh via an 18-mile road ride to meet up with the GAP.
Train options
You can take your bike onboard with Amtrak wherever there is a checked baggage option. The twin brothers we met did just that. They parked in Cumberland and hopped onboard the train to Pittsburgh and enjoyed the Great Allegheny Passage bike ride to finish back at their car. You can check schedules to see what other options there are. They said it was "one of the highlights of the trip."
I believe Connellsville might also offer an Amtrak Roll on – Roll Off option.
Accommodation on the Great Allegheny Passage bike ride
You have quite a bit of choice on the Great Allegheny Passage. If you're with a tour, they'll set it all up for you, so you won't have to give your nightly accommodation a second thought. But if you're going self-supported you have two options – camping or a roof over your head.
Camping option
Enjoy free, first come-first served hiker-biker campgrounds along the length of the Great Allegheny Passage. Stays at the campgrounds can't be longer than a night. Some of the hiker-biker campsites are smaller and the size is limited to six tents.
There are also reservation-only campgrounds and some private campgrounds that charge a fee.
The hiker-biker campgrounds are usually simple. There's a Porta Potty, picnic tables and a fire pit. Most are in grassy areas close to a water source. Some like the Dravo Campground at GAP mile 122.6 have Adirondack-style shelters and firewood provided – and room for 25 – 30 tents. But most are much smaller than that.
In certain seasons I have to think that the campgrounds would be very buggy. Take insect repellent and make sure your tent has no holes. I like to carry Gear-Aid type patches so I can easily make a repair on the spot.
Hiker- Biker campground locations on the GAP
You'll find free campgrounds at the following locations: Connellsville – Mile 89.4, Roundbottom – Mile 99.6, Cedar Creek – Mile 110.2 and Dravo – Mile 122.6.
B&B – Hotel options
Most towns have some B&B or hotel options but there are many places that are very basic. We opted for nicer spots where that was an option. I know some people booked accommodation through Airbnb so check out that if you're having a hard time finding a place that meets your budget. I would recommend booking as close to the trail as possible as that is also where most of the services in town are located.
We didn't stay in Connellsville but there is a Comfort Inn very close to the Great Allegheny Passage. And the town is a popular one for the night.
A day-to-day account of our bike ride on the Great Allegheny Passage
Day 1: Great Allegheny Passage bike ride – Pittsburgh to West Newton
Distance: 34 miles (plus some additional mileage getting to the start/end of the Great Allegheny Passage)
Time: Approximately 4.5 hours with lots of stops, a detour, and some route-finding getting onto the GAP in Pittsburgh
Accommodation: Bright Morning B&B
From Pittsburgh it's an easy bike ride on the Great Allegheny Passage to West Newton, but we did find it confusing to get over the Monongahela River. Once we found the bridge with a pedestrian/bike section, it was mostly straightforward. There was a detour through large box stores parking lots somewhere in the South Side area but that was because they were paving – so if you're reading this, that should be finished.
The rest of the day's bike ride was straightforward and more interesting than pretty until we got past McKeesport. The pavement lasted for longer than I expected, and fortunately biking on crushed limestone is easy. 
There was a lot of informational signage related to the steel industry as we left Pittsburgh which we found interesting. The other thing that blew us away – every day – was the amount and variety of bird song. My husband would stop and use his Merlin app on the phone. The app captures the bird sounds and then let's you know who's singing. It's quite addictive but fascinating too. It was especially useful since we didn't have binoculars. 
Our home for the night – Bright Morning B&B – was within sight of the Great Allegheny Trail. It isn't a fancy place but it's comfortable and it caters to bikers, so there is lots of camaraderie that goes with the stay. There are a few places to eat in town with your best bet being The Trailside – walking distance away.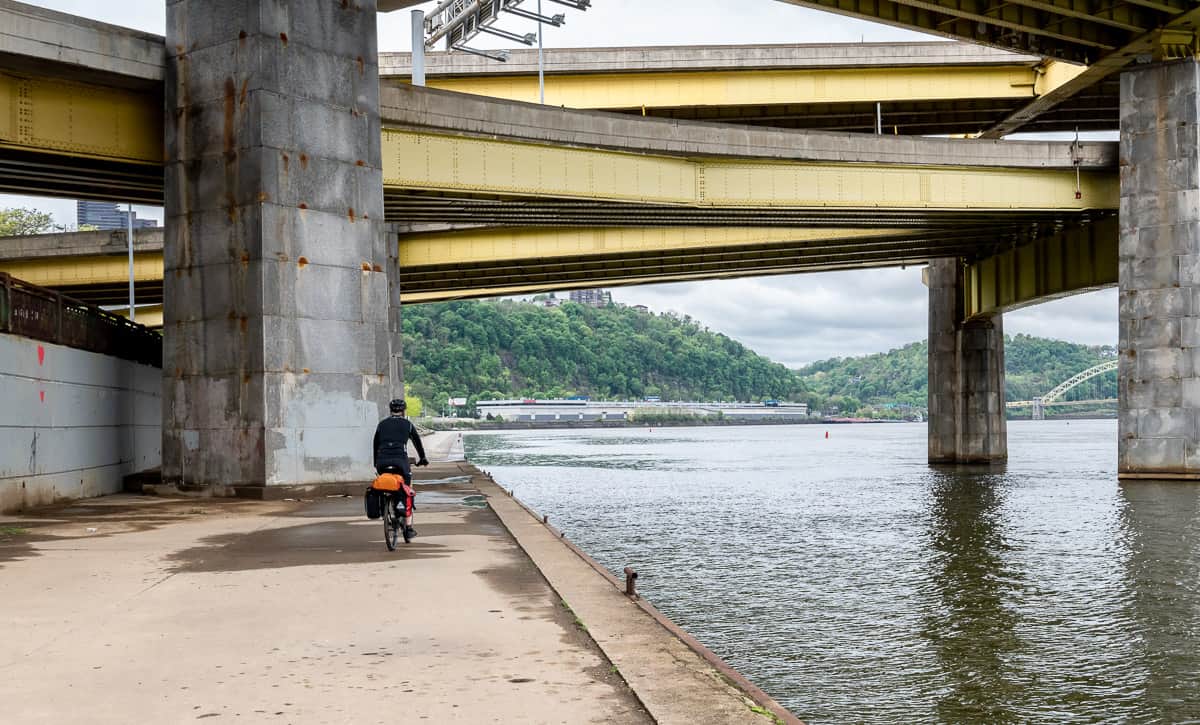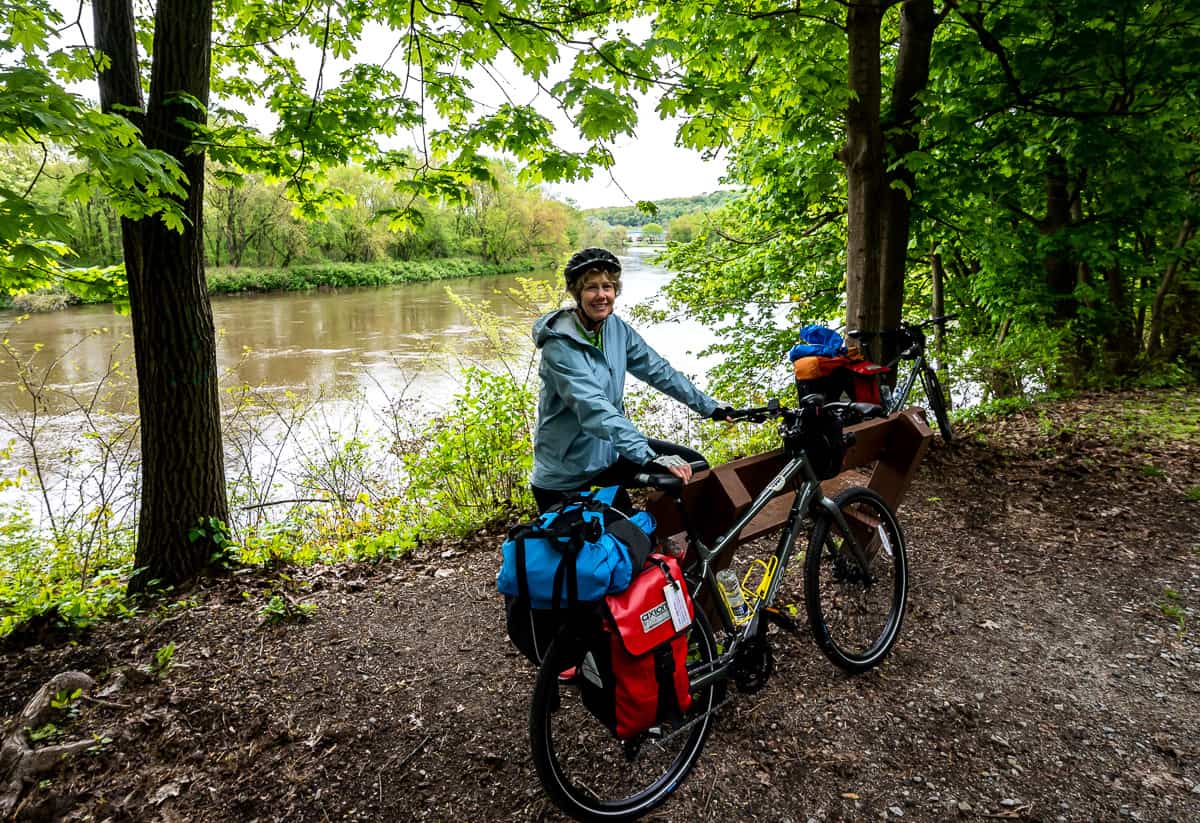 Day 2 Biking the Great Allegheny Passage: West Newton to Confluence
Distance: 52 miles
Time needed: 5.5 – 6 hours.
Accommodation: Smith House Inn
Our second day on the Great Allegheny bike trip wasn't a hard one, but it was still long enough. The limestone is great to cycle on but it's not as smooth as pavement, so you do work a little harder. And the weight of our bags added to the workout.
The highlight of the day was the biking through beautiful Ohiopyle State Park. It's lush, with lots of biking close to the river. If we'd had the time, it would have been interesting to see Fallingwater – Frank Lloyd Wright's house – a short ways off the trail. 
It was a day to enjoy the scenery and the bird song. We both loved biking over the Ohiopyle High Bridge looking down at the rushing Youghiogheny River. We were ready to put our feet up by the time we reached our beautiful accommodation for the night in Confluence. Dinner at the River's Edge Cafe was the best we had on the trail in an especially pretty setting. You can also book a room at the River's Edge.
Day 3 Biking the Great Allegheny Passage: Confluence to Meyersdale
Distance: 30 miles
Time needed: 4 hours with stops.
Accommodation: Levi Deal Mansion B&B
There was no rush on our part to leave our wonderful accommodation in Confluence so we lingered over coffee. We only had 30 miles to bike so how hard could that be? Harder than I figured as it turned out, as the grade increases noticeably from Confluence to Meyersdale. 
Early in the morning we cycled through the 849 -foot-long Pinkerton Tunnel – something we both enjoyed. Next up was Rockwood where we found a grocery store with so much fake food that it was hard to buy anything other than peanut butter and English muffins. We couldn't even find real cheese, so although people were friendly, I was homing for higher quality food.
The next highlight of the Great Allegheny Passage bike ride was the 1,908-foot-long Salisbury Viaduct. It's 101 feet above the ground so there is an airiness to the bike ride. And just after that we sailed into Meyersdale and our lovely home for the night with a porch that was ideal for drinking wine and reading. For dinner we went to the local Italian spot – Little Italy Trattoria – in an interesting building with average food but friendly staff. I understand the White House Restaurant in Meyersdale is the place to go – and they'll even pick you up. 
Day 4 Great Allegheny Passage bike ride: Meyersdale to Cumberland (and well beyond)
Distance: 32 miles to Cumberland (+ 43 miles to Bill's Place on the C&O Canal Towpath) = 75 miles + 1.5 miles hiking because of a detour
Time needed: 2.5 – 3 hours with stops along the way.
Accommodation: Fairfield by Marriott Inn & Suites is at the start of the C&O Canal Towpath and a minute's bike ride from the finish. It's the most convenient place to stay near the trail.
The last day on the GAP was one of the best. After biking across the Bollman Bridge, it was a short climb to reach the Eastern Continental Divide. From there it was all downhill to Cumberland for 24 miles with the grade getting gentler the closer we got to the end of the trail.
Big Savage Tunnel was fun to cycle through and the views on the other side of it were the best on the trail. We still had a couple of shorter tunnels o go through, a lovely section of trail that curved parallel to the train tracks and then a finish beside a moving train in Cumberland. 
Once in Cumberland we didn't take the time to congratulate ourselves on finishing but instead focussed on getting something to eat and getting underway, so we'd finish the next 40 miles before a restaurant closed. There will be a link here to the next part of the bike ride in a few weeks' time. 
You'll find lots of services in Cumberland but beware of high food prices around the finish area. The rest of the trail was far less expensive for food in comparison.
In summary, I'd highly recommend the Great Allegheny Passage bike ride. It exceeded our expectations with the beauty and the diversity of experiences along its 150-mile length.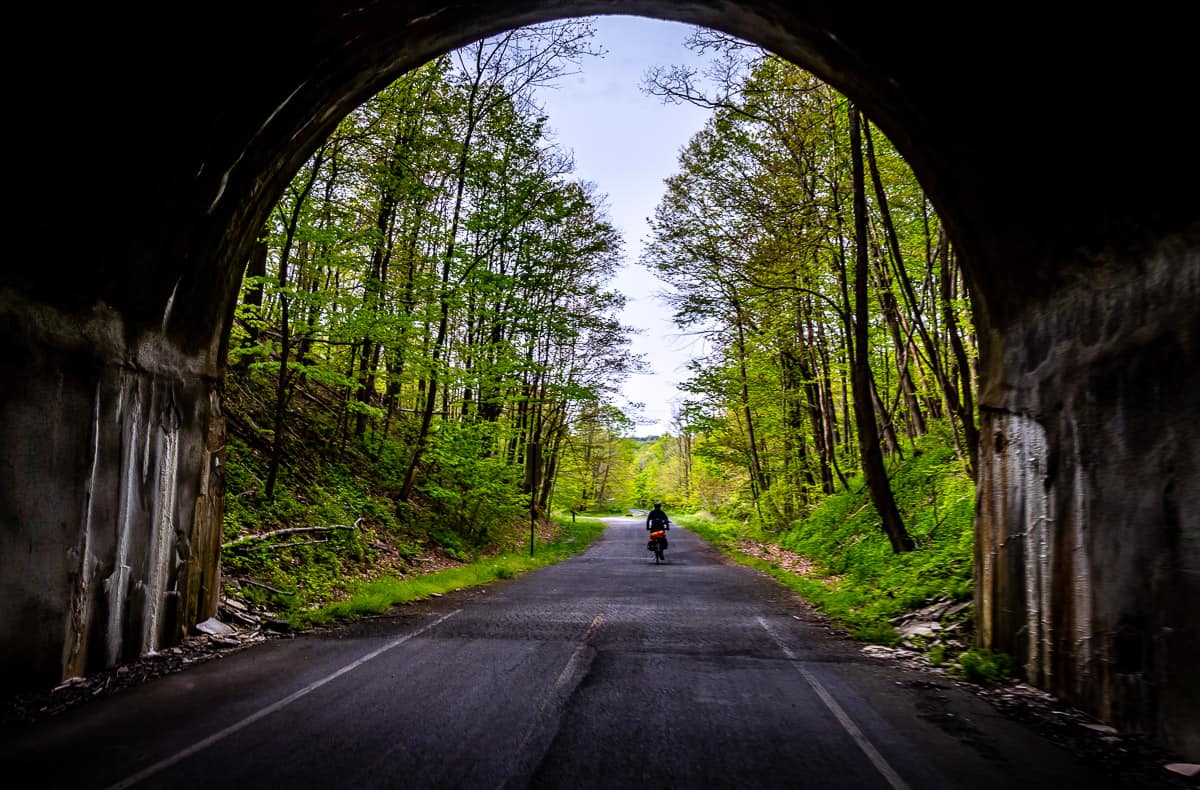 Further reading on multi-day bike rides
Click on the photo to bookmark to your Pinterest boards.