21 Best Things To Do In Lake Tahoe, California (2023 Guide)
Trying to find great activities and attractions in the Jewel of the Sierra? Our guide to the best things to do in Lake Tahoe is all you need to plan the perfect trip!
Holding a special place in the hearts of outdoor recreation goers, Lake Tahoe, California, is famous for its appealing mountain scenery, world-renowned skiing, and top-notch mountain resorts. 
This top ski destination in the United States offers plenty of opportunities for skiers and snowboarders to revel in endless trails surrounded by lake and mountainside views.
The city is named after the largest freshwater lake in the Sierra Nevada and the largest alpine lake in North America, Lake Tahoe.
The lake has risen to fame for its outstanding and memorable scenery and sparking turquoise waters that go much deeper than one might initially think. Lake Tahoe is the second deepest lake in the United States, making it deeper than the Empire State Building is tall. 
Some other fun facts about Lake Tahoe. It's over two million years old, much older than most other lakes worldwide. The water has tested as 99.994% pure, making it cleaner than most commercially distilled water.
Lake Tahoe attracts over 15 million visitors a year. Here you'll find some of the best outdoor recreational activities, from hiking and camping to snorkeling and skiing. The options are endless in this outdoor wonderland! 
READ NEXT: Exploring more of California? Check out our ultimate 3 days in San Diego itinerary!
The Best Things to Do in Lake Tahoe
No more looking for what to do in Lake Tahoe! Every one of these top Lake Tahoe attractions and activities presents an opportunity for an unforgettable experience and cherishable memories with family and friends.
From taking on the extensive Tahoe Rim Trail to skiing at the Palisades Tahoe Ski Resort, there are plenty of fun things to do in Lake Tahoe.
1) Revel In Lake Tahoe's Gems At Emerald Bay State Park 
Featuring a National Natural Landmark, Emerald Bay, Emerald Bay State Park also homes the spectacular Eagle Falls and Vikingsholm, an impressive 38-room mansion considered one of the best examples of Scandinavian architecture in the United States. 
Located on Lake Tahoe's west shore, Emerald Bay State Park is just stunning. The sparkling waters intertwine blues and greens settled by a scenic mountain backdrop on the lake's west shore. 
There is plenty to do in the great outdoors of Emerald Bay State Park. From water sports to hiking and biking, swimming in the waters of Emerald Bay, camping at Eagle Point Campground, or touring Vikingsholm, it doesn't take much to have fun at Emerald Bay State Park, one of the best Lake Tahoe attractions.
And on this sightseeing cruise, you can bask in breathtaking perspectives of Emerald Bay and south Lake Tahoe on the world-class Tahoe Bleu Wave! 
Address: 138 Emerald Bay Rd, South Lake Tahoe, CA 96150, United States
Hours: 7 am – 7 pm
Cost: $10
2) Explore Tahoe City 
The walkable downtown of Lake Tahoe, Tahoe City, is a quaint mountain town that offers a diverse range of opportunities to take in the local area's scenery and vibrant natural beauty. 
Offering stunning views wherever you look, Tahoe City makes it easy to bask in nature's exceptional vibrancy and beauty.
Many boutique and local shops, including art galleries, restaurants, and cafes, line Tahoe City's streets with the addition of a historic classic log cabin-style house to tour. 
In the winter, Tahoe City is a winter wonderland covered in twinkling lights and holiday cheer. Many tourist-favorite ski resorts nearby make it a popular spot for skiing and snowboarding.
In the summer, Tahoe City has a wide variety of recreational opportunities, including fishing, waterskiing, boating, hiking, biking, golfing, and so much more. No matter what season, checking out Tahoe City is one of the best things to do in Lake Tahoe.
3) Go Camping In Donner Memorial State Park 
The Donner Memorial State Park was created to preserve the site of the Donner Camp. Unfortunately, this event resulted in members being trapped by roaring weather in the winter of 1846-1847.
As the members of this unfortunate event were caught in freezing weather without shelter, food, water, and other supplies, it resulted in cannibalism for the members to survive. 
Though the background story of the park is horrendous, Donner Memorial State Park is a popular tourist attraction for numerous other reasons.
Spectacular views of the Sierra Nevada mountain range stretch around Donner Memorial State Park, where the park is settled.
Many locals and tourists take in these stunning views and various other recreational opportunities, including hiking, picnicking, camping, cross-country skiing, snowshoes, and more.
Other notable attractions in the Donner Memorial State Park include the prominent Pioneer Monument and the Emigrant Trail Museum, which were established to remember California emigrants from the mid-1800s. 
4) Dive Into The Beauty Of The Sierra Nevada Mountains
The Sierra Nevada Mountains are a widely known mountain range that stretches along the eastern part of the United States to California. 
The area of High Sierra in eastern California draws in travelers from all over the world thanks to its range of activities and attractions available throughout the four seasons.
The spectacular beauty of the High Sierra offers world-class snow sports opportunities, hiking, sightseeing, camping, and so much more.
Lake Tahoe is surrounded by the Sierra Nevada Mountains, making it easy to sit back and enjoy the stunning scenic views of the encompassing mountain range.
With 19 ski resorts, backpacking, shopping, and historical sites to take part in, visiting Lake Tahoe is perfect for seeing the outstanding natural beauty of the mountains.
On this scenic tour, you'll spend half the day hiking and sightseeing at top photographic spots, including glaciers, waterfalls, and wildlife sightings to take home with you and remember forever! 
5) Go Kayaking On Fallen Leaf Lake 
Found in El Dorado County, one mile southwest of Lake Tahoe, Fallen Leaf Lake features beautiful scenery and a campground to settle down at. 
There are plenty of hiking trails, ranging from easy to strenuous, each offering awe-inspiring views of the local area. Open only from Memorial Day until September 30, the Fallen Leaf Store and marina serves up eats, including grilled chicken, burgers, fries, and hot dogs. 
Nearby is a spot to rent equipment like stand-up paddleboards and kayaks to take on the waters of Fallen Leaf Lake.
6) Experience The Great Outdoors At Eldorado National Forest  
A United States National Forest, the Eldorado National Forest is part of the central Sierra Nevada mountain range of eastern California to border Nevada. 
Reaching more than 10,000 feet above sea level, the forest is home to 297 lakes and reservoirs popular for fishing, kayaking, swimming, and many other water-based recreational activities.
The many developed recreation facilities allow families and friends to bask in the beauty of this enigmatic forest full of fresh air, eye-catching wildlife, and vibrant nature for days to escape the hustle and bustle of life. 
This area is a must-see when visiting Lake Tahoe.
7) Dip Your Toes In The Sand At Calawee Cove Beach 
Located in D.L. Bliss State Park, Calawee Cove Beach features stunning views of Lake Tahoe and the perfect setting to dip your toes in the sand and sunbathe.
It's not uncommon to find other beachgoers participating in water-based recreational activities like scuba diving, kayaking, swimming, and snorkeling at Calawee Cove Beach.
This hidden gem of Lake Tahoe is ideal for beachgoers who like to bask in gentle breezes and spectacular scenery while lying down to relax. 
READ NEXT: 21 Best Things To Do In San Diego
8) Go Skiing At Heavenly Ski Resort
Occasionally referred to as Heavenly Mountain Resort, Heavenly Ski Resort opened in 1955. The ski resort, settled in South Lake Tahoe, hosts 97 runs and 30 lifts between four base facilities.
The views are outstanding, inspiring awe as you take in the mountain peaks of the Sierra Nevada all around you.
Heavenly Ski Resort is settled high up, the sparkling waters of Lake Tahoe glistening below. And at the resort, you can bask in these heavenly views, explore the new craft beer scene, relax at the condo, and make more than enough cherishable memories at this unique resort. 
If you love skiing, this is a top activity when you visit Lake Tahoe!
Address: 3860 Saddle Rd, South Lake Tahoe, CA 96150, United States
Hours: 8:30 am – 4:30 pm
Cost: Visit the website for tickets and passes!
9) Take A Quick Hike Down Eagle Rock Hiking Trail 
A short, easy, worthwhile hike, the Eagle Rock Hiking Trail sits around a 250 feet elevation rise and stretches almost a full mile.
This family-friendly hike presents scenic panoramic views of Lake Tahoe as a rewarding finish. If you're looking for a quick, worthwhile stop in Lake Tahoe, the Eagle Rock Hiking Trail is the perfect stop to take in outstanding scenery, fresh air, and thriving greenery for miles and miles. 
Of the numerous hiking trails around Lake Tahoe, this is one of the best ones.
Address: 3370 W Lake Blvd, Homewood, CA 96141, United States
Hours: 24/7
Cost: Free
Formerly known as Squaw Valley Ski Resort or Squaw Valley Alpine Meadows, Palisades Tahoe is consistently voted one of North America's best ski resorts. 
Featuring rich ski culture and world-renowned terrain, this ski resort was the home to the Olympic Winter Games in 1960.
From steep chutes and bowls and deep powder set back a scenic backdrop of north Lake Tahoe, Palisades Tahoe is guaranteed to offer the best skiing and snowboarding in the area with one of the longest ski and snowboard seasons in the country. 
Address: 1960 Olympic Vly Rd, Olympic Valley, CA 96146, United States
Hours: 9 am – 4 pm
Cost: Check the website for tickets and passes
11) Bask In Spectacular Sunsets & Sunrises At Sand Harbor State Park
If you enjoy lakeside views while hiking, Sand Point Nature Trail in Sand Harbor State Park will be up your alley!
Though this park is in Nevada, it faces California. It's surrounded on all three sides by water, the small peninsula jutting out into Lake Tahoe, making it easy to catch iconic pictures of spectacular sunsets and sunrises on the beach.
During the summer, the beach is a popular spot for swimming, lounging, water skiing, fishing, scuba diving, and kayaking. 
Sand Point Nature Trail is a popular hiking trail found here. Water surrounds three sides of the trail, making it easy to bask in views of the sparkling turquoise water of Lake Tahoe. The handicap-accessible trail stretches only a third of a mile yet still offers plenty of opportunities to revel in the water-side scenery. 
READ NEXT: Here is our list of the 21 best things to do in Los Angeles!
12) Hike The Famous Rubicon Trail 
Stretching almost 17 miles, the famous Rubicon Trail is an out-and-back trail near South Lake Tahoe that ends at Emerald Bay. The moderate hiking trail is frequently used for nature trips, hiking, 4×4 riding and camping. 
The one-way hike maneuvers between D.L. Bliss State Park and the Vikingsholm Estate, guiding hikers past sandy coves and untamed shorelines to sandy coves and steep inclines.
Take on this spectacular long-distance trail surrounded by mountain lakes, imposing trees, granite slabs, and birdsong for the ultimate rewarding active outdoor day!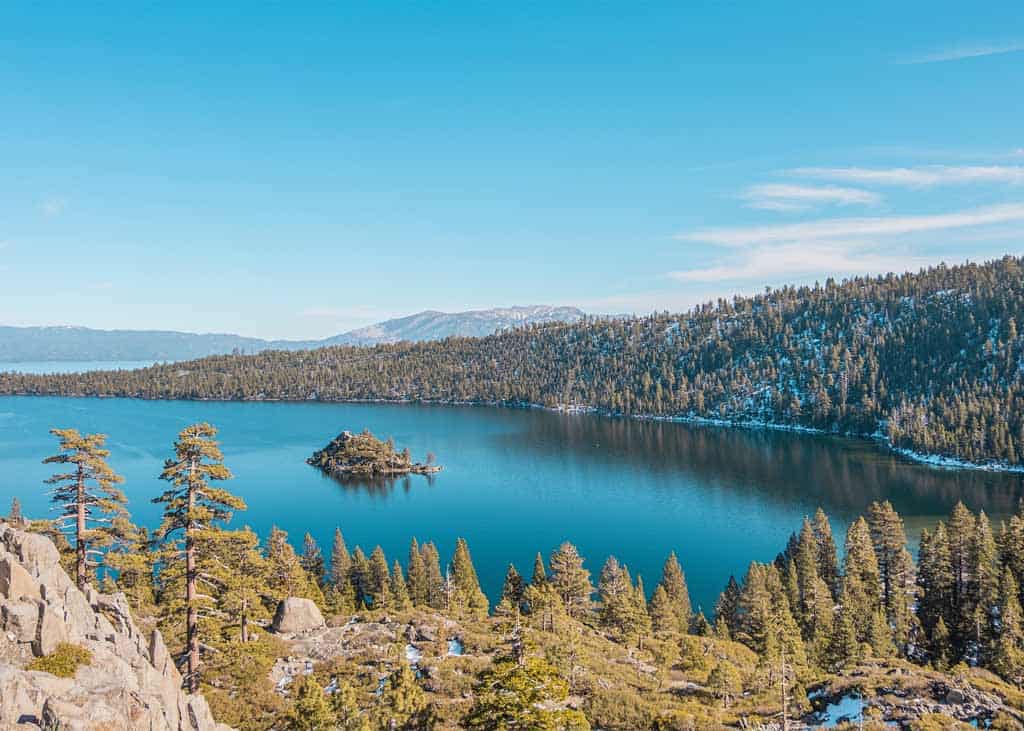 13) Find Rewarding Views At The End Of Lighthouse Trail 
The popular Lighthouse Trail is a part of D.L. Bliss State Park, which is home to the Rubicon Trail. 
For some background information on how the trail got its name, in 1919, the construction of the Rubicon Point Lighthouse began.
One of four lighthouses along Lake Tahoe, these structures initially meant for lighting have since become memorable icons of the Lake Tahoe area. The trail ends with rewarding views of the lighthouse, Lake Tahoe, and the backdrop of the mountains. 
If you're still feeling energetic enough to continue the hike, simply follow the signs to join the Rubicon Trail for a longer hike! 
14) Enjoy World-Class Accommodations & Fun At Camp Richardson Resort
Noted as Lake Tahoe's best resort and marina, Camp Richardson Resort features world-class dining, camping, lodging, and cabin accommodations for an unrivaled experience and stay. 
The resort offers year-round family-friendly fun and recreational activities regardless of the season. Camp Richardson Resort is settled on a historic site on the shores of Lake Tahoe, where lakeside dining, a refined atmosphere, and unrivaled views combine for unforgettable memories. 
Join an exhilarating Tahoe boat ride to Emerald Bay at the resort's marina, spend the day on the water, or tour the historic Vikingsholm Castle. If you are more inclined to stay on land, consider the onside Mountain Sports Center, where rentable bikes can take on the six miles of family-friendly trails. 
Check the website for rates and more info!
Address: 1900 Jameson Beach Rd., South Lake Tahoe, CA 96150
15) Relax & Unwind At Homewood Mountain Resort 
A classic family-friendly ski resort, Homewood Mountain Resort first opened in 1961 and has remained a steady presence for unbeatable peak-to-shore experiences and accommodations.
The resort has 1,260 acres of opportunity, eight lifts, 67 runs, and considerable spectacular views of Lake Tahoe. It's not difficult to settle down into the laid-back vibe of Homewood Mountain Resort, where families worldwide are welcomed. 
Whether in summer or winter, Homewood Mountain Resort offers plenty of recreational opportunities, including hiking, biking, skiing, snowboarding, kayaking, stand-up paddleboarding, and more! 
Check the website for rates and more info.
Address: 5145 W Lake Blvd, Homewood, CA 96141, United States
READ NEXT: Heading into Nevada? Check out our 3 days in Las Vegas itinerary!
16) Enjoy A Beach Day At Kings Beach State Recreation Site
A popular recreation area, Kings Beach is a vast expanse of white sand that has become a favorite of locals and tourists alike. 
As the most significant of the sandy beaches on the North Shore of Lake Tahoe, this beach offers scenic views, plenty of space to sunbathe, warmer water compared to other areas on the Lake to swim in, and places to picnic and barbecue with family and friends.
Across from Kings Beach is the opportunity to explore local shops and restaurants and the North Tahoe Event Center to learn about upcoming local events. 
Visit the website for more info!
17) Take On The Tahoe Rim Trail 
Spanning 165 miles, the Tahoe Rim Trail loops around the Lake Tahoe Basin to offer the spectacular scenery of high alpine lakes, secretive meadows, tall peaks, and stunning vistas. 
An adventure to take on, this famous trail is considered one of the best moderate-long trails in the world. Great for beginners or seasoned hikers, the Tahoe Rim Trail takes on the peaks of the Sierra and Carson Ranges, through the forest, and past impressive steep elevations. 
There are ten official trailheads for the Tahoe Rim Trail, many found near South Lake Tahoe. If you're considering taking on this one-of-a-kind trail, ensure that you take a guide for your first time and pack accordingly! 
18) Find Thrilling Perspectives Of Lake Tahoe At D. L. Bliss State Park 
Found on the western shore of Lake Tahoe, D. L. Bliss State Park homes the Rubicon Trail and Rubicon Point Light, famed as the highest-elevation lighthouse in the United States. 
Only a few miles from Emerald Bay, the park is famous for its interpretive visitor center that offers interactive wildlife displays, popular hiking trails such as the Lighthouse Trail, and campgrounds.
When traveling the area of D. L. Bliss State Park on the north end to Rubicon Point, you can find unrivaled perspectives that feature hundreds of feet deep into the deepest parts of Lake Tahoe. 
Address: 9881 CA-89, South Lake Tahoe, CA 96150, United States
Hours: 7:30 am – 8 pm
Cost: Parking is $10
19) Join The Locals In Incline Village 
On the north shore of Lake Tahoe, Incline Village was named after the Great Incline Tramway established by loggers in 1878.
Nowadays, visitors to the village will find some of the most impressive and inspiring mountain retreats near peaceful beaches and sparking alpine lakes.
As one of the largest towns in Lake Tahoe, it's not uncommon to find people from all over the world coming together to share great stories of their adventures. 
From season to season, many come to take part in recreational activities in the great outdoors of Lake Tahoe in Incline Village.
Skiers and snowboarders will be heading to Diamond Peak Ski Area. Mountain bikers will head to Flume trail for a day of thrill and fun.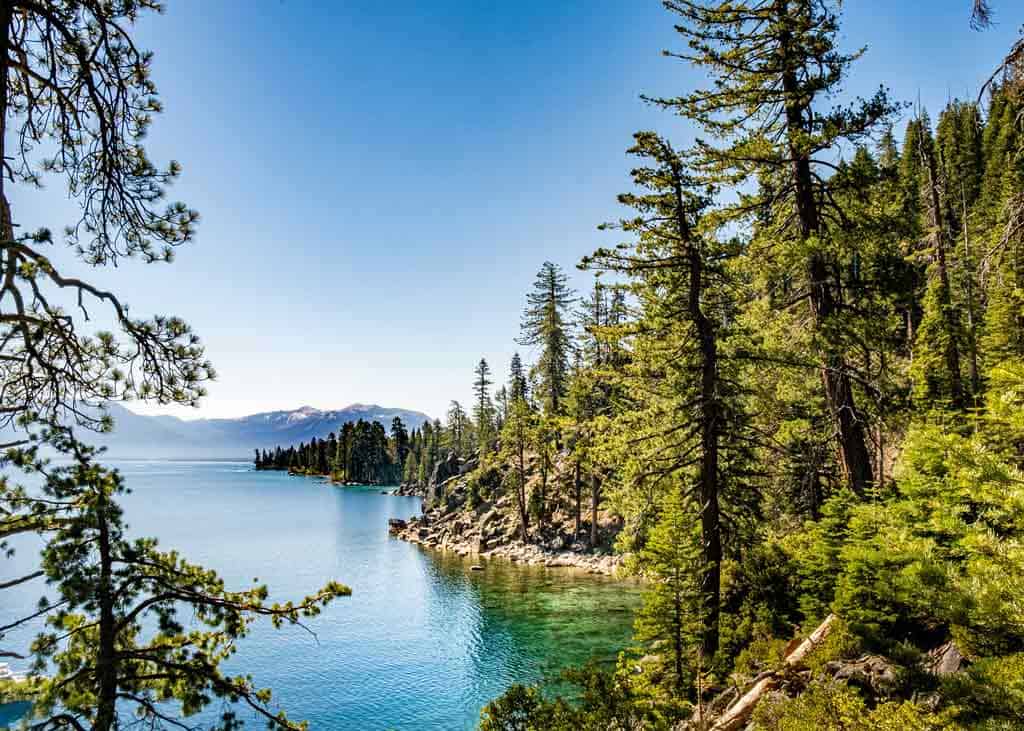 20) Soak In The Rewarding Hike Of Memorial Point Trail 
A short trail, the Memorial Point Trail is a 0.3-mile hike that finishes at the Memorial Point Overlook in Lake Tahoe State Park in Incline Village. Though brief, the rewarding walk is enriching, offering spectacular views of Lake Tahoe. 
This can be a great family-friendly option to consider taking the kids so that everyone can absorb the jewel of the Sierra, Lake Tahoe, in its entirety. 
READ NEXT: 21 Best Things To Do In San Francisco, California
21) Take Pictures At Balancing Rock Nature Trail
At D.L. Bliss State Park, the Balancing Rock Nature Trail is founded in the northwest section of the parking area.
This peaceful, family-friendly hike is only half a mile up the dirt path, leading to a unique set of boulders.
The placement of these boulders resulted in the trail's namesake, "balancing rock." The hike is easy enough to take the kids, with multiple viewpoints of the geological masterpiece Lake Tahoe and Rubicon Peak to bask in. 
Where to Stay in Lake Tahoe
Now that we know the best things to do in Lake Tahoe let's check out the best places to stay during your trip! 
Best Hostel in Lake Tahoe
A spacious hostel offering up 54 beds, two outdoor recreation areas, and two indoor communal areas, Mellow Mountain Hostel is only a ten-minute walk from some of the best Lake Tahoe attractions.
During the summer, guests have free access to the beach and other water activities, and during the winter, the Heavenly Gondola is only five minutes or less by foot.
And year-round, guests can skip renting a car or finding an Uber, as the hostel is within walking distance of grocery stores, nightclubs, bars, and more! 
Best Mid-Range Hotel in Lake Tahoe
In the optimal destination of downtown Lake Tahoe, Mother Nature's Inn offers a desirable location near many of the best Lake Tahoe activities. In addition, guests have access to accommodations like free Wi-Fi and free private parking. 
Best Luxury Hotel in Lake Tahoe
Prepare to experience an unrivaled, luxurious stay at The Ritz-Carlton, Lake Tahoe. Here, guests have year-round access to various activities, including skiing and snowboarding.
Indulge in the California-inspired restaurants, the mountainside heated pool, the refreshing spa, and the accommodating lodging at this exceptional Lake Tahoe hotel. 
DISCLAIMER: Some of the links in this article are affiliate links, which means if you book accommodation, tours or buy a product, we will receive a small commission at no extra cost to you. These commissions help us keep creating more free travel content to help people plan their holidays and adventures. We only recommend the best accommodations, tours and products, and regularly review these. Thanks for your support, kind friend!