Delicious Maltese food – where and what to eat in Malta
Maltese food draws on a multitude of influences, reflecting Malta's place in the heart of the Mediterranean. You'll find pasta and kannoli from nearby Sicily, cinnamon and cloves from North Africa, the tastes of Provence and Andalusia brought by the Knights of St John and British influences from the 1800s. Read on to discover the traditional Maltese cuisine you should try, local food experiences and the best restaurants we found around Malta and Gozo.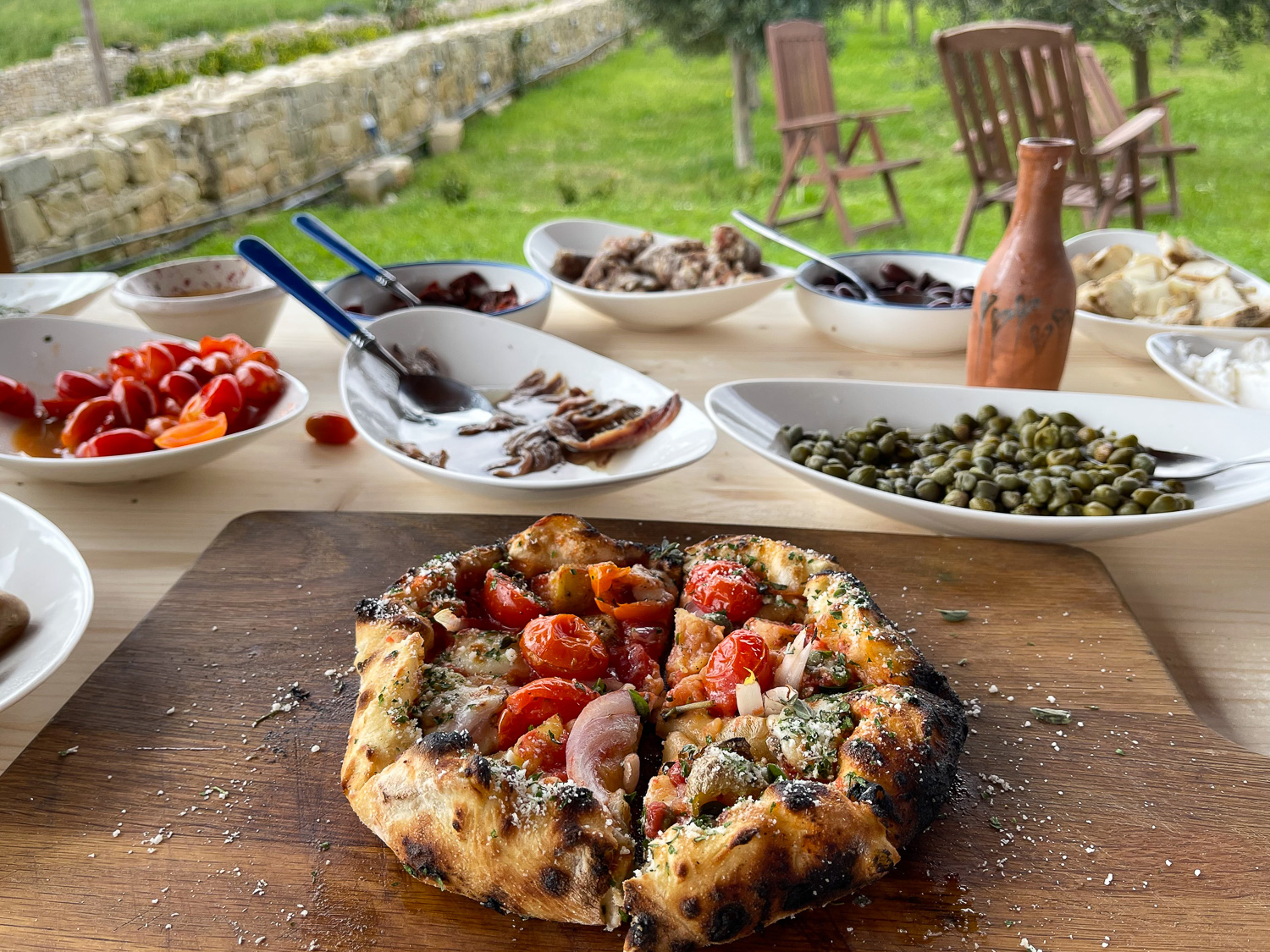 This article may contain affiliate links that provide commission on purchases you make at no extra cost to you. As an Amazon Associate I earn from qualifying purchases.
Street food in Malta
Maltese bread
What makes Maltese bread or Ħobż tal–Malti so special that it has been added to UNESCO's list of Intangible Cultural Heritage of Humanity? It's undoubtably moreish, with a spongy, sourdough texture and crunchy crust that in the past was baked in a wood fired oven.
Visit the town of Qormi in Malta to find the best bakeries in Malta, with a bread making festival held there in late September / October. Bread in Malta may come as a flat loaf known as Ftira, or in a ring shape. It's eaten rubbed with tomato or a drizzle of olive oil, filled with cheese, olives and capers or topped with these fillings as an open sandwich.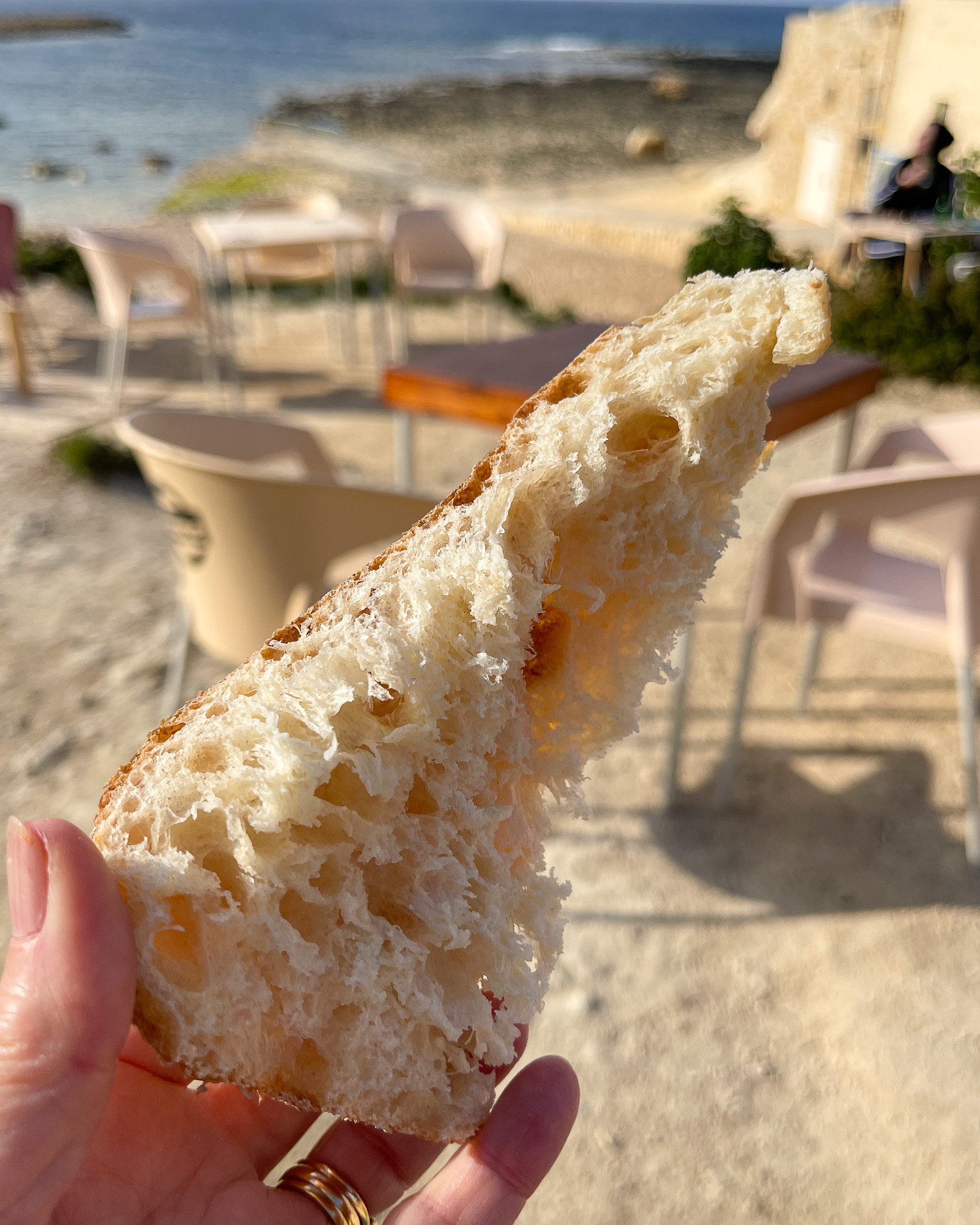 Ftira
A popular street food snack is Gozitan Ftira or Ftira Għawdxija. In this version the bread dough is used to make a pizza like snack, cooked in a wood fired oven. Traditional toppings are slices of potato or the local Ġbejna cheese, while other popular toppings include olives, tuna, capers or Maltese sausage. We enjoyed a wonderful Ftira making experience on a local farm with Karlito's Way.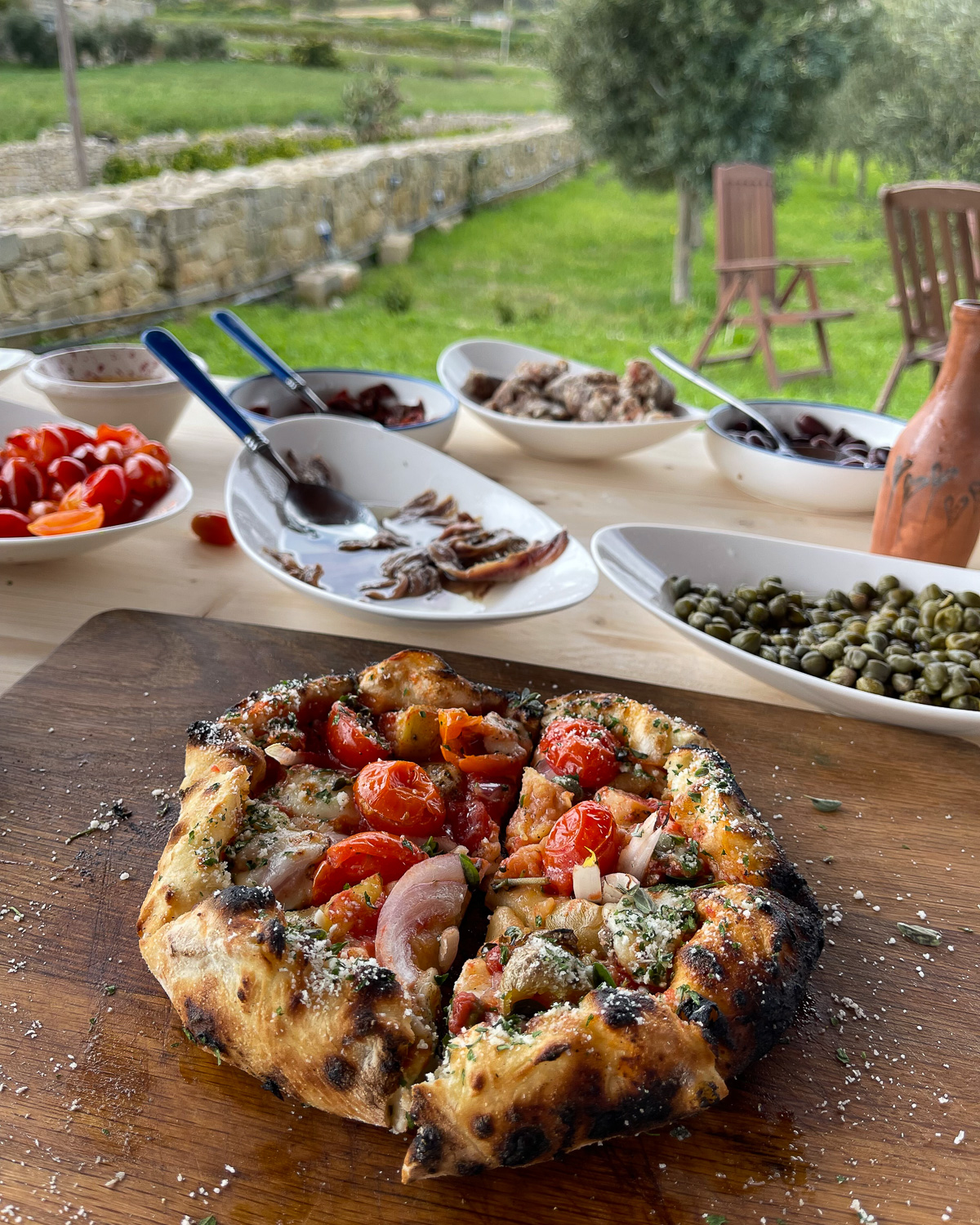 Pastizzi
Inexpensive pastizzi pastries are the street food of choice in Malta. Small enough to eat with one hand, they use flaky filo pastry with a soft filling, and are sold in bakeries around Malta. Two traditional fillings are on offer; local ricotta cheese pastizzi tal-irkotta, or soft pea filling pastizzi tal-pizelli. You can identify which is which, by the way the pastry is folded and joined; cheese with the join at the top or pea with the join at the side.
Maltese language has lots of idioms and jokes that refer to pastizzi, such as saying that something's extremely popular or coming out too quickly. One of the most famous places in Malta to buy pastizzi is at Is-Serkin (Crystal Palace Bar). It's by the main car park in Rabat, where the buses stop if you are heading to or from M'Dina.
Qassatat
The big sister of pastizzi is Qassatat, another popular street food that is made in every bakery. These pastries are a bit larger than pastizzi and made with a shortcrust pastry in a rounded shape, sealed on top with a slice of potato. Fillings include the traditional ricotta or pea, but also spinach with anchovies. If visiting Gozo, pick up some Qassatat at Mekren bakery in Nadur before you head back to the ferry port.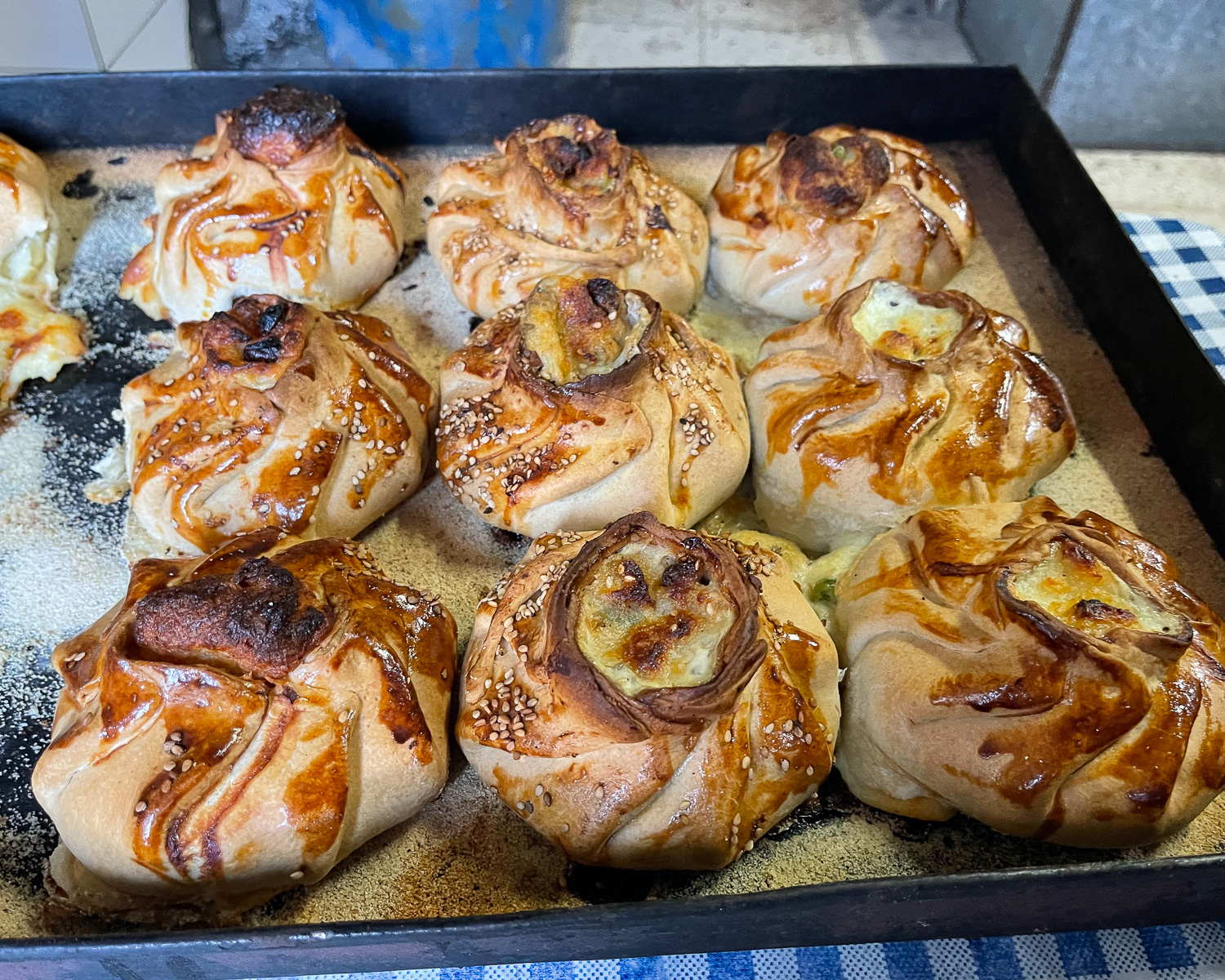 Maltese water biscuits – Galletti
Dry water biscuits or Galletti are served with cheese or dips such as Bigilla (broad bean dip). They can also be eaten on their own as a snack, a bit like crisps.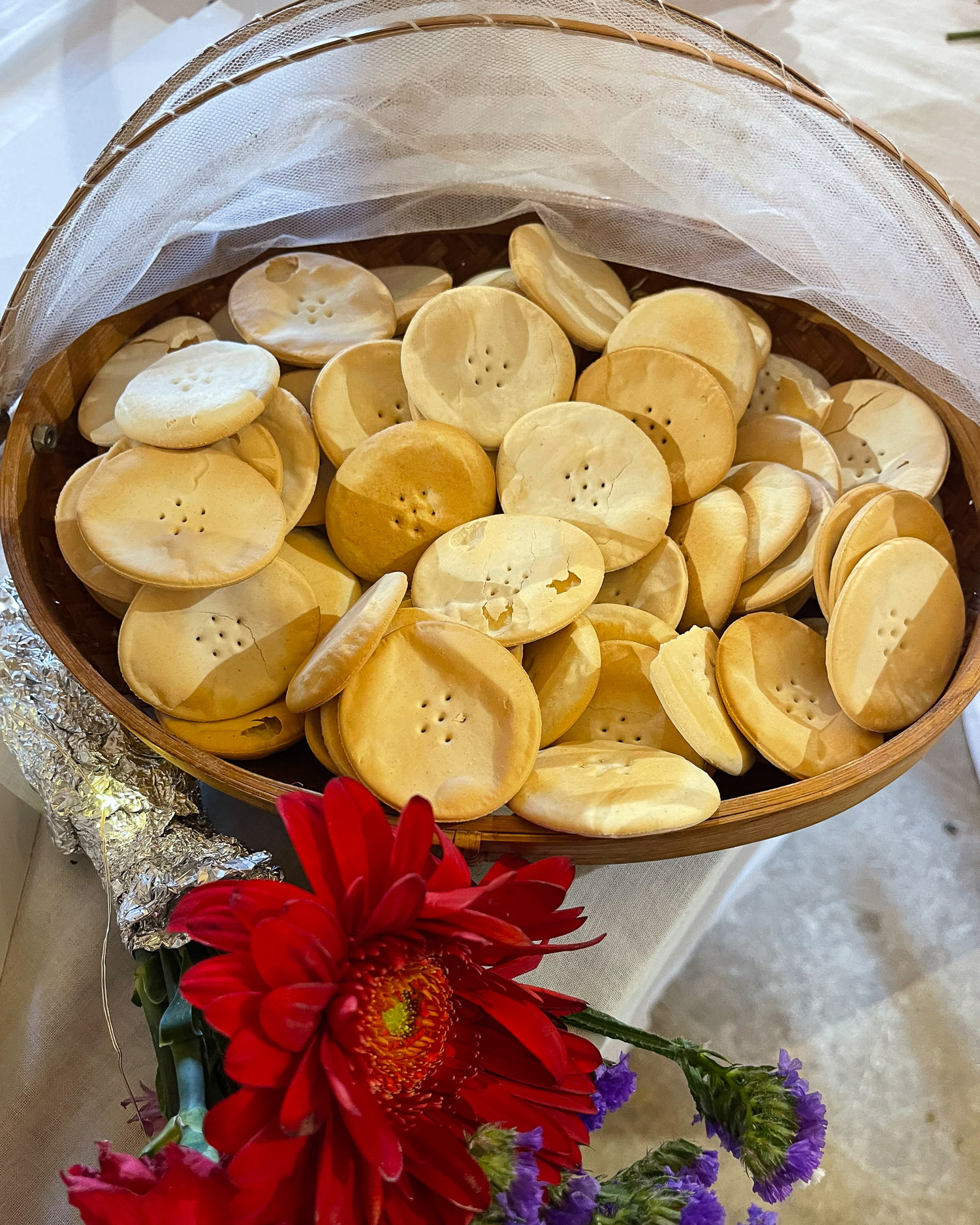 Best food tours in Malta
If you'd like to learn more about the food in Malta, why not choose one of these tours?
Valletta food and drink walking tour – Discover the authentic food and drink of Malta, with several tasting stops as you pass the main sights of Valletta. Book here.
Full day wine tour in Malta – This small group tour visits two of the oldest wineries on Malta, the Marsovin and Meridiana wineries, with wine tastings accompanied by a traditional Maltese platter. Book here.
Valletta street food and culture tour – Learn about local food culture with tastings of sweets, street food and drinks in this walking tour around Valletta. Book here.
Pastries and cakes
Sweet pastries and cakes are produced by every bakery in Malta, especially around religious festivals when special cakes are produced. Look out for these Maltese cakes that we enjoyed.
Imqaret – a pastry with date filling flavoured with lemon and cinnamon. They are made in a roll and cut into a distinctive diamond shape.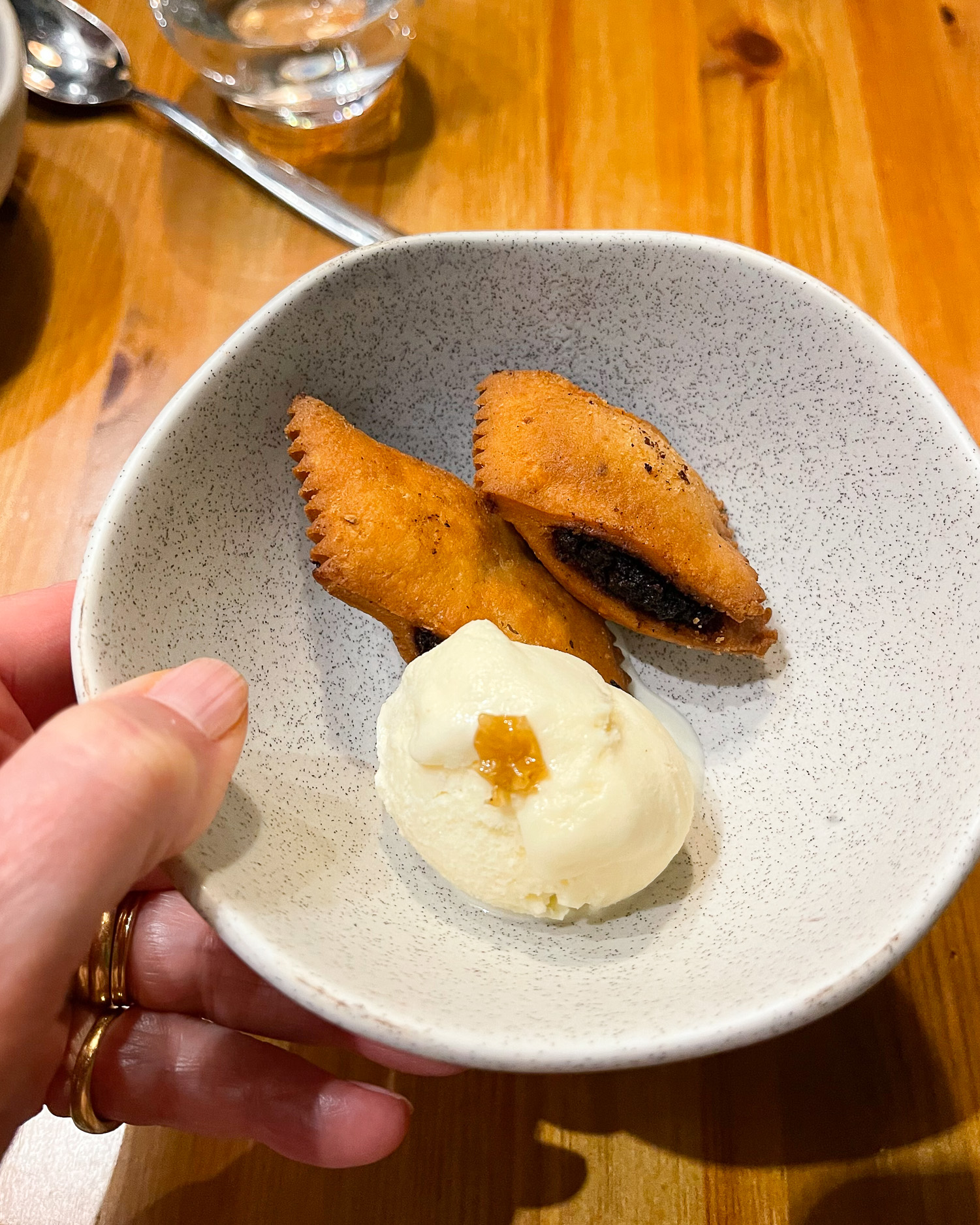 Kannoli – similar to those you'll find in Sicily, these sweet pastry tubes have a filling of whipped ricotta cheese (Kannoli tal-irkotta). The creamy filling comes in numerous flavours, such as chocolate, pistachio or candied fruit. Kannoli is a delicious sweet treat to order with your coffee in Malta.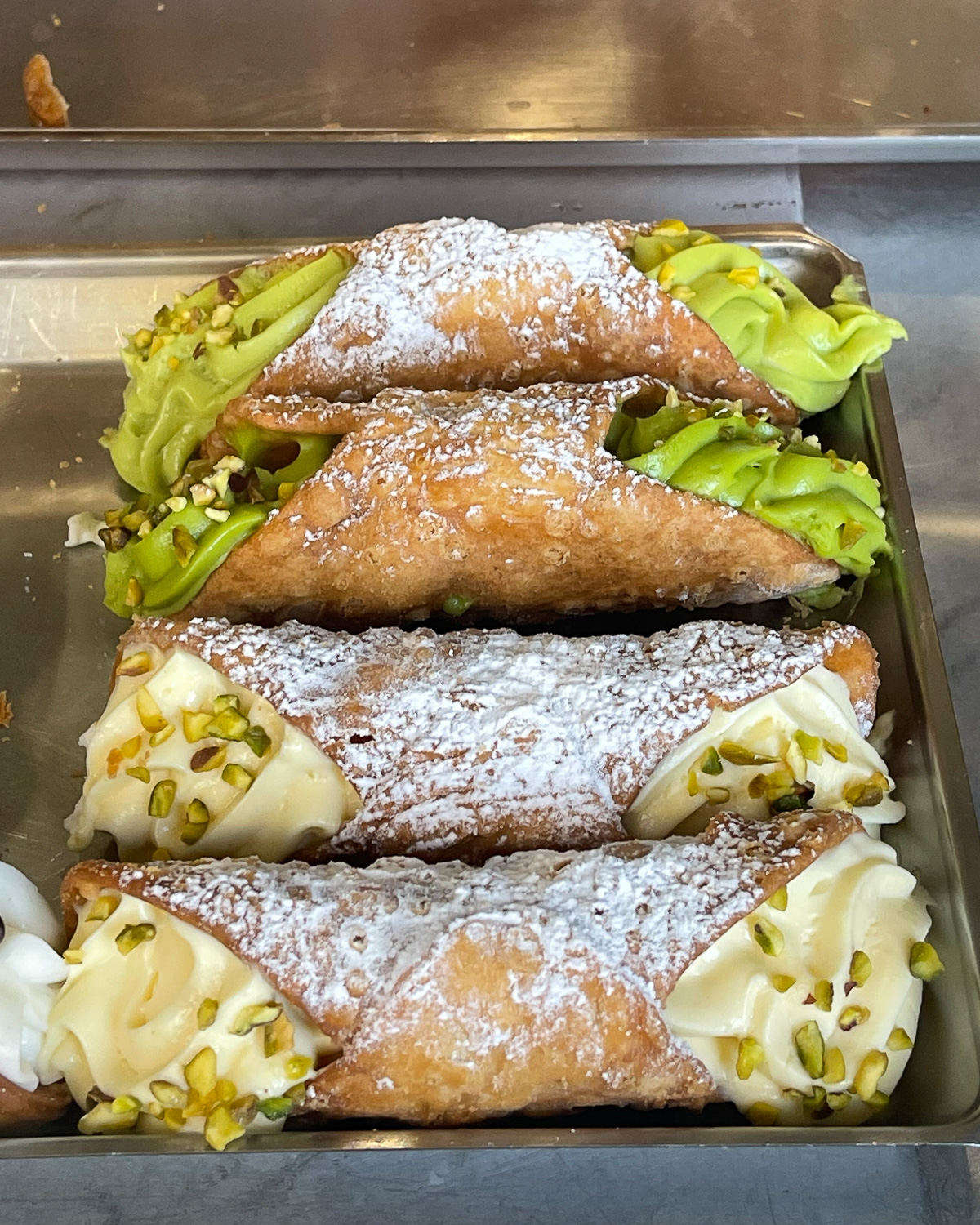 Village biscuits – Biskuttini tar-Rahal are cookies flavoured with cinnamon, cloves and anise, decorated with coloured icing. They are traditionally served at christenings in Malta.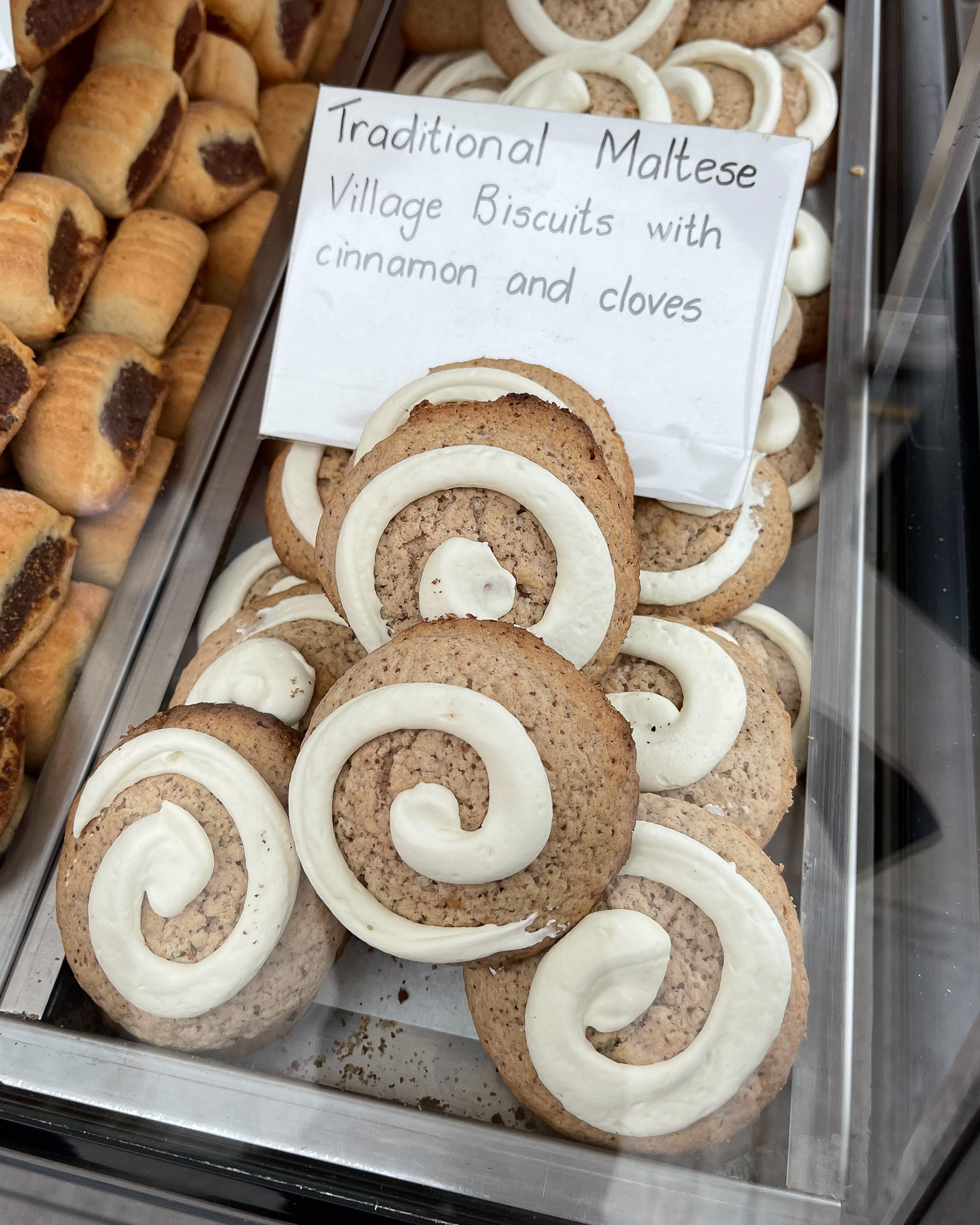 Maltese honey rings – Qagħaq tal-Għasel are ring biscuits made with treacle or syrup, that are often served at Christmas. The mention of honey is a bit misleading, since it's the black treacle based filling, that shows through the slashes in the biscuit.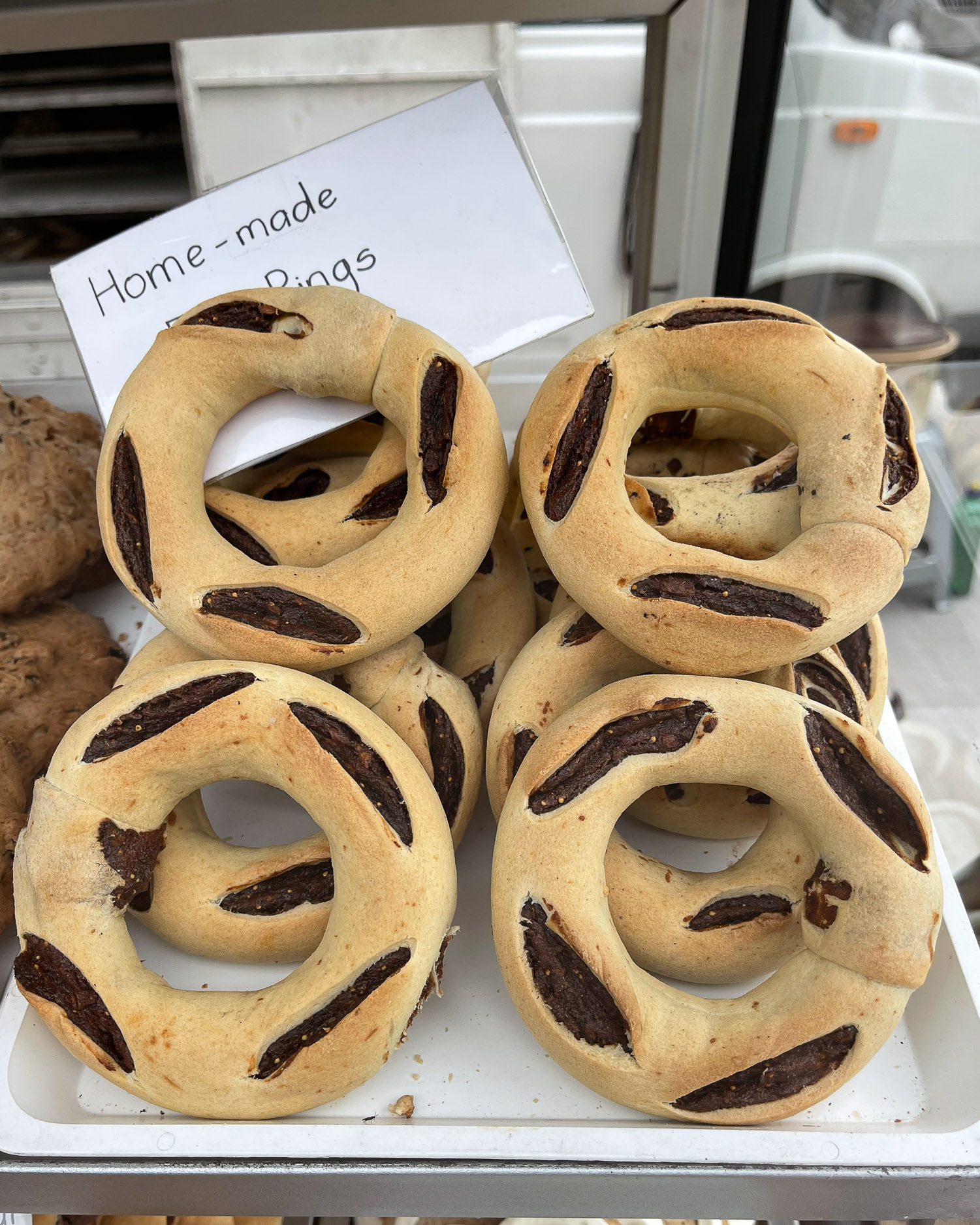 Maltese cakes for Easter and Lent
There are numerous 'limited edition' cakes produced around religious festivals such as Easter, Christmas or saints' days. You might only see them in the bakery for a short period, so taste them before they are gone!
Zeppoli – we tried these while visiting Malta in March, as they are only produced around the feast of St Joseph (19 March). The choux balls are filled with a creamy sweetened ricotta filling.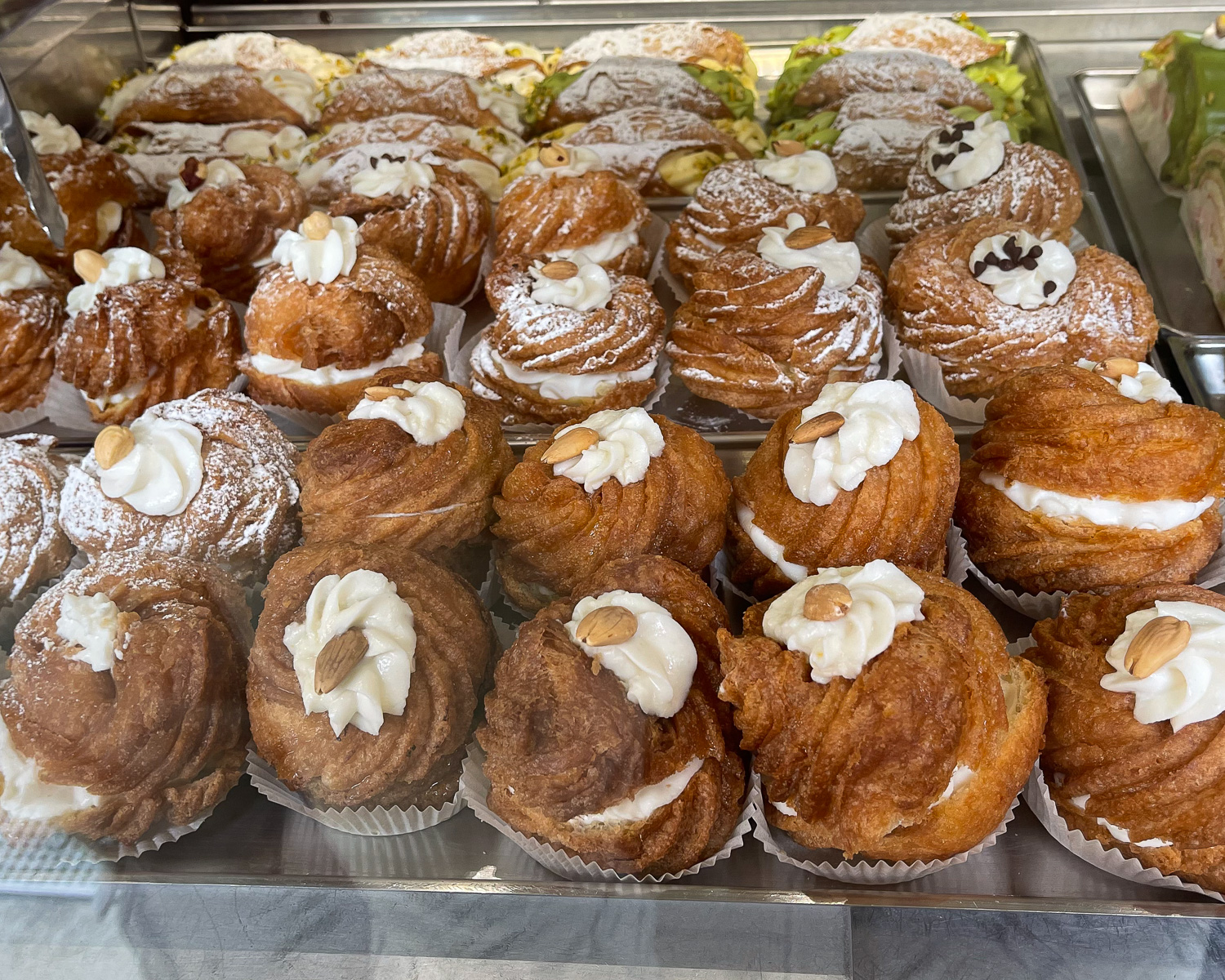 Kwareżimal – a traditional Maltese Lenten cake, with a mix of honey, almonds, citrus and spices. They have a soft and dark appearance of gingerbread.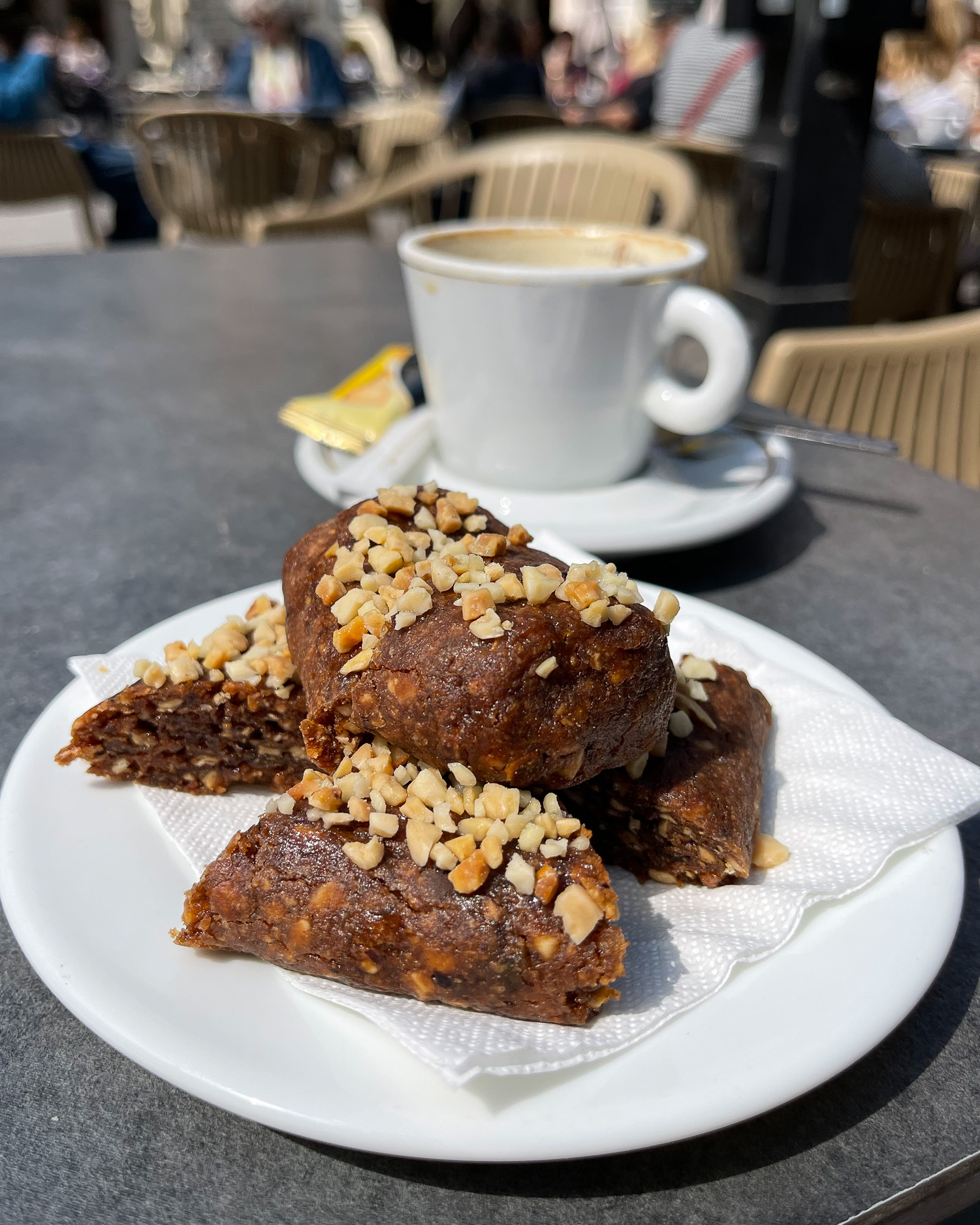 Figolli – traditional Maltese Easter biscuits, with a sweet pastry that encloses a marzipan like almond filling. The biscuits come in all sizes and are highly decorated with coloured icing, with large ones given as Easter gifts.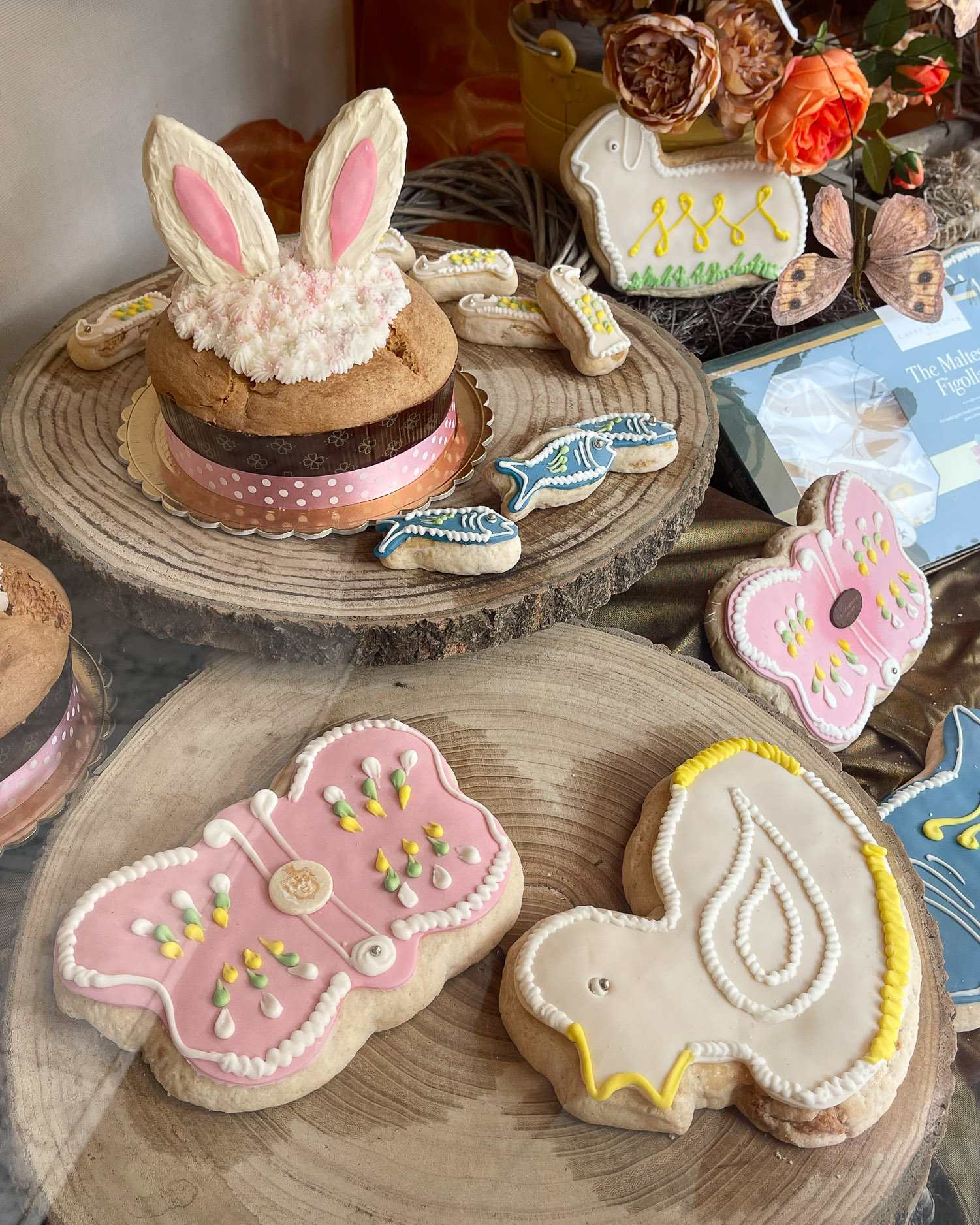 Traditional Maltese dishes
Maltese food – meat dishes
Traditional Maltese food often uses slow cooking to tenderise the meat and make it go further. Look out for these Maltese dishes on restaurant menus.
Rabbit stew – Stuffat tal-Fenek is the national dish of Malta, with meat that is slow cooked until tender in a rich sauce of tomato, garlic and red wine. Take care when eating, as rabbit dishes often have small bones.
Beef olives – Braġioli – strips of beef stuffed with bacon, breadcrumbs and parsley, then slow cooked in rich tomato sauce. There are no olives in this dish, but the name comes from the rounded shape of the beef parcels once cooked.  
Maltese sausage – Zalzett Tal-Malti are sausages made with minced pork, seasonings and spices, that are often cooked with other vegetables to make a stew.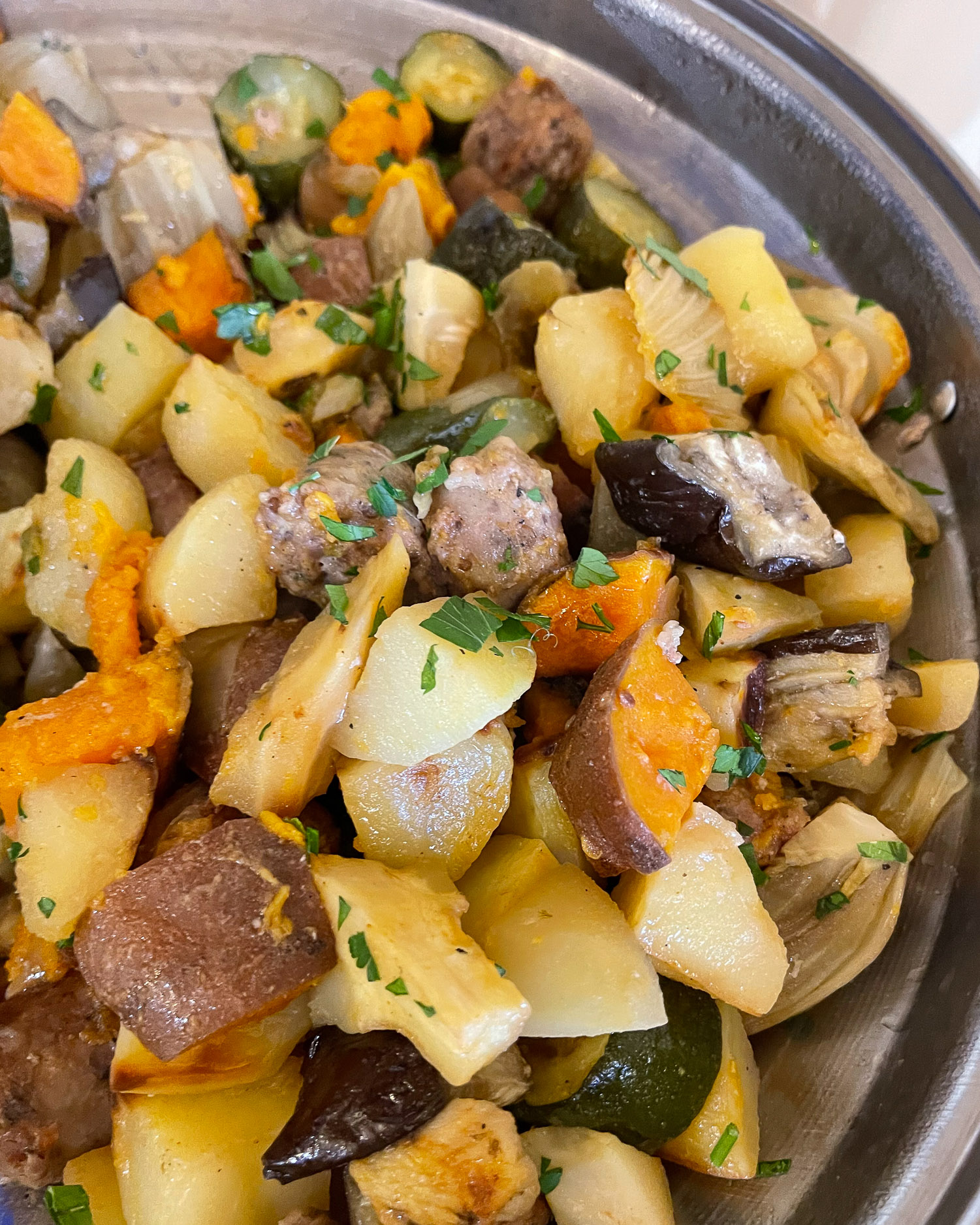 Maltese fish
As an island in the middle of the Mediterranean, the waters surrounding Malta are rich with fish. Traditionally local fishermen have used nets or lines to fish from their colourful wooden boats called luzzu, marked with a painted eye to help them see the fish.
Sadly this kind of sustainable fishing is under threat from trawlers that net fish in large quantities, damaging the sea bed and fish populations. Some tuna is also farmed off the coast of Malta, which also impacts the viability of traditional methods of long line tuna fishing.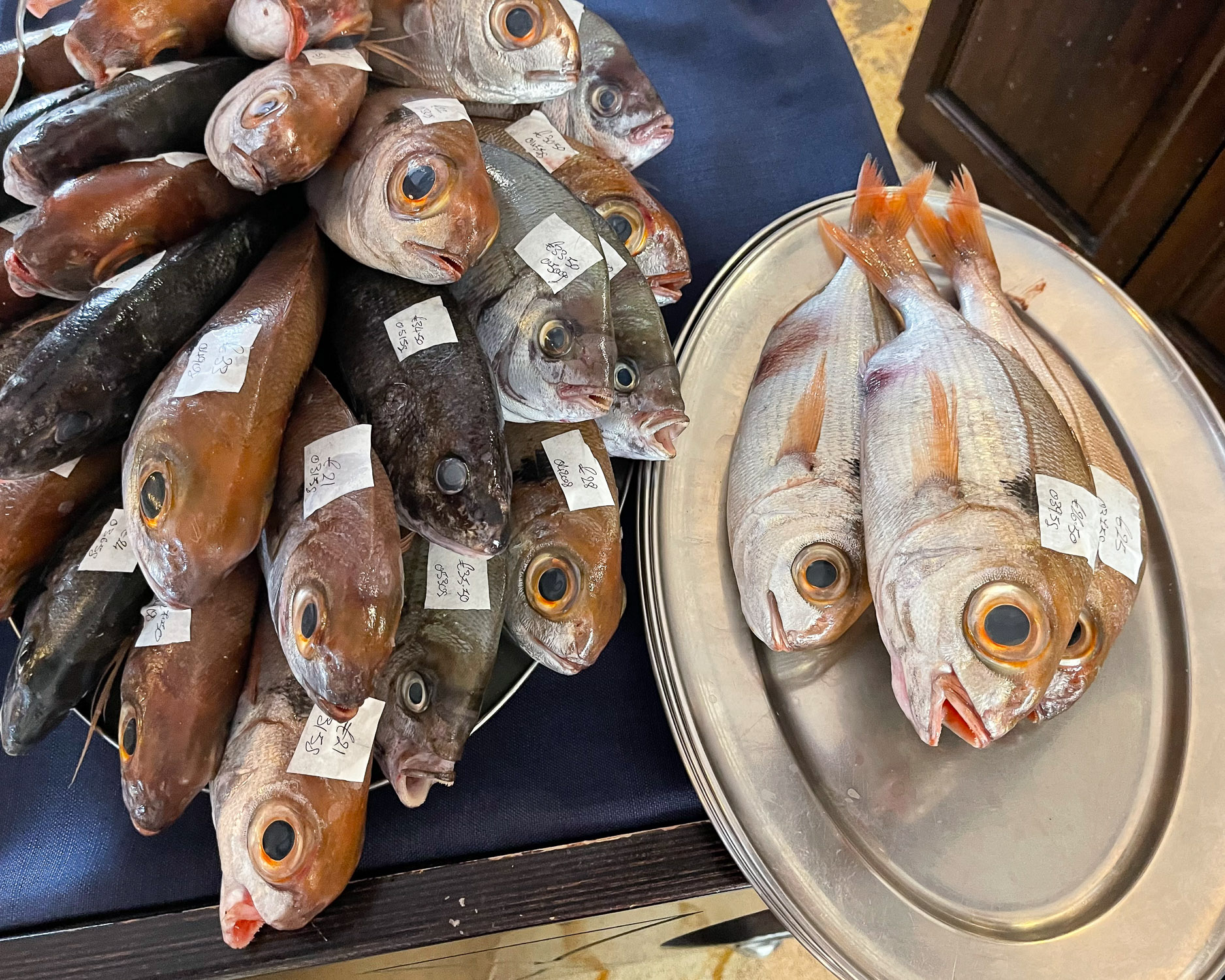 When ordering fish in a restaurant, it's good to check on the source of the fish, choosing local varieties that are sustainably caught or line fished from small boats. Sustainably caught fish will cost a little more, but you'll be supporting local fishermen.
Fish to look out for on the menu
Lampuki are the most popular fish in Malta, known elsewhere in the world as Dolphin fish, Dorado or Mahi Mahi. The fishing season starts on the feast of Santa Marija on 15 August, when Lampuki migrate through Maltese waters, continuing until December.
Since the fish are caught young in Malta, the lampuki flesh is considered very tender and tasty. Eat this fish simply cooked or in the Maltese favourite dish of Lampuki Pie (Torta Tal-Lampuki), where the fish is combined with olives and vegetables.
Swordfish (Pixxispad) is another popular fish in Malta, a dense meaty fish that can be grilled like a steak. Also look out for mullet, bream, grouper and sea bass on the menus. When ordering, check what's been freshly caught that day, since each variety will have its season.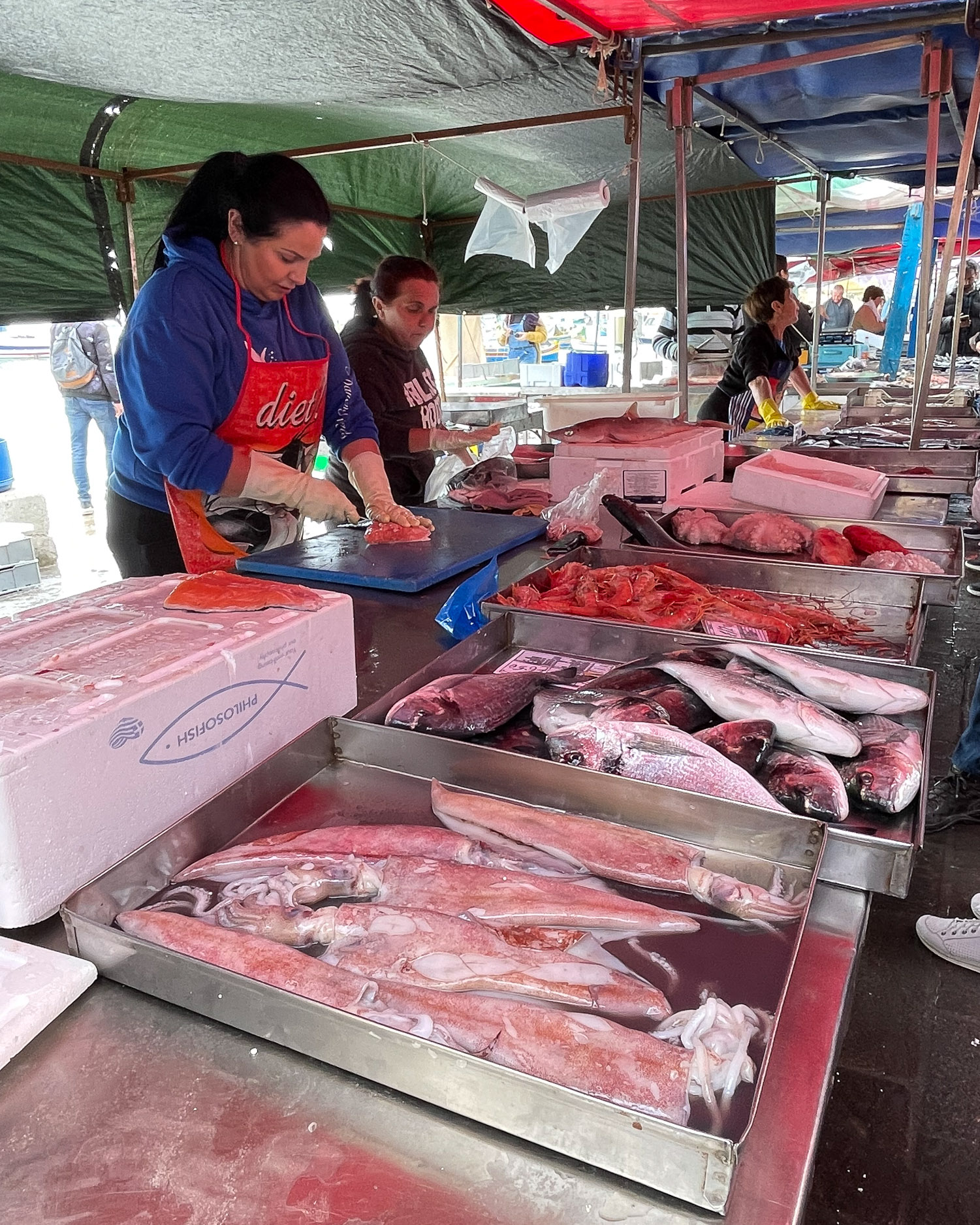 Local fish in restaurants is normally priced by weight and can be more expensive than farmed or imported fish, so ask for the final price before you confirm your order.
Octopus and squid are served in a rich stew with a tomato and wine sauce, flavoured with lemon or herbs. Aljotta is a popular fish soup flavoured with tomato and garlic that uses whatever fish is in season.
Marsaxlokk – to eat fresh seafood in Malta
If you want to eat the freshest local fish in Malta, head to Marsaxlokk on the south coast, where there are numerous seafood restaurants along the seafront.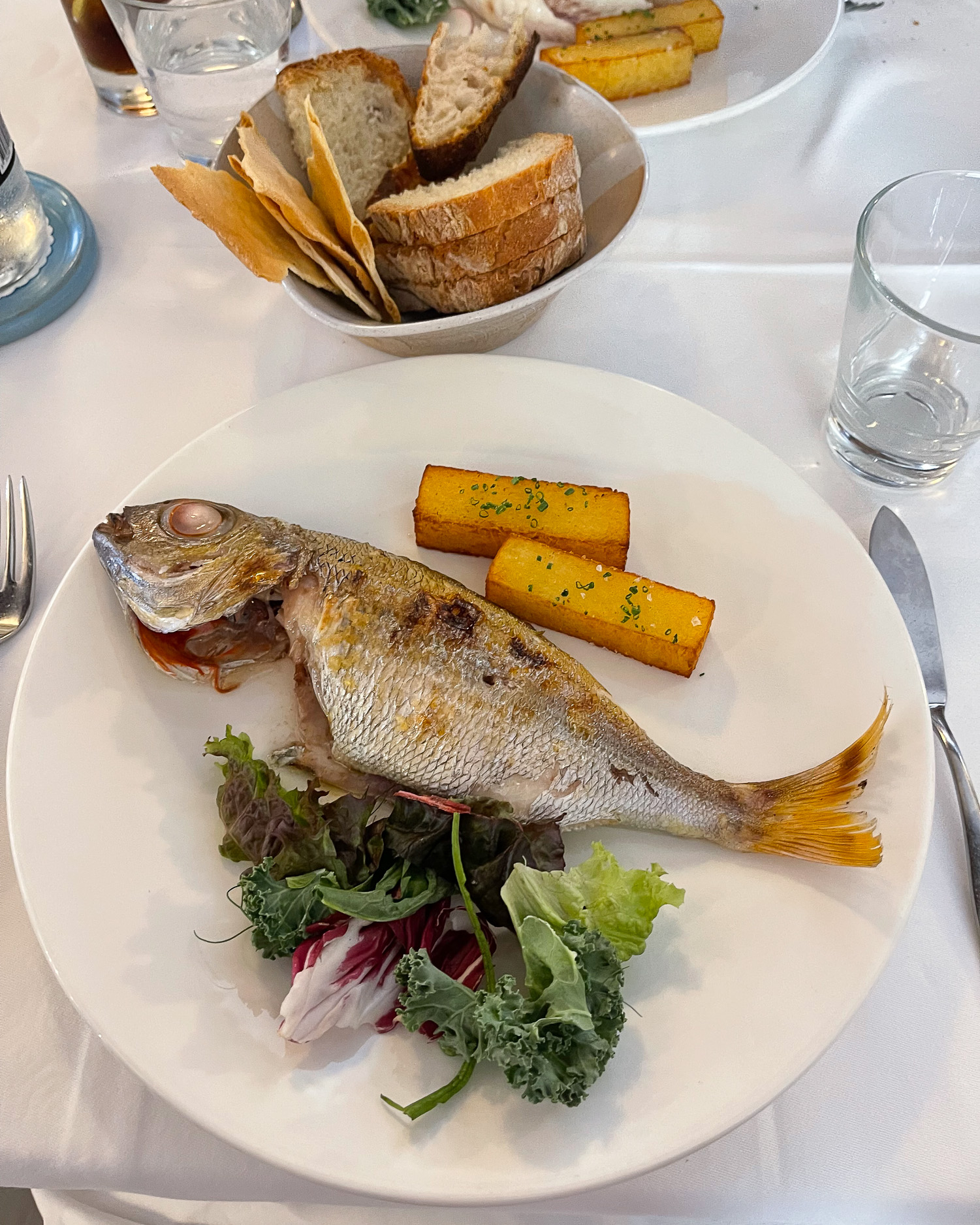 Sunday is the most popular (and crowded) day to visit, since there's a busy fish market along the seafront. We enjoyed eating some locally caught fish at Tartarun, an understated but seriously gourmet (Michelin guide) restaurant close to the square.
Maltese food – Pasta and Rice
Being just over 100 miles from Sicily, it's hardly surprising to find Italian and Sicilian influence on Maltese cuisine. Look out for some popular pasta and rice based dishes;
Baked Macaroni pie or Timpana – Malta's answer to lasagne, the macaroni is bathed in a rich ragu sauce, then covered with pastry and baked in the oven. It's the ultimate comfort food when you need a carb fix!
Arancini – These tasty fried rice balls with a golden crust originated in Sicily but have become popular as a snack in Malta too.
Pasta dishes – there's plenty of love for pasta generally on Malta and we tried some excellent dishes, with meaty ragu or with seafood in a tomato sauce as a lunch dish.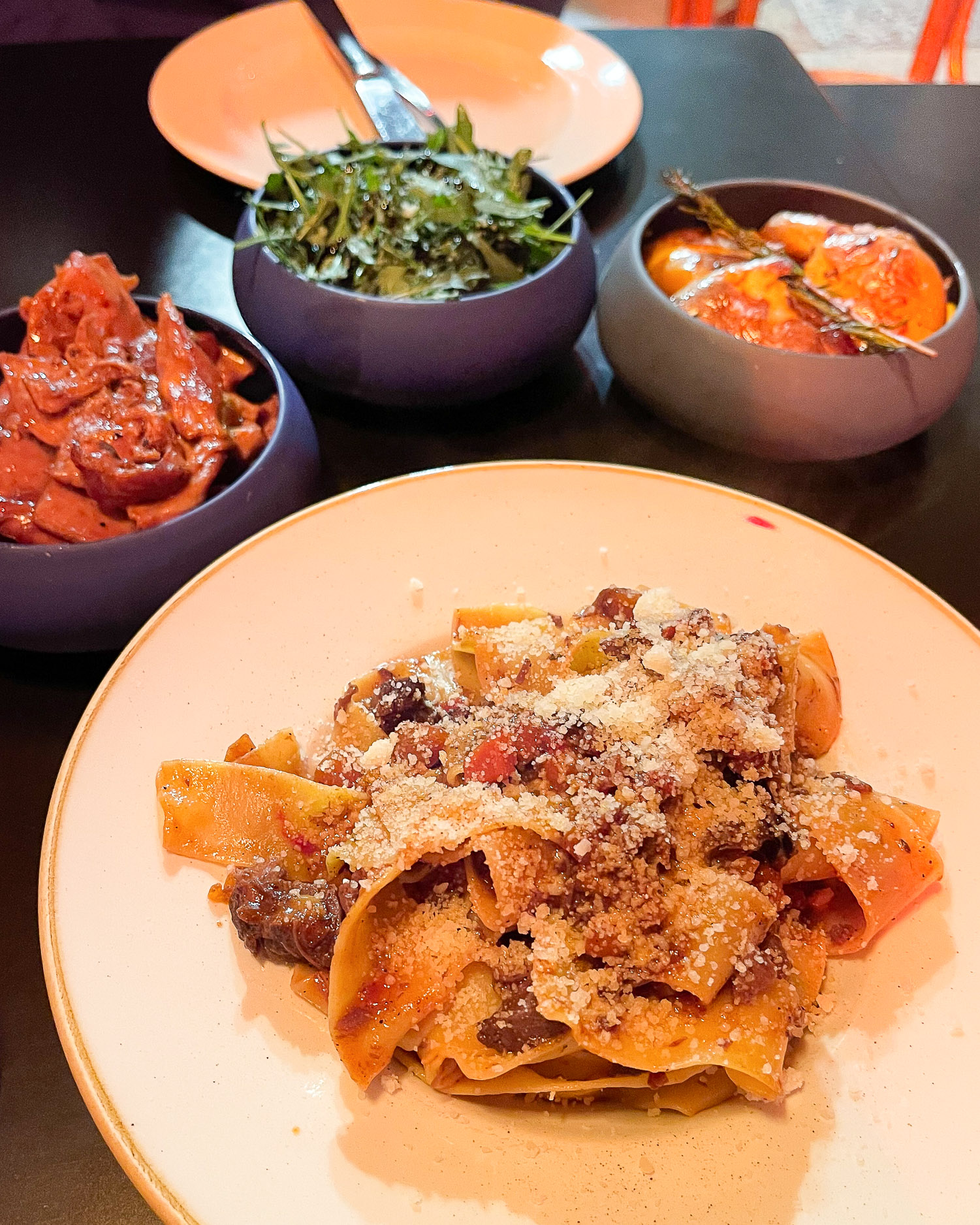 Vegetable and starter dishes in Malta
The vegetables traditionally grown on Malta are typical of those in the Mediterranean. However population growth has reduced the amount of land on Malta that's available for farming and much of the food including fresh vegetables is now imported. Look out for these traditional Maltese dishes that are vegetable based, often eaten as a starter before the main dish.
Bigilla – A dark coloured broad bean or fava bean dip a bit like hummus, that's scooped up with water biscuits and eaten as a starter.
Kapunata – a mix of cooked vegetables in a tomato base that's similar to ratatouille or Sicilian caponata. It's usually served as a side dish in summer, when courgettes, aubergines and tomatoes are plentiful.
Soppa tal-Armla – Literally 'Widow's Soup', this is a hearty vegetable soup, to which the Maltese cheese Ġbejna or eggs are added at the end of the cooking.
Kutsku is a variation of the vegetable soup where giant cous cous and fresh fava beans are added when in season.
Platt Malti – this is not a single dish, but a platter of different items that are designed to be shared as an appetiser. The Maltese platter might include bigilla bean dip, Maltese sausage, kapunata, olives, sundried tomatoes and Ġbejna cheese.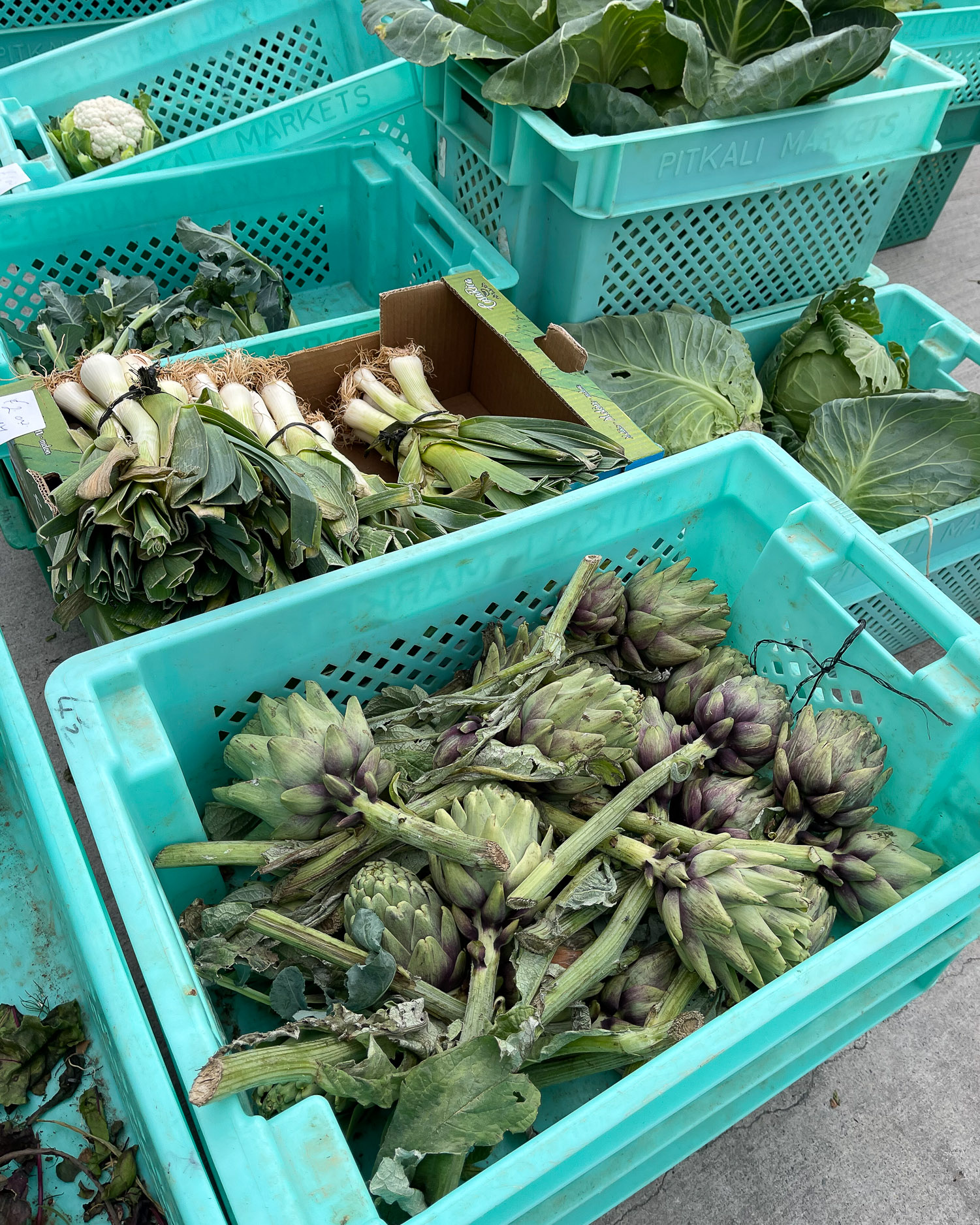 Cheese in Malta
Ġbejniet  – the local sheep's cheese is seen everywhere in Malta, usually in small rounds known as Cheeselet. They are to be found in different varieties, such as fresh (friski), sundried (moxxi), or peppered (tal-bżar). In the past Ġbejniet would be made by families at home, although of course it's now made commercially, sometimes using cow's milk.
Ricotta (Irkotta) – another popular soft fresh cheese that is used in pastizzi, kannoli, ravioli and many other local dishes.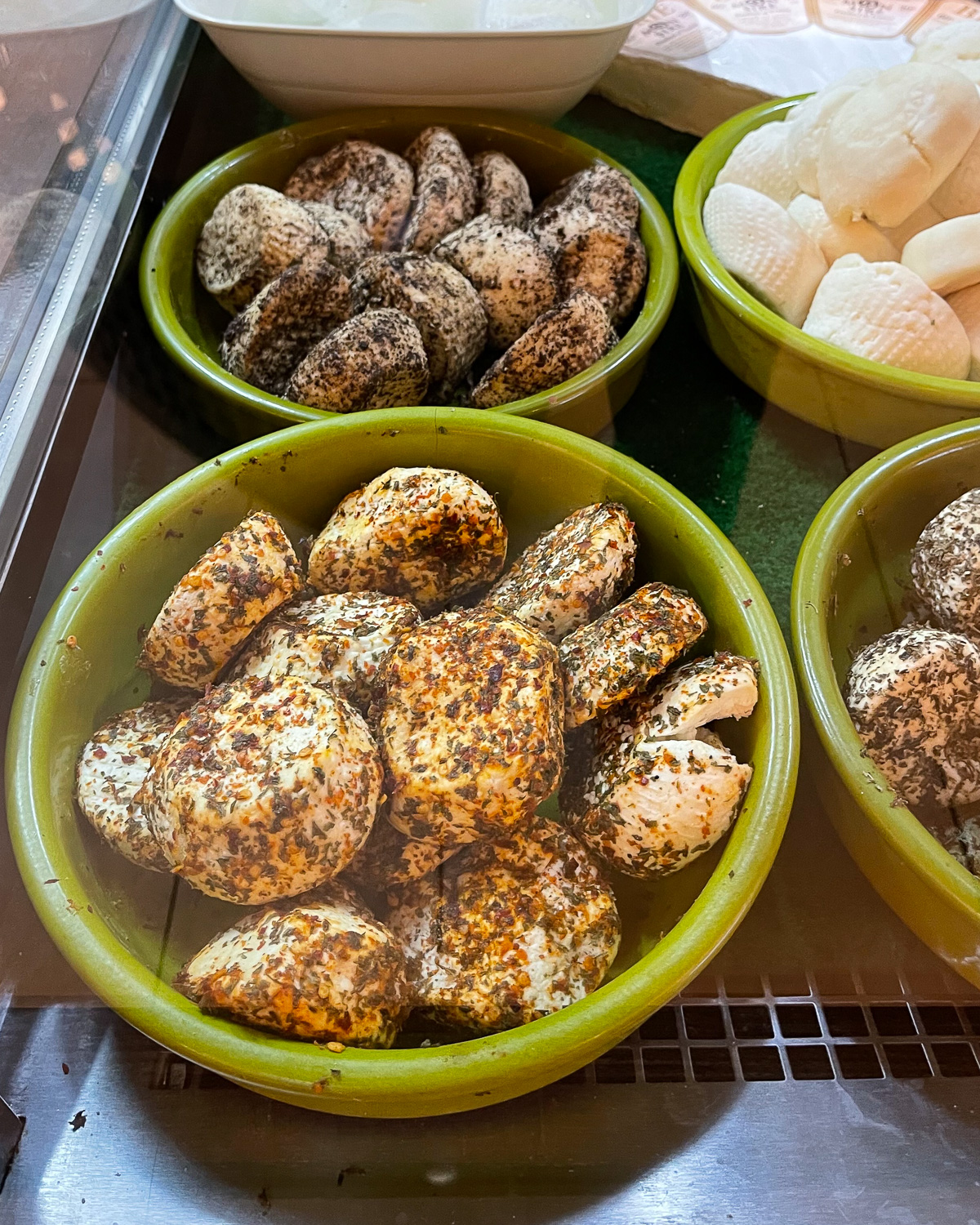 Local Maltese produce
To understand the dishes and flavours that you'll find in Malta, let's take a look at the produce grown here.
Olives  – The olive tree is indigenous to Malta as well as throughout the Mediterranean, with the native variety being known as il-perla for its white colour. With population growth and pressure on land, there is less commercial olive production in Malta than in the past but old olive trees are protected. An annual olive festival is held each September in the town of Żejtun to mark the olive harvest.
Capers – this typical Mediterranean bud is preserved in brine mixed with vinegar and used to add some zing to salads and cooked dishes. The small bushes grow especially well on Gozo and harvesting of the buds by hand takes place in June.
Maltese blood oranges – the typical oranges grown in Malta are blood oranges, with a reddish skin and deep red flesh. When they are in season you may be offered freshly squeezed blood orange juice as a drink, which is also deep red in colour.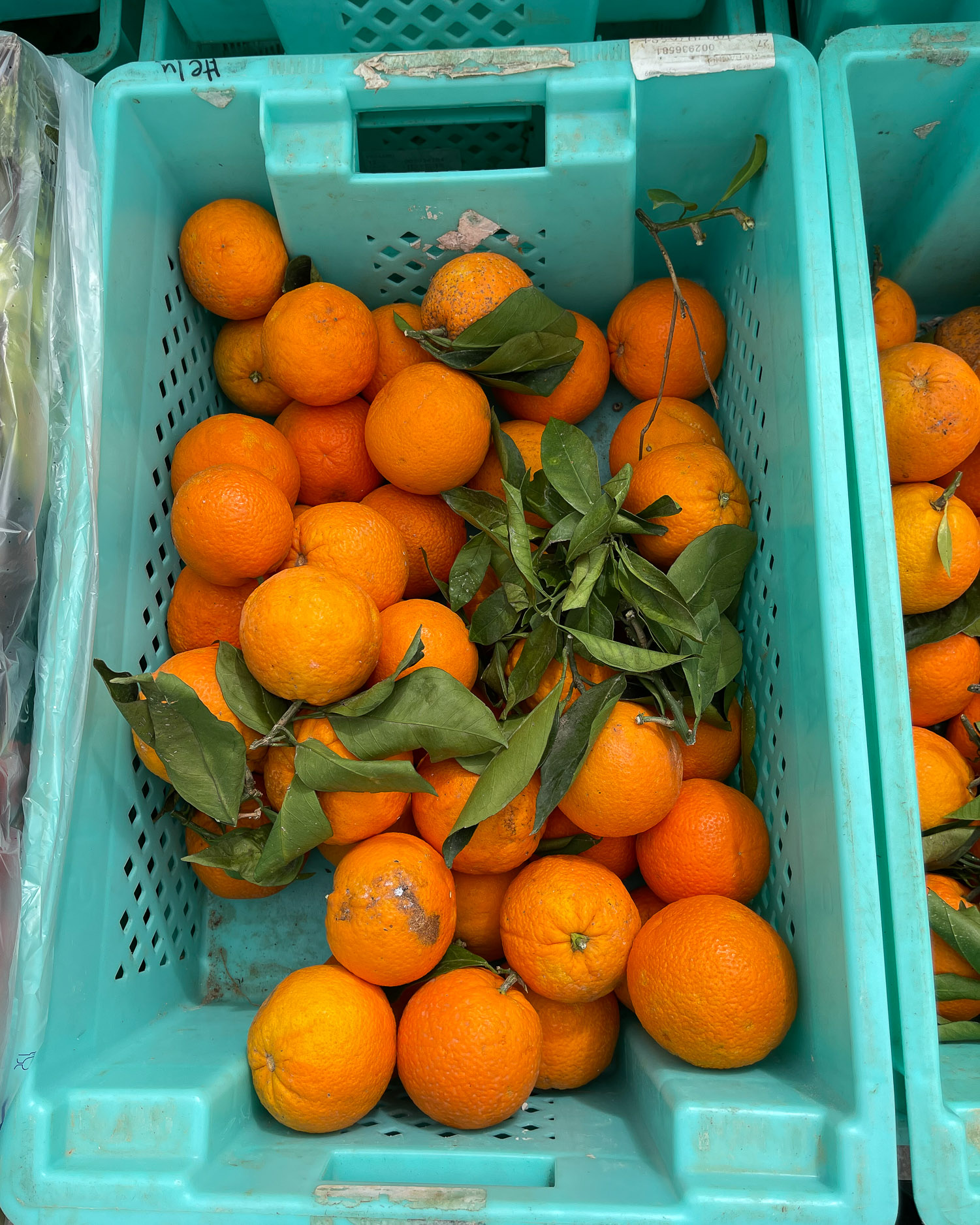 Sea salt – most of the sea salt is made near Xwejni in Gozo, where you can drive along the coast road and walk down to the salt pans. During the summer months, sea water is piped into the shallow pools and left to dry out, after which the salt crystals can be harvested. Buy a bag of salt to take home in souvenir and food shops.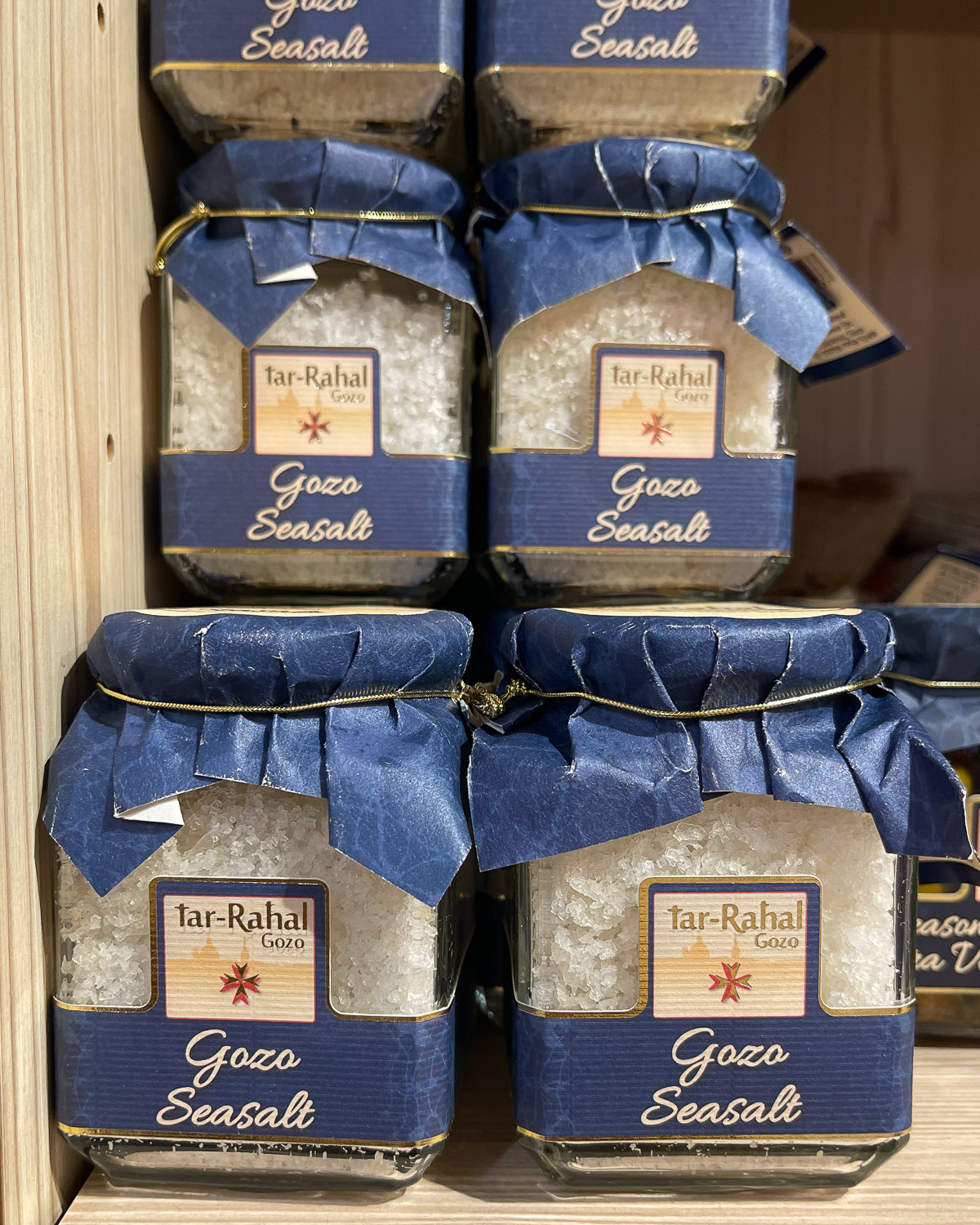 Maltese honey and preserves
Honey – The name Malta is thought to come from the Greek name of Melkite, meaning honey, given to the island in ancient times. Still farmed as an artisan product in Malta, the honey is flavoured with the wild thyme, clover and fruit blossom.
Carob – the low growing carob tree is widely found in Malta, with pods that are naturally sweet and when dried have a chocolate like flavour. They were traditionally made into a sweet syrup, jam or sweets called karamelli, that were permitted to be eaten in Lent. You may find them used in restaurants to make deserts like carob brownies.
Souvenir shops and delis in Malta also sell artisan preserves made with locally grown fruit and flower flavourings, such as those we enjoyed from Natural Preserves.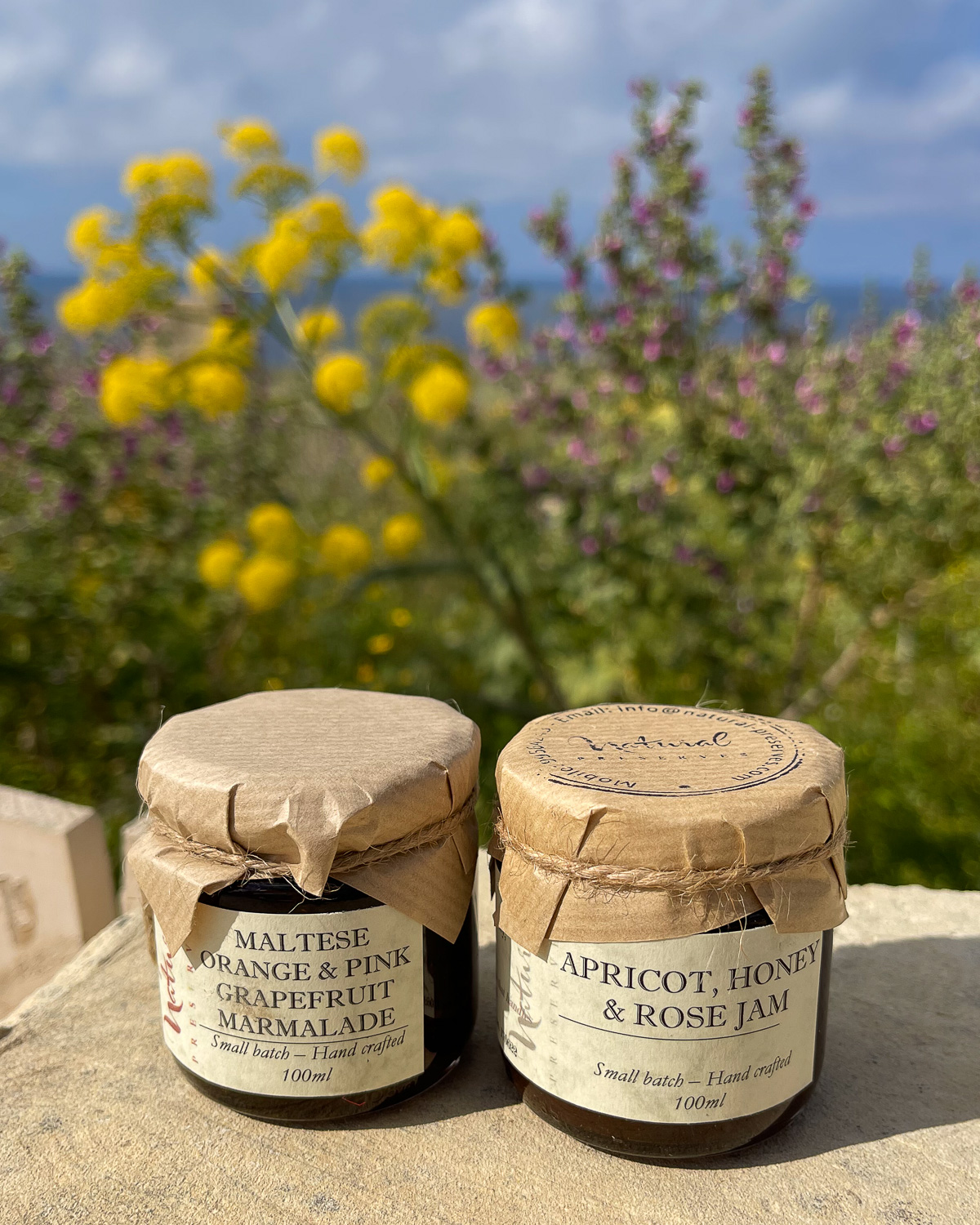 Maltese soft drinks
Pomegranate juice – the jewel fruit are grown in gardens around the island and are in season during September and October. Look out for fresh pomegranate juice as a healthy drink in Malta. We were offered some in Medina Restaurant in M'Dina which serves dishes inspired by the north African influences on Malta.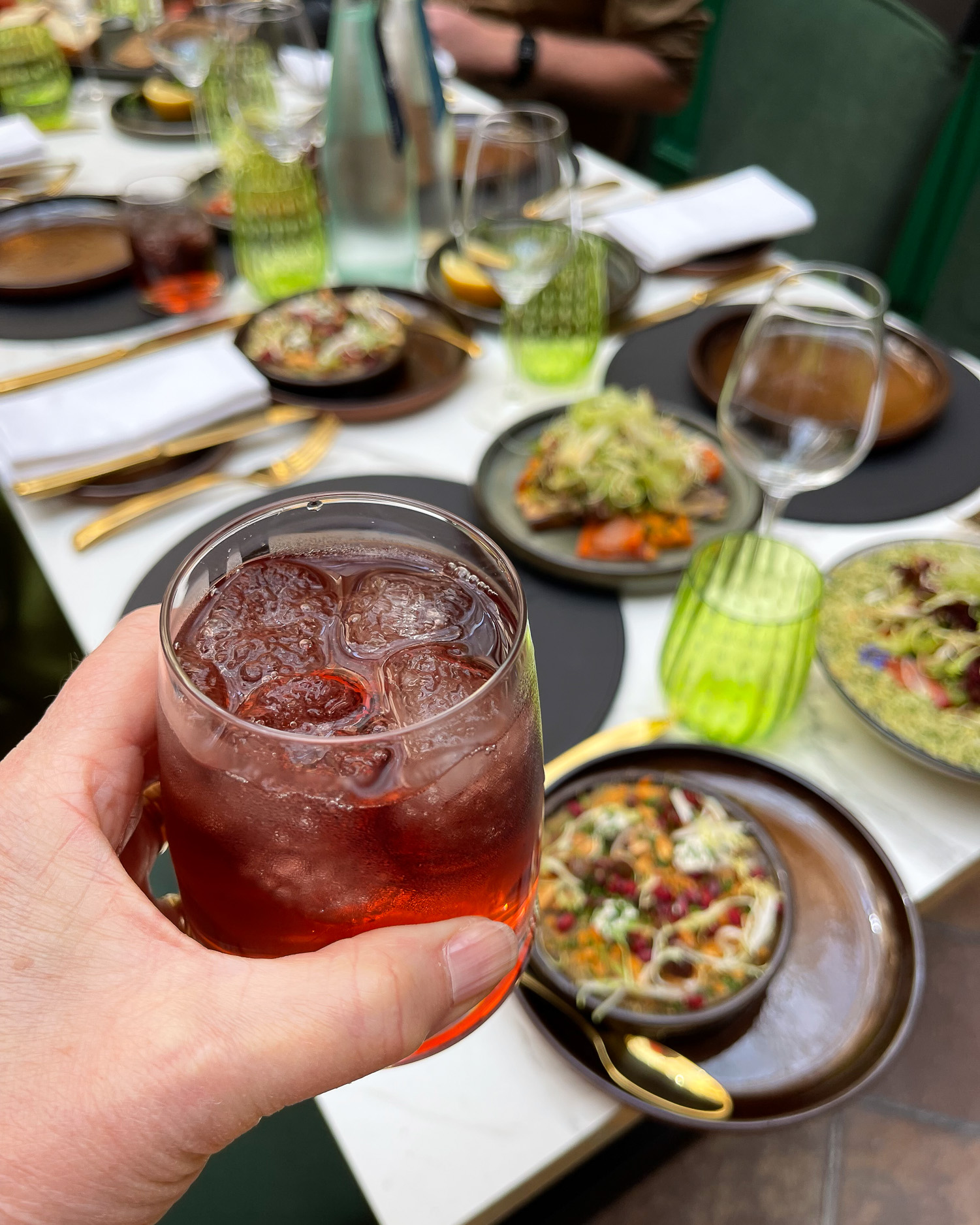 Blood orange juice – the native deep red orange of Malta makes a refreshing drink when freshly squeezed. We were offered some in Terrone restaurant in Birgu.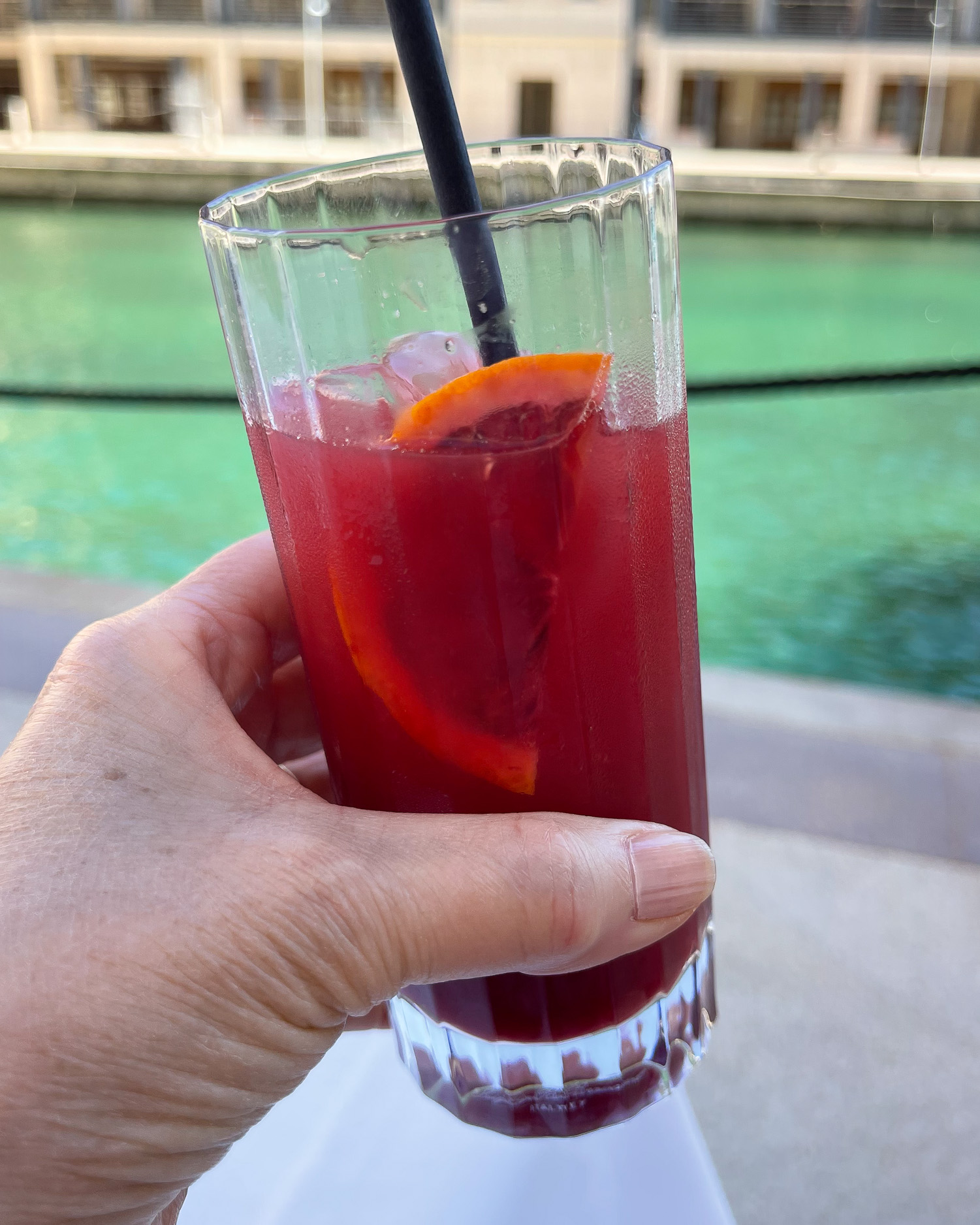 Kinnie – Malta's favourite soft drink is made by the island's leading brewer who also make Cisk beer. To me it tasted like a mix of cola and fizzy orange soda, with the bitter orange (but non alcoholic ) overtones of Campari or Aperol. I found Kinnie too sweet for my taste, but it could be a refreshing pick me up when served chilled in summer.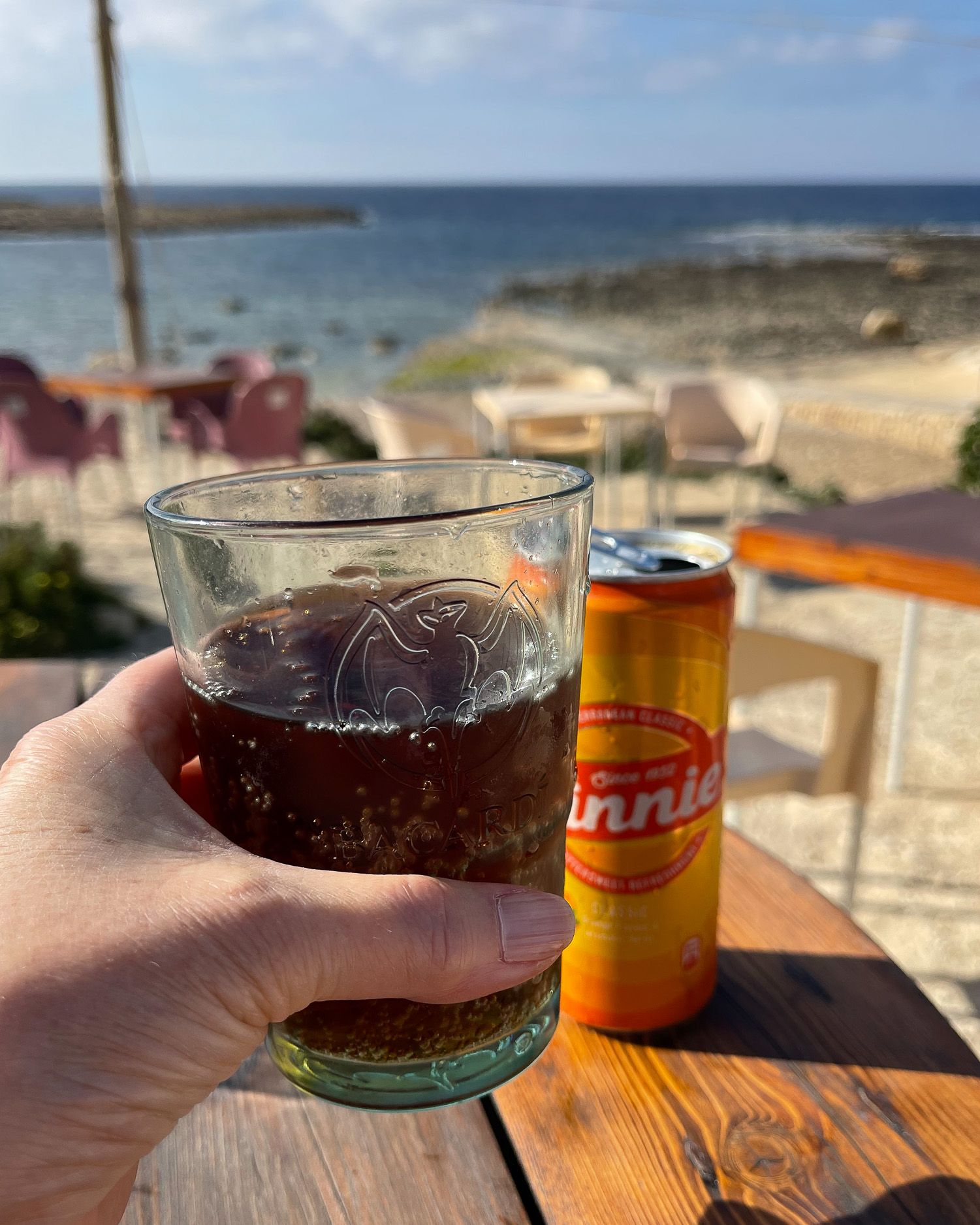 Maltese beer
Cisk beer – Cisk beer (pronounced chisk) is found everywhere in Malta and pretty much dominates the beer scene on the island. It's a light, golden lager, designed to be served chilled on a hot summer's day. The beer is also offered as Cisk Excel (low carb), Cisk 0.0 (no alcohol), Cisk Pilsner, Cisk Export, and several Cisk fruit flavours.
The same brewer also offers beer under the Farsons brand, for stout, pale ale and amber ale. If you want to find out more about Malta's brewing heritage, visit The Brewhouse Malta, in the old Farson's brewery, which has several restaurants and a rooftop bar to try out all the beers.
Craft Beers in Malta – If you are a beer drinker looking for more complex flavours, try out some local Maltese craft beers from The Huskie Craft Beer company, Stretta Craft Beer, Phoenix Raw Beer microbrewery and Lord Chambray Brewery on Gozo.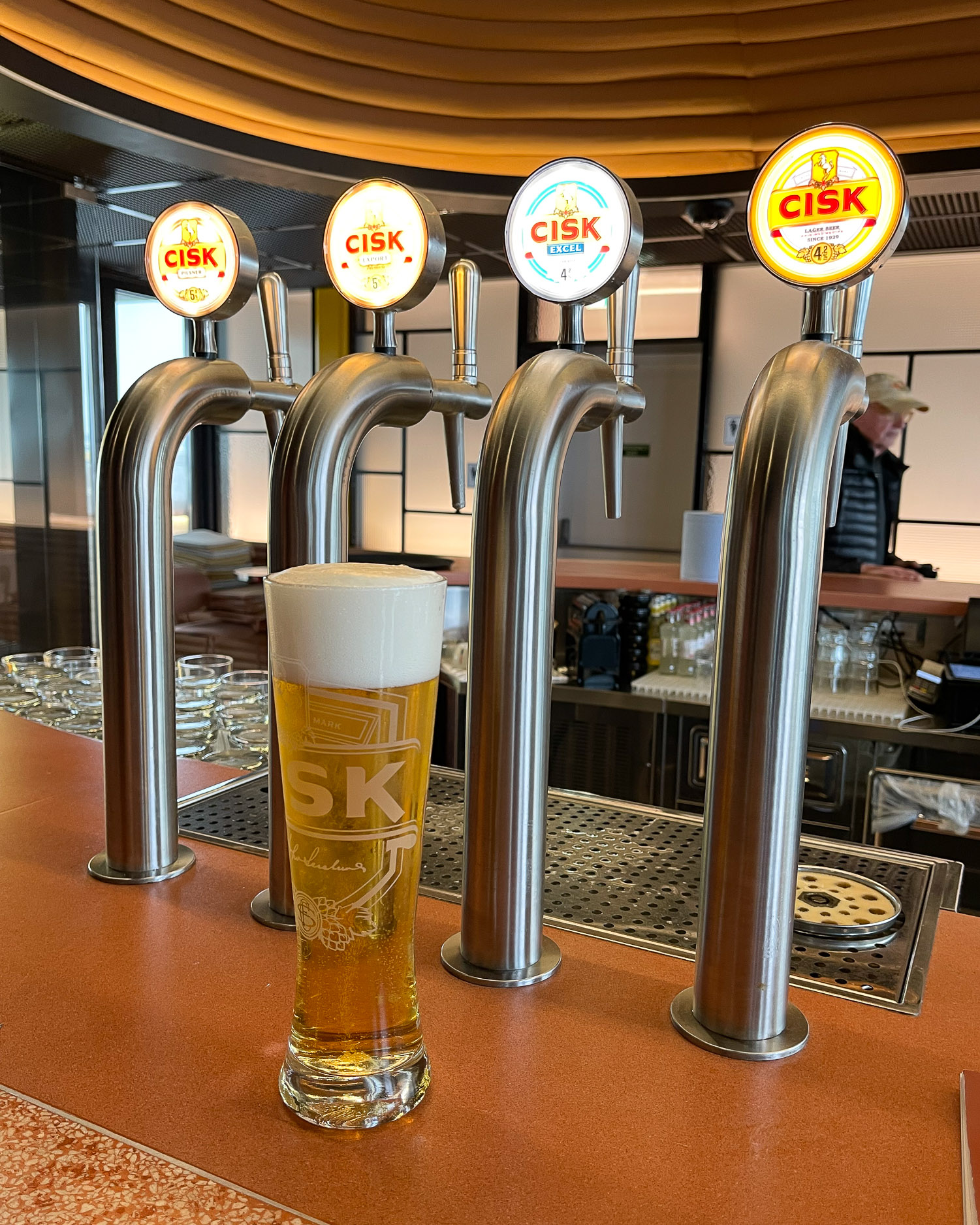 Wine in Malta
Although vines have been grown in Malta for centuries, in recent years the island has not been known as a big wine producer. However wine making has been going through something of a renaissance, with smaller boutique wineries setting up, such as the Ta'Betta vineyard in Malta which we visited.
The oldest wine makers on Malta are Marsovin and Emmanuel Delicata, which have both been making wines since the early 20th century. Other names to look out for include Meridiana, Camilleri, Montekristo and the Gozo wineries of Ta'Mena and Tal-Massar.
The most popular grapes are Cabernet Sauvignon, Merlot, Syrah and Chardonnay, in addition to the indigenous varieties of Gellewza (red) and Girgentina (white). As the quantities of wine produced are relatively small, most Maltese wine is drunk on the island with not much being exported, so be sure to try it when you visit.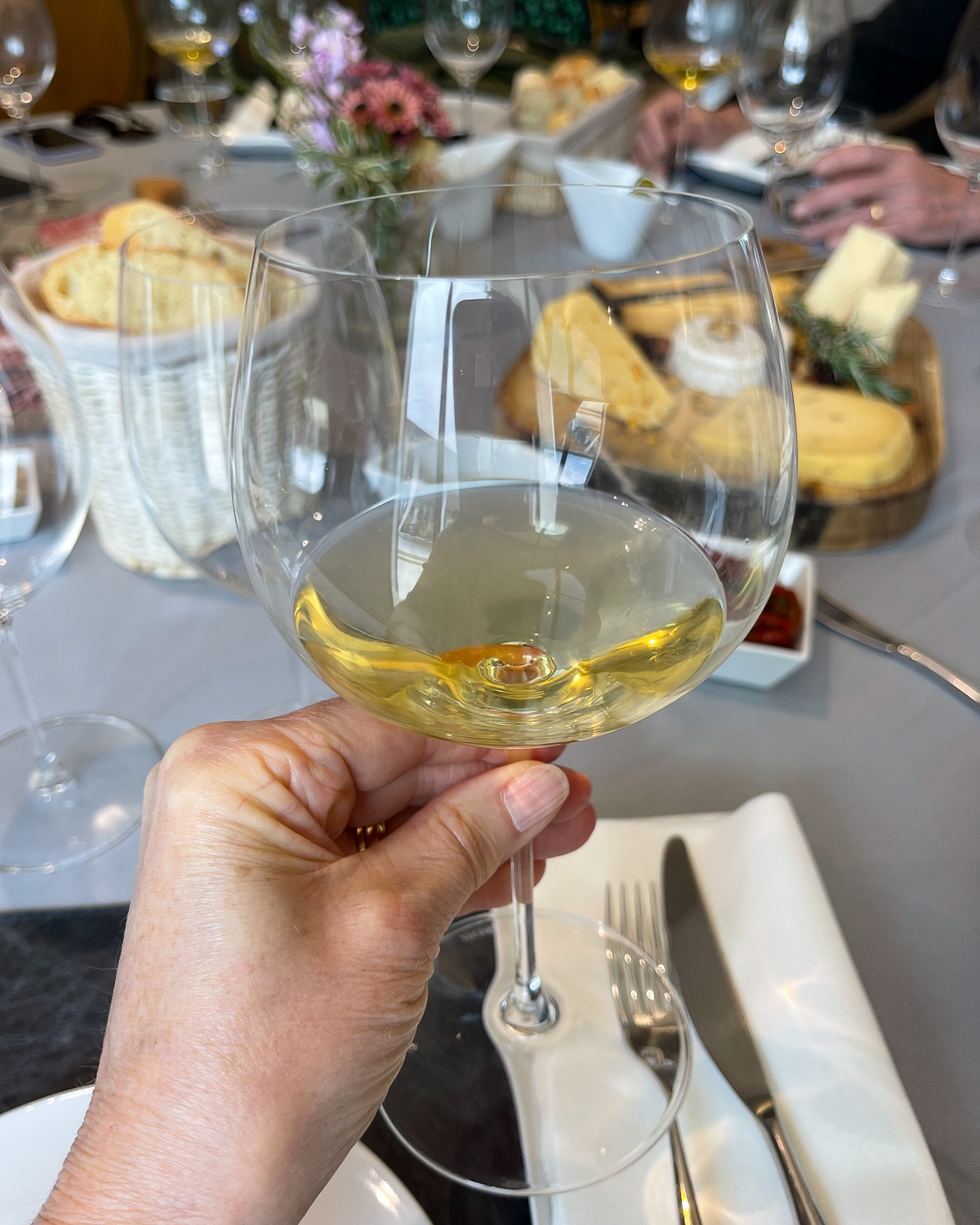 Wine tasting in Malta
Many of the wineries offer tastings, but due to the small scale of the businesses, this needs to be arranged in advance and you can't just turn up. It's best to check the websites of the wineries you'd like to visit and plan ahead. The wineries in Malta that offer pre-arranged tours and tastings include Marsovin, Meridiana, Delicata, and on Gozo Tal-Massar and Ta'Mena.
You can also take this full day wine tour in Malta that includes visits to the Marsovin and Meridiana wineries. If visiting in the summer months through to September, look out for the wine festivals that take place in various parts of Malta and Gozo. In Valletta, wine lovers should head to Trabuxu wine bar where you can taste a range of local wines accompanied by platters of local cheese and charcuterie.
Best food tours in Malta
If you'd like to learn more about food in Malta why not choose one of these tours?
Valletta food and drink walking tour – Discover the authentic food and drink of Malta with several tasting stops as you pass the main sights of Valletta. Book here.
Full day wine tour in Malta – This small group tour visits two of the oldest wineries on Malta, the Marsovin and Meridiana wineries, with wine tastings accompanied by a traditional Maltese platter. Book here.
Valletta street food and culture tour – Learn about local food culture with tastings of sweets, street food and drinks in this walking tour around Valletta. Book here.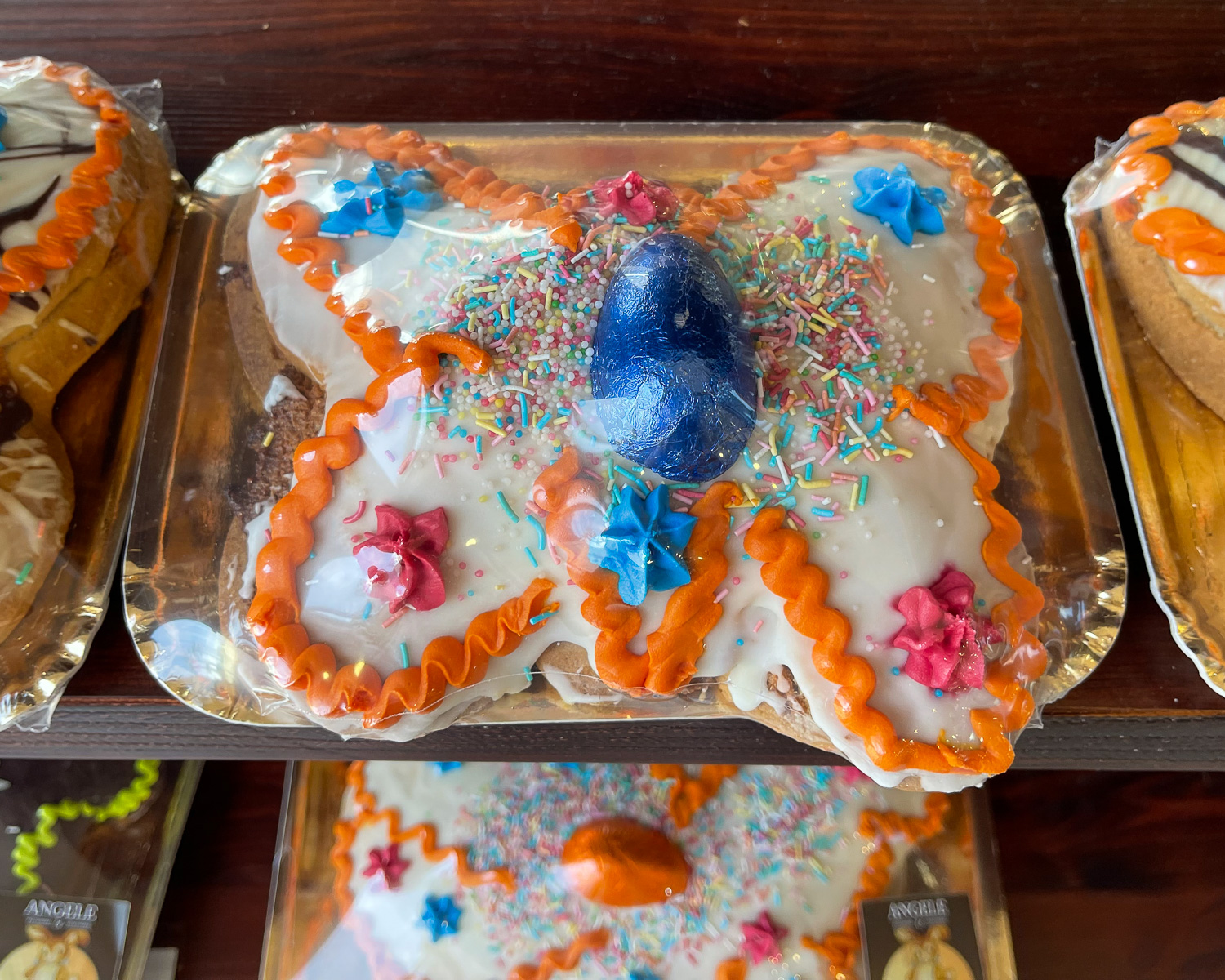 9 Fun food experiences in Malta
If you are on holiday in Malta and want a special experience that gives insights into the food and culture of Malta, we have a few ideas for you.
1. Ftira making with Karlitos Way
One of our favourite Malta food experiences was making the pizza-like Gozo Ftira with chef Karl Mallia. Karl has created a farm to fork experience in the rural area of Girgenti, in a pretty smallholding with ducks and a newly planted olive grove. Sadly Malta's population pressure means that small working farms like this are increasingly rare, as land is expensive and old buildings are converted into country homes.
We got a taste of Maltese rural life, as we created the Ftira using all local ingredients as toppings. On top of the sourdough base we piled ricotta cheese, anchovies, Maltese sausage, capers and fresh tomatoes.
Then the Ftira went into a wood burning oven to create a crisp charred crust in just minutes. It was heaven to sit munching newly baked Ftira in the sunshine surrounded by green fields and spring flowers!
Book the Ftira making experience and other authentic private tours in Malta through Karlito's Way.
2. The Brewhouse Malta
For a dive into Malta's beer culture visit The Brewhouse in Malta, a museum and brewery experience located in the old Art Deco Farson's Brewery. In the Farson's Brewery Experience, we learned how beer became popular with thirsty sailors and soldiers stationed in Malta.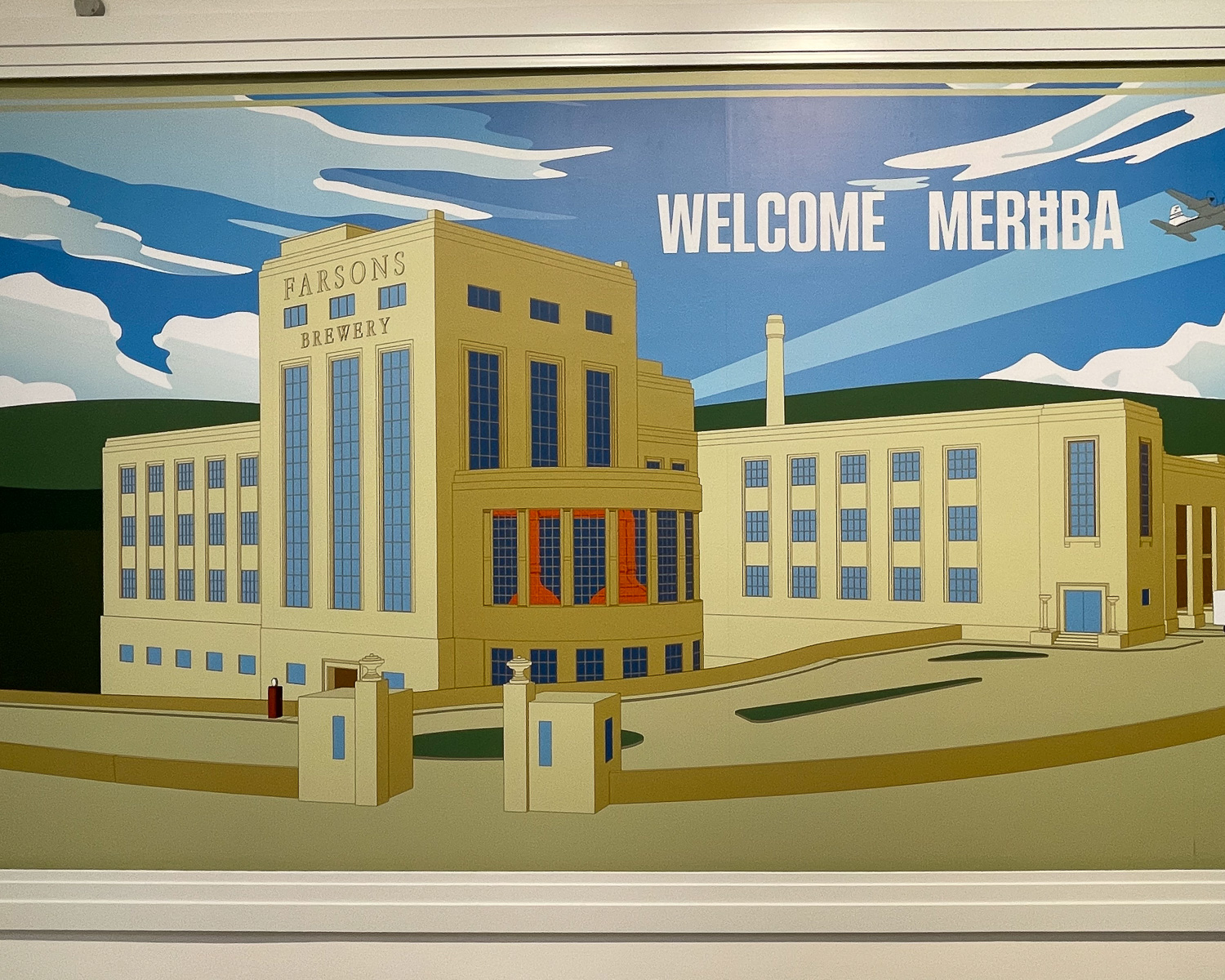 The huge copper vats used for the brewing are on display, together with information and memorabilia from the Cisk brewing business, built up by three Maltese families.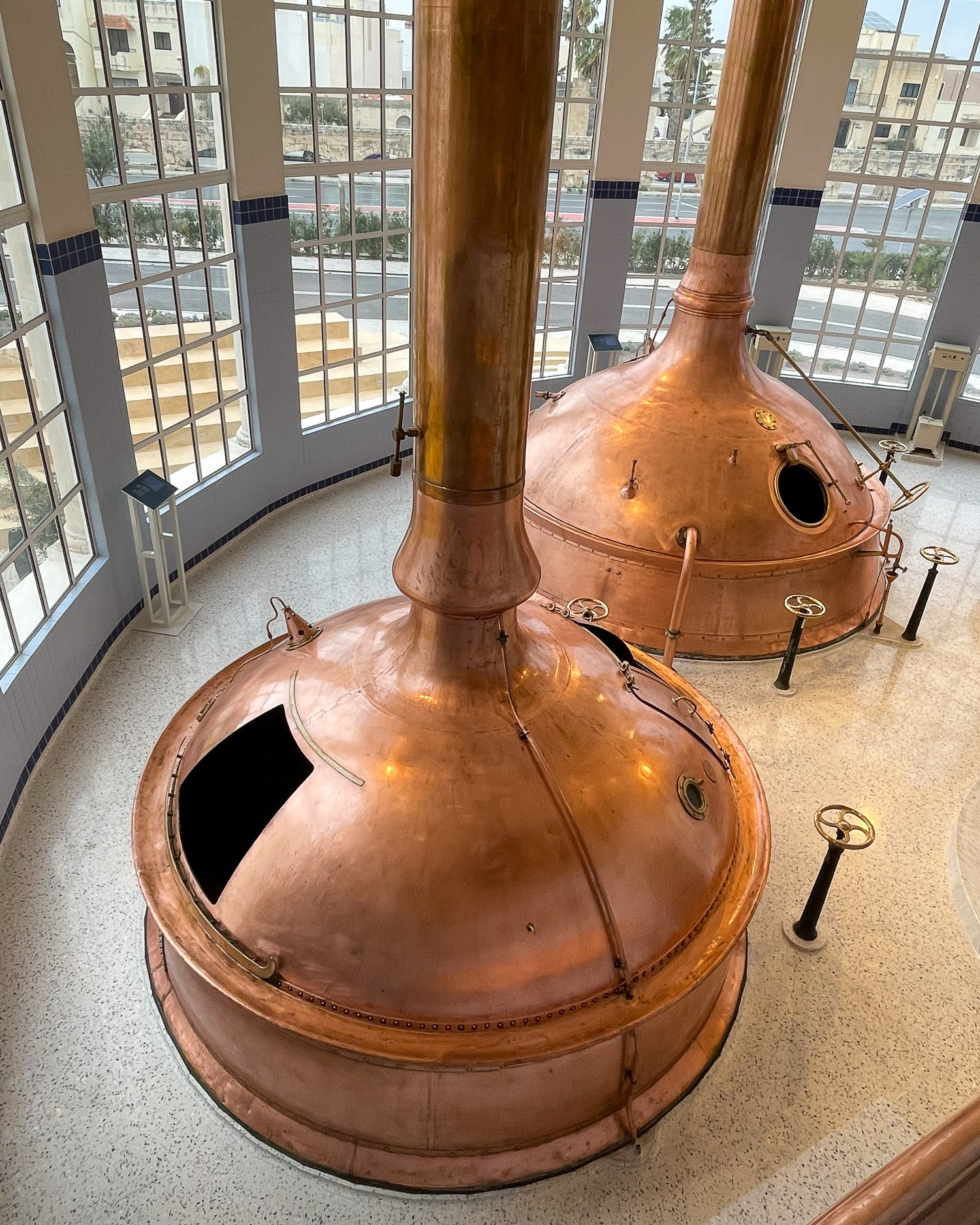 Finish your visit in the rooftop bar, The Cisk Tap, where you can try the draught Cisk Beer as well as other drinks and cocktails. For a bite to eat, stop at The Chapels Gastrobrewpub or The Kettles Cafe seated under the old copper brewing kettles, that have been incorporated into the design.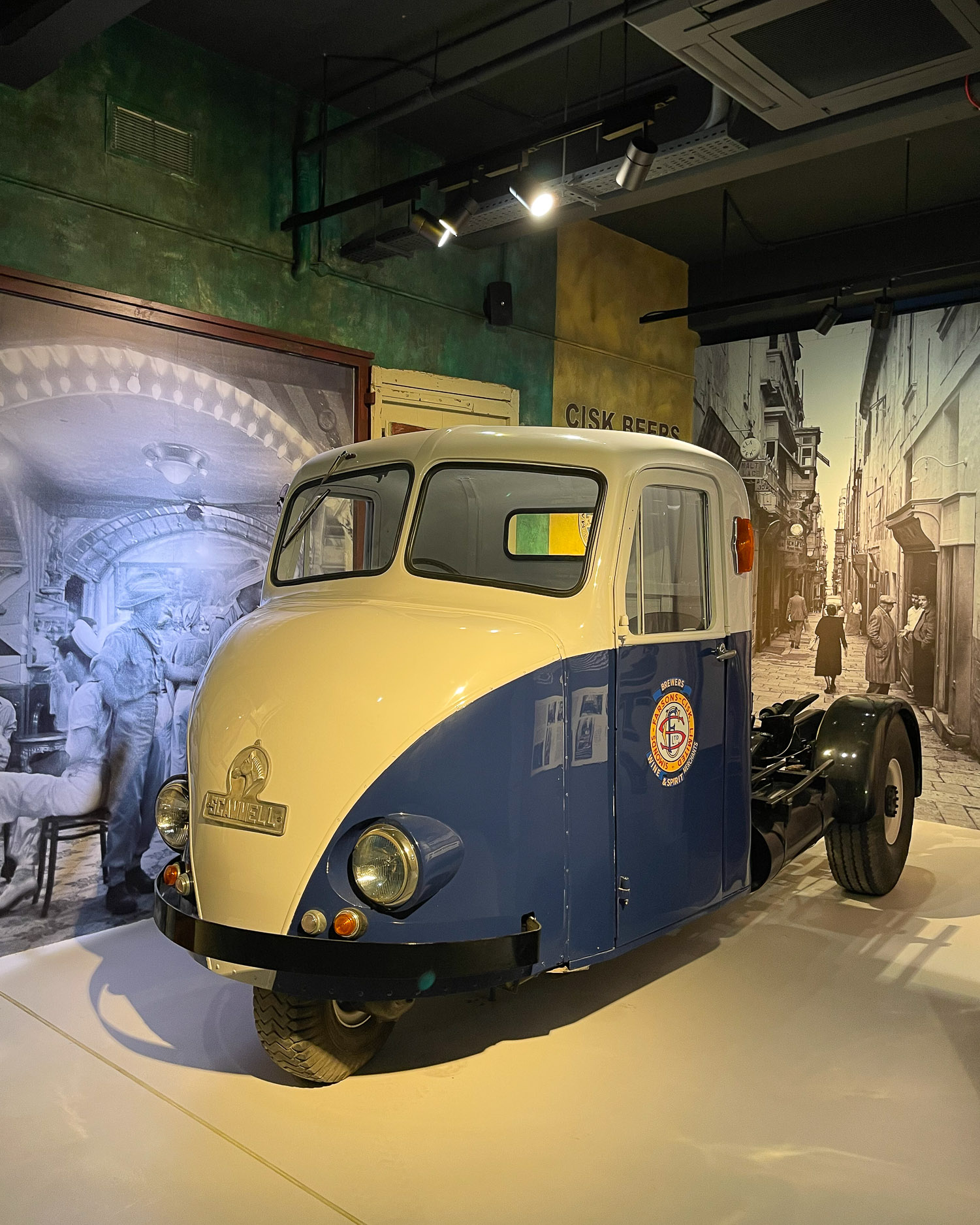 3. Seafood lunch in Masaxlokk
If there's one place to eat seafood in Malta, it has to be the fishing town of Marsaxlokk. The town is set on a broad bay, with brightly painted wooden fishing boats known as Luzzu bobbing in the harbour.
Since this is where the fishermen are based, you're pretty much guaranteed to eat super fresh fish. The daily market is busiest on a Sunday, when all the fish stalls set up and you can see the range of fish that you may be eating later.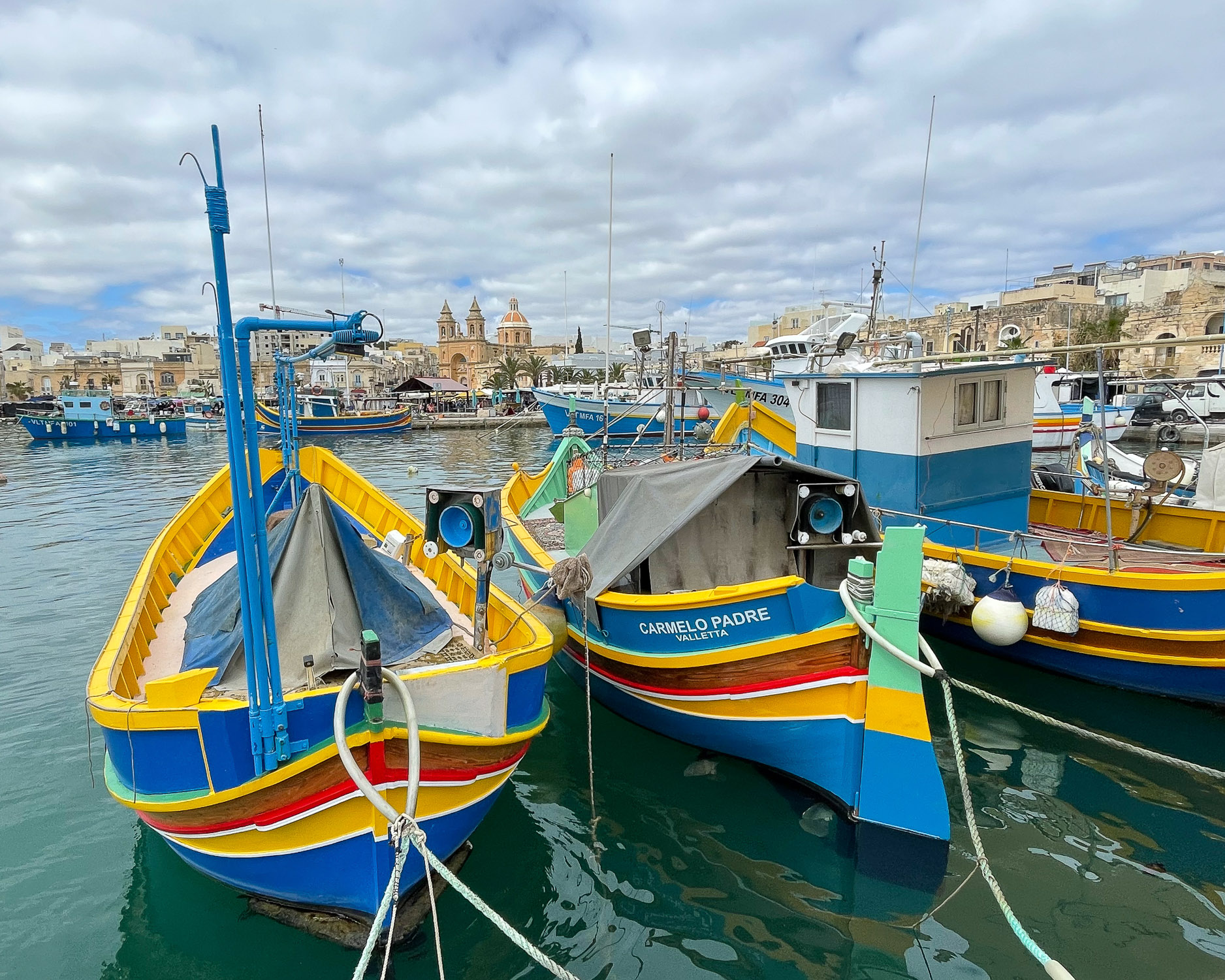 It's easy to take the bus from Valletta, then make a lunch booking at one of the different fish restaurants along the harbour front. We can recommend Tartarun where we ate, which specialises in locally caught fish and seafood.
After lunch, you may like to take a boat trip on one of the traditional wooden boats, to see the coastline and visit St Peter's Pool around the headland.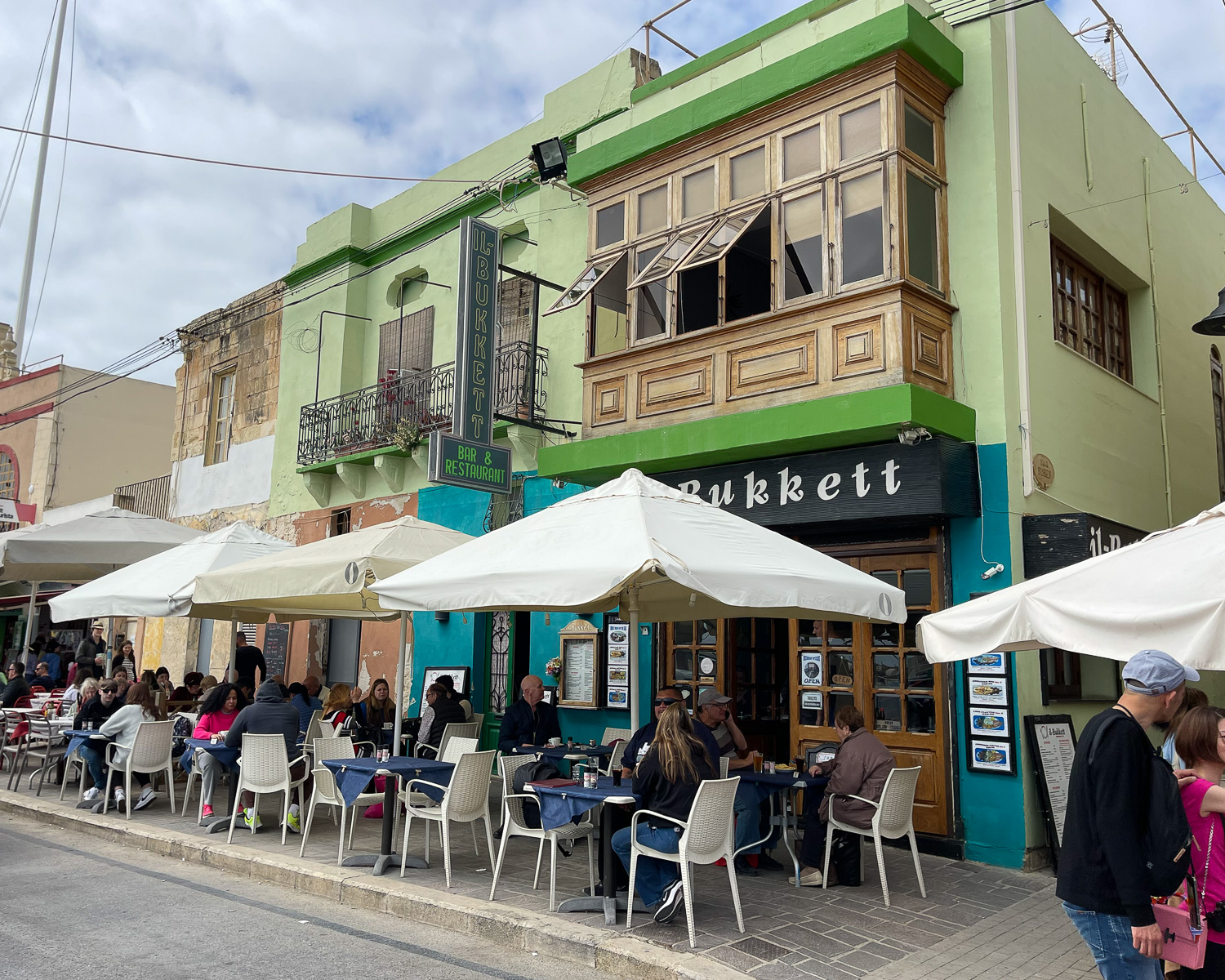 4. Maltese afternoon tea at Corinthia Palace Hotel
Afternoon tea is a tradition brought by the English that is alive and well in Malta. The elegant Corinthia Palace Hotel in San Anton is a great place to experience the tea rituals. It's right next door to the pretty San Anton Gardens, a beautiful place to stroll before your afternoon tea. Although most of the hotel was built in the 1960s, the afternoon tea is served in the original neo-classical mansion in an elegant double height room.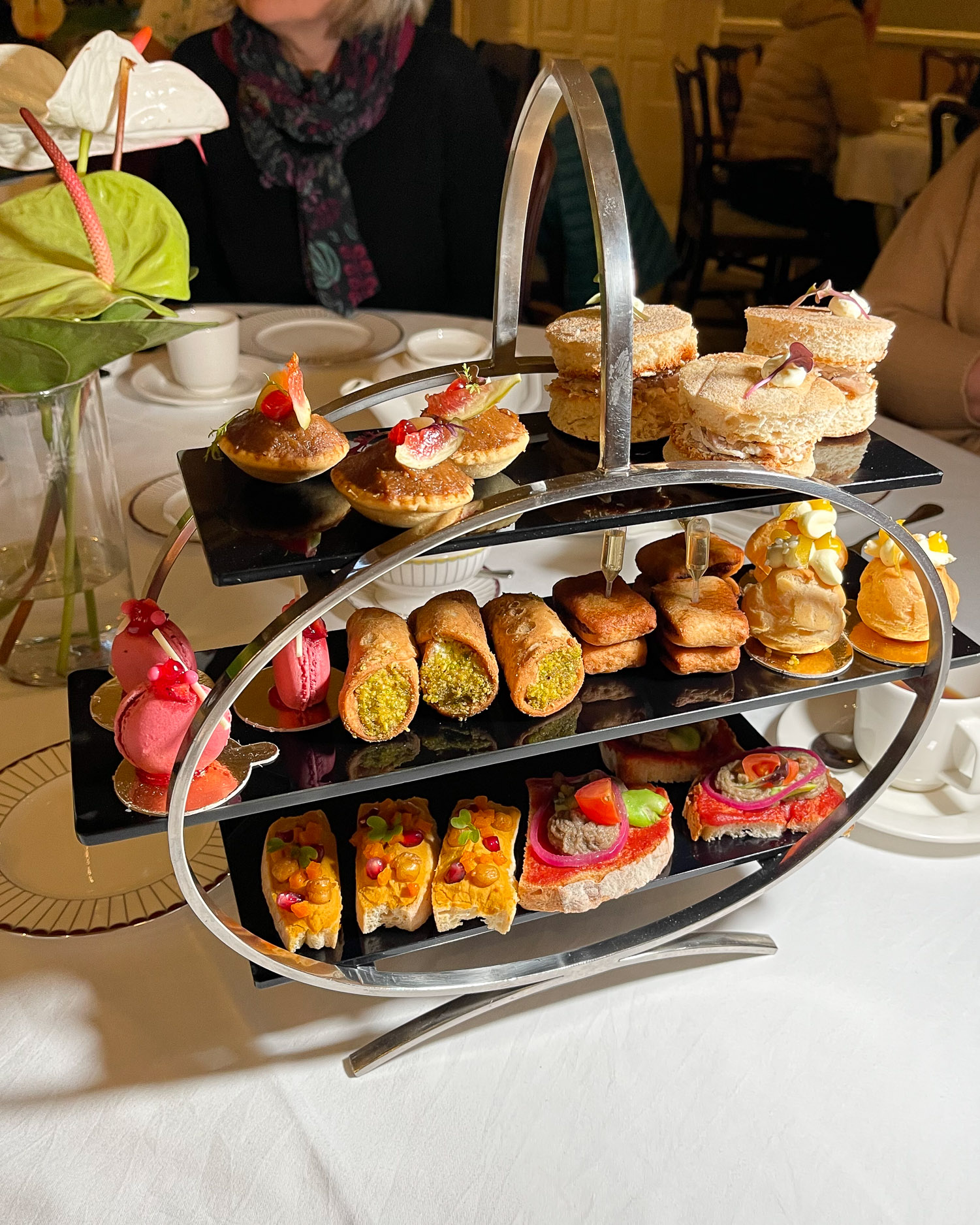 We loved our Maltese afternoon tea, inspired by all the flavours that are traditional in Maltese cuisine. In the savouries look out for the rabbit confit tart with fig jam or local sheep's cheese, scones perfumed with cumin, orange blossom and fennel, and sweet treats inspired by the ricotta kannoli and zeppoli choux cakes that are typical of Malta.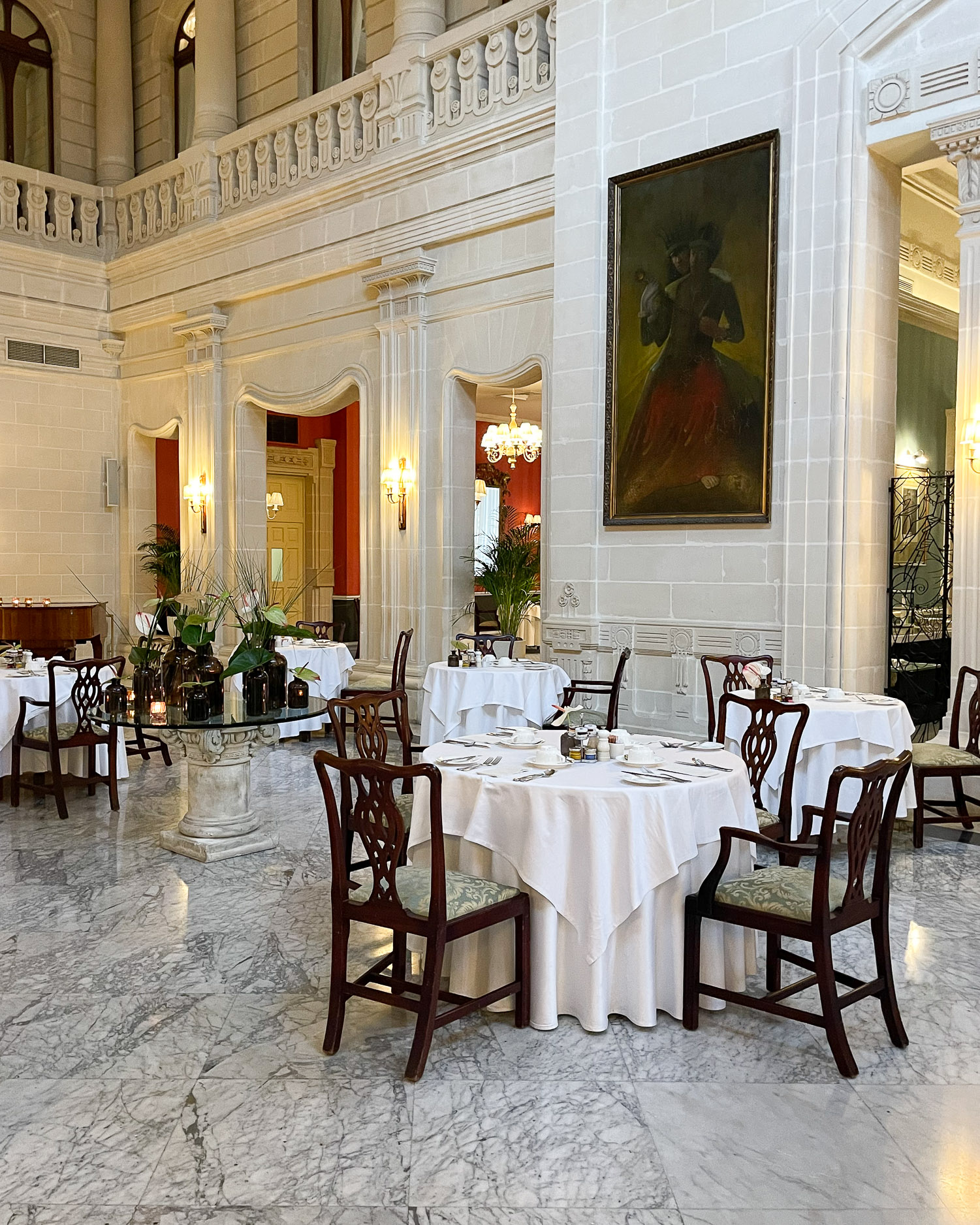 5. Coffee culture in Valletta
Valletta is the place to sit with a coffee in a sunlit square, to relax and watch the world go by. One of our favourite cafe terraces was Caffee Cordina in Republic Square, an old style coffee bar that's something of a Valletta institution. Be sure to take a look inside at the ornate interiors and check out the cakes, so you know what to order with your coffee.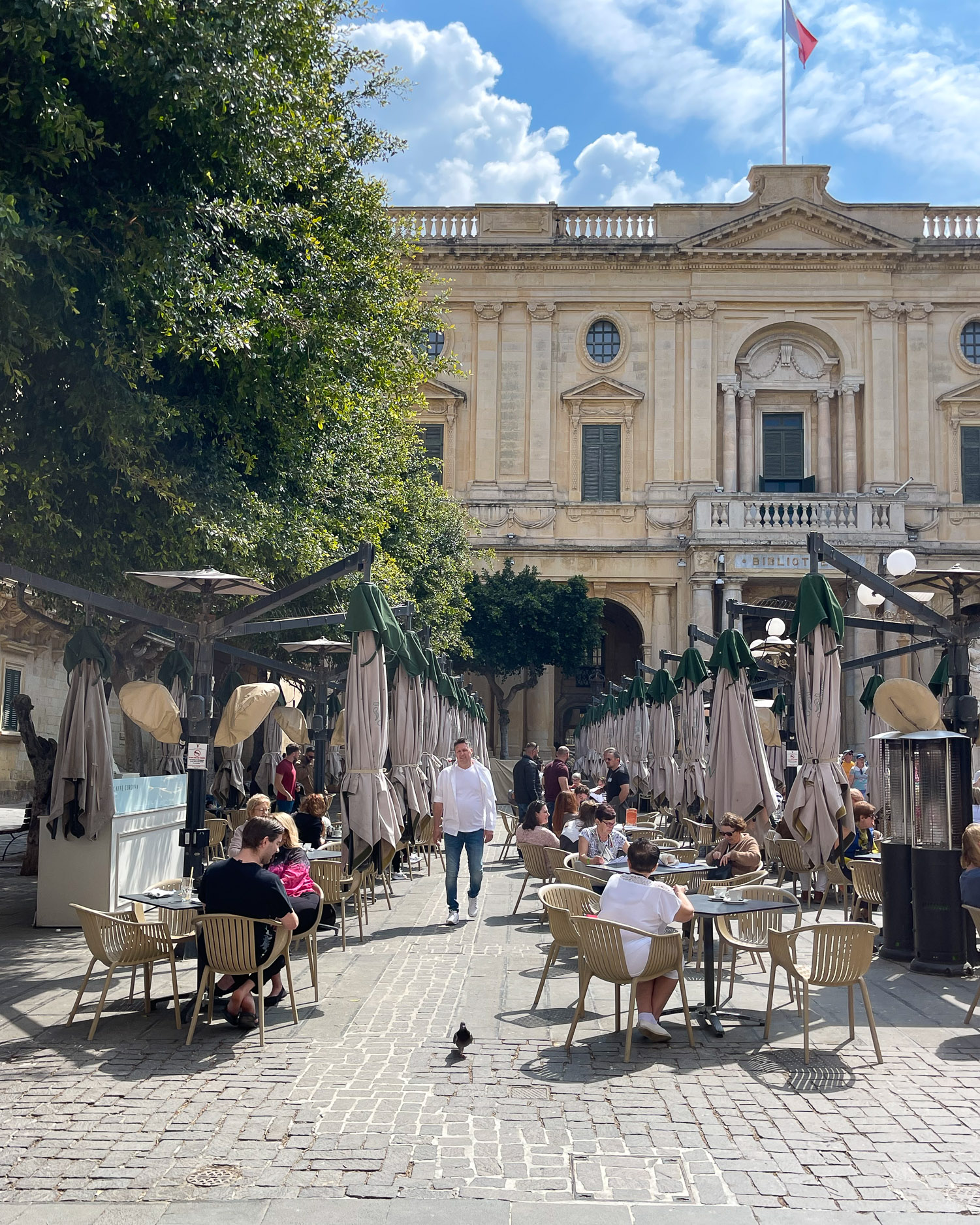 Another pretty square for a coffee is St John's Square, opposite the main entrance of St John's co-cathedral (which is where you exit when visiting). Take your pick from either of the two main cafes in the square or visit Manouche Craft Bakery under the colonnades.
Continuing from St John's Square towards Merchants Street there is another shady cafe under the trees called Luciano's that serves from a traditional green kiosk on the corner with Merchant Street.
The places I've mentioned are great for atmosphere, but if it's top quality barista style coffee you are after, head to Lot 61 (30, Old Theatre Street) or Sunday in Scotland (173, Santa Lucia Street).
For more things to see in Valletta read my article on 20 fun things to do in Valletta Malta
6. Cocktails on Straits Street
In the days when Malta was a British Naval Base, Strait Street was the sailor's drinking hole. Officers would socialise at the upper end of the street, while the lower end, known as The Gut, had a seedy reputation and doubled as the Red Light District. These days Strait street has reinvented itself as a trendy nightlife spot with numerous cocktail bars and small restaurants.
We enjoyed cocktails at Tico Tico (61 Strait Street) and heard good things about Yard 32 (32 Strait Street), a gin and tapas bar. There are many more bars to choose from in and around Strait Street. Look out for the atmospheric old bar signs that still hang on buildings above the street.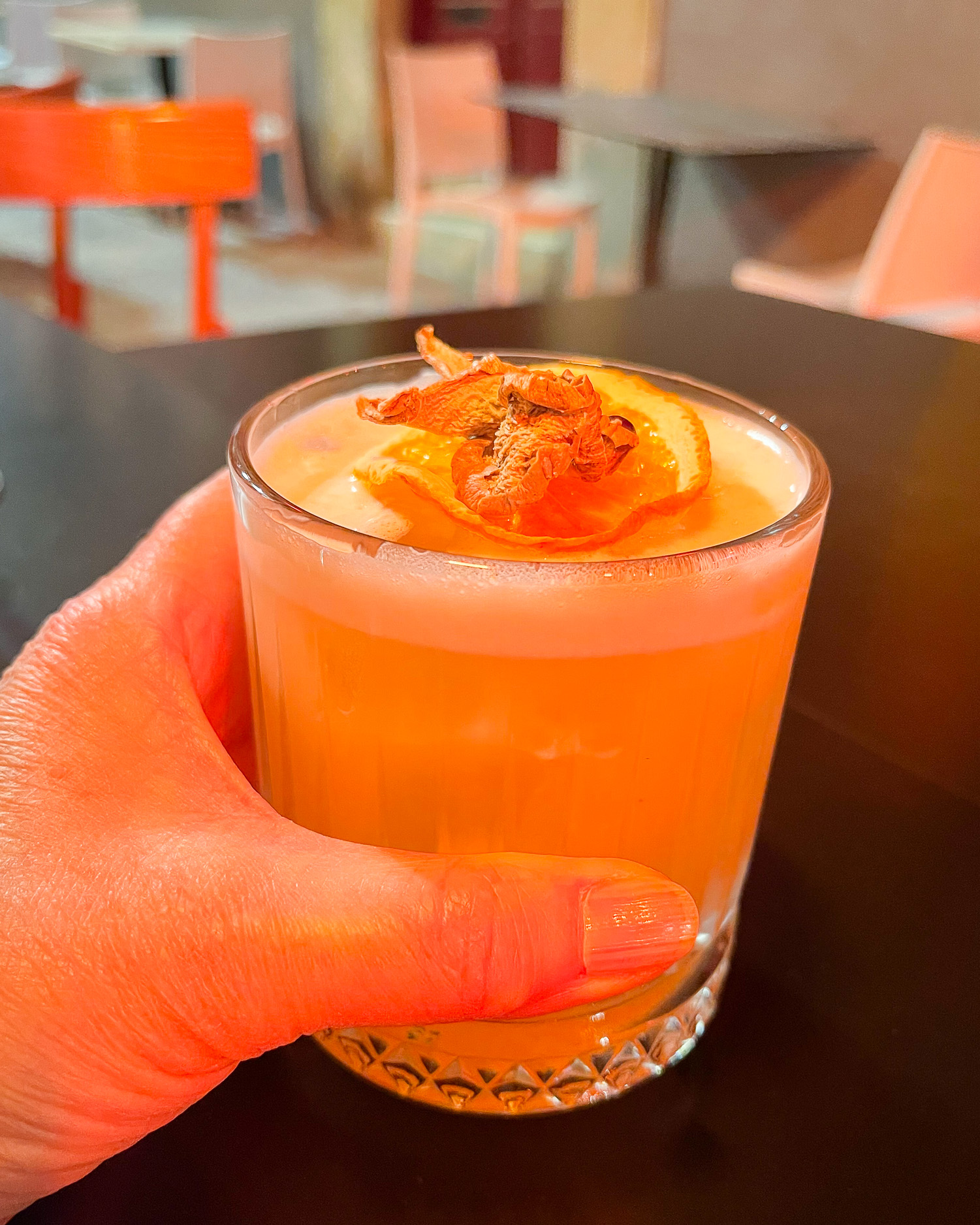 7. Picnic in Gozo with GozoPicnic
If you'd love to eat local and delicious food in the most scenic spots of Gozo, then get in touch with Ana from Gozo Picnic. Her business started when she began finding the best picnic spots to have lunch with her young daughter, preparing healthy food to share outdoors.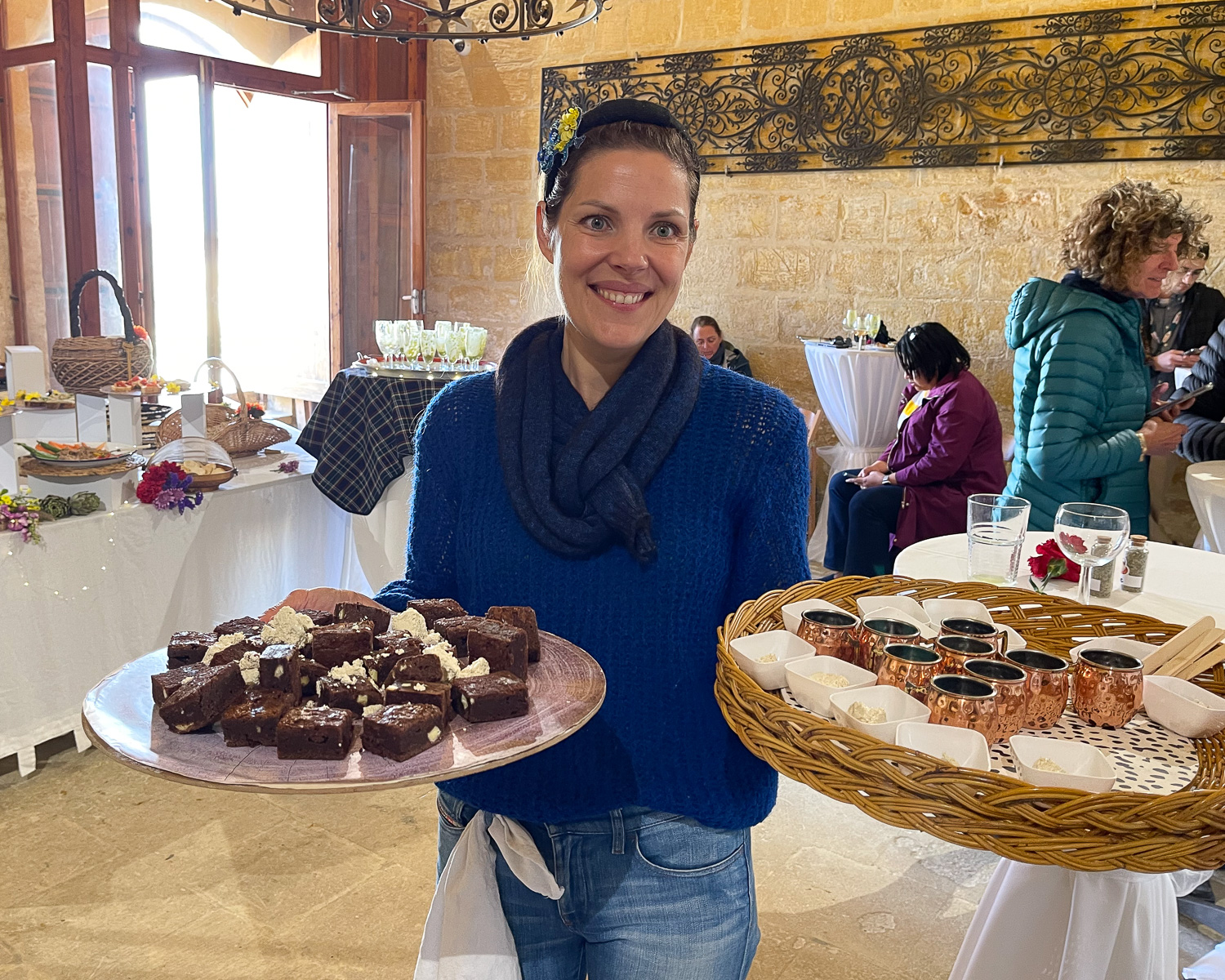 Now Ana offers a service to visitors who want a unique experience, and will set up your picnic with tables, cushions, cloths and of course delicious, locally inspired food. Each experience is different and you can discuss whether you'd like your picnic to be on a sandy beach, secluded cove or rural beauty spot.
We tried some of the Gozo Picnic dishes for lunch at the citadel in Victoria, Gozo with lots of local specialties. Ana prepared the Bigilla bean dip with crunchy vegetables, Maltese sausage, miniature sheep cheese tarts and some carob brownies to finish with spiced Maltese coffee.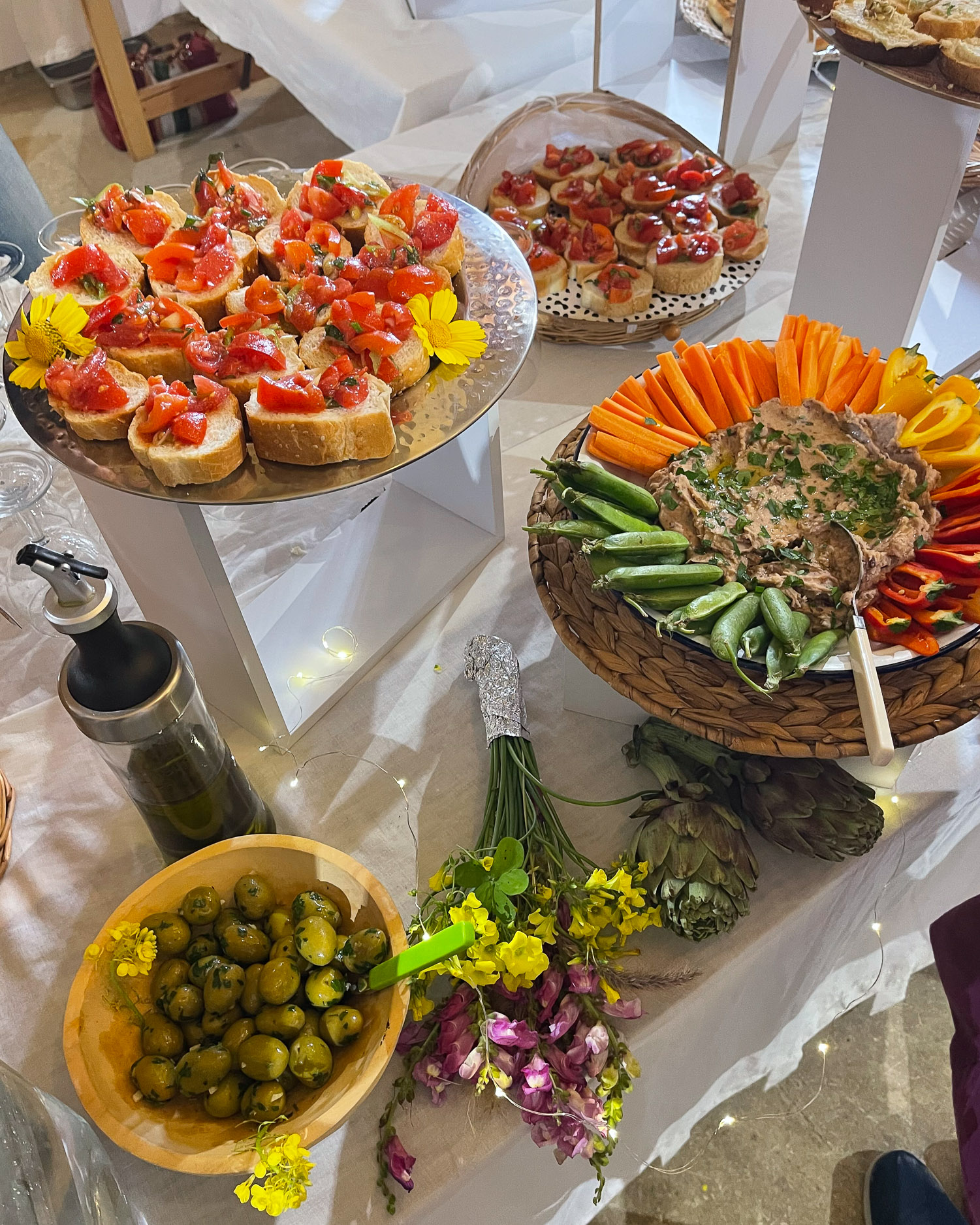 It was all beautifully presented with local flowers and fresh herbs. If you are visiting Malta and Gozo for a special event and want food that's healthy, natural and based on local produce, Ana also offers catering service.
8. Visit the salt pans of Gozo
There are salt pans in several locations around Malta and Gozo, but the best place to see these close up is Xwejni on Gozo's north coast. Drive along the coast road in this area and you'll easily spot the salt pans that create a photogenic chequer board effect, close to sea level. Park the car by the roadside and wander down to take a closer look at the salt pans, that were hand cut from the limestone bed rock.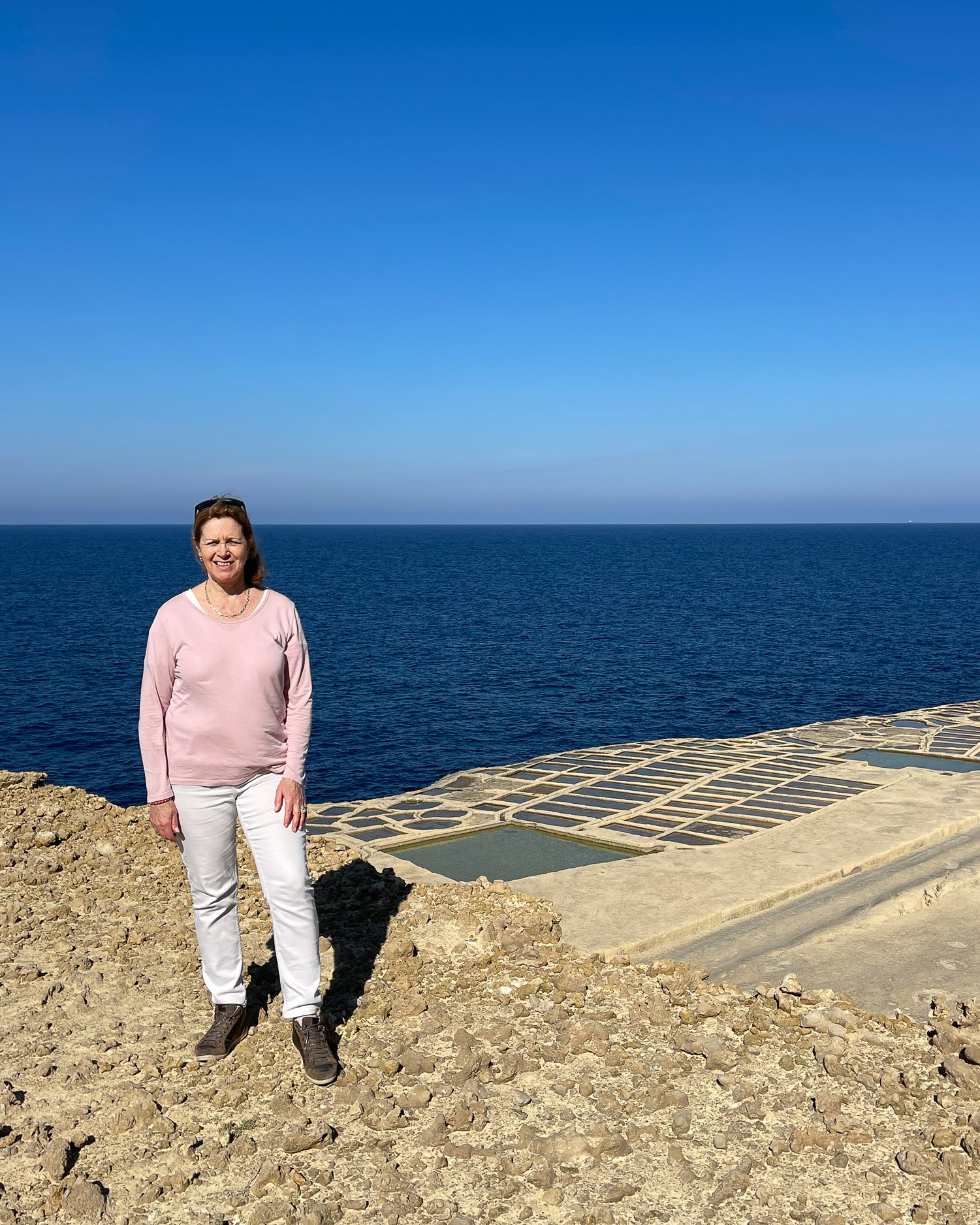 Salt is mostly harvested through the summer months, using sea water that is pumped into the shallow pools. After the water has evaporated, the salt crystals are swept up and made into piles, so the sun can dry the salt further.
In the past large quantities of salt were produced for preserving food. These days it's more of an artisan craft, continued by just a few families. Stop at the small salt shop near Xwjeni Bay, to buy a bag of the salt to take home, for an authentic souvenir of Malta and Gozo.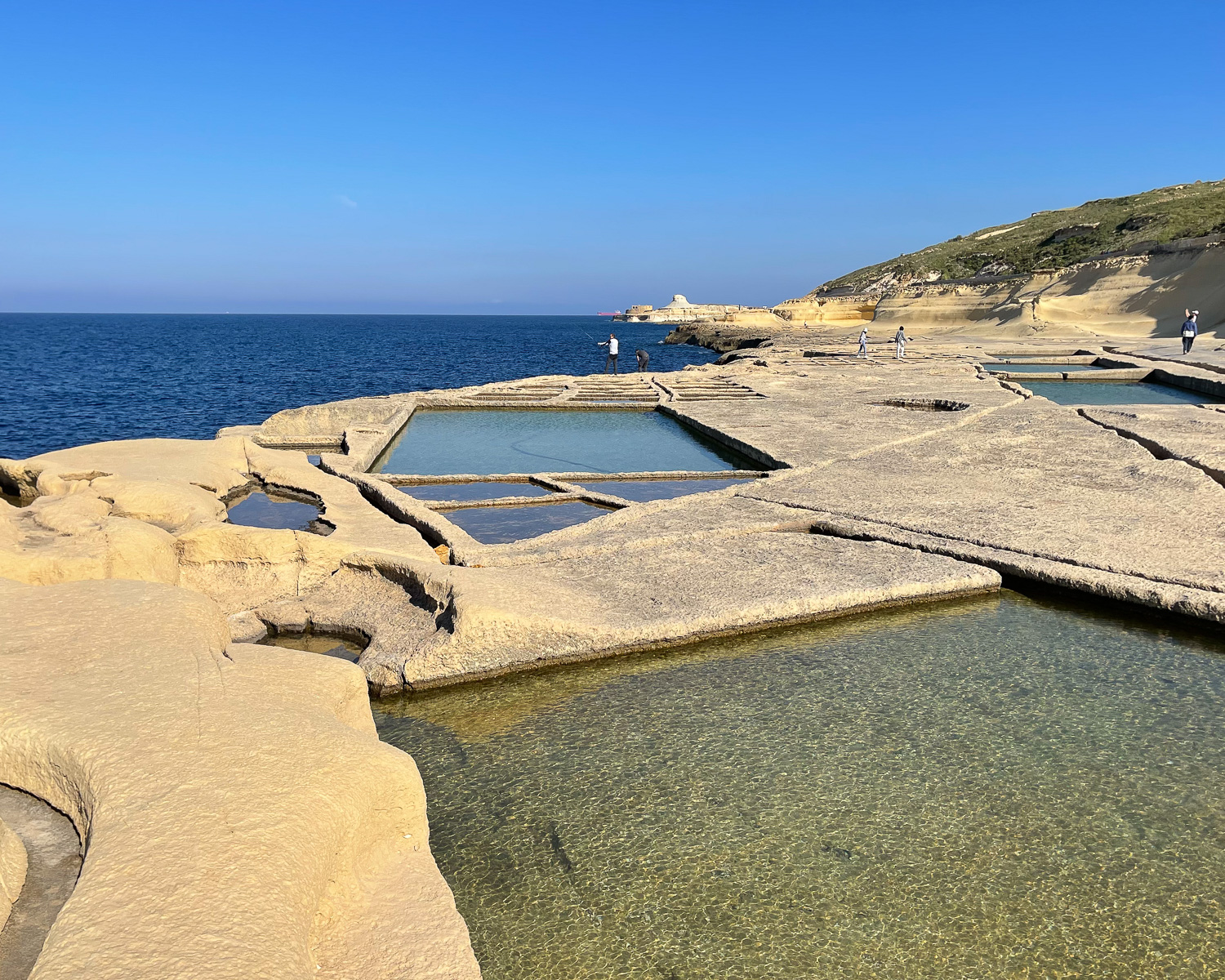 9. Visit a winery in Malta
There are a number of wineries you can visit in Malta and Gozo, but Ta'betta must be one of the most elegant! Private wine tasting events for small groups can be arranged in advance, like the one that we enjoyed. After a walk around the vineyards and a visit to the family's pet donkeys and goats, we were able to see the winery in a gorgeous traditional stone building with pretty gardens and sunny terrace.
Colourful concrete egg shaped vats are used to ferment the wines, allowing tiny amounts of oxygen to permeate for extra depth of flavour. There's a cellar where the wine is aged in oak barrels, a wine library to house all the winery's past bottles and an event space on the top floor where we had lunch.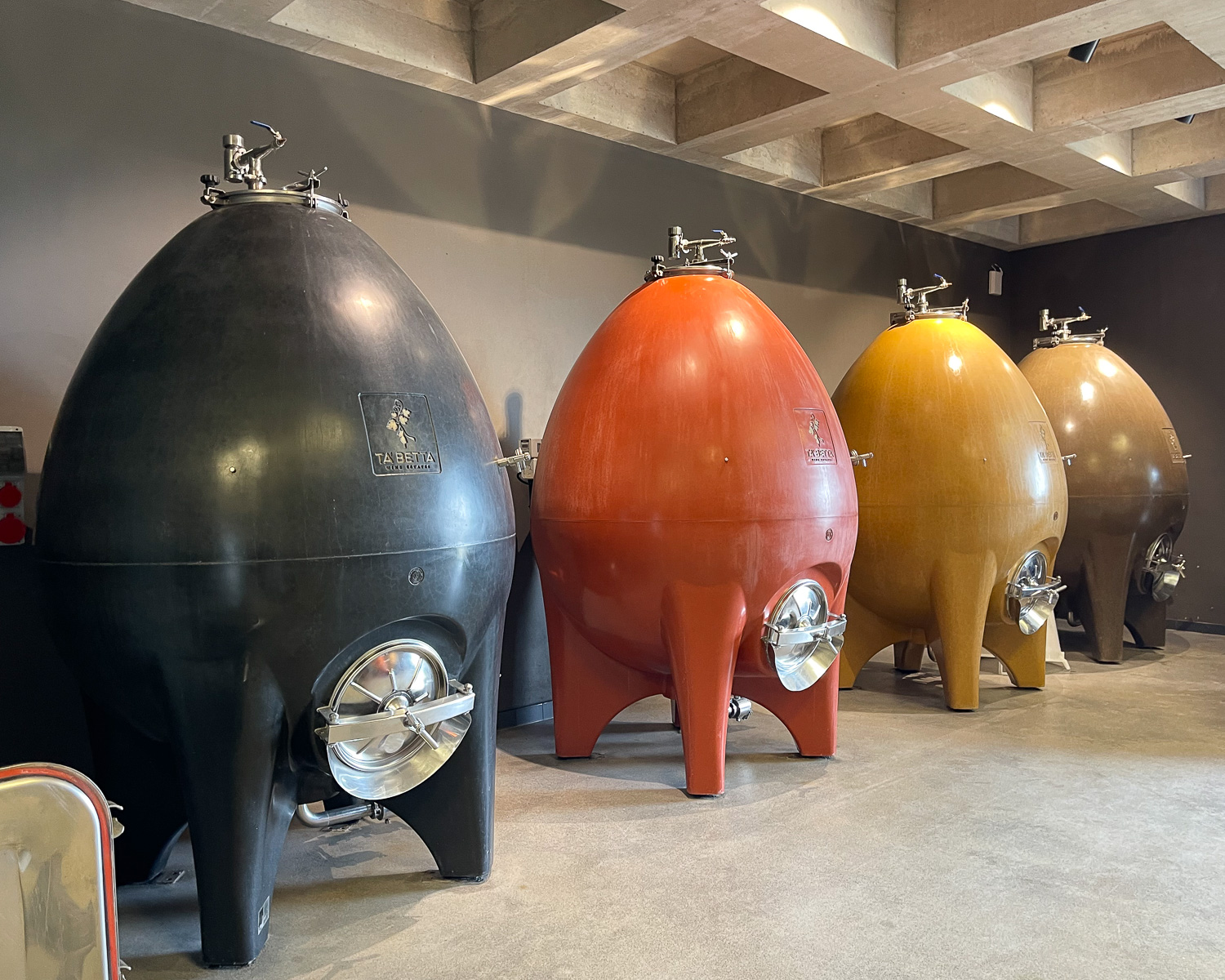 This boutique winery is producing some of the finest Maltese wines, all named after the Grand Masters of Malta. We tried the Jean Parisot for a fruity amber Chardonnay, Antonio Manoel for a forest-fruit blend of Merlot and Carbernet Sauvignon, and Phillip Villiers for a peppery oak aged blend of Cabernet Franc and Syrah.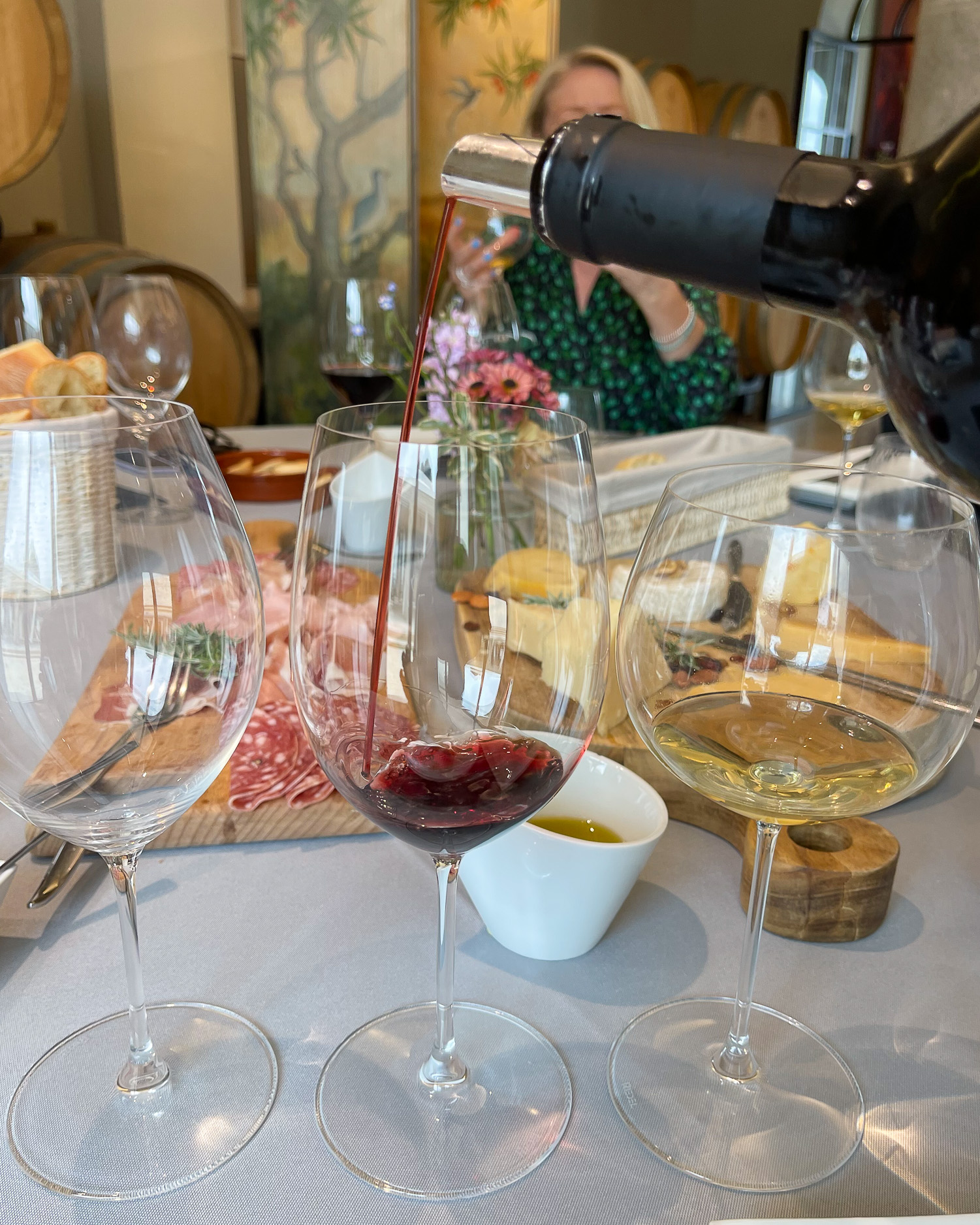 Ta'betta is a boutique winery that's aiming high, making fine wines that prove Malta's wines can be world class. It's a great place to visit if you can pre-arrange a tasting experience with lunch of cheese and charcuterie. For other wineries to visit in Gozo and Malta, check out those mentioned earlier in this article.
Best food tours in Malta
If you'd like to learn more about food in Malta why not choose one of these tours?
Valletta food and drink walking tour – Discover the authentic food and drink of Malta with several tasting stops as you pass the main sights of Valletta. Book here.
Full day wine tour in Malta – This small group tour visits two of the oldest wineries on Malta, the Marsovin and Meridiana wineries, with wine tastings accompanied by a traditional Maltese platter. Book here.
Valletta street food and culture tour – Learn about local food culture with tastings of sweets, street food and drinks in this walking tour around Valletta. Book here.
Best restaurants in Malta and Gozo
Malta is a fantastic foodie destination, with loads of restaurants that take pride in local produce and traditional Maltese dishes. Of course we couldn't try them all, but here are a few restaurants in Malta and Gozo that we enjoyed personally or heard good things about.
Restaurants in Valletta
Malta's capital of Valletta has a huge selection of restaurants, bars and cafes surrounded by gorgeous 16th century architecture. For more things to see in Valletta read my article on 20 fun things to do in Valletta Malta
Budget dining in Valletta
Valletta Food Market – Is-Suq Tal-Bet – (26 Merchants St) This old food market has been renovated to make a street food venue, with stalls selling every type of cuisine, from pasta and pizza to Maltese specialties and Asian dishes. Downstairs is a supermarket where you can stock up on local delicacies, for picnics or self-catering.
Malta Pastizzi – (57 Merchants St) for Malta's favourite snack of pastizzi and other inexpensive pastries.
Picnic spots in Valletta – For lunch you can buy provisions at the Valletta Food Market or take your pastizzi to one of the Valletta gardens for a picnic, most of which have a coffee kiosk.
The Upper Barrakka Gardens and Lower Barrakka Gardens are the most popular, but we also liked the quieter Hastings Gardens and Laparelli Gardens, both close to the City Gates.
For a beach vibe and view of the harbour, sit on the rocks at Wuestenwinds beach, near Lower Barrakka Gardens.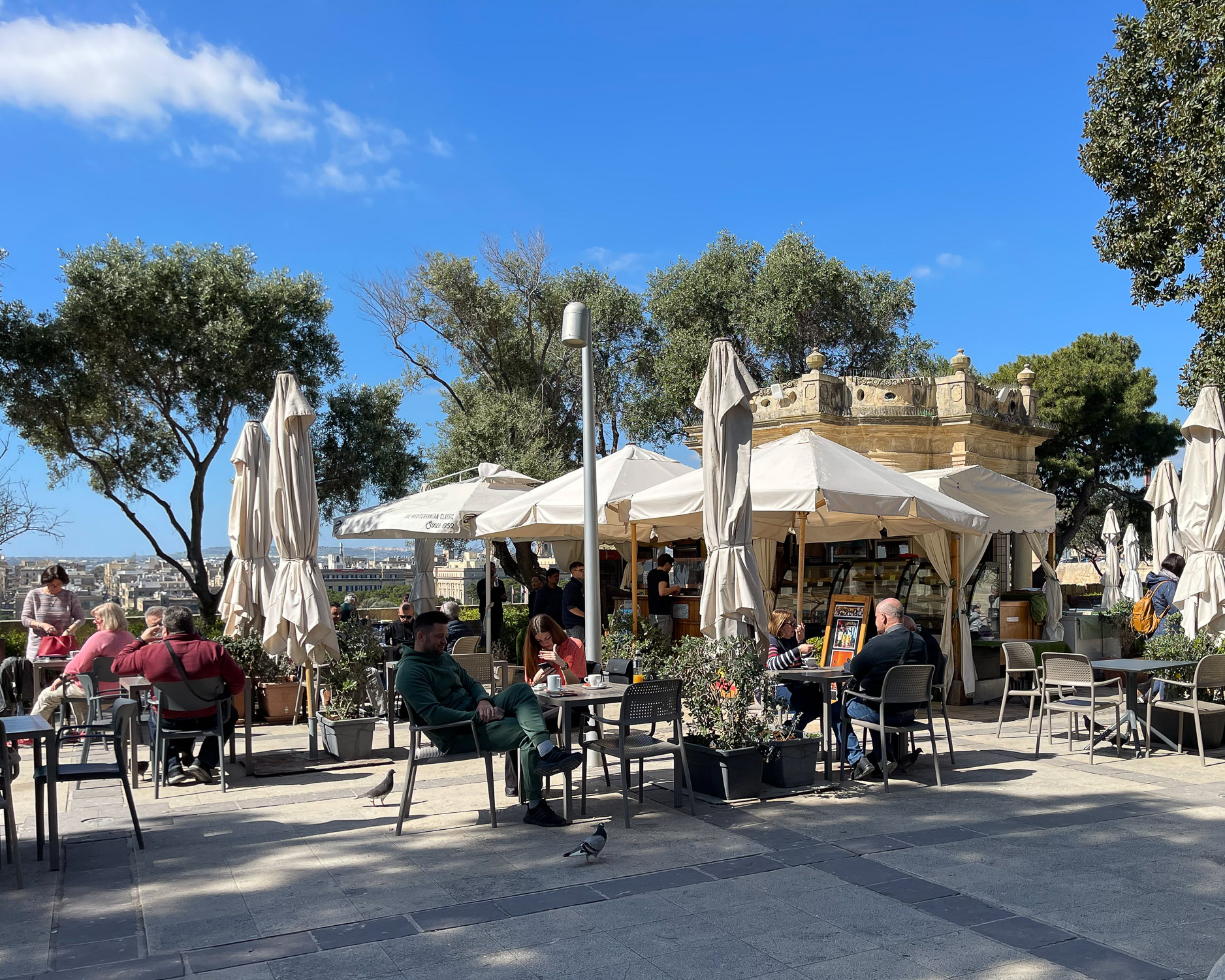 For dinner in Valletta
Tico Tico – (61 Strait St) This vintage inspired bar on Strait Street serves great drinks and cocktails, but we also enjoyed their pasta and Maltese sharing dishes.
Rubino – (53 Old Bakery Street) A cosy restaurant in an old sweet shop. It's in the Michelin Guide and offers Sicilian and Maltese inspired dishes with a good range of local wines.
Nenu the Artisan baker (143 St Dominic Street) – Known for traditional Maltese dishes like slow cooked rabbit, beef olives, Aljotta fish soup or Ftira Maltese pizza. It's in a cosy cellar with no outside tables, so this would be an atmospheric place to dine on cooler evenings.
Merchant Street – if you are not sure where to eat, head to this pedestrianised street that has a good choice of different restaurants. It's a bit touristy and especially lively in the evening, so if it's too busy try some of the side streets that lead off it.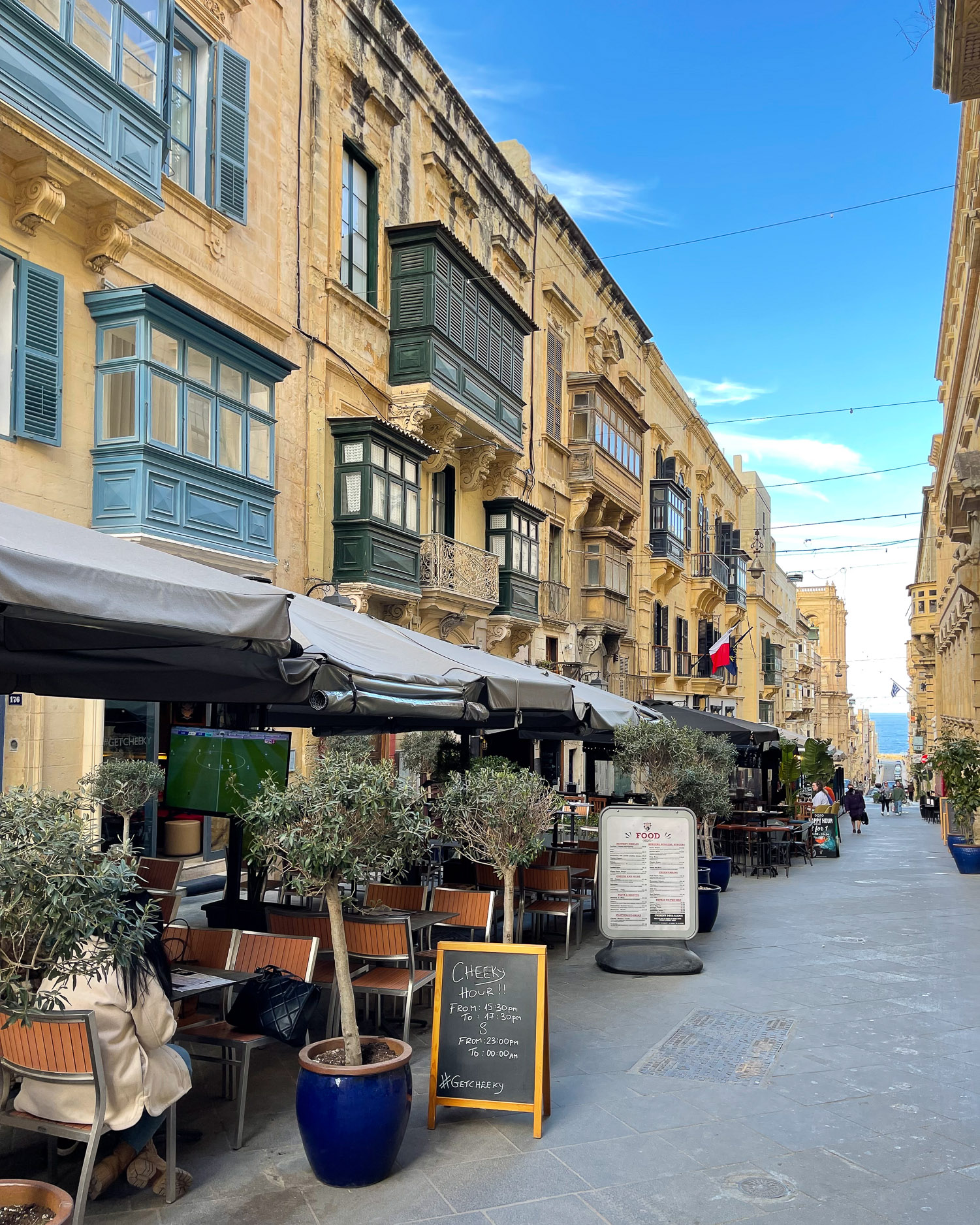 St Lucia Street – for that instagram moment this side street leading from Merchant Street has steps leading down to the harbour where restaurants set out their chairs and tables. Add some pot plants, fairy lights and chandeliers and it makes for a charming atmosphere on warm evenings.
Vegan / Vegetarian restaurants in Valletta
For vegan or vegetarian restaurants in Valletta, we recommend:
Soul Food – (76 Merchants Street) A small cafe / restaurant with a pretty outdoor seating area just off Merchants Street. They serve Buddha Bowls, salads, pasta dishes and vegan burgers, with fruit juices and smoothies.
No 43 – (43 Merchants Street) A small cafe that's known for its colourful salads and sandwiches to take away or eat on the tables outside.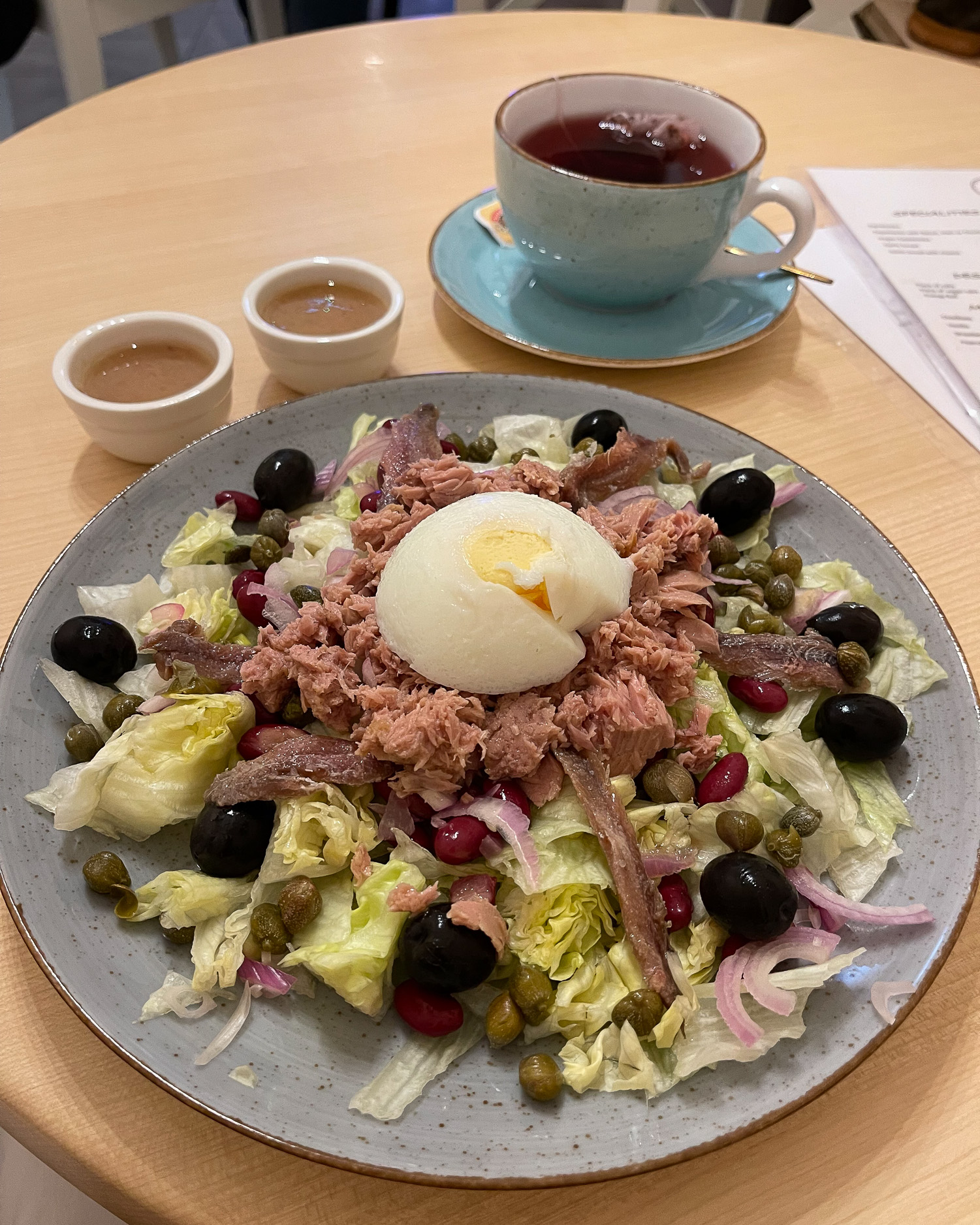 Fine Dining in Valletta
For an upscale or gourmet experience, these restaurants in Valletta were recommended to us, both in the Michelin Guide.
59 Republic – One of the best restaurants in Valletta, with an outdoor terrace on St George's Square opposite the Grand Master's Palace. The a la carte menu changes every 8 weeks and features fresh, seasonal dishes and innovative flavours.
ION Harbour by Simon Rogan – Located on the rooftop terrace of the elegant 5 star Iniala Harbour House Hotel, Simon Rogan's Mediterranean restaurant offers a lovely view over the Grand Harbour. In the evenings expect a multi-course tasting menu that focusses on hyper-local ingredients, foraged, fished or farmed in Malta.
For more things to see in Valletta read my article on 20 fun things to do in Valletta Malta
Restaurants in Gzira (near Valletta)
Briju – (Triq Il-Imsida) This restaurant is not in Valletta, but just a 10 minute taxi ride away in Gzira and well worth a visit. Briju, which has a Michelin Plate, serves modern Maltese food, with a relaxed but stylish vibe and emphasis on sustainability and working with local producers.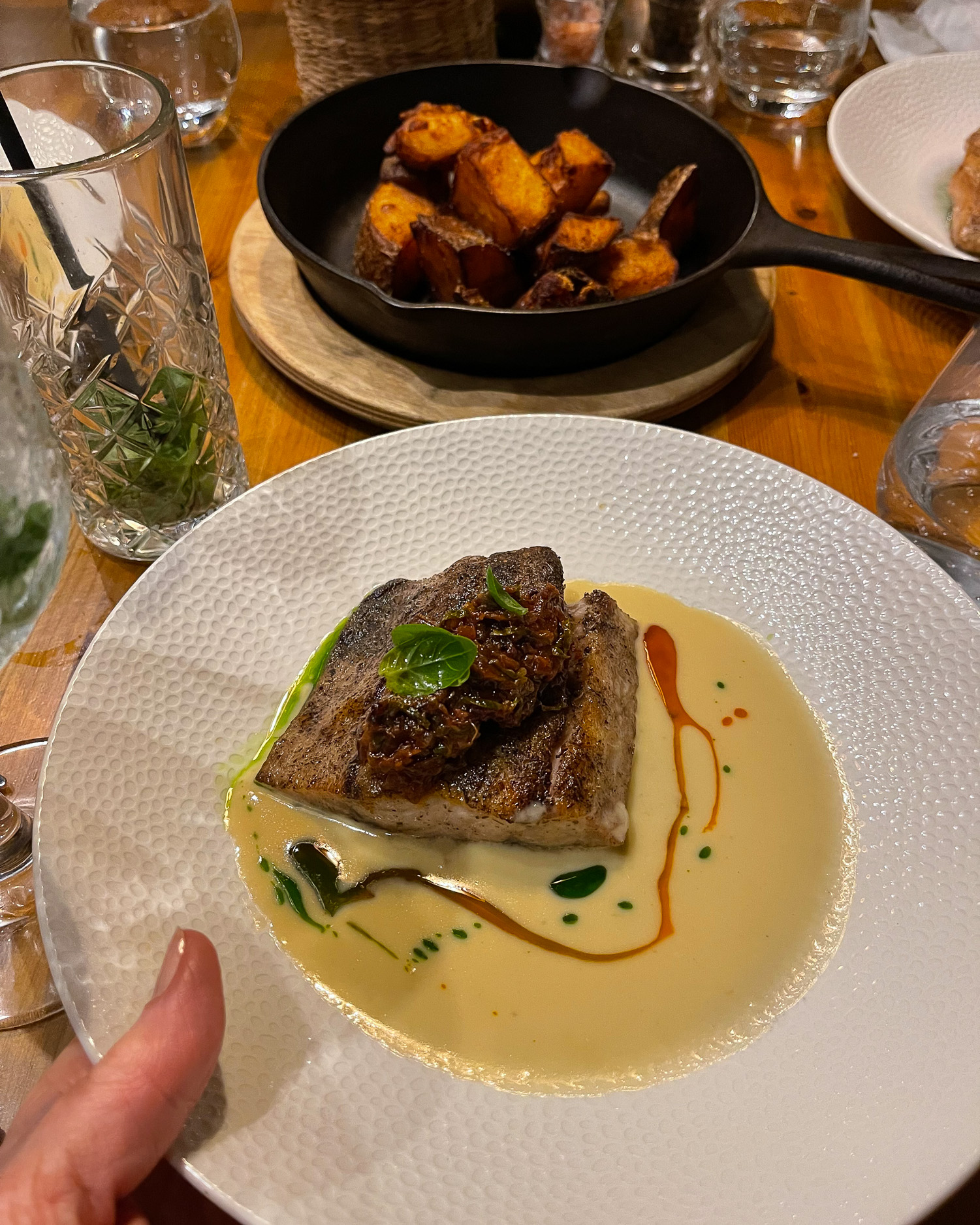 The food was delicious and beautifully presented, living up to its name (Briju = Con Brio!) Briju in Maltese means lively, convivial and enjoying good food and wine with friends. It's located down an urban side street, so more for indoor than outdoor dining.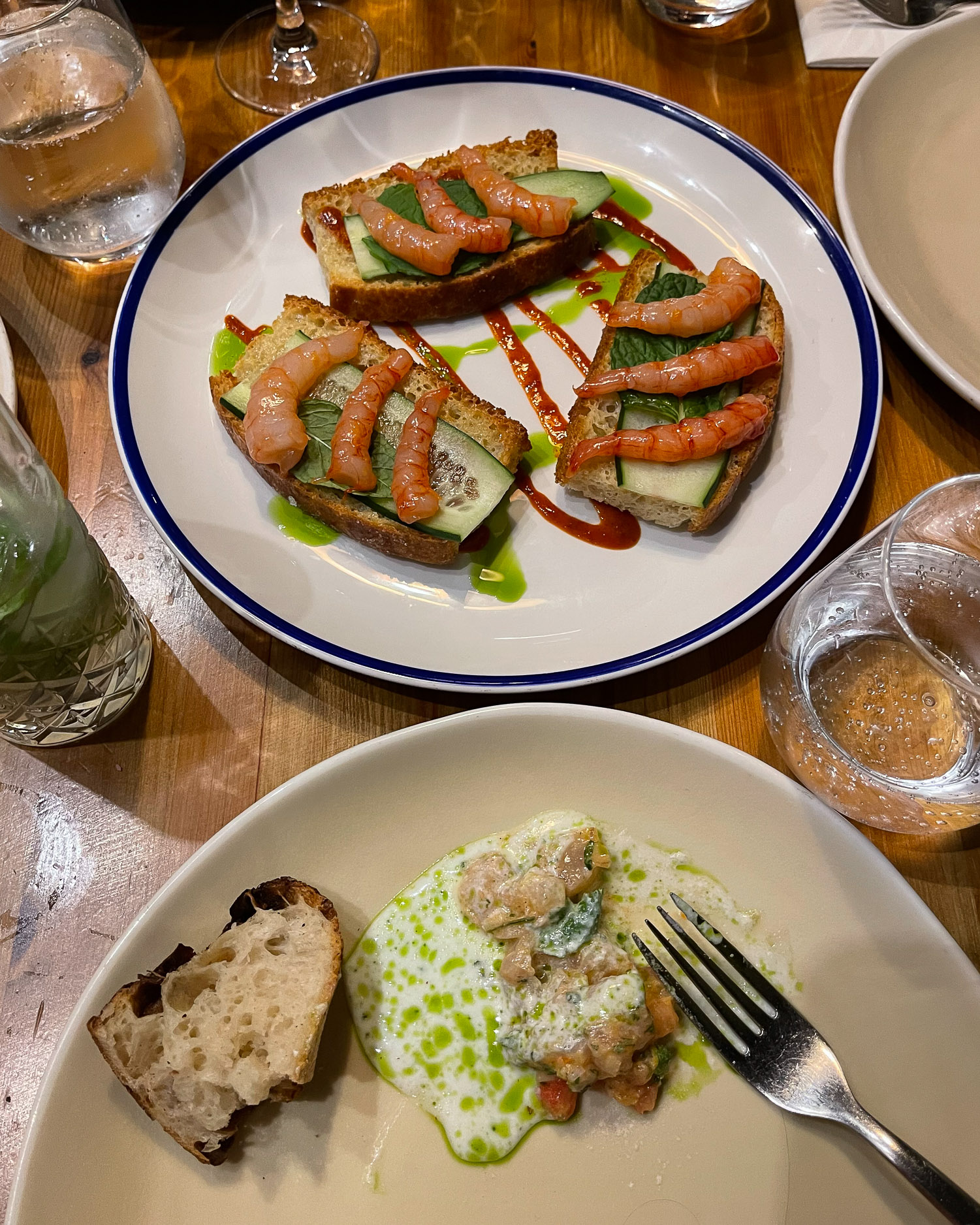 Restaurants in Birgu, Three Cities
BeBirgu – From Birgu waterfront, walk up beside St Lawrence's Church to find Victory Square, where the most imposing of the cafes is BeBirgu. Inside you'll find a delightful internal courtyard with fountain in this former Palazzo. It's also the home of the St Lawrence Band Club with a slightly incongruous room full of pool tables at the back. The menu is Italian and the staff friendly, but we just enjoyed coffee and cake sitting at the balcony overlooking the square.
Terrone – We had lunch in Birgu at this Michelin awarded restaurant with a pretty outdoor terrace overlooking an internal harbour by Fort St Angelo. The inside of the restaurant is within the walls of the Medieval bastion, but you can also walk around the marina to reach it. Terrone's menu is all about fresh seafood and local produce with a stylish ambiance and excellent service.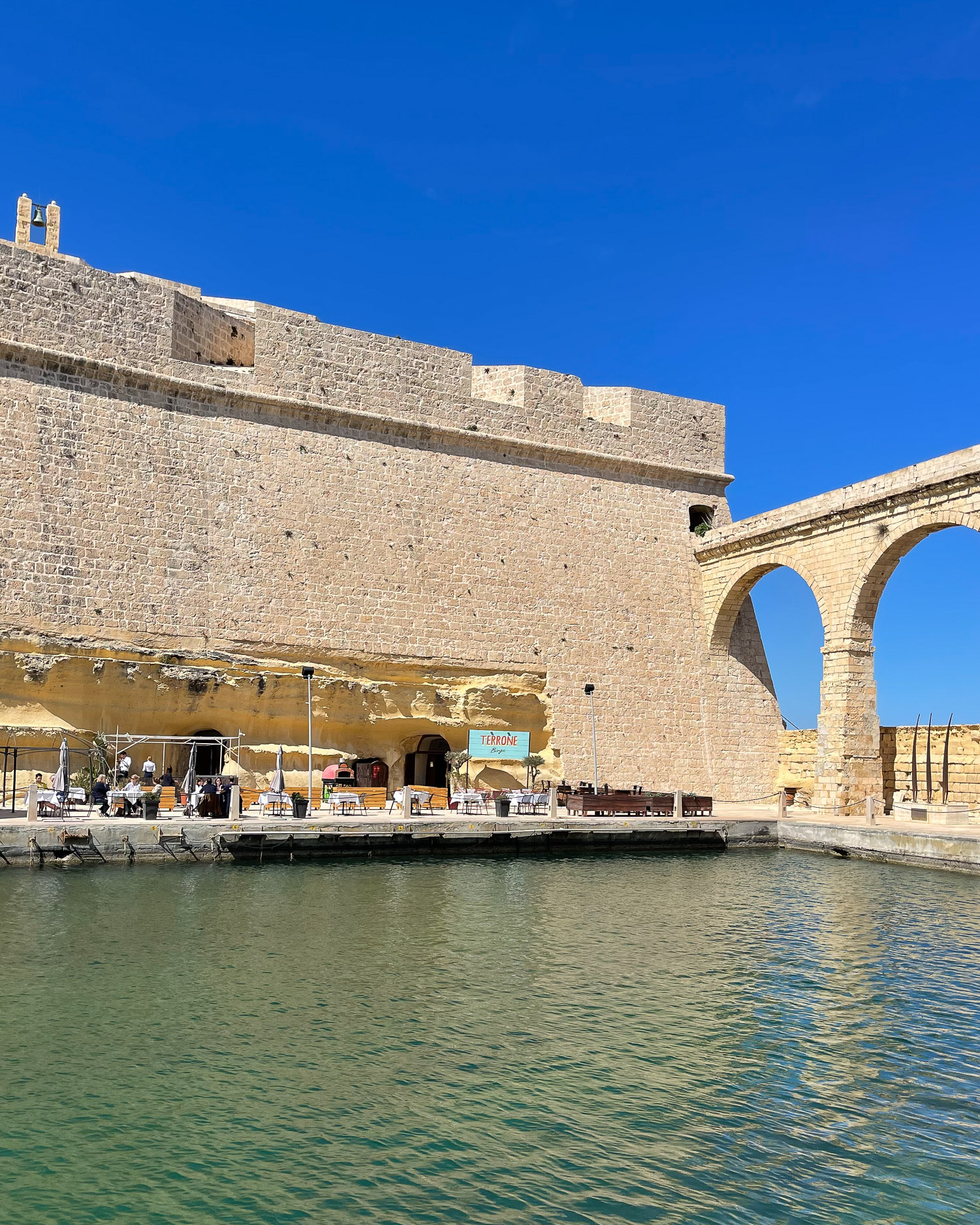 Restaurants in Rabat Malta
Is-Serkin / Crystal Palace Bar – This unassuming but busy bar is known as one of the best places in Malta for Pastizzi, producing up to 5000 a day from the small ovens by the bar. It's right by the main car park for Rabat and M'Dina and they also own the ice cream and cake shop next door – the best of all worlds!
Restaurants in M'Dina Malta
Medina Restaurant – In the heart of the medieval walled city, this Michelin awarded restaurant is tucked away in the courtyard of a 16th century building. The menu is inspired by the Arab culinary influences on Malta, which forms a crossroads between Europe and North Africa in the heart of the Mediterranean. Local produce such as rabbit, fish, prawns and octopus are incorporated into the menu, with deserts flavoured with honey, orange blossom, cinnamon and rose water.
Restaurants in St Julian's
Located around St George's Bay not far from Valletta, the neighbourhood of St Julian's is now extremely developed with high rise hotels, bars and restaurants, making it the night life centre of Malta. Personally I found St Julian's a bit too touristy and lively for my taste, but we did have some good meals there that were more at the fine dining end of things.
Seed at the Hyatt Hotel – the modern and stylish 5 star Hyatt Regency is built around the courtyard of the pretty St Rita's chapel, with Seed being their fine dining restaurant. There's a cocktail bar and stylish ambiance, with a seasonal menu inspired by contemporary Mediterranean cuisine.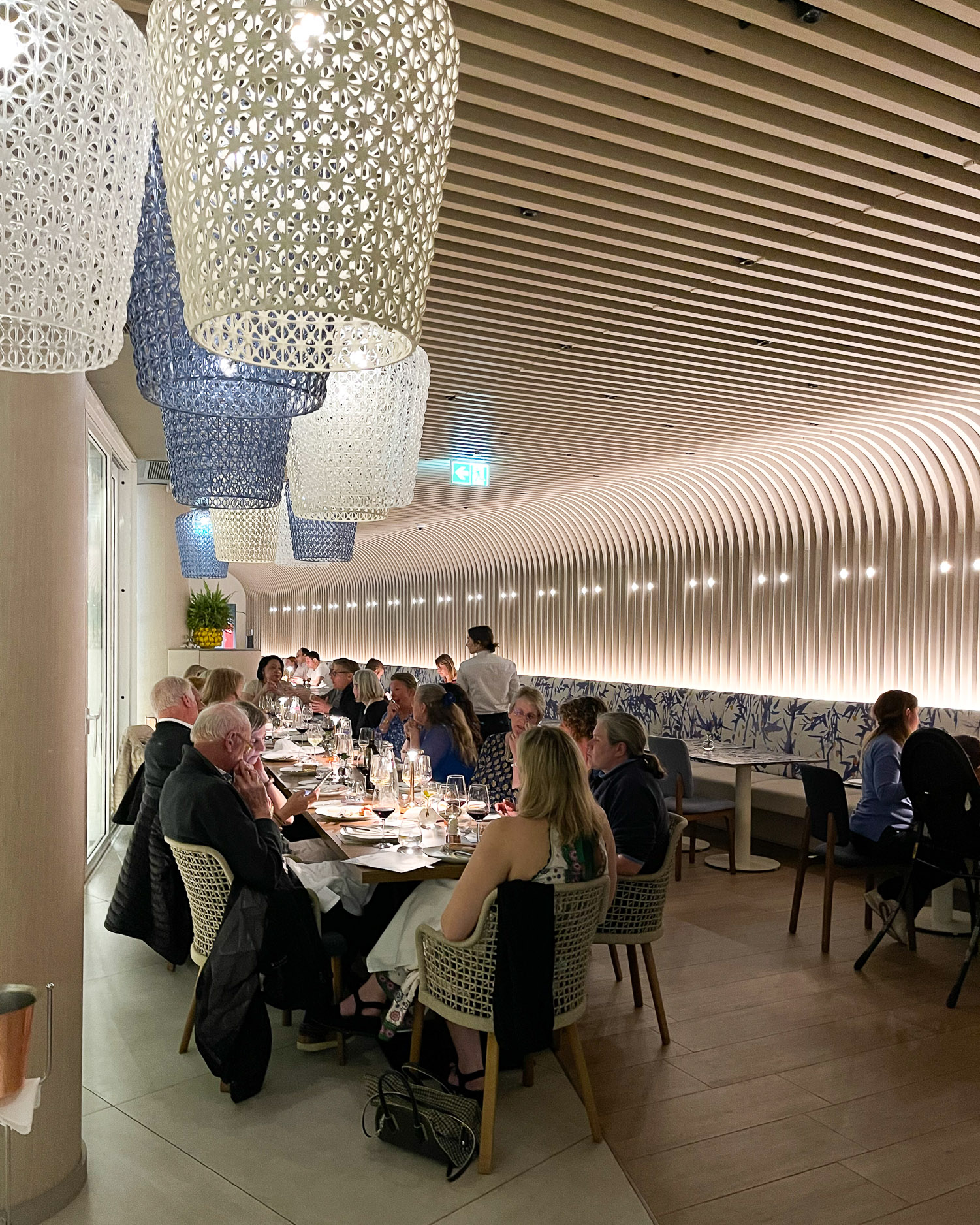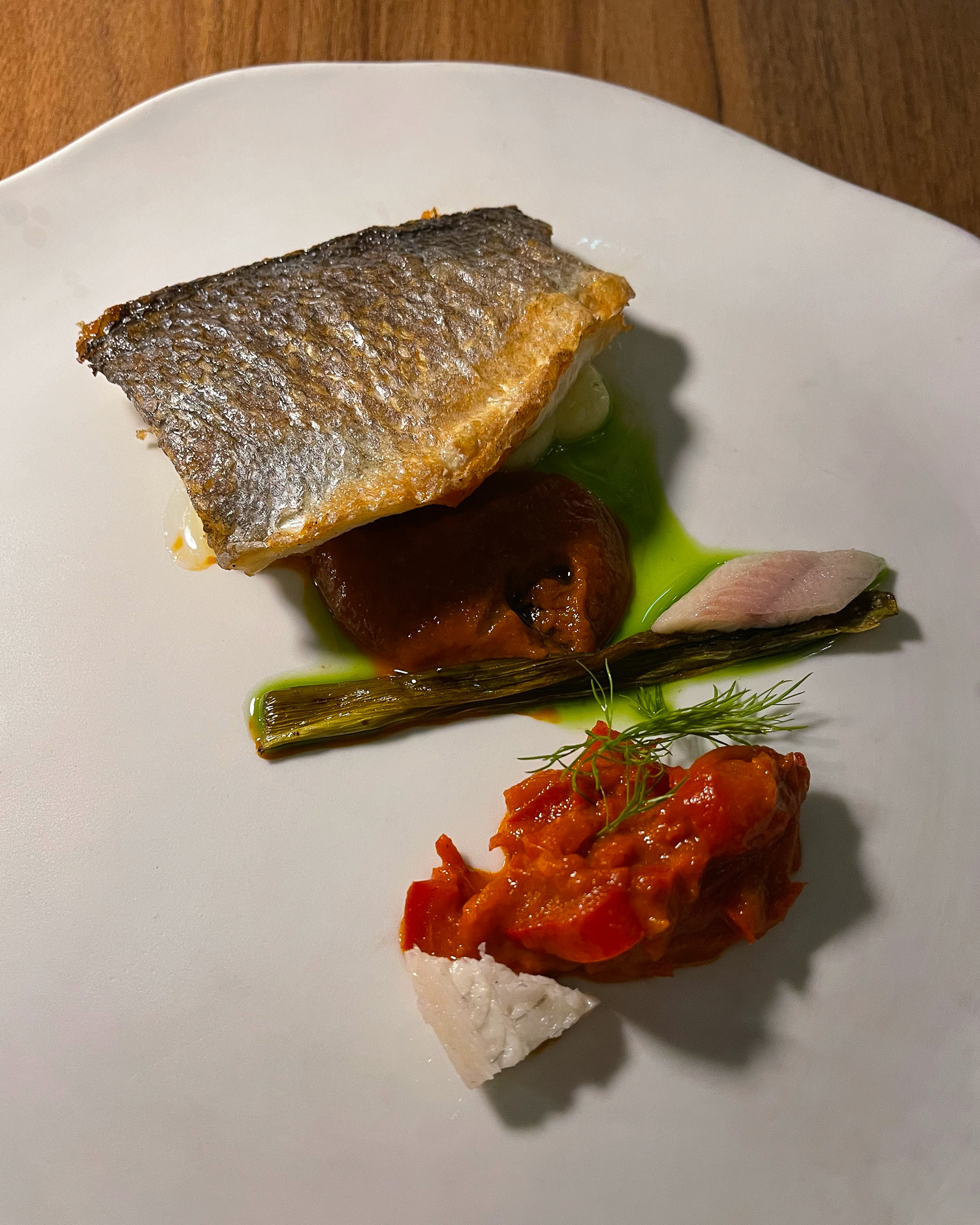 Restaurants in Gozo
Crab Shell Kiosk – This unpretentious beach shack cafe was one of the nicest places we ate in Gozo. We came across it after driving along the coast road by the Xwejni salt pans in the pretty Xwejni Bay that is blessedly free of high rise development.
The trailer style kitchen produces excellent salads, sandwiches and local dishes with a relaxed ambiance and sunny outside seating. Gozo is not really a surfing destinations, but if it was, I felt this was where the coolest surfers would hang out!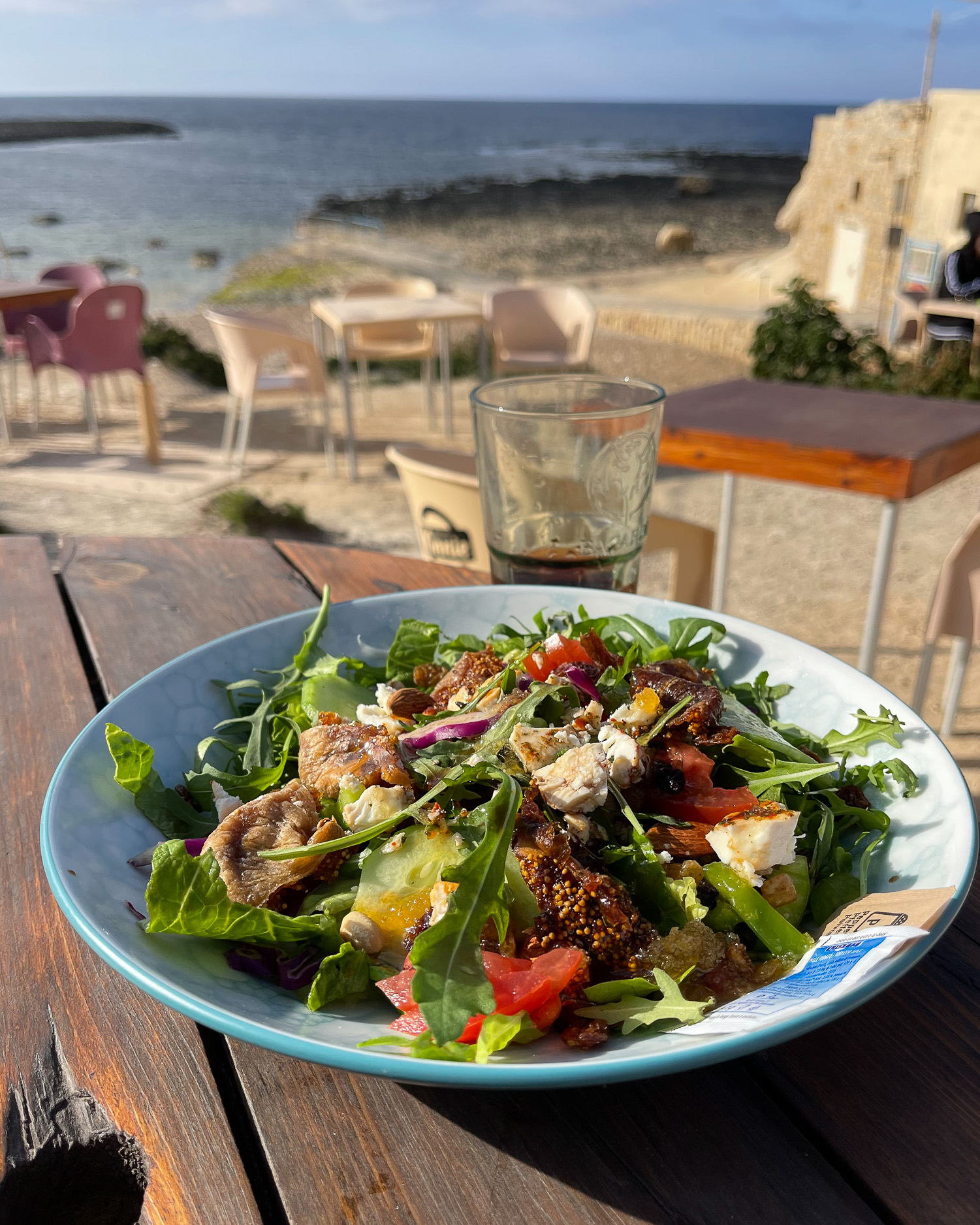 I hope you've enjoyed this tour of the food in Malta and Gozo. There's so much to taste and savour, for an insight into the culinary heritage of this fascinating Mediterranean island.
Best food tours in Malta
If you'd like to learn more about food in Malta why not choose one of these tours?
Valletta food and drink walking tour – Discover the authentic food and drink of Malta with several tasting stops as you pass the main sights of Valletta. Book here.
Full day wine tour in Malta – This small group tour visits two of the oldest wineries on Malta, the Marsovin and Meridiana wineries, with wine tastings accompanied by a traditional Maltese platter. Book here.
Valletta street food and culture tour – Learn about local food culture with tastings of sweets, street food and drinks in this walking tour around Valletta. Book here.
Sustainable travel and food in Malta
To support sustainable travel and food in Malta we recommend the following;
– Malta has an excellent and inexpensive public bus and ferry network, so consider using this to get around the island. The roads around Valletta and the east side of the country can be very congested, so hiring a car for shorter journeys is not only unnecessary but adds to your stress and air pollution. The hop on hop off tourist buses are a more relaxing and sustainable way to visit several sites around Malta in one day.
– The tap water in Malta is safe to drink, but is from desalinated sea water, which may give it a particular taste. For this reason locals and restaurants prefer to use bottled water to drink for reasons of taste. To reduce the amount of plastic and glass waste, it's better to request and drink local tap water and not buy bottled water.
– When eating out, ask questions as to which menu items are based on local produce and ingredients. Order vegetable dishes based on what's in season, fish that is locally and sustainably caught, or meat that's locally produced. Support restaurants that work with local food producers.
Plan your trip to Malta
For more information on things to do in Malta, visit the official Visit Malta Tourism website.
More articles about Malta
Things to do in Malta in a weekend break
Things to do in Valletta, Malta in one day
Enjoy the food and fireworks of a Maltese Festa
Pin it!
Some of the experiences mentioned were provided on a press trip hosted by Malta Tourism and British Guild of Travel Writers.
This article is originally published at Heatheronhertravels.com