El Nido Tour C: Is the Group Tour Worth It?
This post was written by Ashley Yap, BMTM's Director of Brand Relations.
Planning an island hopping tour on El Nido can be fairly simple – you just need to pick one of the four that's offered all over the town. Each itinerary offers something a little different – tour A takes you to the famous Big Lagoon, tour B to the Snake Island, tour C to the Helicopter Island, and tour D to the Cadlao Lagoon. I visited El Nido in November 2022 and joined tours A, B and C during my 5-day stay. Here's my honest review of the tour C to help you decide if it's for you:
How to Book El Nido Tour C: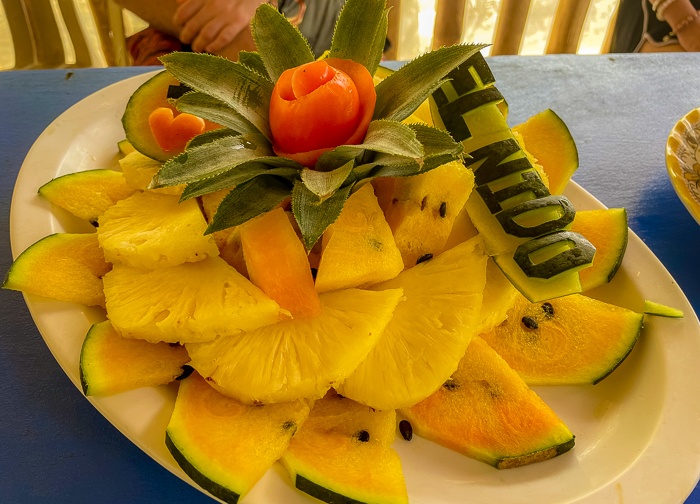 I booked all of my El Nido tours through Klook, which I highly recommend, as I did not have to spend any more time looking for a group tour whilst on my trip. Because of that, I was able to plan my days ahead of time, and if you are a Type A like me, you'd appreciate that, too.
I was surprised to see that the tour is advertised at a higher price around El Nido Proper, which, while I am sure it is negotiable, I very much prefer to have had it booked online. El Nido is also a very cash-based town, so if you book the tour in person, you will most likely have to pay in cash. Speaking of which, come to El Nido with sufficient cash! Even though there seem to be plenty of ATMs in town, they do not always work. Currency exchange rates are very poor…I learned that the hard way.
How Much is El Nido Tour C?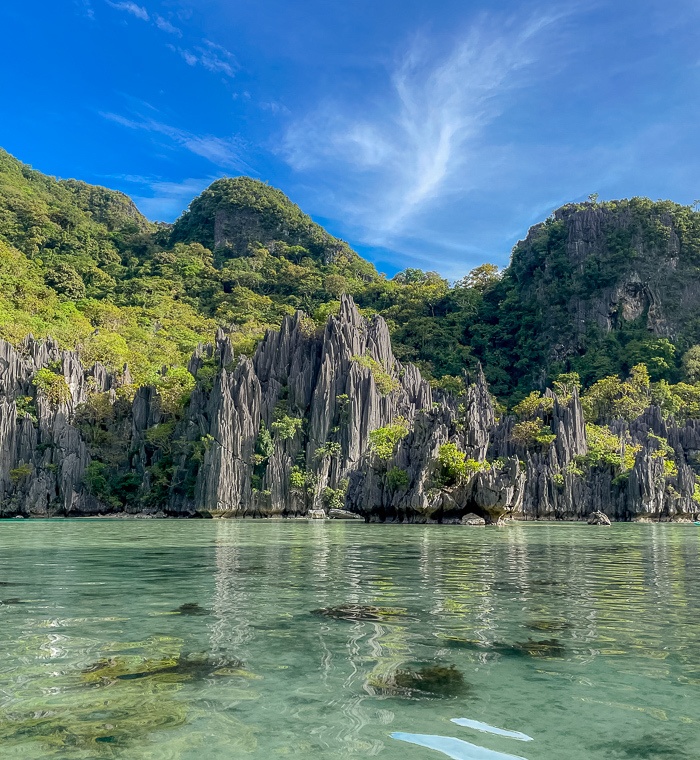 El Nido Tour C itself costs $22.59, making it the most expensive tour out of the 4 itineraries. My guess is that this is mainly due to the route that takes longer to get to. In addition, tour C provides the greatest opportunity for coming face to face with sea turtles and is known for having the best snorkeling. Note that you will need to pay an entrance fee to the Matinloc Shrine (200 PHP or about $4) and a rental fee for a 2-person kayak (300 PHP or about $5). If you want to rent a mask and snorkel set, it's another 150 PHP (about $3). There's also a compulsory environmental fee to pay at 200 PHP, which is valid for 10 days and can be used for other tours. These fees are collected in cash only. Definitely take these fees into consideration when planning your trip.
El Nido Tour C Itinerary:
Hotel transfer is not included in this tour. You can arrange for a tricycle ride for about 300 PHP to the meetup point, which is Klook's counter at Jhanna's Inn, before 8:30am. then, depending on your luck, your group may depart anytime between right away to an hour later, depending on the coastal guard clearance. This is the reality of group tours, don't let it spoil your day! Once you board the boat, you must put on a life jacket for the boat to leave. The tour guide introduced himself and the rest of the boat crew, which consist of a cook, a captain, and two boatmen.
First stop: Helicopter Island (45 minutes)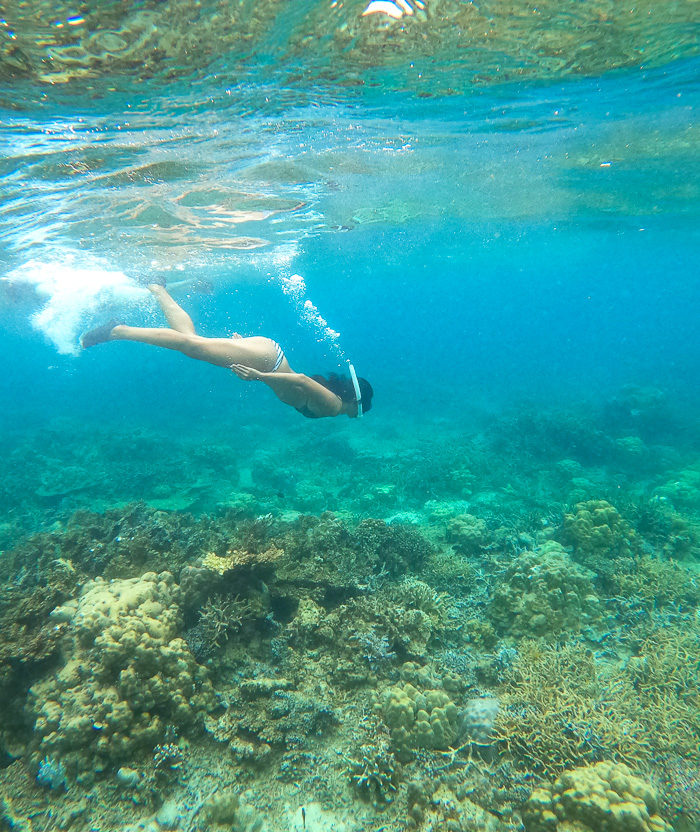 It took a while to get to Helicopter Island, but it was worth the wait! The tour's first stop is one of the most famous islands of the Bacuit archipelago. The traditional name is Dilumacad Island, but it took on the name Helicopter Island due to its shape – although some think it more closely resembles a camel or a dolphin… You'll just have to decide for yourself! We did snorkeling here, and even though the weather was cloudy and windy, the visibility underwater remained clear and the colorful corals and small fish were enjoyable.
Second Stop: Matinloc Shrine (1.5 hours)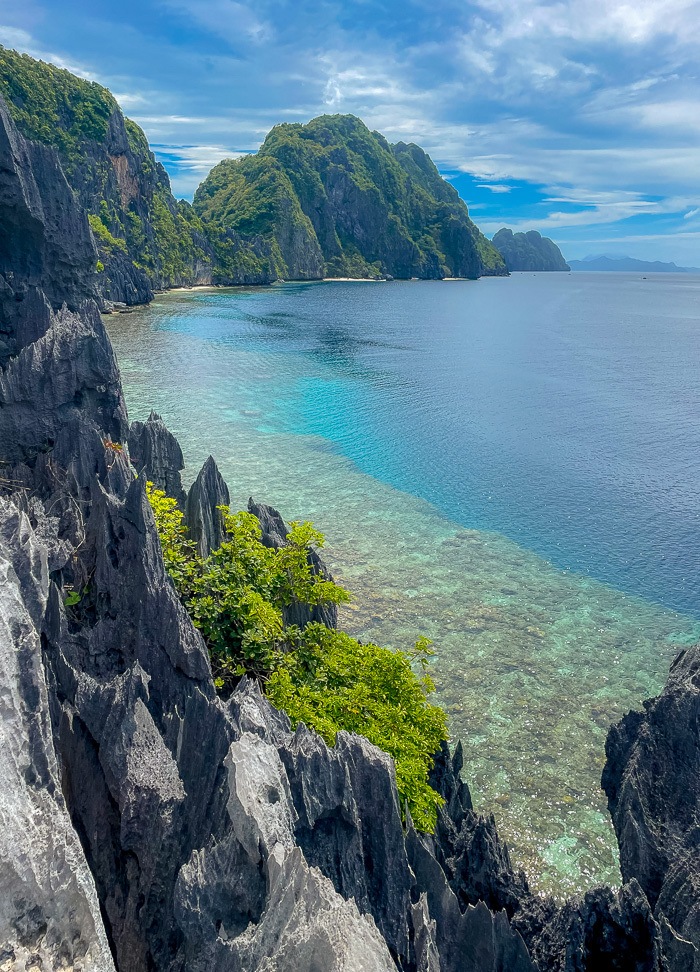 Once a place that hosted a convent and a school, the Matinloc Shrine is now where visitors can walk around and explore the eerie yet charming land that legends say is haunted by a ghost. Here you will do a 3-minute hike up the limestone hill and enjoy a bird's-eye view from the top. We also explored the abandoned building while the crew prepared our lunch.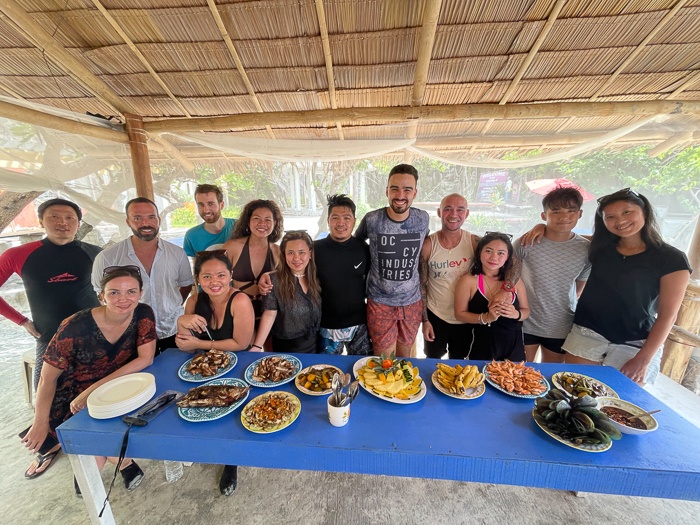 Lunch was served in a shaded area, and we had a surprise visit from the local monkeys. Though abandoned, the Matinloc Shrine is guarded, and it seemed like the guards' main task is to shoo the monkeys away.
Third Stop: Secret Beach (45 minutes)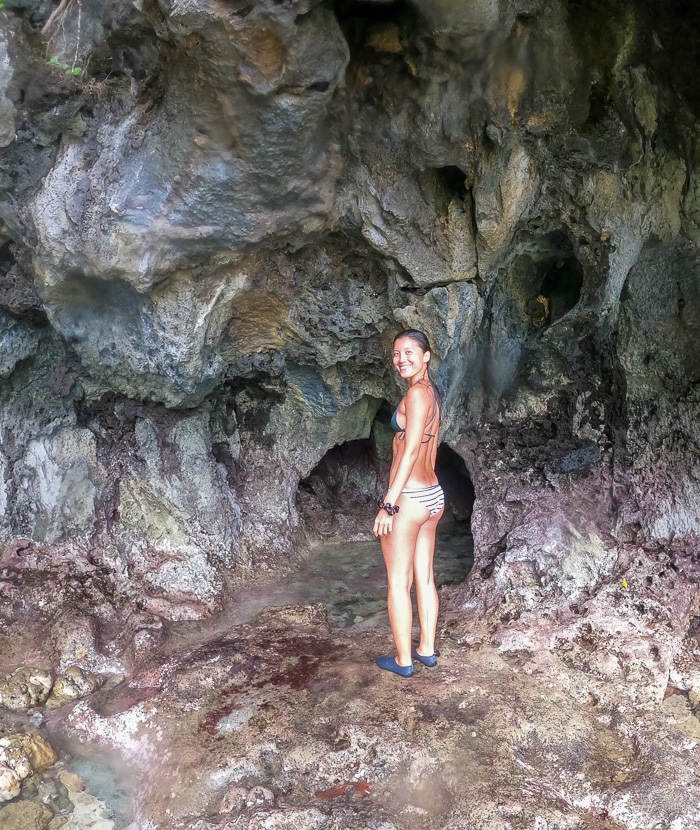 After our lunch, the wind seemed to pick up again, and we had a somewhat rowdy ride to the 3rd stop, Secret Beach. To enter the beach, you need to swim through a small hole in the limestone, which was a bit of an adventure for me as the sea was rough. I enjoyed it, but if you are not a very confident swimmer, the tour guides will grab your life jacket and help you enter. Inside Secret Beach, there are a few small swim holes and a small beach to relax on, but I better enjoyed snorkeling with the fish at the entrance.
Fourth Stop: Hidden Beach (45 minutes)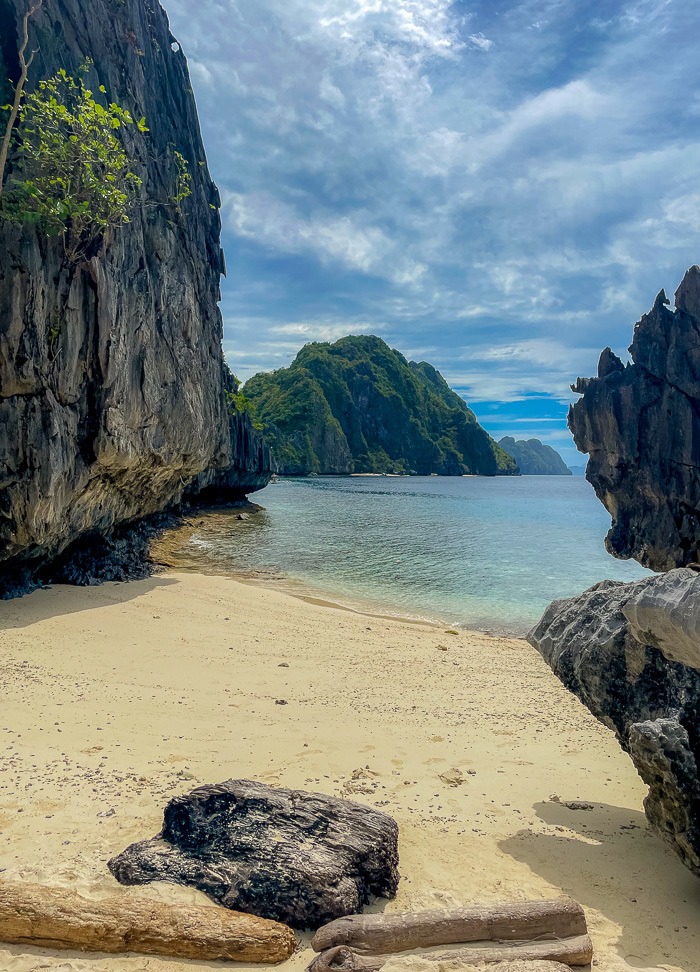 As the name suggests, this stop is hidden from plain sight. The boat will stop outside the beach, and you will do a combination of swimming and ducking to get to the beach. The calm and serene waters inside make an interesting contrast to the waves of the open sea just meters away. It was low tide when we arrived, and we enjoyed exploring tiny octopuses camouflaging the corals. Our tour guide also mentioned that baby black-tip sharks can sometimes be spotted here too.
Extra Stop (a surprise): Cadlao Lagoon (45 minutes)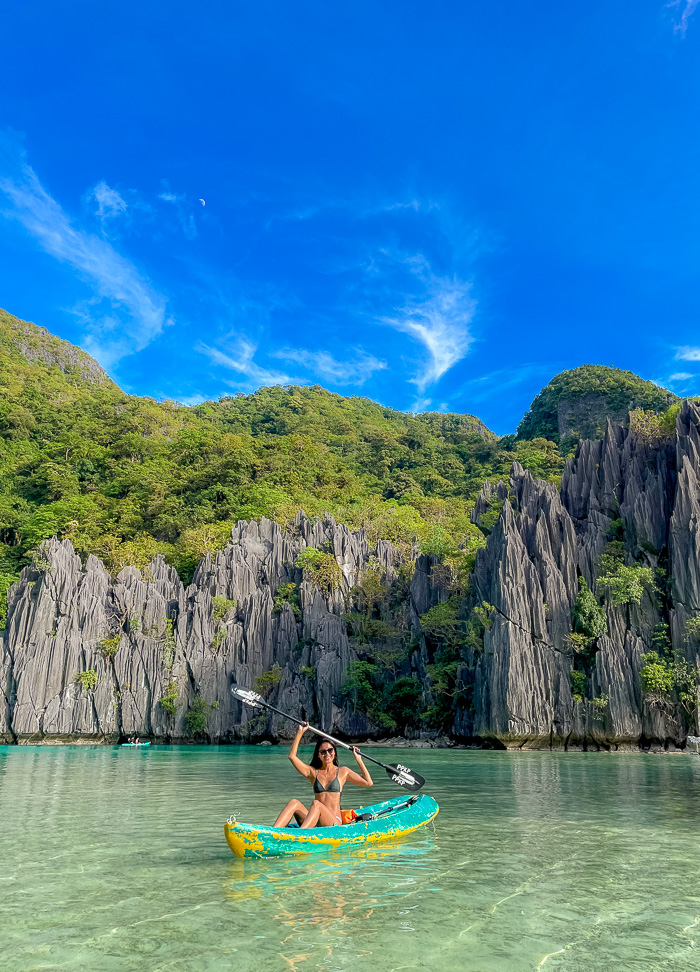 I am not sure what happened, but our tour guide added an extra stop to the Cadlao Lagoon, which is supposedly the highlight of El Nido Tour D for us. Cadlao is the largest island of the Bacuit archipelago and is home to one of the best lagoons and the relaxing Nat Nat Beach. The dramatic entrance is filled with corals and an abundance of fish. This is also known to be the least crowded compared to lagoons visited by other tours.
No complaints from me because I absolutely loved this place, perhaps even more so than the famous Big Lagoon! I rented a kayak here and enjoyed kayaking around the rock formations on baby blue waters. I also spotted a stingray here.
Is Tour C Worth It?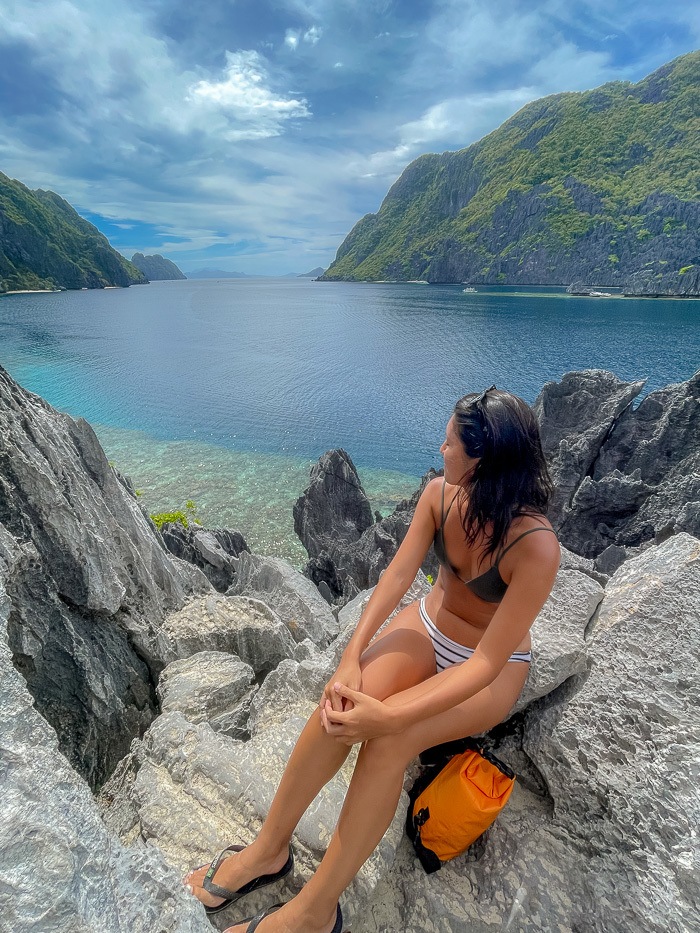 Tour C was the last of the 3 island hopping tours I did on El Nido, and I expected myself to feel a bit out of it, but I was pleasantly surprised by how much I enjoyed the entire itinerary! Each stop had something unique to offer, and the buffet lunch was delicious, with a huge variety of dishes to dig into. While I did not get to see any turtles on this tour, I was impressed by the corals and colorful fish I saw while snorkeling.
This tour is also less crowded compared to Tour A. There were only 13 of us onboard, compared to 22 on Tour A. That said, several other boats were at each stop, so remember your boat name and get back onboard on time! If you have time for 2 tours on El Nido, I definitely recommend this and tour A.
READ NEXT:
El Nido Tour A: Is the Group Tour Worth It?
What to Bring on Your Trip
You will be out on the sea the entire day, so it's best to come prepared! Here's everything I brought on my island hopping trip, and they all fit into a 10L dry bag: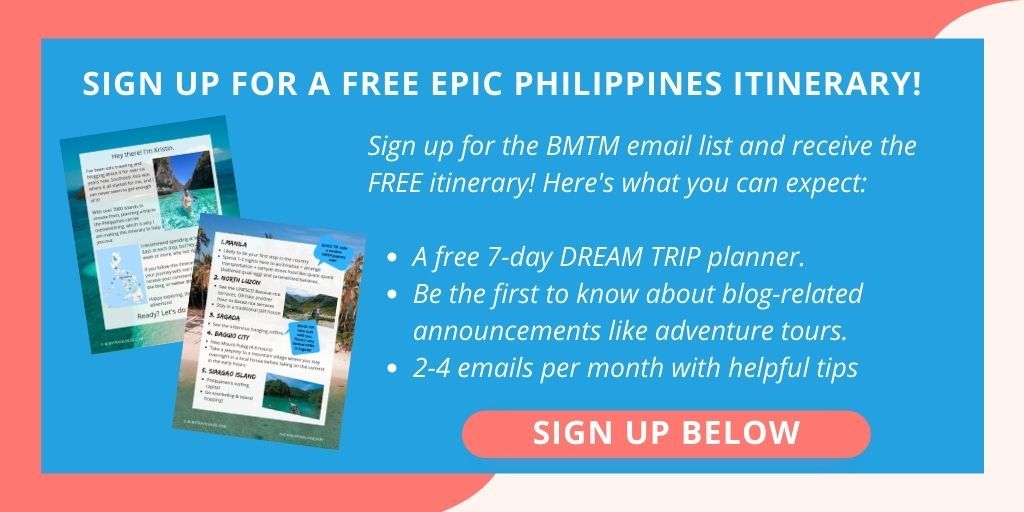 I hope this article gives you a clear overview of what to expect on El Nido Tour C. If you are interested in checking out the other group tours on El Nido, read these next:
Pin me for later: