The 7 Best Safari Parks & Game Reserves in Kenya
Ecotourism is at the heart of Safari Parks & Game Reserves in Kenya.
The country boasts an extensive collection of protected areas, including nearly two dozen national parks, 16 national reserves, and six marine parks and reserves. 
You would need several months to explore all of the natural beauty that Kenya wildlife attractions have to offer.
But here's a look at seven of our favorite safari parks and game reserves in Kenya, from Amboseli and the Maasai Mara to Ol Pejeto and Tsavo.
READ MORE: Animals in Kenya: A Guide to 40 Species of Kenyan Wildlife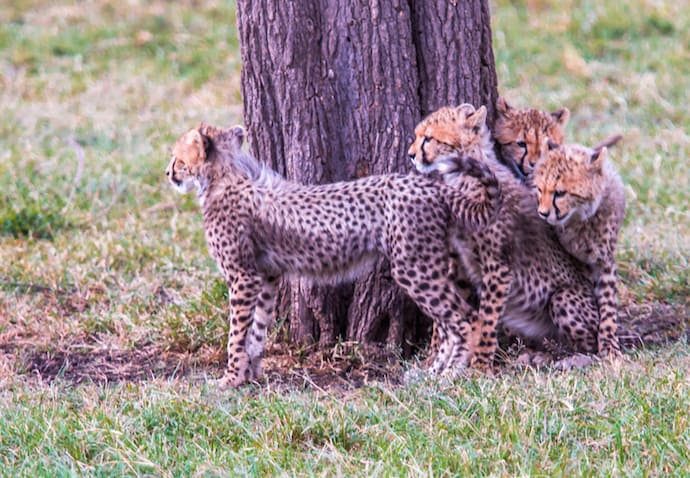 SAFARI PARKS & GAME RESERVES IN KENYA GUIDE
Amboseli National Park 
Chyulu Hills National Park
Lake Nakuru National Park 
Lewa Conservancy
Maasai Mara National 
Ol Peseta Conservancy 
Tsavo National Park
READ MORE: The 20 Safest Countries in Africa to Visit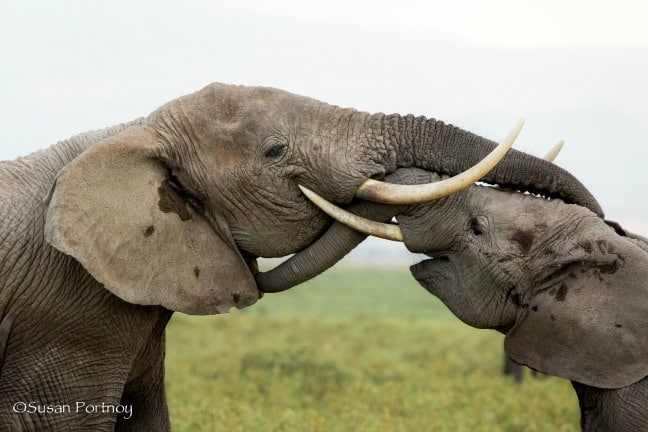 1. AMBOSELI NATIONAL PARK
Located in Kenya's Rift Valley, this 151-square mile ecotourism hotspot was put aside for preservation in 1906 and established as a national park in 1974.
Originally known as Maasai Amboseli Game Reserve, it was declared a UNESCO Biosphere Reserve in 1991. 
Known as "the land of the giants," Amboseli National Park is most famous for being the best place in the world for viewing free-ranging Elephant herds.
But the park also offers spectacular views of Mount Kilimanjaro, diverse wildlife ranging from the "Big 5" animals to over 400 species of birds, and incredible opportunities for cultural interactions with the indigenous Maasai people.
Located approximately 150 miles southeast of Nairobi, Amboseli is second most popular safari park in Kenya, attracting around 120,000 visitors every year. 
READ MORE: African Photo Safaris in Amboseli National Park & Timbavati Game Reserve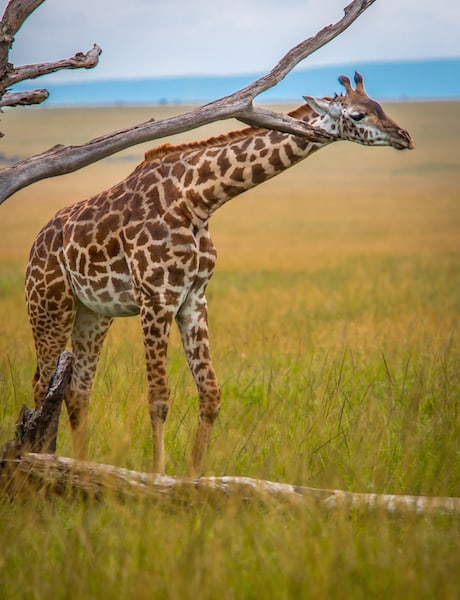 2. CHYULU HILLS NATIONAL PARK
Located in between the plains of the more well-known Amboseli and Tsavo National Parks, this African mountain range in eastern Kenya is packed with volcanic peaks up to 7178 feet high.
It's home to the Leviathan Cave, one of the world's longest lava tubes at approximately 7.15 miles. 
The park's lower levels are comprised of grassland and thicket, but at 5900 feet it gives way to montane forest.
These hills are home to a surprisingly diverse array of mammals, including Black Rhinos, Cape Buffalo, Elephants, Grant's Zebras, Leopards, Maasai Giraffes (the largest in East Africa), Lions, and various ungulates. 
The region is also home to numerous bird species (several of which are endemic), such as the African Crowned Eagle, Ayres's Hawk Eagle, Cinnamon Bracken Warbler, Martial Eagle, Shelley's Francolin, and White-starred Robin.
READ MORE:  Meru National Park (From George & Joy Adamson to Elsa's Kopje)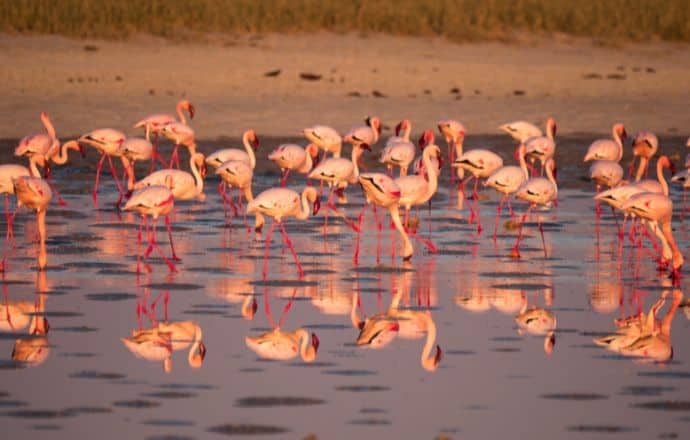 3. LAKE NAKURU NATIONAL PARK
Located at 5754 feet above sea level in Kenya's Rift Valley, this shallow alkaline lake is best known for its abundance of algae.
Every year it attracts Flamingos, numbering from the thousands into the millions. They are sometimes so plentiful that it can be difficult to see the water!
Lake Nakuru National Park started off small back in 1961, encompassing only the lake and the mountains that surround it.
But it has since expanded considerably into the savannahs, where it protects a sizable number of Rothschild's Giraffes (which were relocated here for their protection in 1977).
The park is also home to Kenya's largest concentration of Black Rhinos and White Rhinos. 
Bordered in the east by the Soysambu Conservancy, the park also boasts impressive populations of Lions, Cheetahs, Leopards, Waterbuck, and other ungulates.
In addition to the Flamingos, other bird species you may see inside the park include the African Fish Eagle, Goliath Heron, Pied Kingfisher, and Verreaux's Eagle. 
READ MORE: The 25 Best National Parks in Africa for Wildlife Safaris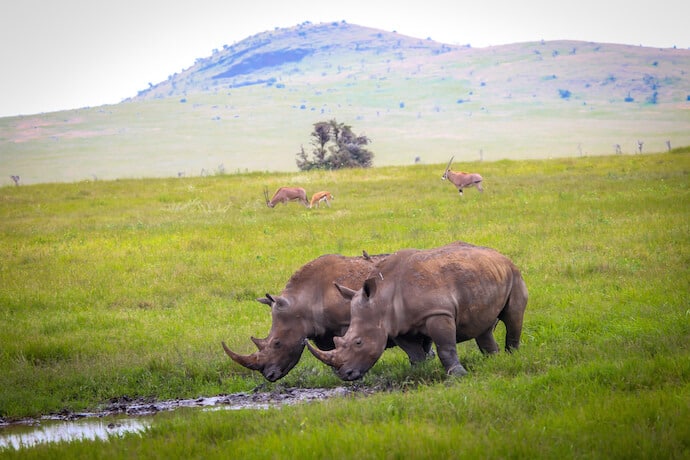 4. LEWA WILDLIFE CONSERVANCY
Inscribed as UNESCO World Heritage Site in 2013, the Lewa Conservancy is arguably one of Kenya's greatest contributions to the wildlife conservation movement.
Located in northern Kenya, the non-profit was formed in 1995, and drew considerable international attention after Prince William proposed to Kate Middleton there.
Covering 62,000+ acres, Lewa is world-renowned for its wildlife conservation initiatives. It's home to an innovative community partnership, the Northern Rangelands Trust, through which locals have donated land for wildlife preservation.
There's also an impressive education program that has helped over 6,000 local students learn the importance of protecting wildlife. 
Because it's close to parts of Kenya that were once volatile with poaching and other crimes, Lewa's security measures are top-notch.
Despite being home to nearly 15% of the nation's Black Rhino population, they went more than 3 years without having one poached.
The Lewa Conservancy is also home to the world's largest population of Grevy's Zebras, as well as Kenya's Big 5 and myriad other cool & weird animals. 
READ MORE:  20 Endangered African Animals You Can See On A Safari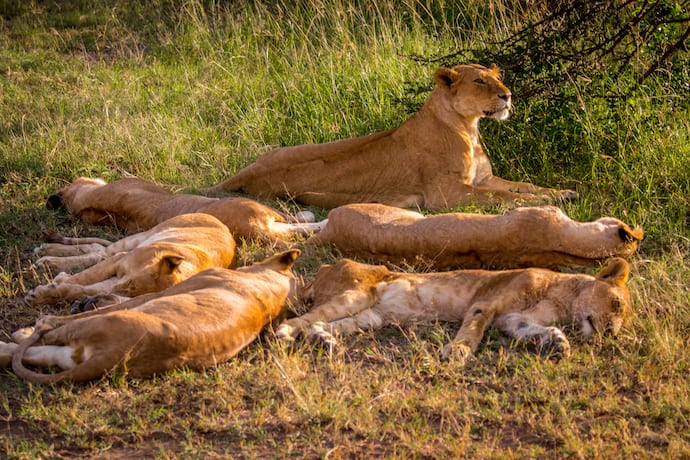 5. MAASAI MARA NATIONAL RESERVE
A dream trip for practically every traveler with a passion for wildlife, the Maasai Mara National Reserve is part of the massive Serengeti ecosystem, which covers around 12,000 square miles in northern Tanzania and southwestern Kenya.
The Maasai Mara is a prime destination for witnessing the annual Great Migration, which is widely considered among the world's Top 10 Natural Wonders.
Every year millions of Gazelles, Wildebeest and Zebras make the arduous 500-mile trek northwest to Kenya in search of water and fresh grass.
The famous crossing at the Mara River, where hungry Crocodiles lie in wait, is unlike any other African safari spectacle you're likely to see. 
Of course the Mara also offers numerous attractions at other times of the year, including Lions, Leopards, Cheetahs, Elephants, Buffalo, Hyenas, and more than 470 different species of birds. 
READ MORE: Maasai Mara Conservancies: A Model for Community-Based Conservation in Kenya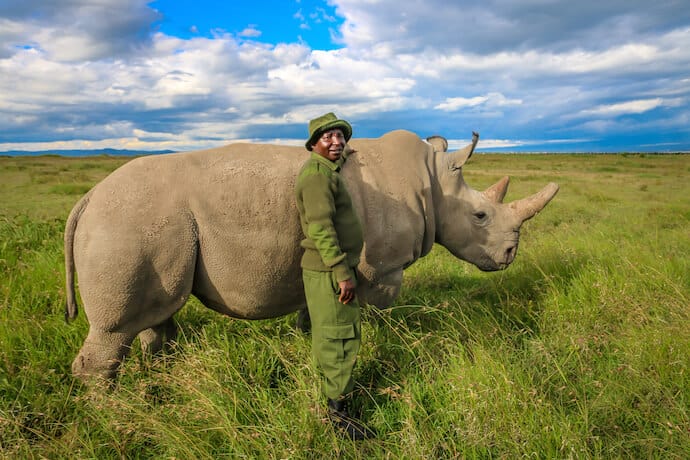 6. OL PEJETA CONSERVANCY
Located in Central Kenya between Aberdare National Park and Mount Kenya, Ol Pejeta is a non-profit 90,000-acre wildlife conservancy.
It's the largest sanctuary for Black Rhino in East Africa, with a population of over 100.
Sadly, it's home to the last Northern White Rhinos in the world: They were moved here from a zoo in the Czech Republic, and remain constantly under the watch of armed guards. 
Ol Pejeta is also home to the Sweetwaters Chimpanzee Sanctuary, which offers a safe place for abandoned, orphaned, and rescued chimps.
The sanctuary was opened in 1993 by an agreement between the Conservancy, the Kenya Wildlife Service, and the Jane Goodall Institute.
Other animals on the expansive property include the famed Big 5 animals, Baboons, Cheetahs, Giraffes, Hippos, Hyenas, Zebras, and rare species such as African Wild Dogs, Oryx, and Jackson's Hartebeest.
There are also more than 300 different bird species in the area. 
READ MORE: The 10 Best Places for African Safari Tours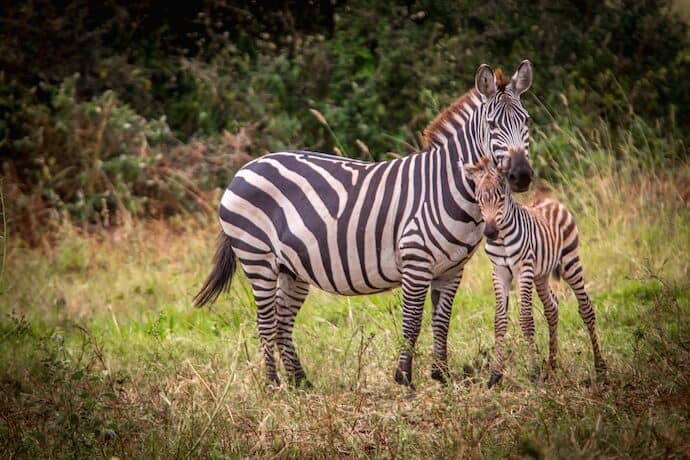 7. TSAVO NATIONAL PARK
Located in Kenya's Coast Province between Nairobi City and Mombasa, Tsavo is one of the largest national parks in the world (8,494 square miles).
It's so large, it was divided into two sections– the 5,307 square mile Tsavo East and the 3,500 square mile Tsavo West. 
Tsavo East is made up of relatively flat, semi-arid grasslands and savanna, with major features including the Galana River, Lugard Falls, and the Yatta Plateau (the world's longest lava flow).
Tsavo West is more mountainous and wetter, with features such Lake Jipe, Mzima Springs, and numerous swamps. 
Collectively, Tsavo is one of the largest game reserves in the world, home to the famous Tsavo Lions (whose males often lack manes) and a sanctuary for Black Rhinos.
The safari park's other wildlife includes the Big 5, Aardwolf, Bushbabies, Caracal, African Civets, African Wild Dogs, Cheetah, Grevy's Zebra, and more than 500 different bird species.  –Bret Love