3 Countries in Southern Africa Worth Visiting (Besides South Africa)
When it comes to the best countries for safaris in Africa, old standbys such as Kenya, South Africa, and Tanzania tend to end up on most wildlife lovers' bucket lists.
But as countries in Southern Africa becomes increasingly accessible to travelers, lesser-known destinations are emerging as ecotourism hotspots.
In our eyes, Botswana, Namibia, and Zambia are all burgeoning breakout destinations for a Southern African safari.
Read on to discover a few reasons why…
READ MORE: The 20 Safest Countries in Africa to Visit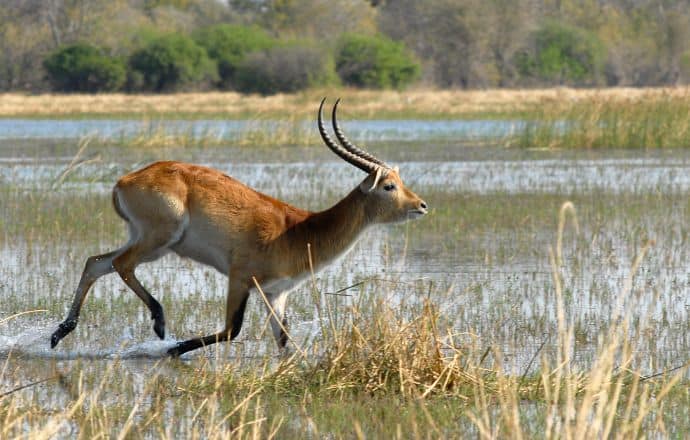 BOTSWANA
Botswana has prioritized wildlife conservation since 1963. That was the year the Batawana people established the Moremi Nature Reserve after seeing their lands threatened by illegal hunting and the development of cattle farms.
Ecotourism in Botswana is big business, bringing in approximately $250 million each year. Commercial hunting was banned there in 2014, and anti-poaching laws are VERY strictly enforced.
Wildlife management is largely left in the hands of local communities, providing alternative revenue streams to wildlife trafficking. 
Thanks to the country's stable government and progressive social policies, it's now one of the best countries for safari in Africa. Here are four great places to see animals in Botswana:
READ MORE: How Botswana Wildlife Conservation Helps Fight Poaching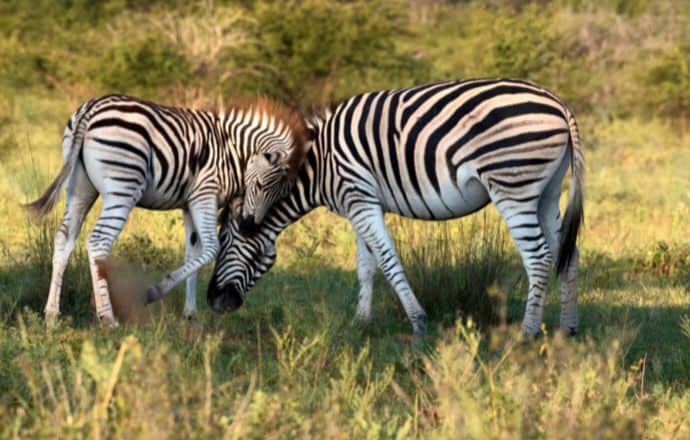 Central Kalahari Game Reserve
The second largest wildlife reserve in the world (20,000 square miles), this reserve is the ancestral home of the Bushmen people.
Its diverse array of animals includes Lions, Leopards, Hyenas, Wild Dogs, dozens of Antelope species, and many more.
The area's annual Zebra migration is spectacular, but little-known.
READ MORE: The 25 Best National Parks in Africa for Wildlife Safaris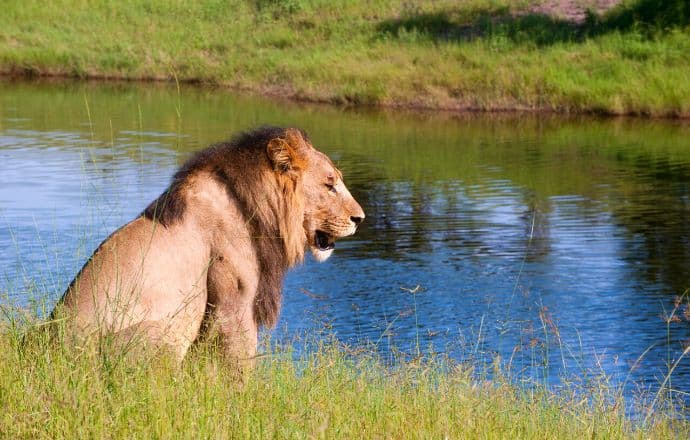 Chobe National Park
Chobe is home to over 120,000 Elephants– about 1/3 of the total African elephant population.
The park offers lots of different ecosystems to explore, including savannah, swamps, floodplains, and mopane woodlands.
Besides Elephants, Chobe is also a great place to see big cats, which are largely found in the Liyanti Marshes. 
READ MORE: The 10 Best Places for African Safari Tours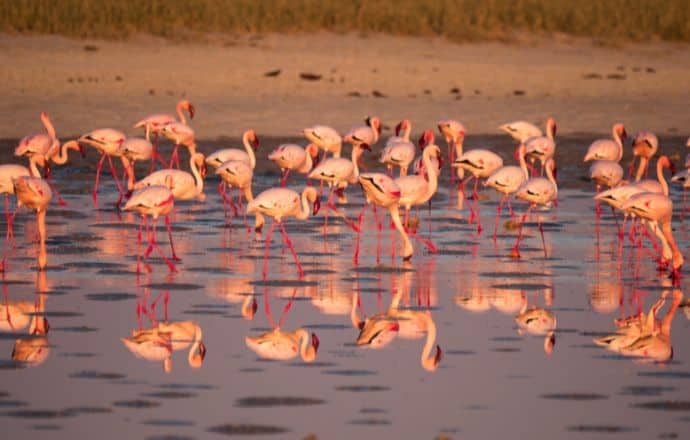 Makgadikgadi Pans
These are the world's largest salt pans in the world.
When flooded, the area is visited by thousands of Zebras, Wildebeest, and Flamingoes.
But even when they're dry, the Makgadikgadi Pans are worth a visit for their surreal beauty.
Visit at sunset to get stunning photos framed by the silhouettes of ancient Baobab trees. 
READ MORE: The 7 Best Safari Parks & Game Reserves in Kenya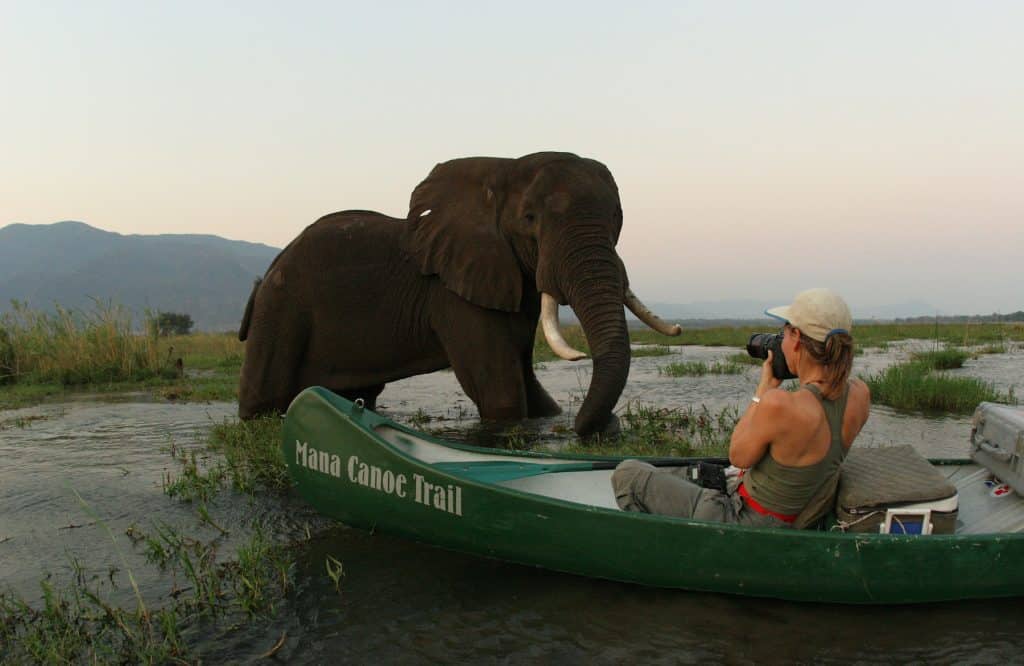 Okavango Delta
The most famous of Botswana's many ecotourism attractions, this 5791-square mile wetland area earned UNESCO protected status in 2014.
In the winter its myriad canals and swamps attract some 200,000 large mammals (Cheetahs, Lions, Elephants, Rhinos, Wild Dogs, etc.) and over 400 bird species, including the Crested Crane, Hammerkop, and Sacred Ibis.
READ MORE: 20 Endangered African Animals You Can See On A Safari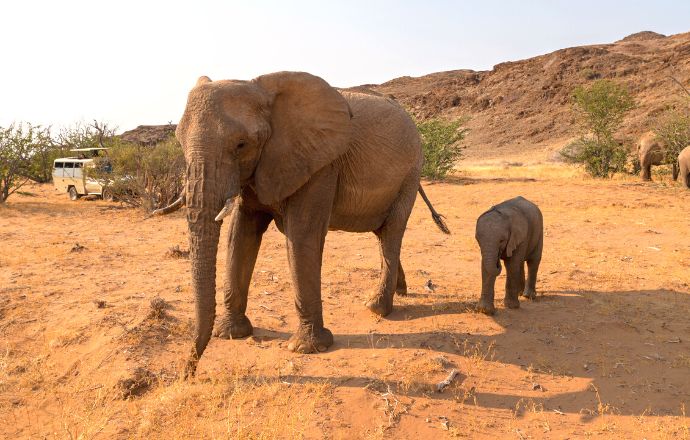 NAMIBIA
Namibia is utterly unlike any other country in Southern Africa (or in the world, for that matter).
This country is wild, rugged, and relatively untouched by human development of any sort.
It's one of the least populated places on the planet, with just two million people spread across more than 300,000 square miles. 
The nation is probably best-known for its otherworldly landscapes.
These include the deep orange hues of massive desert sand dunes, dead trees that look like alien skeletons, and a crazy coastline known as the Skeleton Coast (famous for the many shipwrecks you'll see just offshore).
But it also offers the rich cultures of the indigenous Bushmen, Herero, and Himba peoples. 
Many African countries pride themselves on offering incredible wildlife safaris, but Namibia was the first African nation to include protection of the environment in its constitution.
Partnerships with NGOs such as Nature Conservancy and WWF have created 64 communal reserves and protected 35 million acres of wildlife habitat.
Here are a few must-see places for animal lovers: 
READ MORE: The 20 Best Wildlife Parks & Wildlife Tours in the World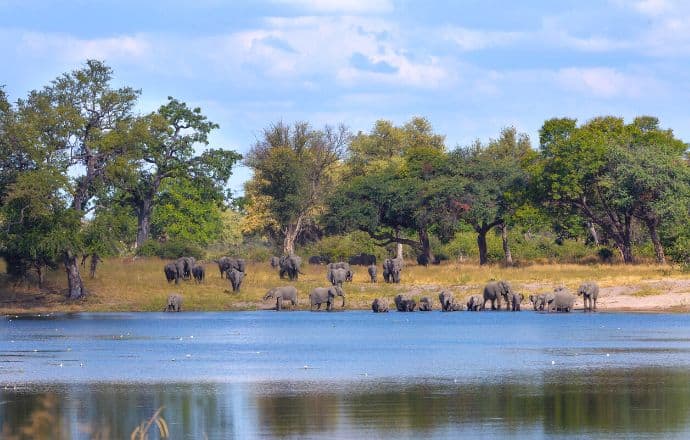 Bwabwata National Park 
Located in the "Four Corners" area where Namibia meets Botswana, Zambia, and Zimbabwe, Bwabwata is wetter and more fertile than the rest of the country.
It's near the Okavango Delta and is part of the region's Elephant migration route.
The park also includes the Mahango Reserve, which is arguably the best place in Namibia for birdwatchers. 
READ MORE: The 15 Best National Parks in the World for Wildlife Watching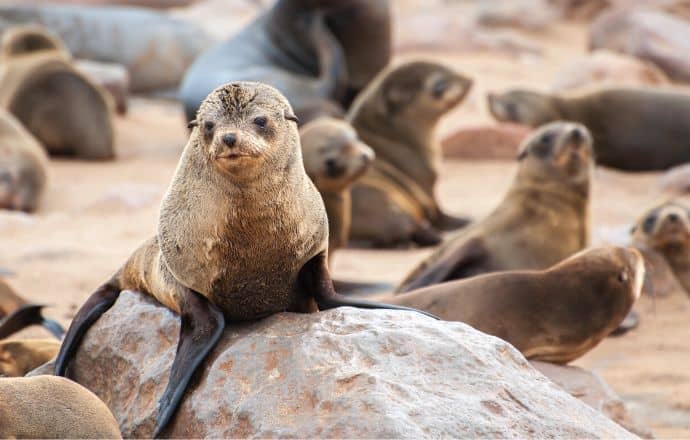 Cape Cross
Located near the town of Swakopmund, Cape Cross was where Portuguese explorer Diogo Cão's expedition landed in 1486.
You'll find a replica of the stone cross he erected there today, but the main attraction is one of the world's largest Cape Fur Seal colonies.
At certain times of the year, the population can grow to over 500,000. Just be prepared for the overwhelming smell!  
READ MORE: The World's Best Road Trips For Your World Travel Bucket List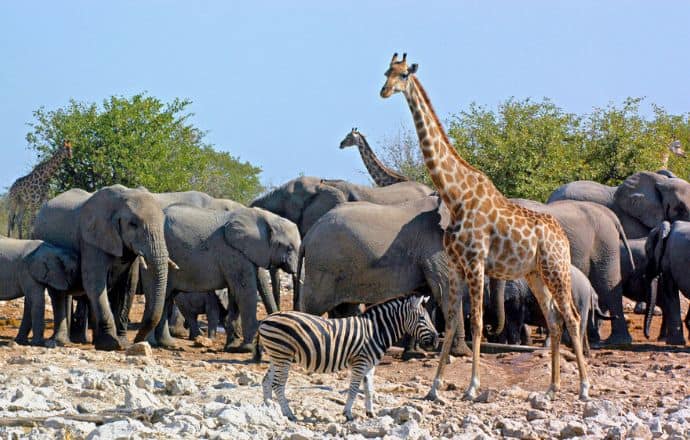 Etosha National Park
The third largest game reserve in Africa, Etosha is one of the most accessible safari parks in Southern Africa.
It's one of the last places where you can Black Rhino in the wild, plus big cats and vast herds of Antelope, Elephants, Giraffes, Wildebeest, and Zebras.
The grasslands provide great game-viewing, and the waterholes are always bustling with activity. 
READ MORE: How to Get the Most For Your Kruger National Park Entrance Fee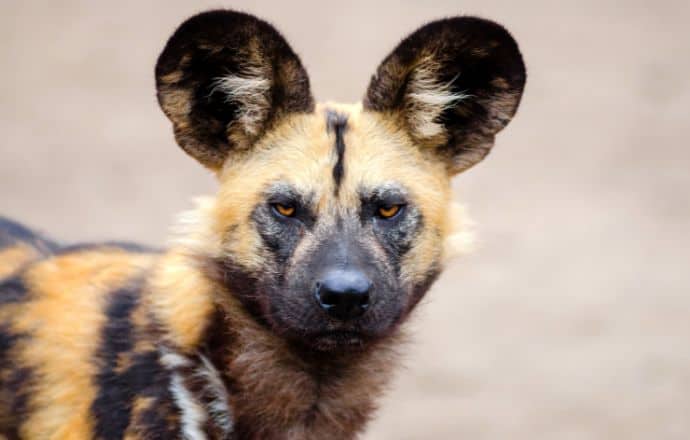 Khaudum National Park
If you've never heard of this 384,000-hectare reserve, you're not alone.
Khaudum is extremely remote, undeveloped, and uncrowded (i..e. less than 3000 visitors a year).
But for adventurous animal lovers it's a utopia, with huge herds of Elephant, African Wild Dog, Hyenas, Lions, Leopards, Roan Antelope, and more than 320 different species of birds.
READ MORE: Animals in Kenya: A Guide to 40 Species of Kenyan Wildlife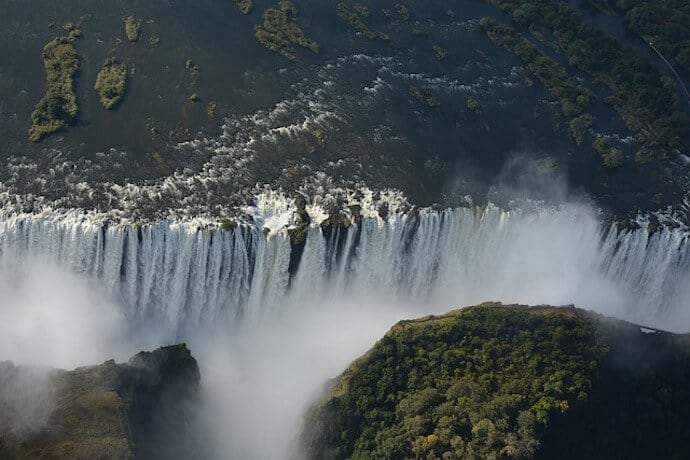 ZAMBIA
The Republic of Zambia is best known for Mosi-oa-Tunya ("The Smoke that Thunders"), a.k.a. Victoria Falls.
And with good reason: At 354 feet tall and 5,064 feet wide, this natural wonder is the world's biggest waterfall. But it's hardly the only amazing attraction the landlocked nation has to offer.
Thanks in part to Edgar Lungu, a president who seems keen on conservation, Zambia's reputation as an incredible safari destination is growing.
The country boasts a booming economy, stable political climate, impressive infrastructure, and welcoming locals. Yet it still sees far fewer annual visitors than rivals such as South Africa and Tanzania. 
In terms of numbers, Zambia has 20 national parks, 14 different ecosystems, and a whopping 12,505 species of animals. These are a few of the best places to see animals in Zambia…
READ MORE: Mountain Gorilla Trekking in Rwanda (w/Dian Fossey's Porter)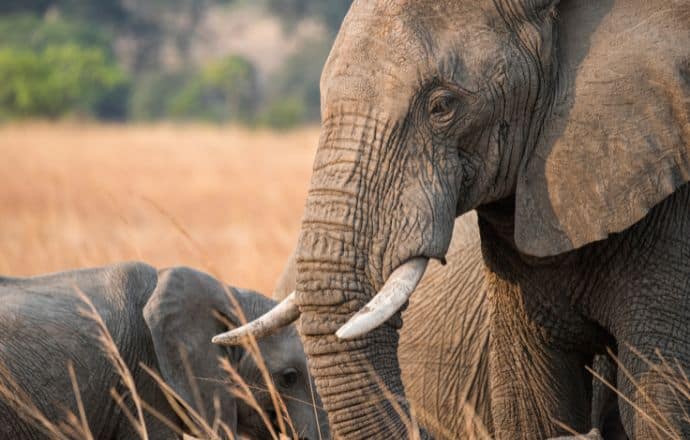 Kafue National Park
At 8,648 square miles, this is Zambia's largest national park and the second largest national park in Africa.
It's named for the Kafue River, which attracts plenty of Crocodiles, Hippos, and Elephants.
The bush is home to more than 50 other species, including various antelopes, African Wild Dogs, Cheetahs, Hyenas, Leopards, Lions, Wildebeest, and Zebras. 
READ MORE: The Connection Between Walking With Lions & Canned Lion Hunting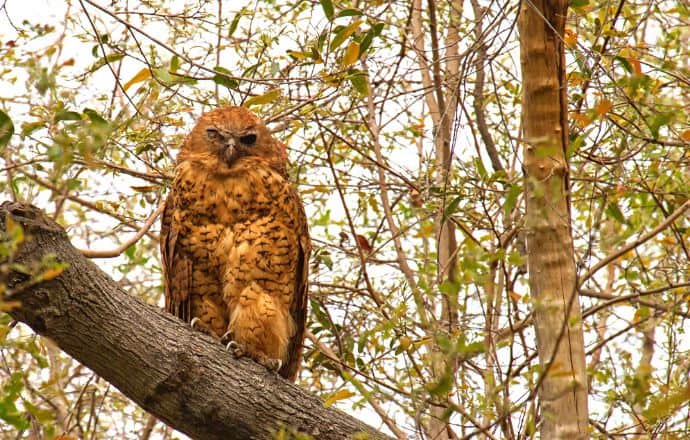 Kasanka National Park
This 150-square mile park is unique: It was saved from neglect by local conservationists in the 1980s, and remains privately managed and funded.
Though small, its setting on the Lake Bangweulu basin is beautiful.
It's arguably Zambia's best place for birdwatching, with 400 species including the African Finfoot, Ross' Lourie, Pel's Fishing Owl, and Western Osprey.
READ MORE: Exploring Ngorongoro Conservation Area (Tanzania)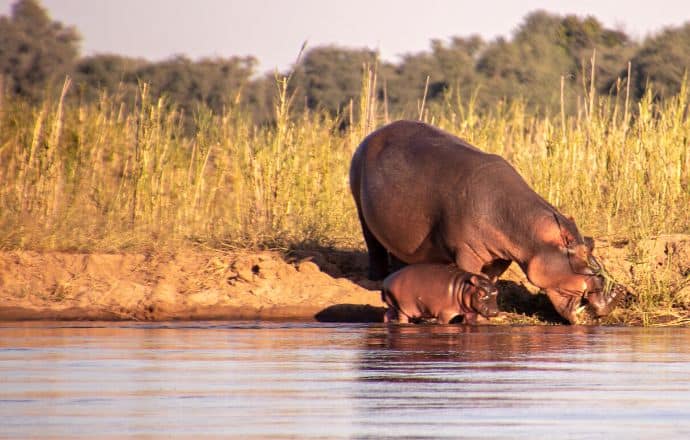 Lower Zambezi National Park
Stretching 1,599 miles to the sea, the Zambezi River is a perennial haven for travelers in search of wildlife.
This park comprises on of the river's most fertile sections, with cooling shade attracting Impala, Hyenas, Leopards, Lions, Waterbucks, Zebras, and numerous other animals to stop for a drink.
It's also considered one of the world's best canoe trips. 
READ MORE: Madagascar Animals Photo Gallery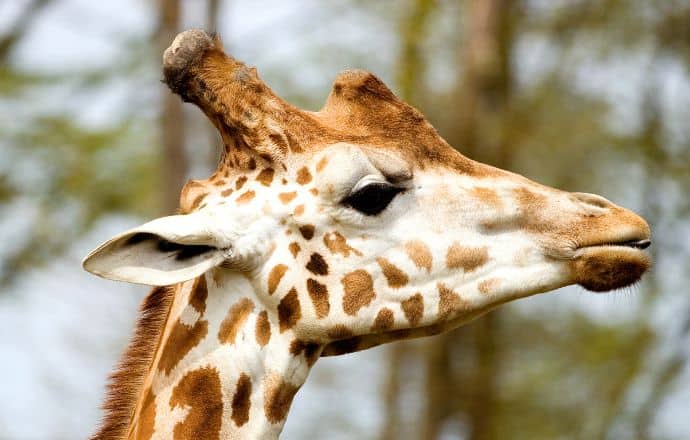 South Luangwa National Park
This world renowned, 3,400-square mile park is widely considered among the African continent's greatest unspoiled wilderness areas.
At its heart is the Luangwa River, which is surrounded by woodlands and plains.
The diverse wildlife there includes some 14,000 Elephants, Hippos, Leopards, Lions, and the rare, endemic Thornicroft's Giraffe.  –by Bret Love