7 Essential Gadgets for Your Next Camping Trip
Many of us love to camp to reconnect with the outdoors, relax, and rejuvenate. The camping experience can be one of renewal, so staying physically comfortable is an important aspect of your adventure. 
Modern camping equipment and gadgets go way beyond the standard campsite setup. Nowadays, it's possible to take all the gadgets you need in your camping pack to still stay connected, whether it is a portable solar panel to recharge your phones or a convenient tent lighting system for campfire nights. With the help of innovative technologies, you can enjoy many of the conveniences of home when you are off the trail. 
Lots of the latest camping technologies are focused on minimizing packing and compacting the amount of necessary gear that you need to hit the trail. Whether you are traversing through the closest lake region or having fun at a family-oriented campground, there are plenty of ways to make your camping experience an enjoyable one. Let's take a closer look at a few essential tech gadgets for planning your next camping trip.
LifeStraw
While primitive camping or freedom camping can be a wonderful way to reconnect with nature, you will always need to remember a few essentials before you go out into the wilderness. One of these essentials is access to clean, drinkable water to stay hydrated. 
Finding clean water is the number one priority for campers who like to rough it with no electricity. When hiking off-grid, you will have fewer chances of finding a campground with fresh potable water than you would if you were on the grid. 
Having a portable filter system like a Lifestraw around is useful if you are ever uncertain about local water quality.
A Lifestraw is a simple and portable gadget that allows you to suck water from nearly any questionable source and drink it. As contaminated water flows up through your Lifestraw, it is filtered through innovative stages that remove harmful dirt and bacteria. 
Lifestraws are lightweight and you can carry them with you in many ways, whether in your pack, on your belt, or around your neck on a lanyard.
Headlamp
The woods can be a dangerous place when your visibility is limited. The forest can often be a dark place to find your footing, even during the day. To help you see in the dimness or at night, you should pack a highly-rated headlamp. 
These USB chargeable lights are often placed on a simple headband that is adjustable to any size. All you have to do is put on the headlamp and turn on the power, and your way will be brightly lit. 
A camping gadget like this will be the perfect addition to any family's camping equipment. Parents can use these hands-free flashlights to help the kids get ready for bed, light the way to the bedtime bathroom break, and prepare late-night snacks. 
There are many different configurations of LED headlamps that you can choose from. Some of them have different levels of brightness, or they have lights that are different colors. Almost all headlamps can be switched from a constant beam to an SOS or strobe beam in an emergency situation. 
Solar Lantern
When you are camping, there are no light switches to flip when you are in the middle of nowhere. The only source of light you can rely on if you need it is either a flame or a lightbulb. 
In the past, campers relied on gas and oil lanterns to light the way to their campsites in the dark as they walked to their campsites. Solar technology allows you to take a portable, lightweight lantern on your trip without fuel or batteries.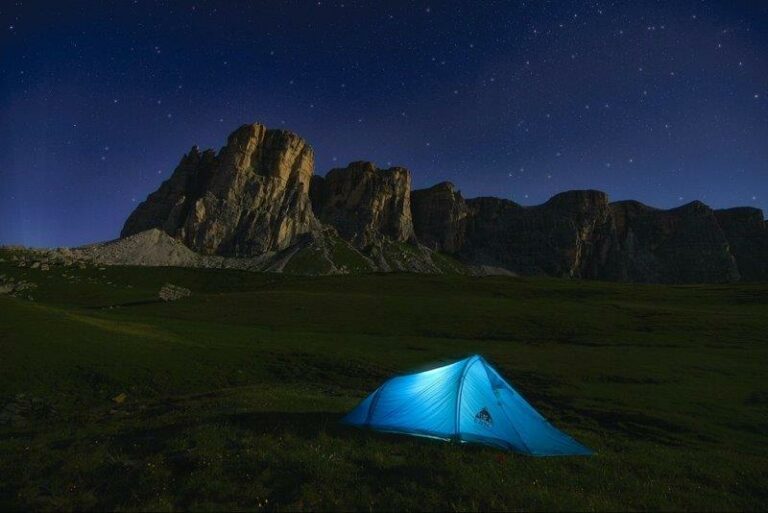 Solar lanterns are designed to include an innovative solar panel receptor, often located on the top or lid. Simply leave your lantern out in the sun during the day at the campsite, and it will charge enough to light your camp during the night. 
If you use a solar lantern with LED lights, you can use it for up to eight hours on a low setting. It is safe to take solar lanterns into your tent at night since they do not have a flame that could be used as a source of light. 
Thermacell
You may have found the perfect camping spot, but if you're bothered by flies and mosquitos, your trip could be ruined. While many brands of chemical bug repellents are on the market, not all are effective enough to make a difference. Serious deep-woods campers know nothing works better at repelling stinging insects than wearing a Thermacell. 
A Thermacell device is a simple warming unit that works on small butane boosters. They come with pads coated in a blended brand of repellents. Once you fire up your unit, the pads are warmed and emit a defensive bubble of repellent that will keep mosquitos away. Your Themacell can create up to a fifteen-foot dome of protection for wearers. 
Thermacell units can be worn on a belt or in a pocket. They can even be clipped to the side of a chair or table for convenience. There is no need to handle sticky and staining liquid bug repellant when using your Thermacell. 
Portable Solar Panels
When you purchase all of your new camping technology, you will need a way to keep them powered up to be able to use them. The significant advances that have been made in solar technology have made it possible for outdoor enthusiasts to have the convenience of portable devices. 
There are now foldable and portable solar panels that can be taken with you on your next camping adventure. Most portable panels weigh less than 3 pounds, making them a lightweight solution for off-grid campers. You simply need to pair your panels to a portable charging station to help you stay connected.  
Solar Shower
Roughing it in the wilderness doesn't mean that you can't enjoy a few luxuries, like a hot shower. Unfortunately, it's unlikely that you can access hot water while you are on a camping trip. 
To help you stay warm, clean, and refreshed, you can now take a solar shower in your backpack. These simple-to-use nylon bags are specifically designed to take advantage of the sun's power. 
Most solar showers use dark nylon to form a bucket-like container. You simply fill the bucket up with water from a natural source and hang it in a tree with direct sunlight. It takes no time at all for the water to heat up to a comfortable temperature. Then you open the valve at the bottom of the bag and let out the water as you need it for your shower. 
GPS
Going out into the wilderness to camp can be a fun and wild adventure. While camping and hiking can be exhilarating, you never want to find yourself in a dangerous situation. Experienced wilderness enthusiasts almost always have a compass to help navigate their way. Thanks to technology, you can now stay on the trail with the help of satellite GPS units instead.
Your GPS will help you to guide your route, pin your current location, keep you in the right direction, and signal for help if you need it. Getting one of these is an excellent safety tip for new campers. 
Anything can happen when you are in the wild, including getting lost, injured, or in medical emergencies. Having a GPS handy is one of the best ways to easily map an emergency escape route and notify authorities of your physical location. 
Conclusion
Camping has experienced a renaissance of sorts in the past few years. Thanks to the restrictions during the pandemic, more people than ever before are choosing camping for their vacations. 
If you plan a camping adventure, consider using any of these essential tech gadgets to make your trip more comfortable. They can certainly help make your trip a little more enjoyable.