Biking Banff to Jasper: 2023 Complete Guide
Last updated:
Biking 290 km from Banff to Jasper is one of the most impressive mountain bike rides in the world. The ride runs parallel to the Continental Divide, and can start in either Banff or Jasper, both of which are exceptionally scenic towns. Only 55 km from Banff is Lake Louise, considered to be the hiking capital of Canada. If time isn't of the essence, then stay longer and explore. In particular, Lake Agnes Tea House hike and the Plain of Six Glaciers hike aren't far from Lake Louise and offer not only stunning views, but mountain teahouses for refueling. There are many other worthwhile hikes in the Lake Louise area.
As you head north from Banff you'll take in Bow Pass, the Icefield Parkway's highest point and the Peyto Lake viewpoint. Continuing north descend to Saskatchewan Crossing, where three rivers converge, and then climb to the Columbia Icefields, known for chilly temperatures even in the middle of summer. This is where you can take a motorized tour onto the glacier.
North of the Columbia Icefield you'll see Sunwapta Mountain and the Endless Chain Ridge. The rest of the Banff to Jasper bike ride takes you alongside the Sunwapta and Athabasca Rivers into Jasper.
Biking from Banff to Jasper takes place entirely on a highway with very wide shoulders. Roads are busy around Banff, Lake Louise, and Jasper but reasonably quiet elsewhere, especially on weekdays. In Banff there is the option to cycle the quieter Highway 1A. Be alert for elk, moose, grizzly bears and mountain goats at all times. Plan to be challenged by this very scenic and oftentimes difficult bike ride.
This post includes some affiliate links. If you make a qualifying purchase through one of these links, I will receive a small percentage of the sale at no extra cost to you. Thank you very much for your support.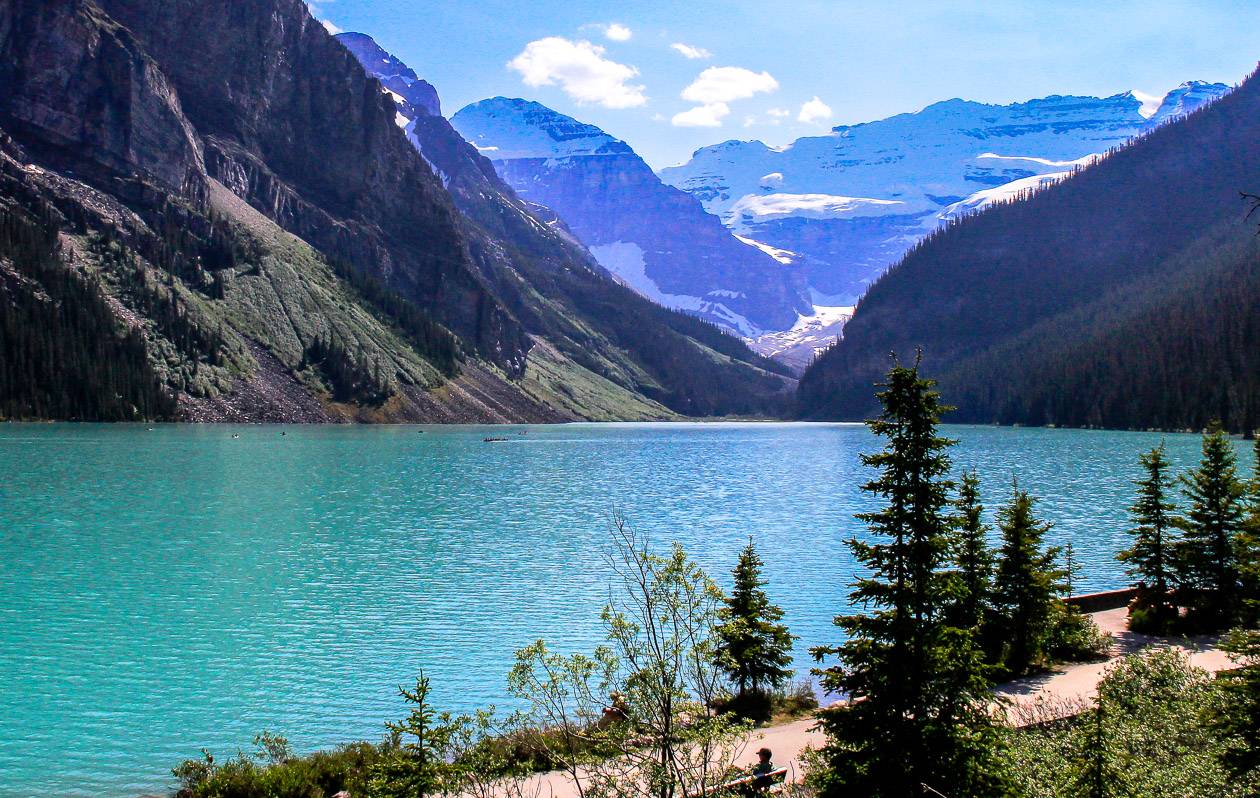 Biking Banff to Jasper summary
Total mileage: 290 km or 175 miles
Best time to do the bike ride: July and August but June and September are possible if the weather cooperates. Fickle weather is the norm in the mountains so come prepared for four seasons at any time. You might find snow patches at the top of some passes even in the summer.
Getting to the Banff/Jasper start: Easily accessible via Calgary only 125 km(80 miles) away to the east. Edmonton is also a possibility though it's 360 km (215 miles) from Jasper. 
Where should you start? Most people bike from Banff to Jasper but in fact the prevailing winds are from the north so the biking in theory might be a tad less windy if you begin in Jasper.
Time to avoid: Avoid biking during the Banff to Jasper Relay in June when hundreds of runners and support vehicles crowd the roads
Camping: There are lots of campgrounds on the Icefields Parkway. If you haven't reserved, plan to arrive no later than 3 PM or they'll likely be full (likely earlier on weekends.) Recommended reading: Everything You Need to Know About Camping on the Icefields Parkway 
Don't do:  Don't bike at dusk or after dark when many of the animals come to life and you are harder to see.
Don't forget: Always carry a fleece in addition to rain gear. The long descents off the passes can be very cold.
Highway riding: Most of the shoulders are six feet wide on the main highway. Ride single file and wear bright clothing. There are many novice RV drivers around.
Map: Gem Trek Columbia Icefield Map
Biking Banff to Jasper trip highlights: 
Stunning panoramas for the entire ride
Banff and Jasper National Parks and the towns of Banff, Lake Louise and Jasper
Johnston Canyon
Bow Pass and Peyto Lake
Athabasca Glacier and the Columbia Icefields Center
Mistaya Canyon and Sunwapta Pass
Wildlife sightings
No trucks on the Icefields Parkway between Lake Louise and Jasper.
In June daylight lasts for 16.5 hours.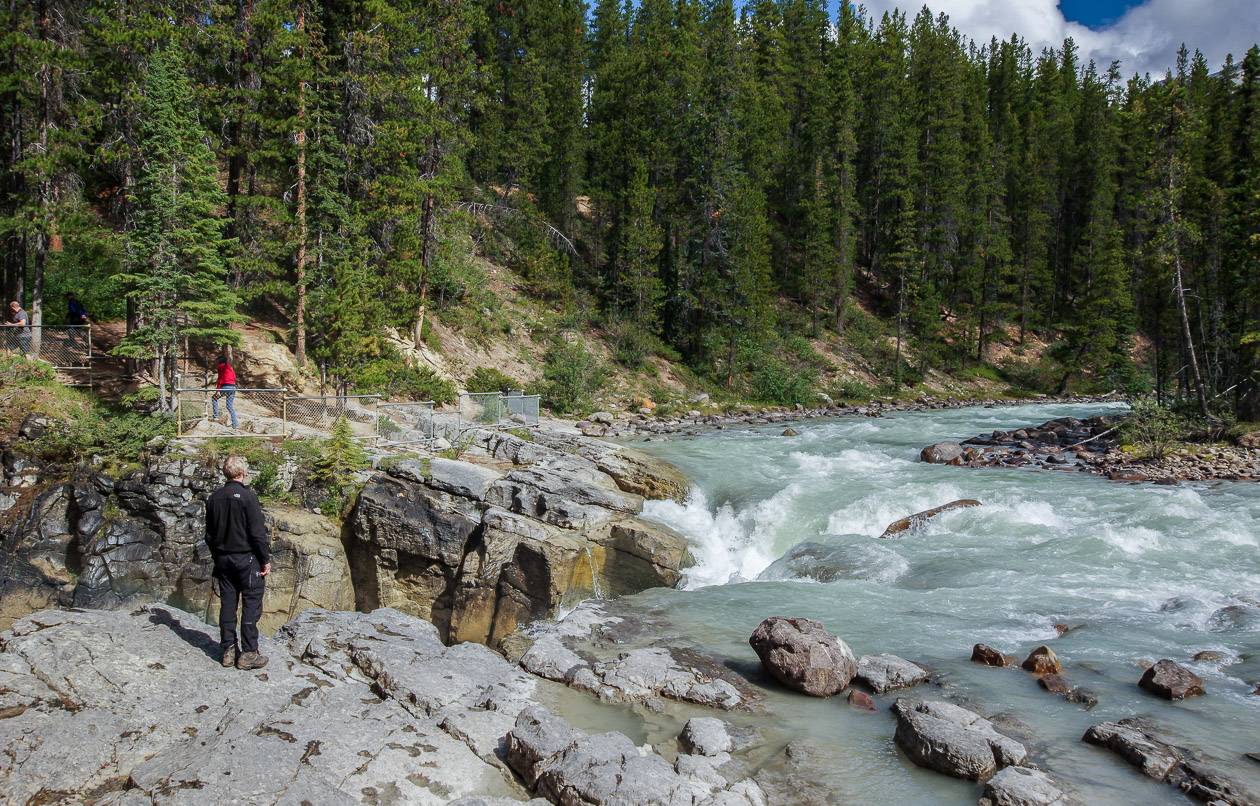 How to get to Banff 
Banff is easily accessed via Calgary. Airlines servicing Calgary include Air Canada, West Jet, Alaska Air, Delta Airlines and United as well as several low cost flyers like Lynx Air. There are frequent scheduled shuttle and limo services available. All major car rental companies are represented and can be found at the airport on the departures level, across the road from the main terminal. There is no regularly scheduled passenger train service to Banff.
The distance from Calgary airport to Banff is 145 km (90 miles). It's an easy 90 minute drive along Canada's Trans-Canada Highway 1. You'll need to buy a Banff National Park pass which can be purchased at the park entrance or online. 
Listed below are some shuttle service providers.
How to get to Jasper
Jasper is not nearly as easy to access as Banff. The closest major city is Edmonton, 360 km (215 miles) to the east.  Calgary is 480 km (290 miles) southeast of Jasper and Vancouver is a 10 hour drive away.
Edmonton is serviced by Air Canada, West Jet and other US and international airlines. Car rentals and a shuttle service can get you from the Edmonton airport to Jasper.
Shuttles from Edmonton airport to Jasper
Where can you rent a bike?
Banff
Lake Louise
Jasper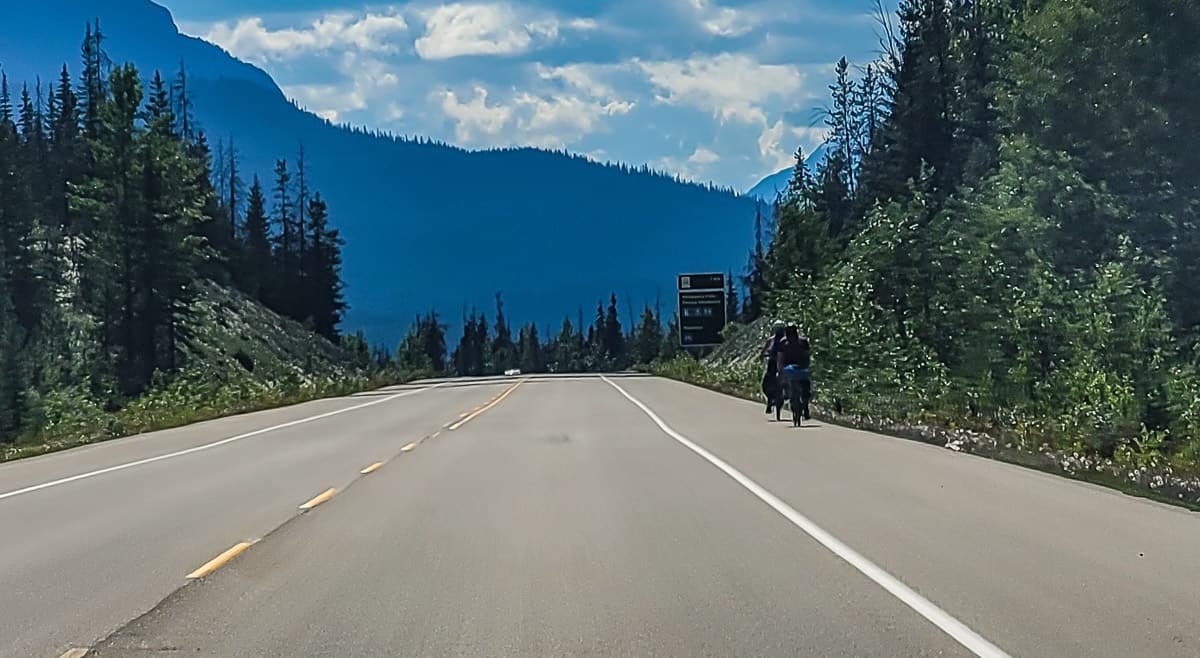 Where to stay in Banff 

There is lots of hotel choice in Banff. Try one of the following across a range of price points.

Fairmont Banff Springs Hotel – The hotel needs no introduction. Its image adorns many a postcard. There is a huge array of rooms from cozy to spacious. Plenty of amenities should keep you happy though some might be put off by the size of the place – 768 rooms to be exact.

Buffalo Mountain Lodge  – This is a well appointed lodge featuring post and beam construction; it's located a 15 minute walk away from downtown Banff. Rates in the summer start at $269 per night and go up to $339 per night.

The Banff Alpine Centre Hostel is an affordable way to stay in Banff.

The Moose Hotel & Suites is my favourite Banff hotel close to the strip of stores.

The Dorothy Hotel is a boutique motel offering simple accommodation.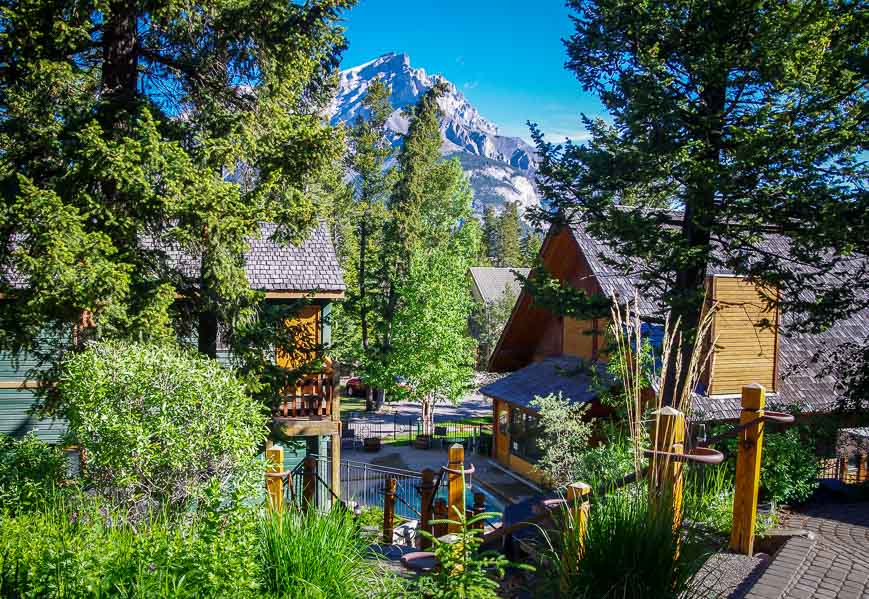 Things to do in Banff before of after biking Banff to Jasper
Banff is a tourist town in a brilliant setting and it got its start as a railroad town in the 1880's. The Bow River runs through Banff and surrounding the town are magnificent peaks including Mt. Rundle.
There are bike trails and walking paths and lots of touristy shops. Wander around to get a sense of the place and if you have the time try to do the Inkpots hike via Johnson Canyon, the hike up Sulphur Mountain and dinner with a view at the Banff Gondola, or one of the local Banff bike rides.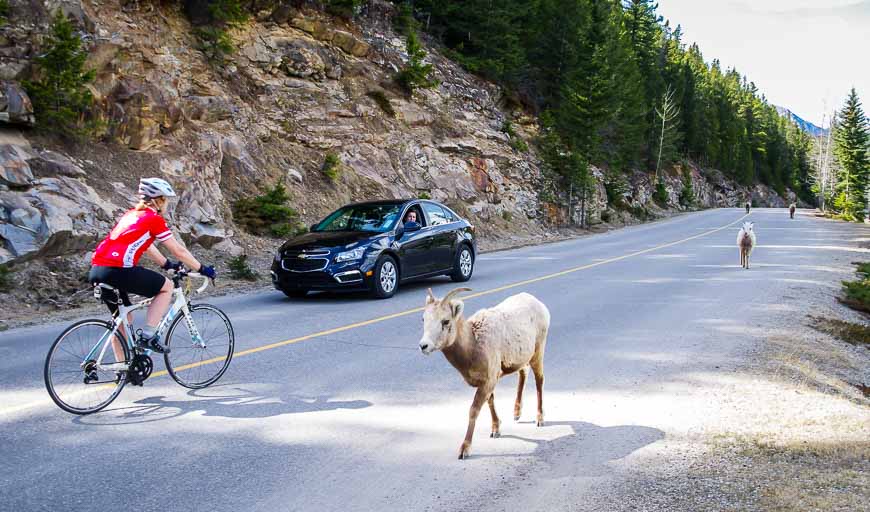 Detailed itinerary and route notes for biking Banff to Jasper 
Day 1: Banff to Lake Louise bike ride
Distance: About 65 km (39 miles)
Level of difficulty: Moderate. It's a gradual uphill most of the way to Lake Louise.
Highlights: Expansive views, glittering snow capped peaks, turquoise lakes, chance of seeing wildlife, Johnson Canyon hike if you take Highway 1A
Route description:
A short distance out of Banff you have the choice of two routes to get to Lake Louise. The main road is the Trans-Canada Highway. It's a busy road with mostly wide shoulders except when there is a passing lane and then the shoulder narrows to two feet. The alternative is Highway 1A, also called the Bow Valley Parkway. It has no shoulders, more hills and less expansive views. On the other hand, it's quieter and you have a better opportunity to see wildlife and its closed during the day to traffic from early May to late June and again in September. It's also possible to do the hike to Johnston Canyon as you'll go right by it.
Cycle the pathway from the Banff Train Station past the Vermilion Lakes to reach the intersection to Highway 1A. Hop on it for a quieter bike ride. It's about 60 km from there to Lake Louise.
At Castle Junction you can get a snack and a drink. From there continue 40 km northerly to reach the clearly marked intersection to Lake Louise. Turn left (west)and cross the highway. Reach the main shopping area at Lake Louise in one long block – as well as a tourist information centre.
Where to stay in Lake Louise

Deer Lodge – Choose from a mix of historical and modern rooms close to Lake Louise.

Mountaineer Lodge is a more affordable option than many others.

If it's cozy log cabins you're after check out Baker Creek By Basecamp. It's located on Highway 1A before you reach Lake Louise. Check ahead to see what the dining options are like.

There is an affordable hostel option in Lake Louise.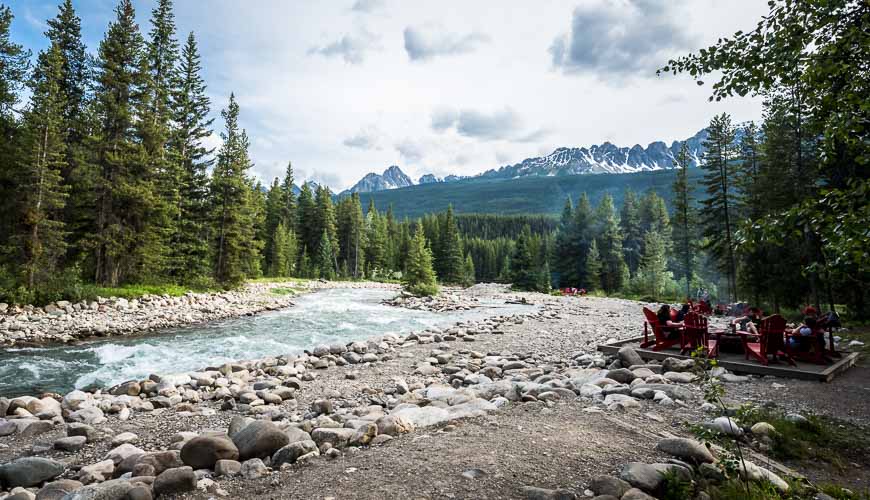 Day 2 Biking Banff to Jasper: Lake Louise to The Lodge at Bow Lake
Distance: 40 km (24 miles)
Level of difficulty: Moderate to difficult with one long climb
Highlights:  Crowfoot Glacier, wildlife spotting (elk, moose, bighorn sheep, wolf, big horn sheep and grizzly bears), dazzling peaks Bow Lake
Route description: To get back on the bike route, cross over  the Trans-Canada Highway to the east side and head northerly down the entrance ramp onto Highway 1 West. In about 2.5 km you will reach the intersection with the Icefields Parkway – Highway 93.This is your route for the next 37 km so say goodbye to the Trans-Canada Highway (and the trucks) and start climbing up the Icefields Parkway. There is a long, long climb to start but persevere all the way to beautiful Bow Lake. Num-Ti-Jah Lodge is located at the north end of Bow Lake and you won't miss the red roofs.
Once you reach Bow Lake look north for the Bow Glacier Falls – a huge waterfall that sends waterfall cascading 400 feet. You can hike a trail to the base of the waterfall. 
Where to stay on Bow Lake
The Lodge at Bow Lake is the only place to stay on Bow Lake. The setting of this lodge is divine as it sits at the northern end of Bow Lake with views of rugged peaks and glaciers. It is also the starting point for some superb backcountry hiking. It's been revamped with newly updated interiors. 
Saskatchewan River Crossing
Another option is to continue on to Saskatchewan River Crossing (39 km north) and stay at The Crossing Resort though its on the pricey side for what you get.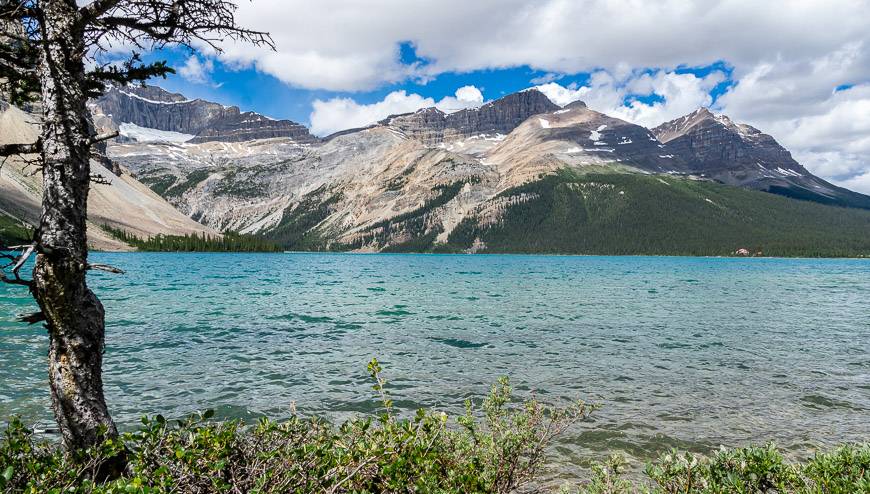 Day 3: The Lodge at Bow Lake to Glacier View Lodge at the Columbia Icefields bike ride
Total distance: 93 km (58 miles)
Level of Difficulty: Difficult because of the climb to Bow Pass
Highlights: Mistaya Canyon, Bow Pass and the Peyto Lake viewpoint, North Saskatchewan River, Weeping Wall (2,000 foot cliffs covered with waterfalls), Athabasca Glacier
Route description:
Leave the Lodge at Bow Lake and continue north on the Icefields Parkway. In less than 5 km you reach Bow Pass and the Peyto Lake Viewpoint. The pass tops out at 2,099 m (6,849 feet) above sea level. Take the time to walk up to the Peyto Lake viewpoint. You can't help but marvel at the brilliant turquoise colour of glacially fed Peyto Lake.
Back on the Icefields Parkway cycle 32 km north past Mistaya lake, Waterfowl Lake all the way to Mistaya Canyon, located on the west side of the highway. A short hike from the parking lot takes you up the canyon where you can watch the Mistaya River froth and cascade through the narrow fissures. It's worth the side trip.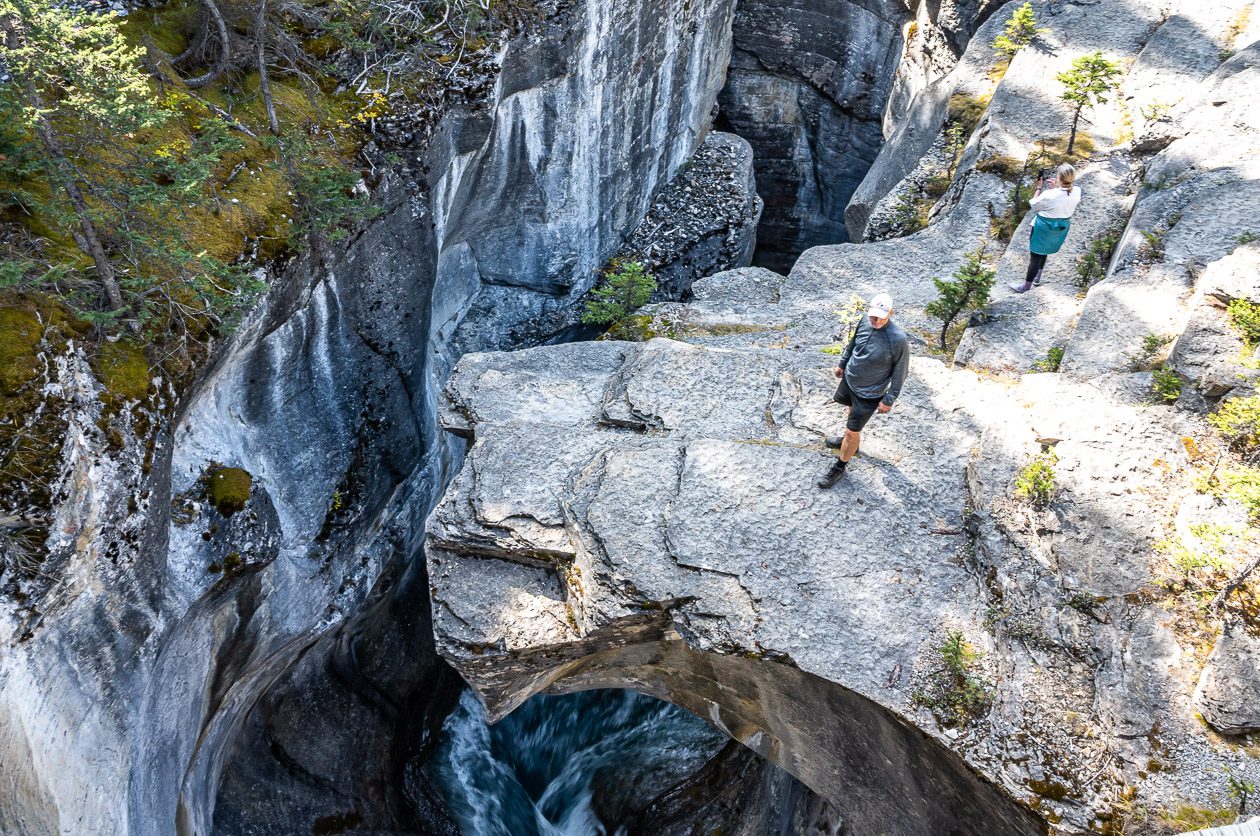 Saskatchewan River Crossing is 5 km further up the road at the intersection with Highway 11. You can load up on snacks and drinks here or even spend the night. Get your climbing legs ready as the next section is a steep 53 km ride up to the Columbia Icefields. Unfortunately you always get a headwind climbing to the Icefields – from either direction. That's because the dense, cold air from the glaciers is flowing down the highway.
As you continue north look for the Weeping Wall. Snowmelt from Cirrus Mountain leaks through cracks and fractures on the cliff face and then cascades downwards into a series of waterfalls.
Continue on up and you will eventually reach the Columbia Icefield, at the boundary of Banff and Jasper National Parks.  The Columbia Icefield occupies 325 square kilometres
The Jasper National Park Icefield Information Centre and Glacier Gallery is actually an interesting spot. Check out the large 3D model of the Icefield which shows its range and its drainages to three of the oceans – the Atlantic, Pacific and Arctic. National Park staff are there to answer questions. A good selection of guidebooks is available. You can also book a glacier tour on the Ice Explorer. You'll get the chance to walk on the Athabasca Glacier – a tongue of ice 6 km in length by 1 km wide.
Where to stay at the Columbia Icefield

The Glacier View Lodge is the only place to stay at the Columbia Icefield though there is good camping nearby and several hostels in the area. Be prepared for cold temperatures outside.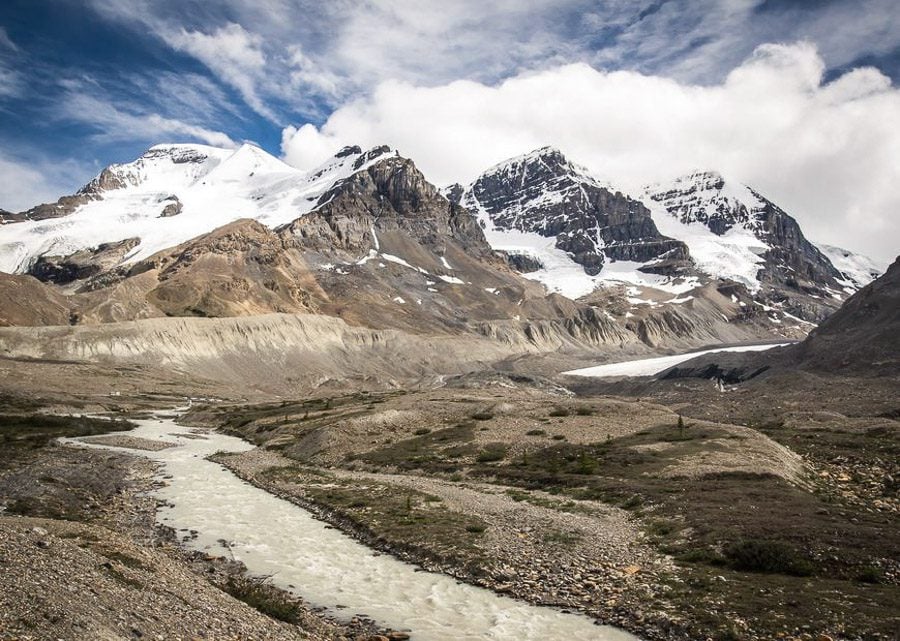 Day 4 Biking Banff to Jasper: Bike from the Columbia Icefield to Sunwapta Falls
Total Distance: 65 km (39 miles)
Level of Difficulty:  An easier day today as it is mostly downhill
Highlights: Columbia Icefield, beautiful and easy hikes close by with outstanding wildflowers (Wilcox Pass), Sunwapta Peak, bighorn sheep
Route description:
If you aren't in any rush and you want an even better view of the Columbia Icefield then take the 2 hour hike to Wilcox Pass. The trailhead is just 2.8 km southeast of the Icefield Center. The trail gains 335 m (1,100 feet) of elevation over 8 km (5 miles) and delivers views of rolling meadows filled with flowers, bighorn sheep, tundra, and stunning views of the icy expanse of glaciers.
Otherwise start the day heading north with a quick descent to the plain of the Sunwapta Valley.  Follow the Sunwapta River to Sunwapta Falls. It's worth the short hike to see where the falls plunge into the canyon.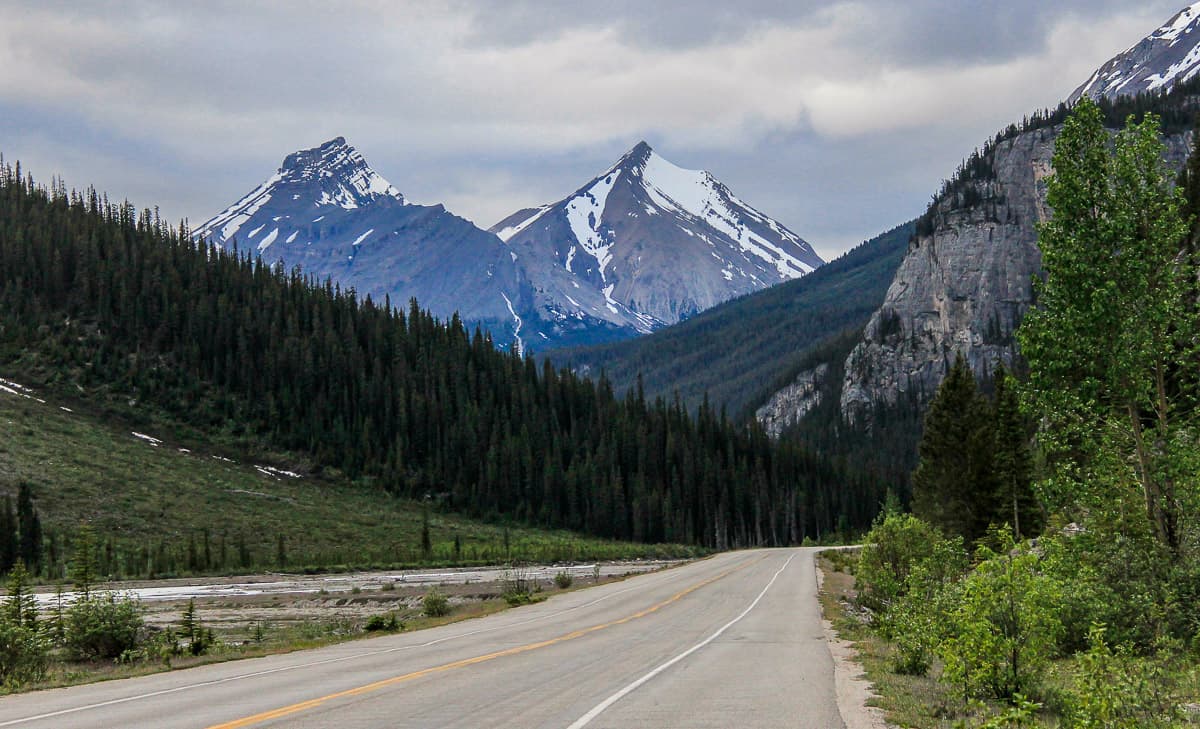 Where to stay at Sunwapta Falls

Sunwapta Falls Rocky Mountain Lodge offers comfortable accommodations in the lodge or in cabins. On site dining is available. You can explore Sunwapta Falls right from here.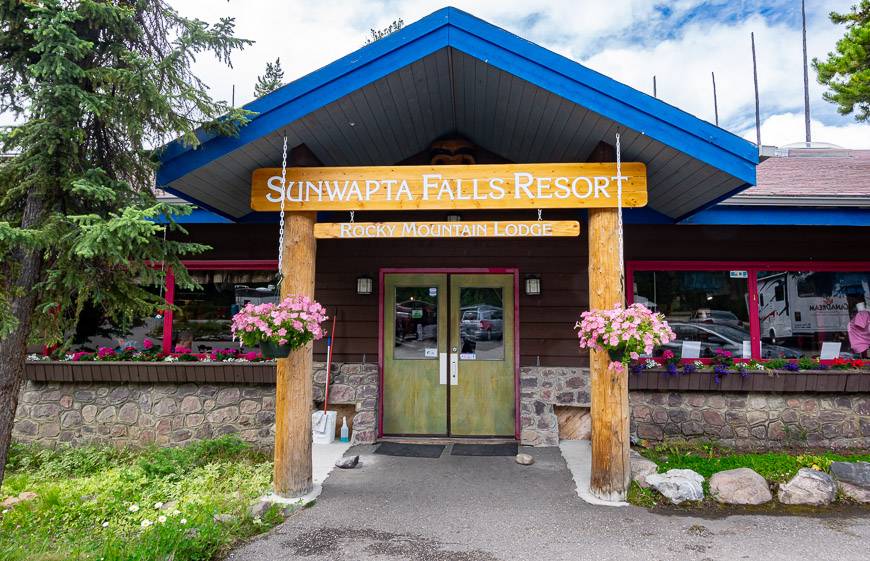 Day 5: Sunwapta Falls to Jasper – the last day Banff to Jasper biking
Total Distance: 60 km (36 miles)
Level of difficulty: Easy, as its primarily downhill again.
Highlights: Athabasca Falls, mountain goats at the Kerkeslin Goat lick, Mount Edith Cavell
Route description:
It's an easy day of cycling today as there is little in elevation gain. A stop at the Kerkeslin natural mountain goat lick practically guarantees mountain goat sightings. Continue north until you reach the intersection of the Icefields Parkway (Highway 93) and Highway 93A. Here you have a choice of either route but I recommend you turnoff on to Highway 93A so you can enjoy the sight of the Athabasca Falls framed by Mount Kerkeslin. Don't worry – you'll join up with the Icefields Parkway in about 23 km. Continue north on Highway 93A, a quieter road that takes you through stands of spruce and pine, punctuated with views of the Athabasca River Valley.
At about 8.5 km you will cross the Whirlpool River which at about the 11 km mark joins the Athabasca River which you track for a few kilometres. 
You will come to the Marmot Basin access road just 2.5 km past the Mt. Edith Cavell Road. Carry on for another couple of kilometres to the junction with the Icefields Parkway. Turn left onto the Parkway and cycle north 8 km until you reach Jasper.
Where to stay in Jasper

Tekarra Lodge – The lodge sits 2 km south of Jasper on a ridge overlooking the Athabasca and Miette Rivers

Fairmont Jasper Park Lodge The beautifully located lodge offers luxury accommodation. Choose from lodge rooms or private cabins on a lake – some of which can hold up to 20 people. Expect a quiet and relaxing experience.

Pyramid Lake Resort is a wonderful place to park yourself. Enjoy a host of water activities out the front door.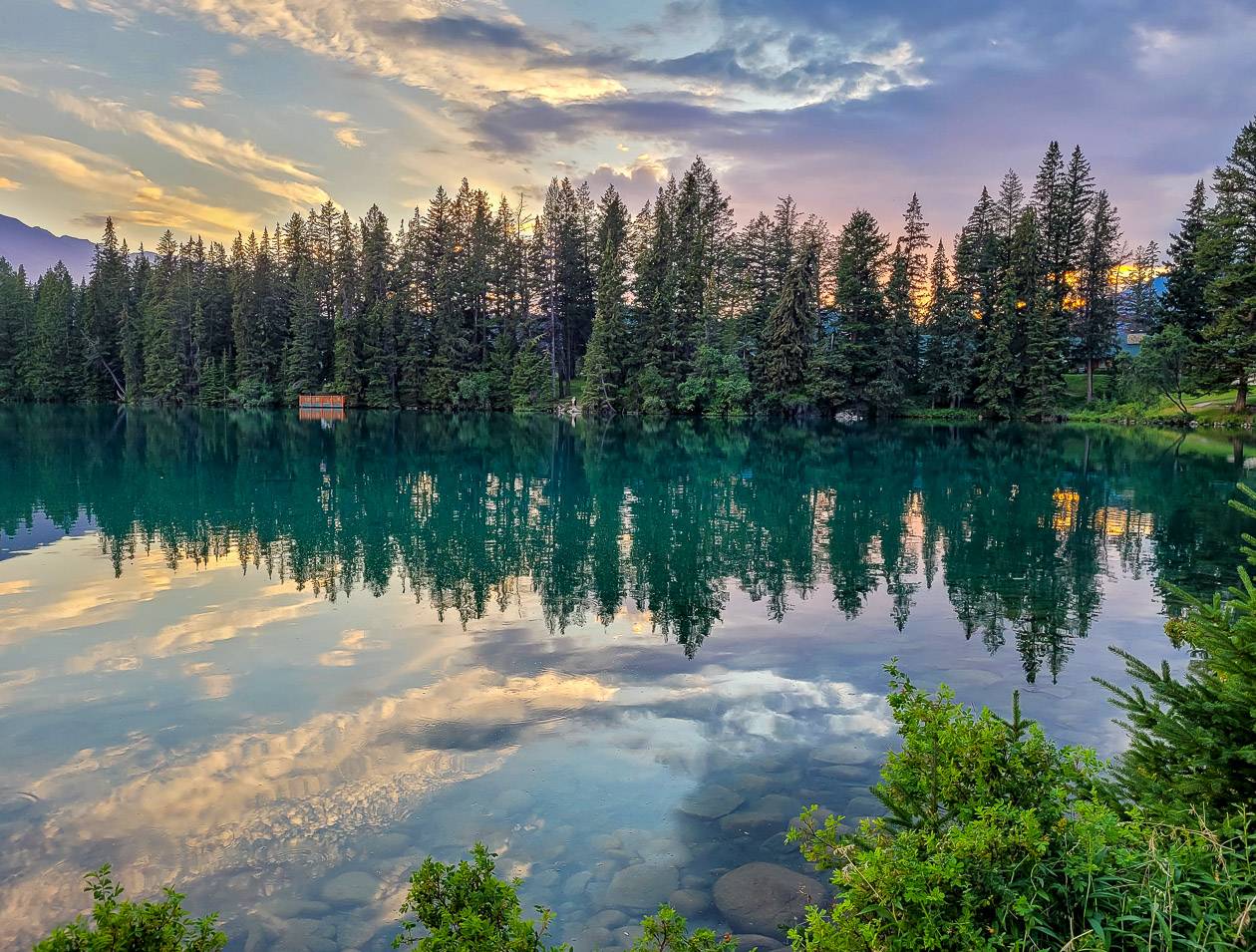 Things to do in Jasper
Jasper is a world renowned tourist destination and the gateway to adventures in Jasper National Park. The town sits on the Athabasca River and enjoys stunning snow-clad mountain views. Get a feel for the town by walking or biking the Discovery Trail. There is world class hiking in the mountains, summertime swimming in lakes plus boating, fishing and golf.
Recommended reading: Best Things to do in Jasper in Summer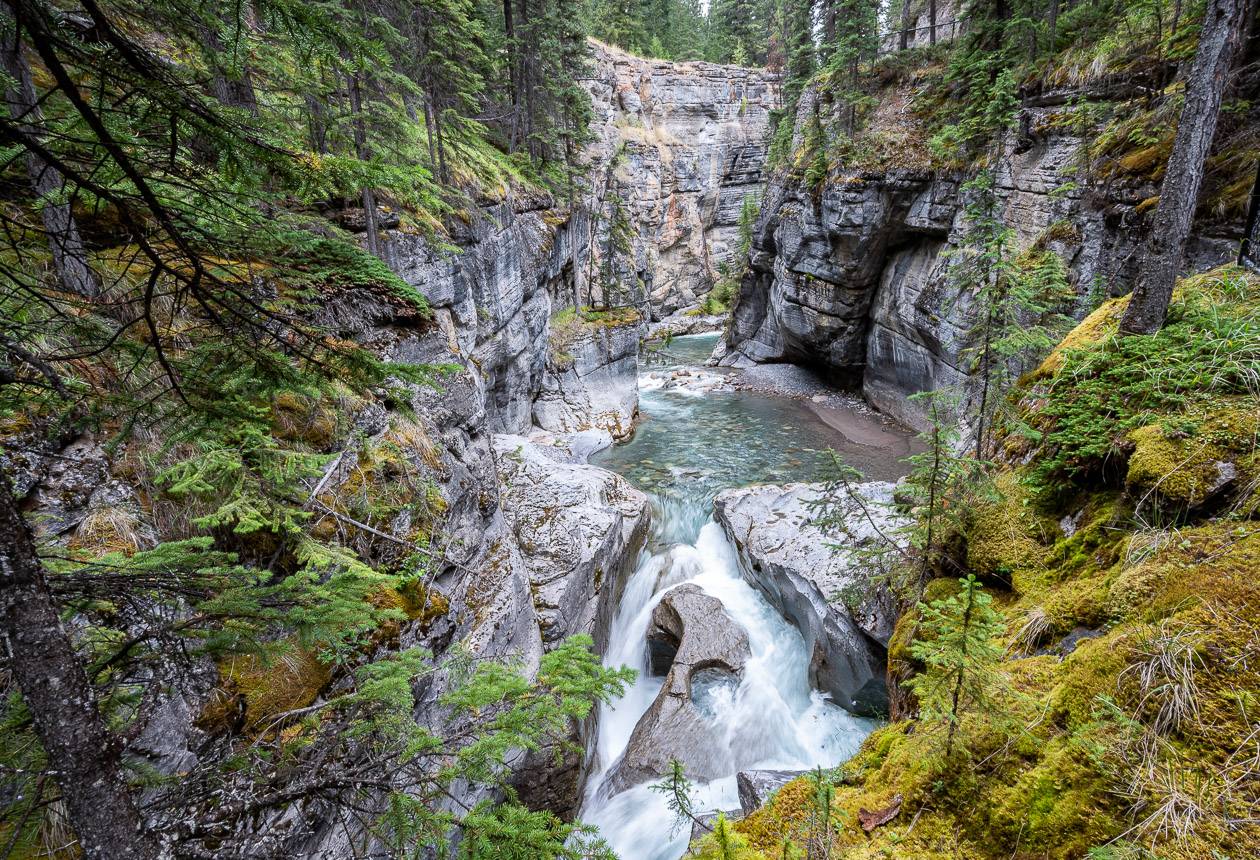 Packing list for biking Banff to Jasper (guided and self-guided)
If you are on a self-guided bike ride read the following- What to Pack on a Multi-Day Cycling Trip.
If you're on a guided trip you won't have any concerns about your bike, but you should still pack the right clothes. When you're biking in the Rocky Mountains, temperatures and weather can change quickly. Always carry rain gear and bring an extra layer for warmth. You might want full-fingered gloves for the downhills too. I always recommend packing a shower cap as it fits over your bike helmet and helps keeps your head dry and warm.
Biking in bear country
I have never seen a bear on the Icefields Parkway but they are in the area. Your best bet is to carry a can of bear spray and know how to use it. You can rent one at Wilsons Mountain Sports in Banff. 
Before you start biking read: Tips for Staying Safe in Bear Country
Biking Banff to Jasper with tour companies
If you want someone else to do the planning and you want the backup of a sag wagon then contact one of the following tour companies. Some of them are biking Banff to Jasper and others to it in reverse.
Great Explorations They offer guided 5 night/6 day bike trips starting at $2750.
Freewheeling Adventures offers a self-guided and a guided option.
Mountain Madness Cycle Tours They offer transfers from Edmonton.
Backroads They offer a sampling of Canadian Rockies bike tours.
Bicycle Adventures  They offer guided trips which begin in Montana in Glacier National Park. Some shuttling is involved with that one.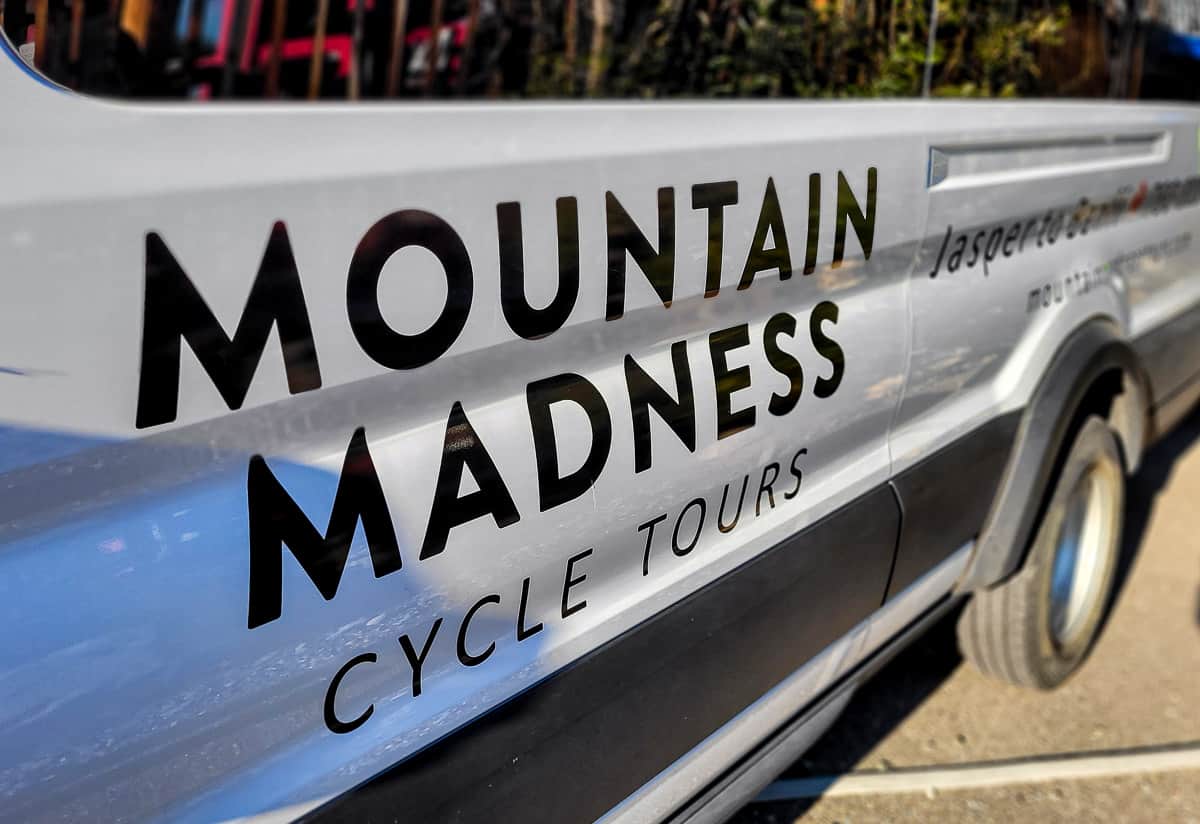 Recommended reading
Interested in more bike trips?
The Gulf Islands in British Columbia are a fun place to cycle as you take ferries between the islands. 
In Quebec's Laurentians, Le Petit Train du Nord is an excellent and easy 3 – 4 day bike ride.
In Newfoundland, the Viking Trail is a beauty. There's a chance to add in a day trip to Labrador.
Prince Edward Island is the ideal place for cyclists organizing their own trip for the first time. Here's what a 5-day bike trip looks like.
Click on the photo to bookmark to your Pinterest boards.