All You Need To Know To Plan Your Trip
Cycling in Costa Brava isn't on the bucket list of many travelers … which is a mistake. The region in the northeast part of Catalonia in Spain is much more than the beaches. Great terrain along the coast, and inland biking paths make a solid base for your outdoor adventure in Costa Brava. Local and French bike racers who come here to train would approve without hesitation.
We pedaled in Costa Brava for 30 days and cycled 593 km.
In this article, you'll find information based on our own experience: when to go to Costa Brava, descriptions of the terrain for cyclists, details about safety, tips on places to see, things to do along the way, as well as some suggestions for cycling equipment.
Now, let's get planning for cycling in Costa Brava!
Cycling in Costa Brava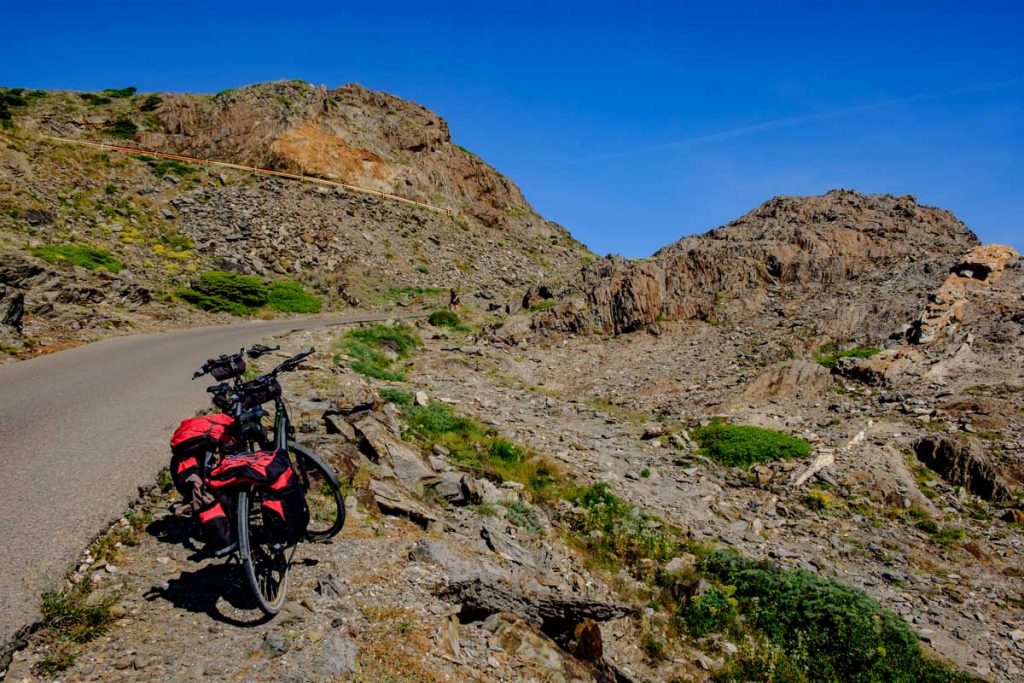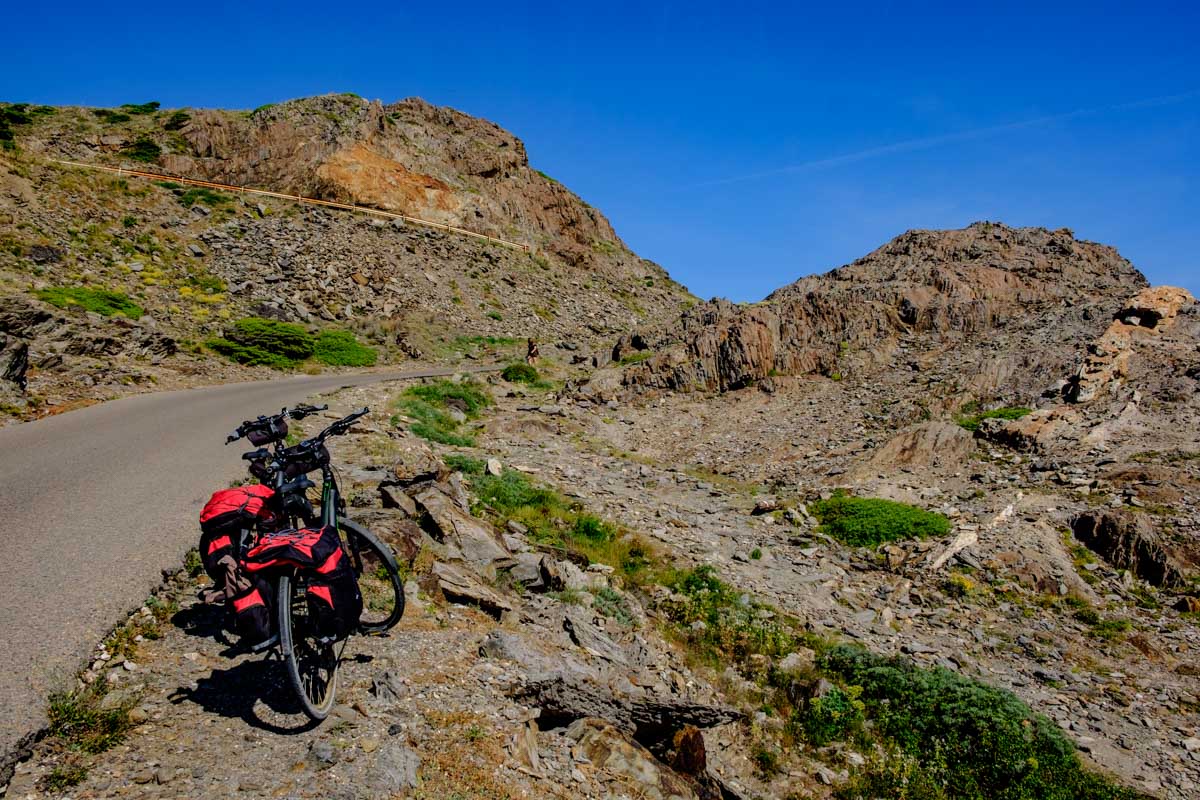 The best time for cycling in Costa Brava
The best time for your outdoor adventure in Costa Brava is in May or September. Two simple reasons: the weather and the number of tourists. We cycled Costa Brava in May, and within the 30 days we got rain only three times for a couple of hours.
The temperature in May is still moderate (20-29°C / 68-84°F), and still allows you to enjoy some beach time. You might want to avoid cycling in Costa Brava during the summer months, when the heat reaches its peak here (average of 35°C/95°F), and towns and beaches are packed with local and international tourists and children on their summer holiday.
September is probably the best time for holidays in Costa Brava. Especially if you want to see the vineyards with mature crimson and yellow grapes, and maybe watch the production of the drink of the gods on a wine tour.
Also, sea temperatures are much warmer than in May. Bonus: summer vacation will be over for the majority of locals, which equals more pleasant beach time & cultural exploration in Costa Brava.
The best places to see when cycling in Costa Brava
Well, where shall we start? There's an abundance of places in Costa Brava easily accessible by bike.
Get ready for the quaint medieval towns of Peratallada, Pals, Besalú, and hidden villages with peculiar arches, or ruins of churches in Monells, Palau Sator, or Santa Pau. There are also excellent family-run wineries, natural parks full of wildlife, volcanoes, or the quirky places where Salvador Dalí lived, worked, and dined.
With so many different options of indoor and outdoor activities, you'll find yourself spoiled with almost too much to do in Costa Brava.
What to do on your cycling trip in Costa Brava
If you fancy doing more physical exercise in addition to biking, you'll have a lot of options to go hiking via scenic coastal paths or through the inland area of Pyrenees.
Alert for wine lovers! Grab your bike and venture through the wineries with long traditions or enjoy some newly established ones.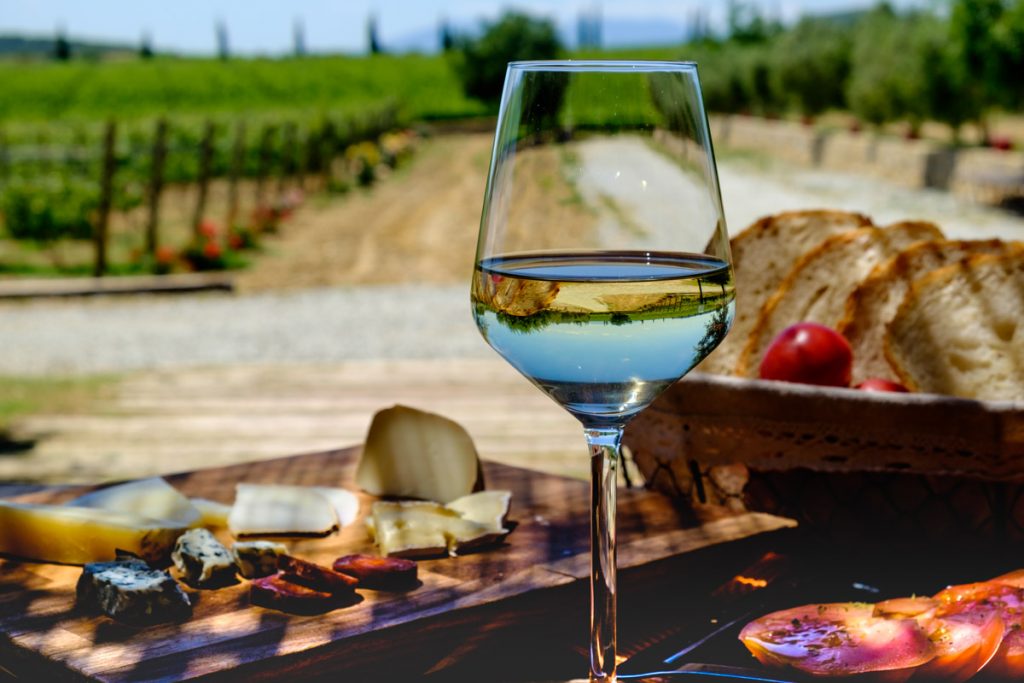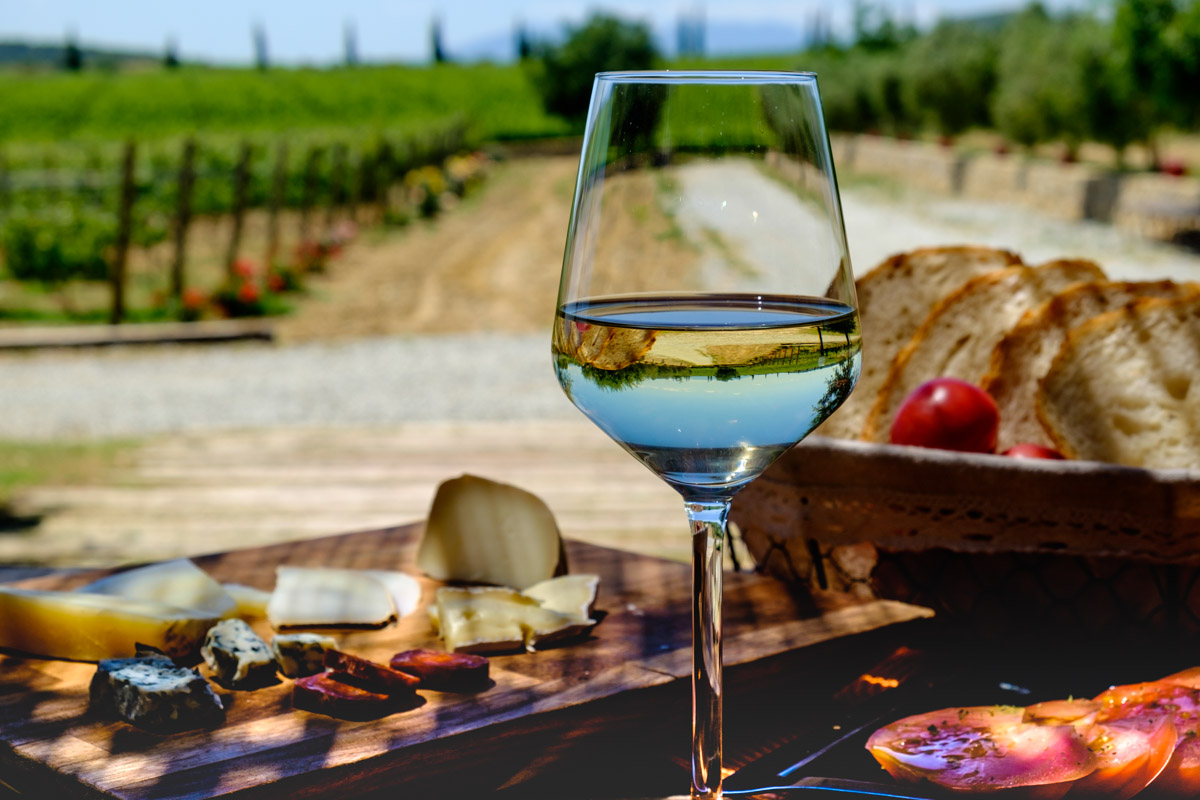 You can learn so much about wine by going for a wine tasting tour in one of the cellars in Baix or Alt Empordà. You'll be able to see how the vine grows at the plots, understand the process of producing wine, and see the barrels where they store the precious liquid.
Not a wine lover? Then consider visiting a chestnut farm, go golfing (watch this cool video!), or get your adrenaline pumping by rafting, kayaking, skydiving, you name it. Or maybe you'd prefer seeing the colourful Catalan landscape from above in a hot air balloon. There are so many alternatives that you'll probably be astounded by the amount of activities when choosing what to do in Costa Brava.
Terrain for cyclists in Costa Brava
The terrain of biking routes here is very variable. There will be loads of gravel and dirt roads, a fair number of asphalt roads, which will be either part of national roads or B roads (secondary roads).
It'll be easy to reach the towns and villages by bike, and you'll do a big favor to the Mother Nature when you visit the wineries by bike instead of a car.
Lots of the roads are flat, some of them will be insanely steep, but if you plan the route wisely, you can avoid the inevitable sweating while pedaling uphill and working your bum off.
Bike routes in Costa Brava
There are over 1800 km of greenways in Spain, and you'll be able to follow well the maintained biking paths of the Greenways Girona (there are four of them, and you can learn more on their official website, or part of Eurovelo 8 route that crosses Costa Brava.
If you feel like taking a short trip to France, then bring your passport, and check out Pirinexus Route that is 353 km long and it can take you from Girona to southern France via bike friendly routes with low traffic.
The most visited biking paths to the major touristy places in Costa Brava are well marked. Naturally, if you decide to do a detour into some tiny villages, you'll need to rely on your GPS and a good navigation app. We used Open Street Map and Google Maps as we carried a Mi-Fi device with 3G data.
Safety while cycling
Generally, drivers in Costa Brava are quite courteous, and they always gave us enough space while overtaking us. However, truck drivers are a different story. When you are not a car driver yourself, and you've never driven a bike on a busy road, then you might feel intimidated by fast trucks passing by.
However, this happened to us only twice, and our advice is to simply hold your handle tightly, keep biking, and don't panic. This kind of situations is more of an exception than the rule. In general we felt pretty safe when cycling in Costa Brava, since the majority of the routes will take you through secondary roads or gravel roads in the countryside.
Read more articles:
Do I need to be a professional cyclist?
You surely don't have to be. You'll stumble upon professional bike racers who will overtake you nonchalantly on a steep hill while leaving you panting the bottom. Take it as motivation and keep pedaling.
Cycling in Costa Brava isn't for professionals only. There are hundreds of kilometers of nicely flat bike routes, or those with a sweet slope down where you almost don't have to move your pedal, e.g. the route Olot – Girona.
We've never considered ourselves cyclists, even if we biked daily while living in Frankfurt. That being said, all you need when exploring Costa Brava on bike is your enthusiasm and high spirits.
What kind of bike and equipment do you need in Costa Brava?
Bike
Depends on your itinerary and routes, but if you plan to do a casual biking trip, a hybrid model suitable for trail and path will be the best option. We biked with the Ghost Square Cross 5 Bike 2017 model, and were super happy with it.
It didn't fail us even once during the trip, and it held strongly while taking us through dusty paths, across hot asphalt, and did a great job while cycling some slippery parts of the roads, too.
Pannier bags
No matter how long your cycling trip is going to be, we highly recommend getting the panniers. We took our laptops with us as we kept working a couple of hours per day during the trip. We put them in our backpacks and carried them all the way unless we left them in a hotel while exploring the area.
All our clothes and other electronics we put in the panniers, which wasn't that much anyway as we've been traveling around the world only with carry-on backpacks since 2013.
When choosing the panniers, make sure to pick those made of rigid material, so when you empty them in a hotel and further head to bike around, the bags wouldn't get caught on your wheels.
We can recommend Ortlieb back Roller Classic, BV Bike Pannier Bags or Runytek Roswheel 3 in 1.
Cycling outfit
We considered buying special cycling padded shorts and cool cycling jerseys with the pockets at the back and sweat-activated ventilation… You get the picture. But then, did we really want to ditch new stuff straight after the trip? Nope. Plus carrying extra clothes we wouldn't probably use any time soon was out of the question.
So we biked for 30 days in simple trekking shorts, cotton t-shirts and our favourite KEEN & Teva sandals and the NorthFace backpacks we've been traveling with for years. No fancy cycling outfit, no professional equipment. Honestly, you'll enjoy the cycling the same.
Where to stay in Costa Brava?
The variety is endless; it all depends on your comfort demands and your budget. You can choose from some budget hotels, mid-range hotels that are also biker friendly, beautifully renovated rural houses, or you can splurge on some spa hotels where you can soothe your muscles after biking trips. Check the latest rates of the hotels in Costa Brava!
What to eat in Costa Brava?
The majority of the hotels in Costa Brava feature their own restaurant where they serve a lunch and dinner menu daily. Get ready for some memorable fresh seafood meals, scrumptious rice dishes, traditional tapas, an abundance of veggies, olive oil, and a Catalonian version of sparkling wine called cava. While biking, you'll be able to grab a sandwich or tapas in any small village, or even in a natural park. Find out more about Catalan cuisine in this article.
Hopefully you've found this information helpful and it will make planning your trip easier. If there is anything more you'd like to learn about cycling in Costa Brava, feel free to drop us a message. And remember, as Jerry Dunn, an American basketball coach, once said, "Don't limit your challenges. Challenge your limits."
Happy pedaling!
LIKE IT? PIN IT!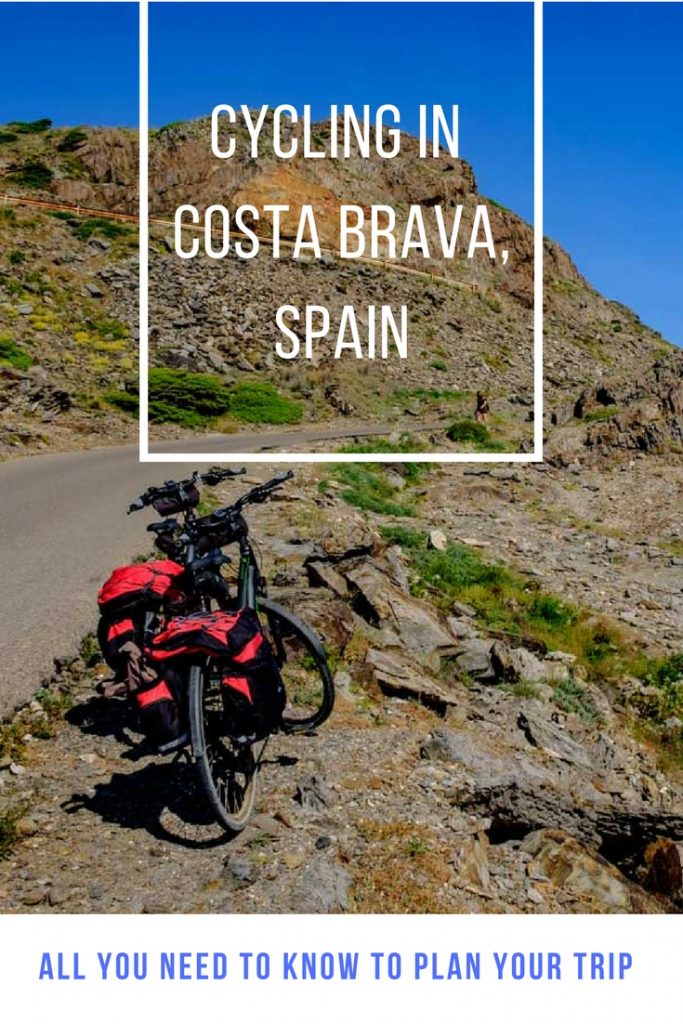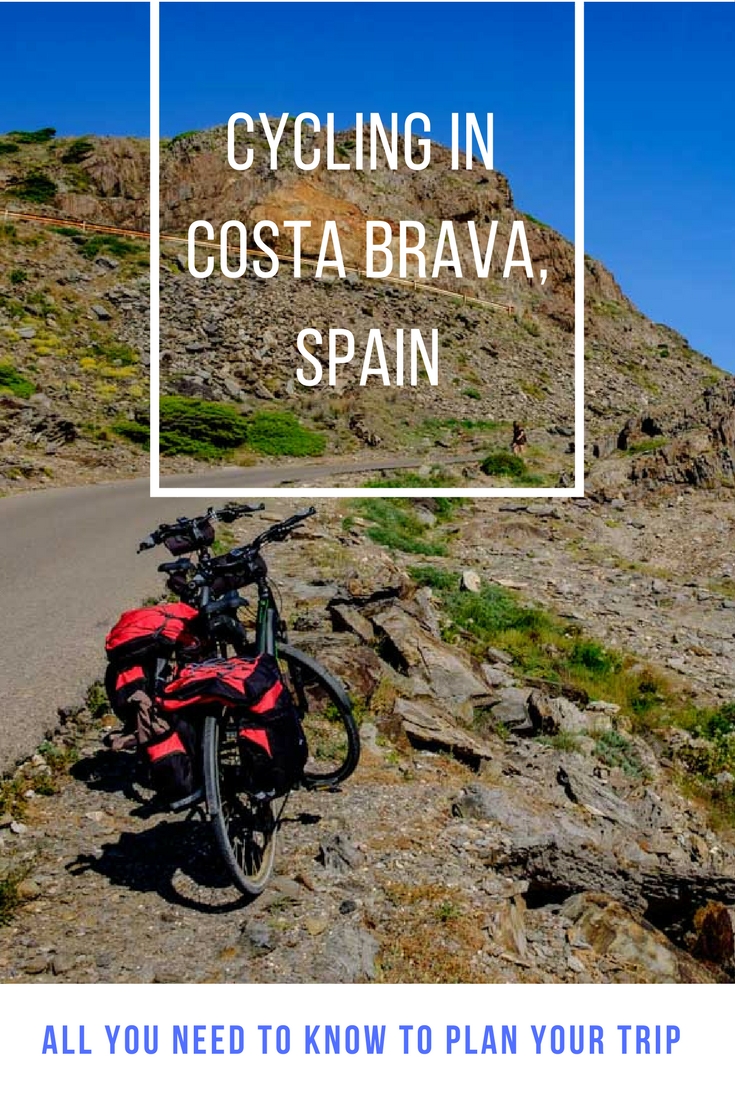 Disclosure: this epic trip happened thanks to Costa Brava Pirineu de Girona tourism board. Our words, kilometres on bikes and sweaty t-shirts remain our own.