How Botswana Wildlife Conservation Helps Fight Poaching
Fueled largely by habitat loss and poaching, the rapid decline of wildlife in Africa has been making headlines for years now.
Perhaps it's not surprising that many people have become numb to the news. Still, when you dive into the numbers, the statistics are staggering.
South Africa alone has been losing an average of five Lions per day, five Elephants per hour, and a Rhino (whose horn is valued at around $65,000 per kg) every seven hours.
The devastating decline of these key species, which could eliminate the wild population of African animals by 2050, threatens both the environment and the economy of myriad African nations.
Thanks to its stable government and progressive social policies, Botswana, Africa has emerged as a burgeoning ecotourism hotspot.
Ecotourism in Botswana is big business, bringing in some $250 million in annual revenue, and its growth has surged dynamically in recent years. 
Here's a look at why the conservation of Botswana wildlife has proven so successful, and a few of the major attractions nature and wildlife lovers should add to their bucket list.
READ MORE: The 10 Best Places for African Safari Tours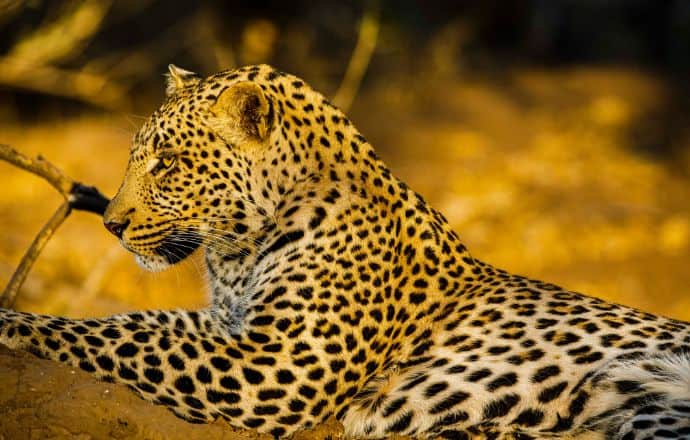 BOTSWANA WILDLIFE CONSERVATION
As a nation, Botswana has been increasingly focused on wildlife conservation ever since the early 1960s.
That was when the indigenous Batawana people established the Moremi Game Reserve (the first African gam reserve of its kind) after seeing their lands threatened by illegal hunting and the development of cattle farms.
In terms of preventing poaching, Botswana has considerable natural advantages over safari hotspots such as Kenya, South Africa, and Tanzania.
With just over 2.2 million residents, it has a much smaller population density than those nations. As a land-locked republic, it has no ports for smugglers to take advantage of, and a relatively low rate of corruption compared to other African wildlife-rich countries. 
Over the past decade the country has become considerably more aggressive in its efforts to nip poaching in the bud.
Botswana banned commercial hunting altogether in 2014, and its anti-poaching laws are very strictly enforced.
Botswana's anti-poaching unit is largely run by the country's military forces, with top-notch training, helicopters, military-grade weapons and supplies. And the government-approved shoot-to-kill policy means poaching comes with serious consequences.
Perhaps most importantly, in Botswana wildlife conservation is largely left in the hands of local communities. This provides the indigenous people with alternative revenue streams to poaching and wildlife trafficking. 
READ MORE: The 20 Safest Countries in Africa to Visit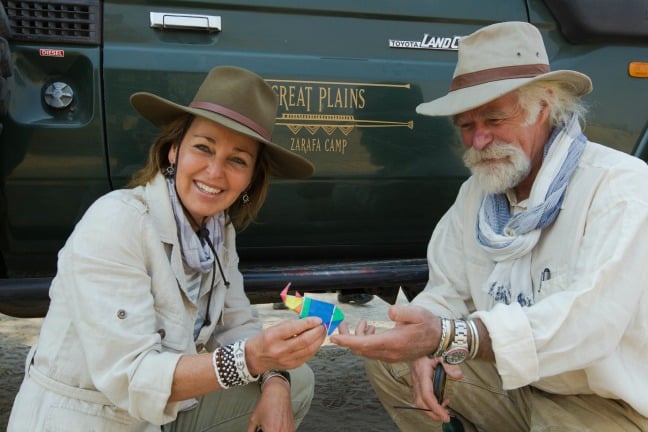 GREAT PLAINS CONSERVATION & FOUNDATION
If you want to learn everything there is to know about wildlife conservation in Botswana, have a conversation with award-winning filmmaker (and National Geographic Explorer-In-Residence) Dereck Joubert. 
He and his photographer wife, Beverly, are outspoken animal advocates who created NatGeo's Big Cat Initiative. The project was designed to protect Africa's big cats, and has since funded more than 60 different projects in 23 countries.
Through their Great Plains Conservation and Great Plains Foundation arms, the Jouberts also launched Rhinos Without Borders, an attempt to protect endangered rhinos from poaching by translocating 100 of them from South Africa to Botswana. 
Dereck offers an excellent explanation of why conserving keystone African species is so very vital.
"Africa generates $80 billion in ecotourism revenue each year. Most of that is focused on seeing big cats, elephants and rhinos. If we [have] no big wildlife, that model would collapse immediately.
Without those tourism dollars, we'd see increased poverty in many countries and, as a result, increased poaching for bush meat.
It's like a plague that ends in the total eradication of natural wildlife structures, and further damage to sustainable economics in Africa." 
He believes that, for the reasons mentioned above, Botswana can serve as a role model for the future of wildlife conservation in Africa.
"In Botswana, we have one of the best and last chances to create and maintain a pristine ecosystem that can be a profound example for the rest of Africa. It's a model that can, in better times, be rolled out into the many beautiful ecosystems of this continent."
READ MORE: 20 Endangered African Animals You Can See On A Safari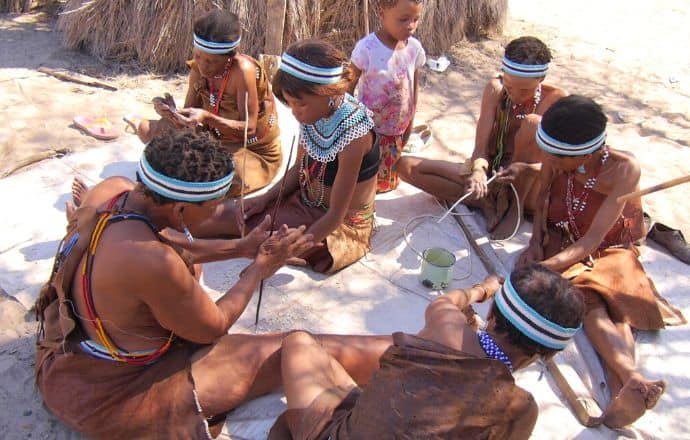 BOTSWANA GAME RESERVES & NATIONAL PARKS
Botswana's attractions are varied, from arid deserts and salt pans to vast wetlands and remote cave systems.
Here's a look at five of our favorite Botswana Game Reserves & National Parks for those with an interest in wildlife conservation: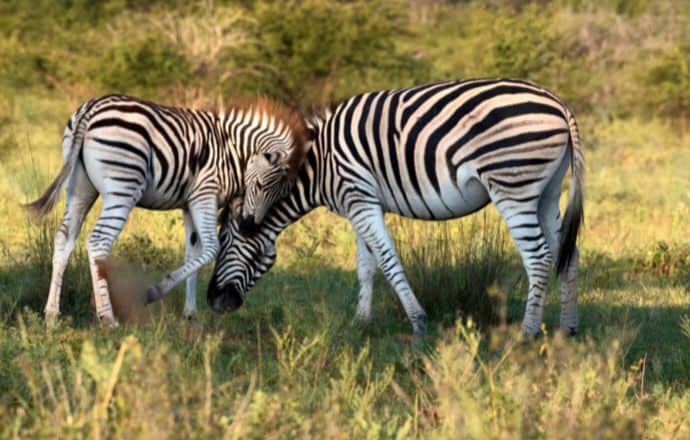 1. Central Kalahari Game Reserve
The second largest wildlife reserve in the world by size (20,000 square miles), the Central Kalahari is the ancestral home of the Bushmen people.
Its striking landscapes are as diverse as its wildlife, which includes big cats, hyenas, wild Dogs, dozens of Antelope species, and many more.
The area's annual Zebra migration is spectacular, but little-known. 
READ MORE: The 25 Best National Parks in Africa for Wildlife Safaris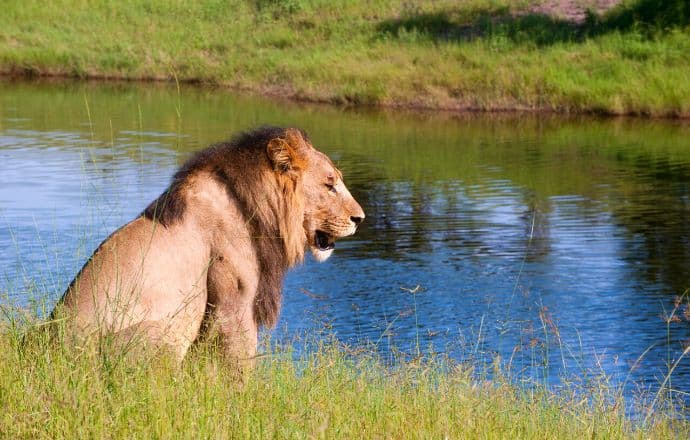 2. Chobe National Park
Located in northern Botswana, Chobe National Park is chock full of Elephants (the country is home to 1/3 of Africa's total population).
It also offers an array of ecosystems, including savannah, swamps, floodplains, and huge expanses of mopane woodlands.
Besides Elephants, the national park is a great place to see big cats, which are largely found in the Liyanti Marshes section. 
READ MORE: The 10 Best Places for African Safari Tours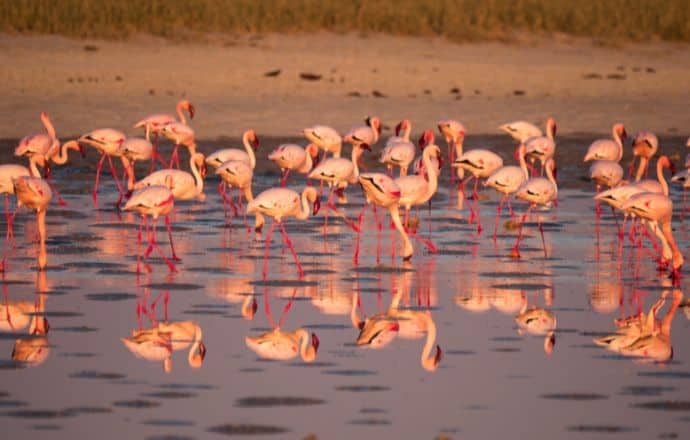 3. Makgadikgadi Pans
The largest salt pans in the world occupy a stark, dry area that is as big as Portugal.
When flooded, it's visited by thousands of Zebras, Wildebeest, and Flamingoes.
But the Makgadikgadi Pans are worth a visit even when dry for their surreal natural beauty, including ancient Baobab trees that make for stunning sunset silhouettes. 
READ MORE: The 15 Best National Parks in the World for Wildlife Watching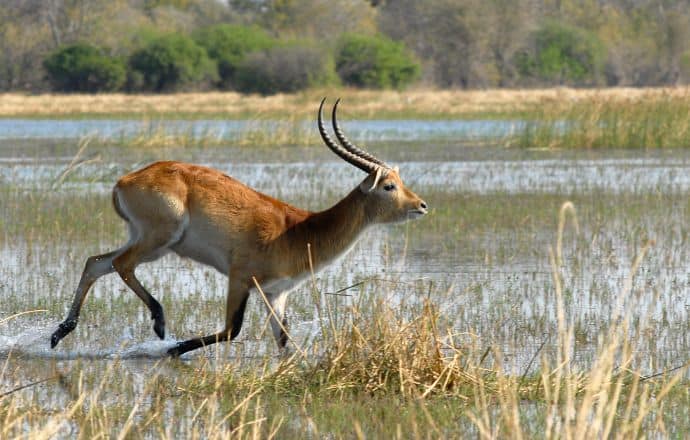 4. Moremi Wildlife Reserve
Part of the Okavango Delta, the first Botswana game reserve remains one of the best places on the planet for viewing Botswana animals.
The famed Big 5 African animals are often seen here, as well as Giraffes, Hippos, Lechwe (a commonly seen antelope), and many Botswana bird species.
If you visit, try touring the area's lagoons on a mokoro, a traditional dugout canoe, led by a local boatman.
READ MORE: Top 10 Tanzania National Parks & Reserves (The Ultimate Tanzania Safari)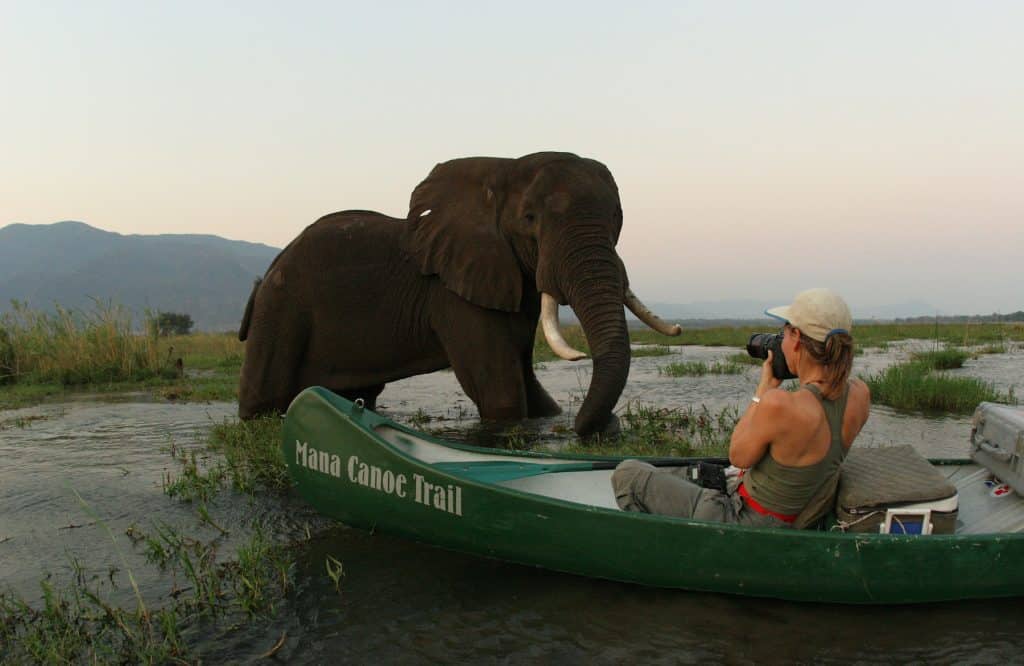 5. Okavango Delta
This 5791-square mile wetland area, the most famous of Botswana's tourism attractions, earned UNESCO World Heritage Site status in 2014 for its diverse array of Botswana animals.
In the winter its canals and swamps attract over 200,000 large Botswana mammals (Cheetahs, Lions, Elephants, Rhinos, Wild Dogs, etc.) and over 400 bird species, including the Crested Crane, Hammerkop, and Sacred Ibis.  –by Bret Love, featured image via Canva