Vegan Creamy Lentil Pasta – Scrumptious Camping Recipe
Scrummy and tempting vegan creamy lentil pasta recipe that's crammed with protein and made for the outdoors
---
On some camping trips, food is shovelled in at turbo-speed, just to intake some sustenance. But on other trips, you want something incredibly tasty, wholesome, with a depth of flavour that instant noodles just can't rival. Enter this vegan creamy lentil pasta recipe.
It's devilishly good, with a creamy cheesy, garlicky base that makes you melt with every mouthful. Packed with protein and simplified for the camp stove, it's the ideal recipe for weary explorers.
This recipe is always a success come dinner time amongst hungry campers and once you try it, you'll soon see why.
Outrageously Good Vegan Creamy Lentil Pasta
When you're in the mood for something a little more indulgent on your next camping trip, this lentil pasta recipe will answer all your desires. It's so flavoursome with its creamy, garlicky base combined with parsley and salty olives for a depth of flavour.
The combo of lentil pasta and tofu means it's absolutely chock-a-block with protein. Ideal for those adventurous days, when you really feel like your muscles need some loving. This recipe also has a healthy dose of vitamins and minerals with the addition of mushrooms, pepper and spinach.
If you're in the mood for a hearty meal, packed with flavour, that you and your adventure chum and hunker down with, this is this dish.
This vegan creamy lentil pasta is amazing because:
It's over-flowing with protein, which will help your muscles repair after a day outdoors
Really creamy, with garlicky, cheesy undertones
Ideal for camping trips when you want something indulgent
Packed with vitamins and minerals
Salty and fragrant
Unbelievably scrummy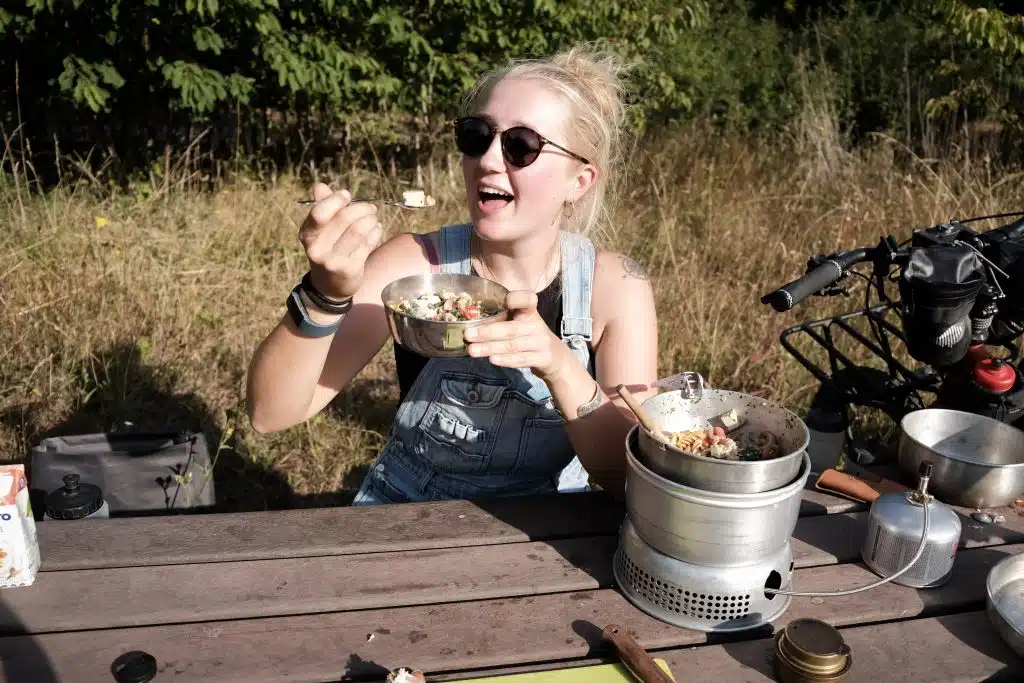 ---
Want more recipe inspo and guides for adventurous trips? Sign up for our newsletter to get our latest articles
---
How to Make Vegan Creamy Lentil Pasta
1) Begin by boiling your lentil pasta. Add a bit of salt and olive oil to the water and stir, this will give it some flavour and stop it from sticking together.
2) Cook the pasta until it's almost done. You want to undercook it a little so it can cook further in the creamy mixture and absorb the flavour. Depending on your stove and fuel this should take between 5-10 minutes. At this point, drain it and set it to one side.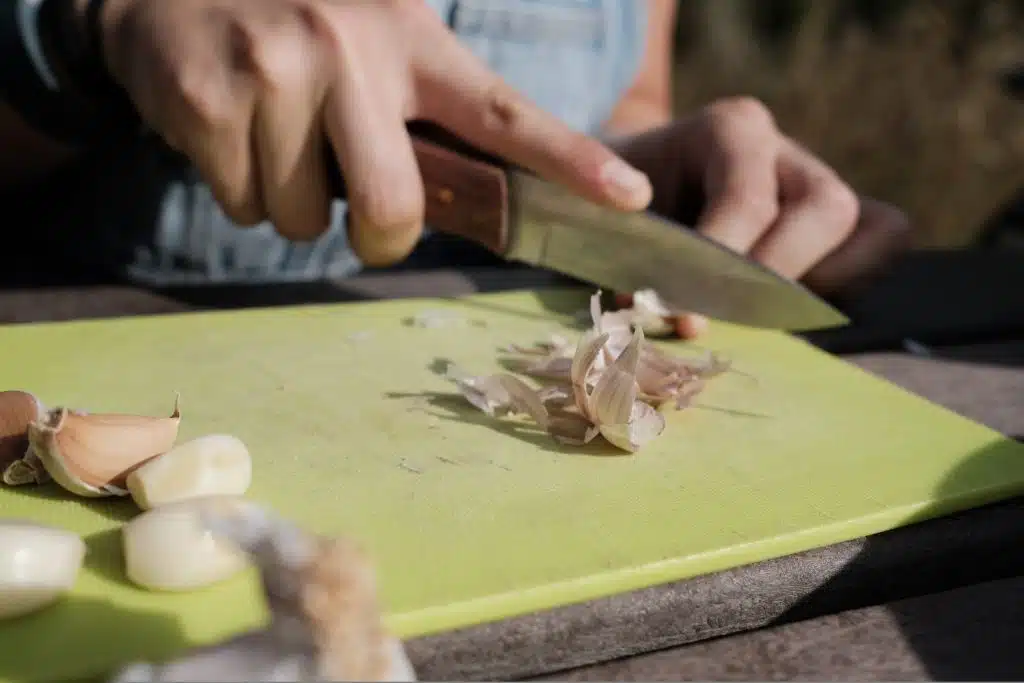 3) Add finely chopped onion to a pan with a good glug of olive oil. Once that's cooked for 2 minutes, add crushed and chopped garlic. Let the onion and garlic cook for another 3 minutes, stirring occasionally.
4) Then add the cream, garlic powder, dried parsley, stock cube, nutritional yeast and a little water. Stir to combine and make the cheesy, creamy base.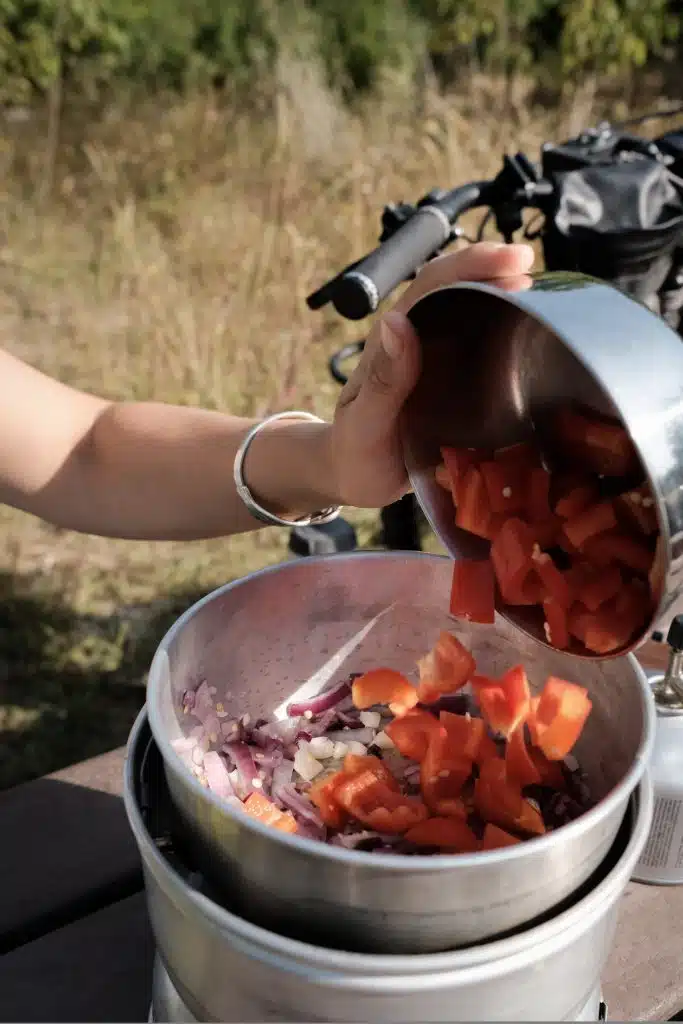 5) Add the chopped red pepper and cook for 1-2 minutes before adding the mushrooms, tofu and spinach. You may need to add the spinach bit by bit whilst stirring, so it all fits in your cooking pot. Let this cook for about 5 minutes.
6) Once the mushrooms have softened, chuck in your lentil pasta with the optional olives for a final flourish of taste. Stir thoroughly so all the ingredients are covered in that tasty creamy sauce.
7) Then serve and enjoy!
Tips and Hacks for this Creamy Vegan Pasta Recipe
On camping trips especially, you want recipes to be straightforward, wholesome and darn right tasty. Here are some tips to help you make the ultimate creamy red lentil pasta recipe:
Undercook the pasta so it is al dente and can cook further in the creamy sauce mixture, soaking up the flavours.
Firm tofu works best as it has less water content so won't dilute the sauce's flavour and can act as a sponge to the creamy base, soaking it up. I used tofoo as it's also already pressed making it really easy for camping recipes.
Trying to save on time and weight? Omit the fresh onion and garlic. Instead, add onion and garlic powder to the creamy base.
If you're feeling really decadent, throw in some vegan cheese to your creamy base for a really delicious meal.
If you can't get your mitts on fresh spinach, you can sub for another leafy green. Just consider cook time as tougher greens such as kale may take longer to cook.
Travelling light? You can omit the olives and still have a really tasty dish without them.
After a long day, it can be nice to warm up with a nourishing bowl of food. If you add a little chilli to the dish it'll warm you from the inside, whilst also packing an added punch of flavour.
If peppers and mushrooms are hard to source, you can substitute them for other vegetables such as courgette or green beans. Veg that cooks quickly or can be eaten al dente is best to save on fuel and time.
Ahead of trips, make up your herb mixture so you can throw it in without having to carry extra weight or worry about measuring. For longer trips, I always carry a mixture of garlic powder and dried parsley as it's a great combo that can lift many dishes and recipes.
---
---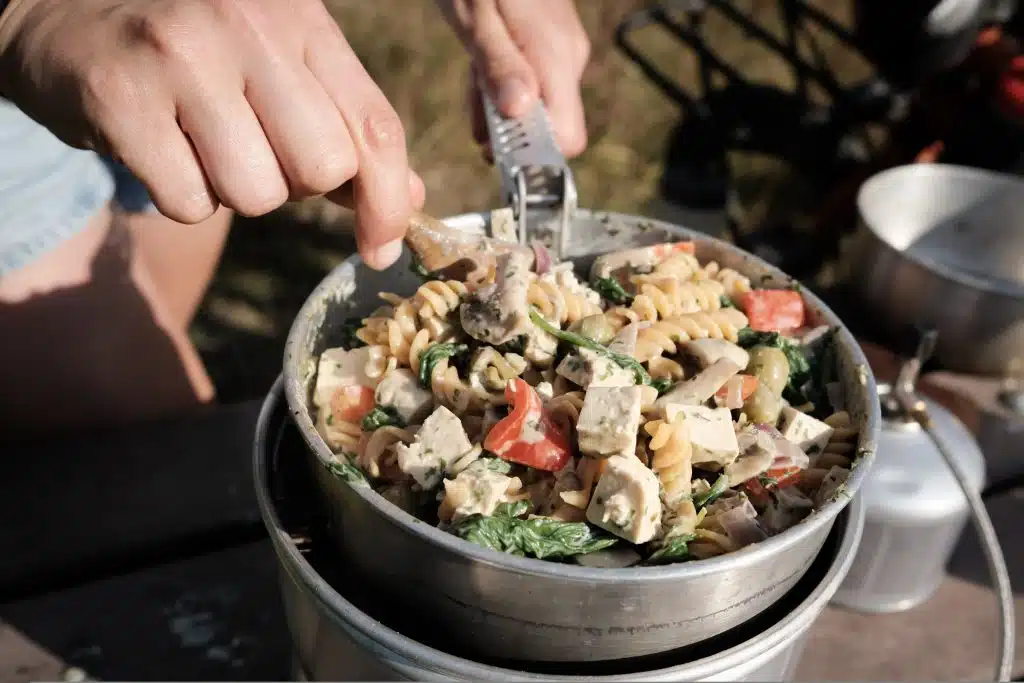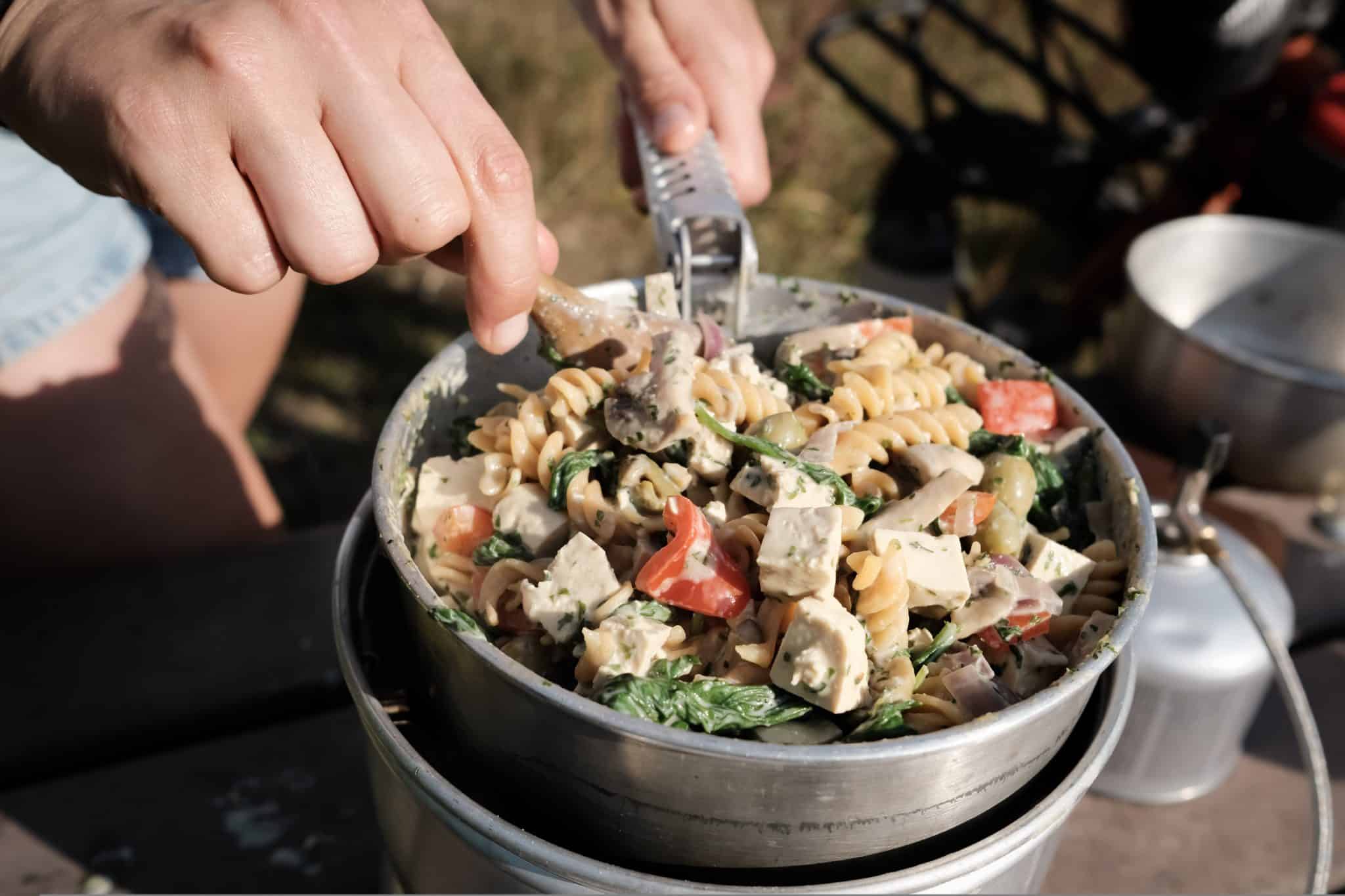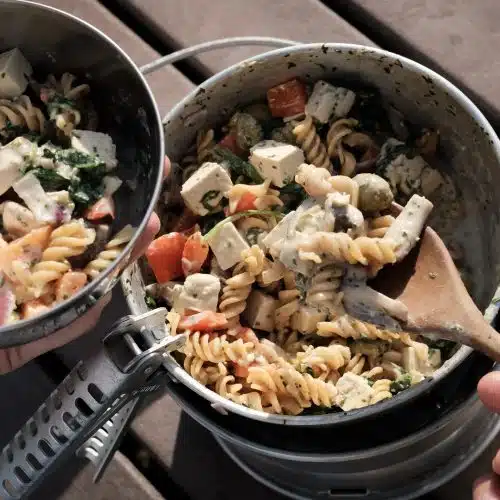 Vegan Creamy Lentil Pasta
Indulgent creamy vegan lentil pasta recipe with cheesy, garlicky undertones and crammed with protein. Ideal for adventurous lifestyles in the outdoors.
2

tbsp

olive oil

– plus a little extra to add to the pasta water when cooking.

80

grams

red lentil pasta

1

onion

4

cloves

garlic

250

ml

vegan cream

– I used Alpro but any brand will do

2

tsp

garlic powder

3

tbsp

dried parsley

1

vegetable stock cube

4

tbsp

nutritional yeast

1

bell pepper

250

grams

mushrooms

280

grams

firm tofu

125

grams

spinach
Optional Extra
70

grams

pitted green olives
Begin by boiling your lentil pasta until it's cooked al dente.

Once the pasta is slightly underdone, drain it and set to one side.

Heat the olive oil in a pan and add finely chopped onion. Cook this for 2 minutes stirring icassionally.

Then add chopped and crushed garlic and cook for another 3 minutes.

Add the cream, garlic powder, dried parsley, stock cube and nutritional yeast to the pan. Stir thoroughly to combine the cheesy, creamy base.

Add chopped pepper to the sauce and cook for 2 minutes.

Then add your chopped mushrooms, cubed tofu and spinach. Stir to incorporate the spinach bit by bit so it all fits.

Cook for 5-7 minutes until the mushrooms have softened. Then add the pasta and olives, then stir to combine all the ingredients in the creamy sauce. Finally serve and enjoy!
Calories: 784kcalCarbohydrates: 58gProtein: 42gFat: 46gSaturated Fat: 6gPolyunsaturated Fat: 6gMonounsaturated Fat: 16gSodium: 971mgPotassium: 1795mgFiber: 24gSugar: 11gVitamin A: 7937IUVitamin C: 108mgCalcium: 359mgIron: 9mg